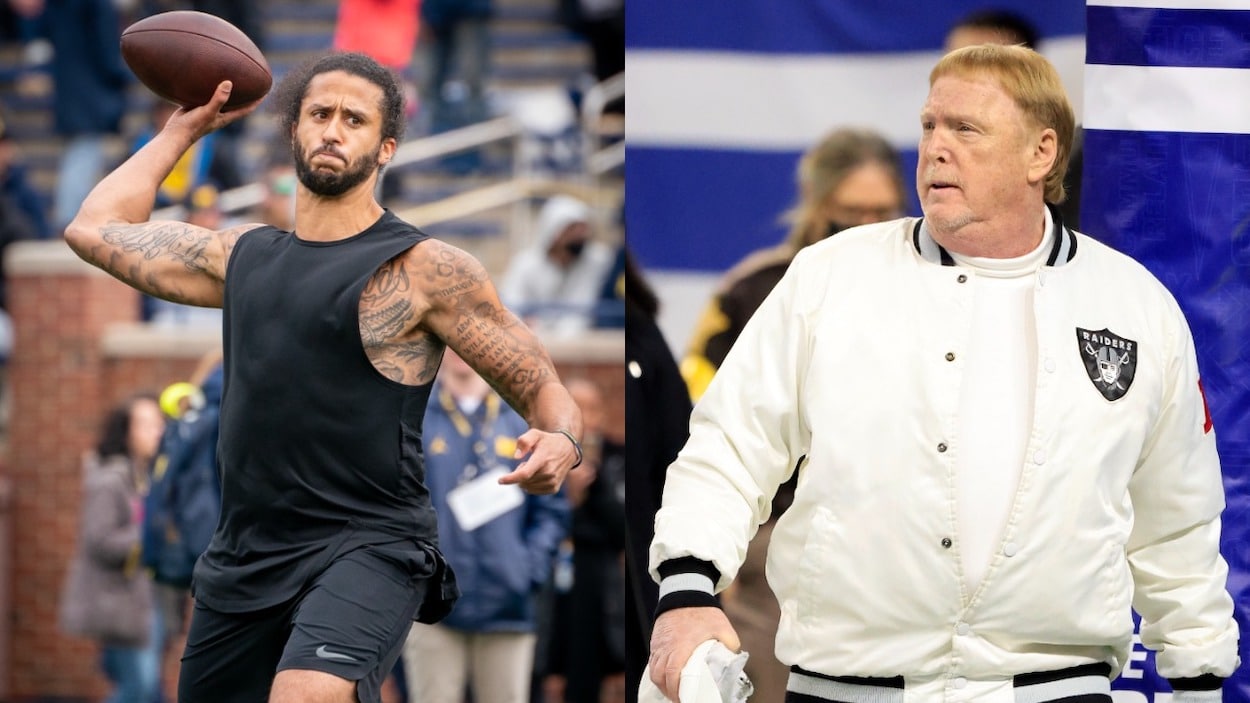 Las Vegas Raiders and Owner Mark Davis Finally Give Colin Kaepernick a Real NFL Shot: 'I Think Colin Is a Very Misunderstood Human Being'
Colin Kaepernick is finally getting another chance at making an NFL roster from the Las Vegas Raiders and owner Mark Davis.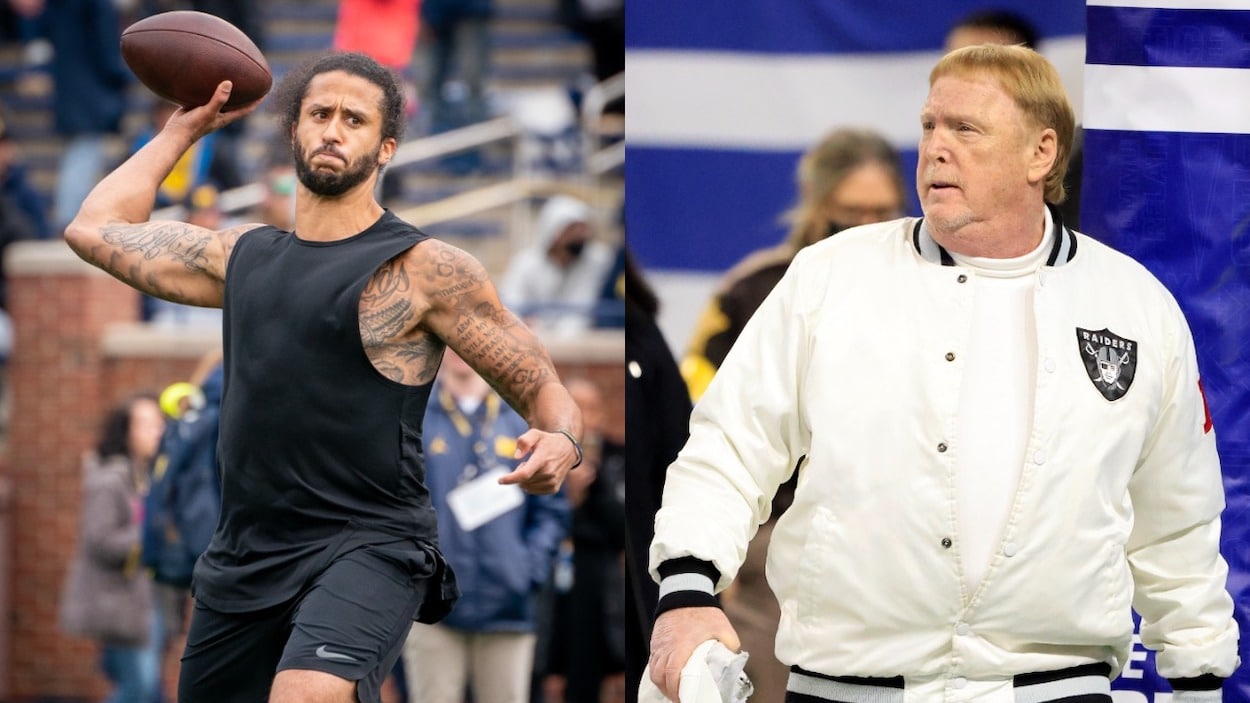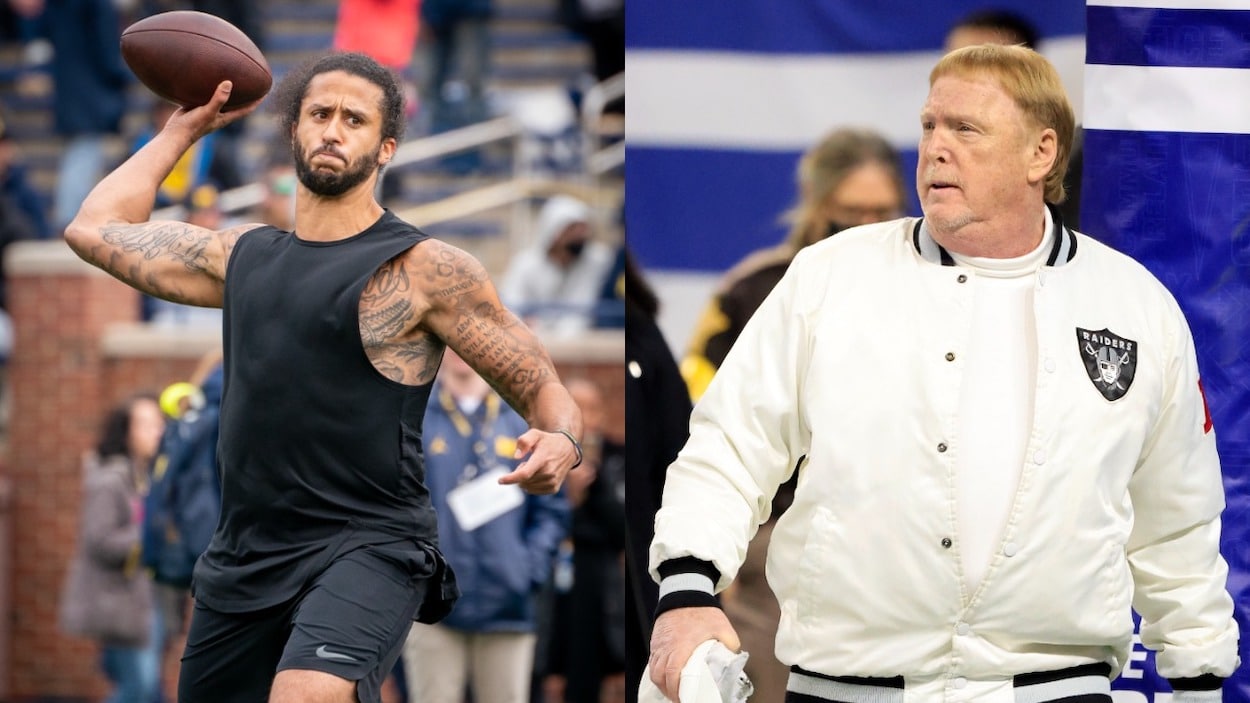 Less than three years removed from taking the San Francisco 49ers to the Super Bowl, quarterback Colin Kaepernick took his last snap as an NFL player in a Week 16 25-23 loss to the Seattle Seahawks. Now, five and a half years after that last snap, Las Vegas Raiders owner Mark Davis has decided to give the controversial QB another shot.
Colin Kaepernick is trying out for the Las Vegas Raiders
Seemingly out of nowhere, news broke on Wednesday, May 25, 2022, that exiled quarterback Colin Kaepernick will be working out for the Las Vegas Raiders.
The story of Kaepernick is well known. He started kneeling during the national anthem in 2016, and after a 1-10 season as a starter that season, Kaepernick opted out of his contract before the San Francisco 49ers released him to clear cap space.
Since then, the former Nevada Wolfpack signal-caller hasn't had a legitimate tryout for an NFL team. The league did hold a showcase for the QB that scouts from around the league attended, but working out for a specific team hasn't happened for Kaepernick in the last five-plus years.
Now, though, Kaepernick will work out for the Raiders.
Derek Carr is the Raiders' undisputed starting quarterback for the 2022 season. However, the backup QB position is still up in the air. Behind Carr is Nick Mullens, who is 5-12 as an NFL starter, Jarrett Stidham, who's thrown 48 career passes in three seasons (and none in 2021), and undrafted rookie from Cal, Chase Garbers.
Las Vegas and new head coach Josh McDaniels seem to want to upgrade that backup QB spot and will give Kaepernick a chance to do that.
One reason is that the team's new offensive coordinator is Mick Lombardi. The coach was an offensive assistant for the 49ers from 2013 to 2016 during Kaepernick's tenure.
The other reason seems to be the support of Raiders owner Mark Davis.
Owner Mark Davis endorses Kaepernick getting another chance
No NFL would give Colin Kaepernick a tryout without express consent from the team's owner. That's one of the reasons the Las Vegas Raiders are a perfect team to provide the out-of-work QB a chance.
Raiders owner Mark Davis has said multiple times in the past that if his football people wanted to give Kaepernick a look, he'd support it. In 2020, he told ESPN's Paul Gutierrez, "Since 2017, I've told the coaches and general managers that if they want to hire Colin Kaepernick, they have my blessing."
Back then, the Raiders head coaches were Jack Del Rio, followed by Jon Gruden, and the general managers were Reggie McKenzie, followed by Mike Mayock. None of those regimes felt the need to bring Kaepernick in.
Since then, Davis has continued to be more supportive of Kaepernick than any other NFL owner. On an upcoming episode of Race in America: A Candid Conversation on NBC Sports Bay Area, Davis said of Kaepernick:
I believe in Colin Kaepernick. He deserves every chance in the world to become a quarterback in the National Football League. I still stand by it. … I think Colin is a very misunderstood human being. I've gotten a chance to talk to him. I never really knew Colin, and I didn't understand him. I didn't understand the kneeling, what that meant initially. Over time, I have learned a little bit more about it. I understand where he was coming from. He's got a message for society as a whole.

Mark Davis on Colin Kaepernick
With that attitude toward Kaepernick, it's no surprise new head coach Josh McDaniels, and new GM Dave Ziegler are taking a look.
Like Sportscasting on Facebook. Follow us on Twitter @sportscasting19 and subscribe to our YouTube channel.