Former Raiders Assistant Chuck Pagano Debunks Misconceptions About Owner Mark Davis: 'He Obviously Doesn't Give a S*** What Anybody Says About That Caesar Cut'
Iconic Raiders owner Al Davis was the epitome of cool. The shades, the slicked-back hair, and the black and white jumpsuits were a big part of what made the Las Vegas Raiders the legendary NFL franchise they are today. Al's son, Mark Davis, now owns the team, and, with his more reserved personality and much-maligned hairstyle, he's nowhere near as respected as his famous father.
However, former Indianapolis Colts head coach Chuck Pagano, who coached the Oakland Raiders secondary from 2005-06, says there's a lot more to Mark Davis than his demeanor and bowl cut let on.
Mark Davis inherited the Raiders from his iconic father, Al Davis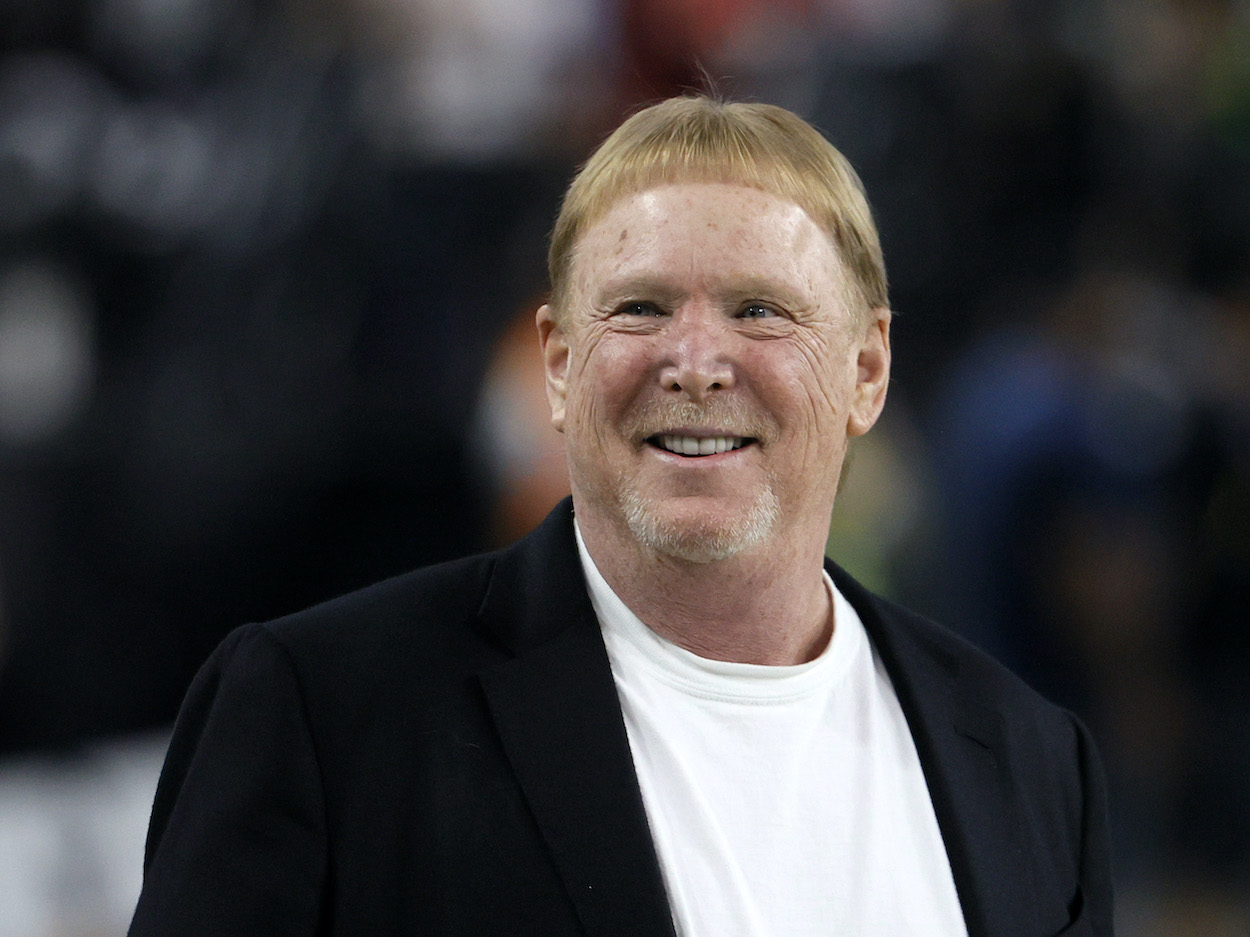 Al Davis is an NFL icon.
He was a coach, a general manager, a league commissioner, and an owner who won three Super Bowls. He also took the NFL to task (and to court) multiple times in his life to stand up for what he believed was right.
Al Davis didn't just stand up to power by challenging the league office. He challenged societal norms as well and championed people and groups of people who weren't getting a fair shake.
As the Raiders owner, he hired Tom Flores (the first Latino American NFL head coach), Art Shell (the first Black head coach), and Amy Trask (the first female CEO).
The National Football League and the country as a whole lost an important figure when Al Davis died at the age of 82 on Oct. 11, 2011.
Upon Al's death, ownership of the Raiders franchise transferred to his son, Mark Davis.
Unlike most NFL owners, Mark Davis didn't make his fortune in another business before acquiring a pro football franchise. He inherited the team from his dad, whose wealth came almost entirely from getting in on the team so early.
This is one reason some look at Mark differently than other NFL owners, but it's not the only one.
A 2014 profile by ESPN's Tim Keown painted a picture of an eccentric new owner. In the piece, Keown revealed that Mark wears a fanny pack, drove a white 1997 Dodge Caravan SE, and, at the time, still used a 2003 Nokia push-button phone.
And, to top it all off, there is the haircut reminiscent of Lloyd and Harry from 1994's Dumb and Dumber.
Despite these idiosyncrasies, former Raiders assistant Chuck Pagano says there's more than meets the eye with Mark Davis.
Former Raiders assistant Chuck Pagano says Mark Davis is sharper than he appears
Every week, Chuck Pagano joins his former punter, Pat McAfee, on the Pat McAfee Show. Last week, as the Raiders were in the news due to the Cleveland Browns COVID-19 outbreak that pushed their Saturday Week 15 matchup to Monday, the topic of Mark Davis came up.
While McAfee and his co-hosts have teased Mark in the past about the hair, Pagano said that the Raiders owner is someone the host and his buddies would actually like a lot:
You guys would love [Mark Davis]. He's a fantastic, really fun-loving dude. You know, he wasn't heavily involved when I was there. He'd show up on game days because Pops was still around, but he was there. … He's a great dude. He's a really, really fun dude and a smart dude. And he obviously doesn't give a s*** what anybody says about that Caesar cut. He's the best, though.

Chuck Pagano on Mark Davis
Framing Mark Davis this way is fascinating.
Instead of the usual Dumb and Dumber-looking rich kid narrative that usually surrounds the Raiders boss, Pagano's picture of him as a smart and cool guy who just "doesn't give a s***" about what people think of him is a fresh take that you don't often hear.
If Mark Davis has some of the same smarts his dad had, that will be good for the Raiders as they try and move past the horrific year they're having in 2021.
Mark will have to channel some of his father's famous feistiness to accomplish this, and it already seems like he is, as he showed last week, railing against the NFL postponing Saturday's game.
Despite the Raiders owner's dissent, the team plays the Cleveland Browns Monday night
As positive COVID-19 cases surged through NFL facilities ahead of Week 15, the league postponed several games.
Roger Goodell and company moved Saturday's Las Vegas Raiders vs. Cleveland Browns game to Monday and the Washington Football Team vs. Philadelphia Eagles game and the Seattle Seahawks vs. Los Angeles Rams game to Tuesday.
Raiders owner Mark Davis did not take kindly to this move. According to a tweet from ESPN's Paul Gutierrez, Mark railed against the NFL, saying the change put his team at a "competitive disadvantage."
He also noted that his team is "100 percent vaccinated and had no one on the COVID list." Due to this, Mark suggested that "Maybe Cleveland should travel here. That would make it more fair." 
Despite Mark Davis' objections, the game will kick off at 5 PM EST on Monday in Ohio.
Even though he tried and failed, it does seem like Mark Davis has learned to take pages directly from the Al Davis playbook when it comes to dealing with the league.
If Mark continues to follow in Al's footsteps while running the Raiders, Pagano might be correct, and the younger Davis may be more intelligent and competent than he appears, which would mean the Las Vegas franchise is in a lot better hands than many people think.
Like Sportscasting on Facebook. Follow us on Twitter @sportscasting19