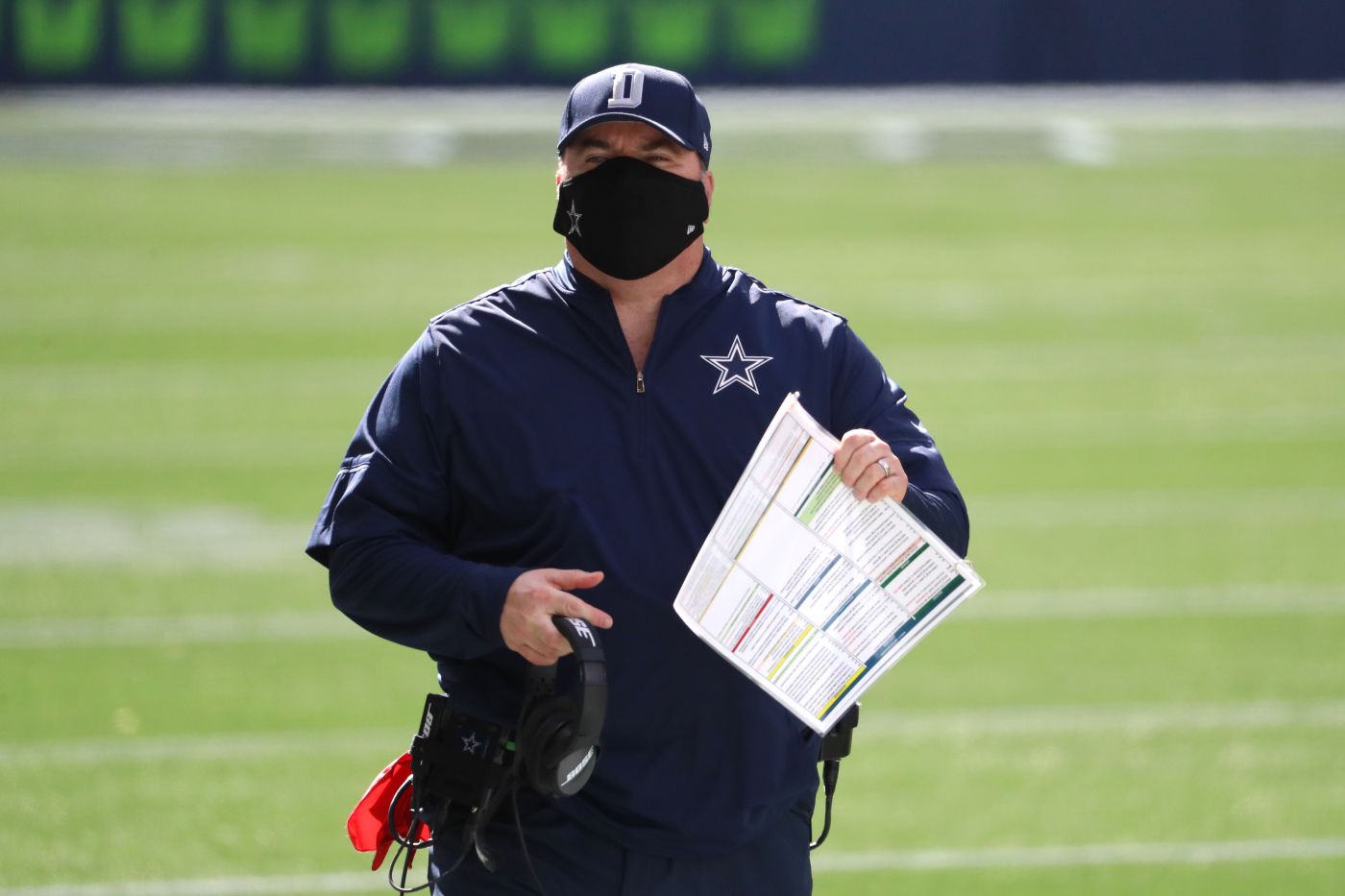 Mike McCarthy Has Been Through Much Worse Than These Dallas Cowboys' Woes
Dallas Cowboys first-year head coach Mike McCarthy has been through a whole lot worse than his team's poor start to the season.
Mike McCarthy is in his 14th season as a head coach in the NFL. It's his first with the Dallas Cowboys and, so far, it's been tough. His team is 2-3 and just lost starting quarterback Dak Prescott for the rest of the season. McCarthy is struggling, but he's been through a whole lot more than what's he's experiencing in Dallas right now.
Mike McCarthy's coaching career
Mike McCarthy spent 13 seasons as head coach of the Green Bay Packers. He was hired in Green Bay prior to the 2006 season. He had been the offensive coordinator for the San Francisco 49ers in 2005 but never had any NFL head coaching experience. McCarthy replaced Mike Sherman who went 57-39 in six seasons.
In his first 11 seasons with the Packers, McCarthy had one losing season. That came in 2008 when quarterback Brett Favre announced his retirement, only to return. McCarthy and GM Ted Thompson decided to move on from Favre and go with Aaron Rodgers, their first-round draft pick in 2005. The team went 6-10 in 2008.
McCarthy then guided the Packers to a Super Bowl victory during the 2010 season. The following year, McCarthy and the Packers went 15-1 during the regular season but were beaten by the San Francisco 49ers in the NFC title game. McCarthy's final two seasons in Green Bay were ugly. He went 11-16-1 during that stretch before he was fired after 12 games in 2018. He sat out a season and was signed by the Dallas Cowboys prior to the 2020 season.
McCarthy's tough end to the 2014 season
In 2014, the Green Bay Packers were clicking. Despite a calf injury to quarterback Aaron Rodgers, the Packers went 12-4 during the regular season. Mike McCarthy found himself one win away from another Super Bowl berth as the Packers traveled to Seattle for the NFC Championship Game against the Seahawks.
The Packers were dominating the game, holding a 16-0 lead at halftime. The Packers could taste victory when they were up 19-7 as the two-minute warning was approaching. Seattle quarterback Russell Wilson managed to cut the Seahawks deficit to 19-14 with 2:09 to play. Then it all fell apart for McCarthy and the Packers.
The Seahawks recovered an onside kick that slipped through the hands of backup Packers tight end Brandon Bostick. The Seahawks went ahead 22-19 after a Marshawn Lynch 24-yard touchdown run and a two-point conversion. Although Mason Crosby kicked a game-tying field goal with 14 seconds left, the Seahawks went on to win 28-22 in overtime, sending McCarthy to arguably his most painful loss.
Days after the devastating loss, McCarthy's brother died
Just when it seemed like Mike McCarthy couldn't be any more emotionally challenged than he already was after that loss to the Seahawks, he was delivered devastating news. The Wednesday following the Seattle game, McCarthy learned that his younger brother Joe died at 47.
Sports Illustrated reported that Joe McCarthy was working out at a local gym and collapsed. He was rushed to a hospital where he was pronounced dead. McCarthy was scheduled to deliver a season-ending press conference on that Wednesday, but it was canceled after he received the news of his brother's passing.
McCarthy is 2-3 with the Dallas Cowboys. Yes, they've struggled and McCarthy has certainly faced challenges in his first year with the team. Those challenges pale in comparison to what McCarthy went through during that three-day stretch in 2015.