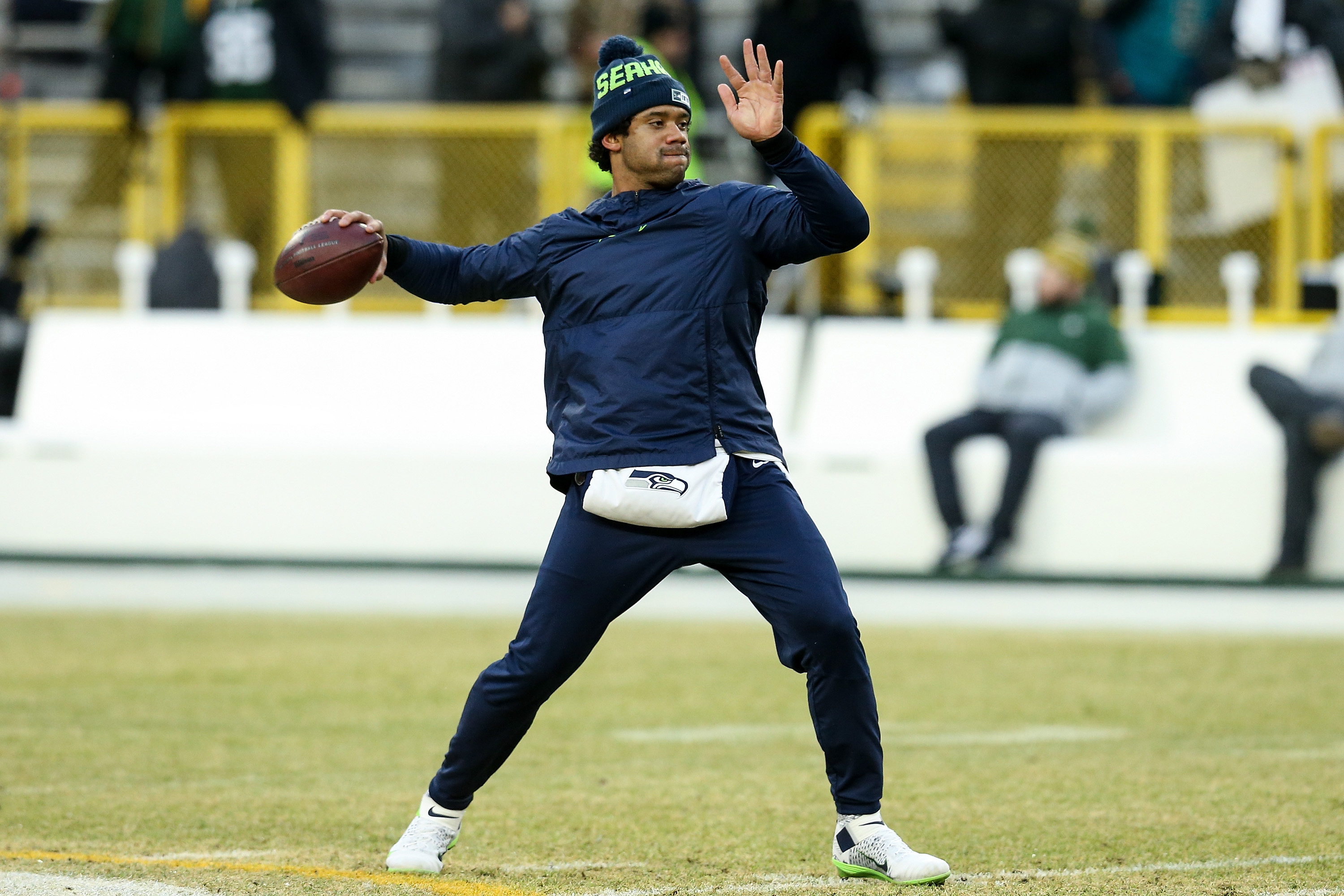 Russell Wilson Has a New Weapon That Gives Him an Option He's Never Had
Seattle Seahawks quarterback Russell Wilson has a new weapon that gives him an option he's never had as a pro.
The Seattle Seahawks are certainly a contender to reach the Super Bowl this season. All the key parts are there for a deep run through the postseason. One of those key parts is a new weapon that has head coach Pete Carroll pretty excited and should give quarterback Russell Wilson another option in his arsenal.
The Seattle Seahawks are primed for another Super Bowl run
The Seattle Seahawks are clearly in win-now mode. Last season, they battled neck-in-neck with the San Francisco 49ers for the NFC West title. It came down to the final week and pretty much the final play of the game when the Seahawks were stopped inches short of the goal line.
This year, it appears the Seahawks aren't messing around. They've made several moves, bringing in a number of veterans to help push them over the top. The Seahawks have made moves on both sides of the ball, but their biggest splash this offseason was acquiring Pro Bowl safety Jamal Adams in a trade with the New York Jets.
The addition of Adams came at a hefty price. The Seahawks surrendered first-round picks in each of the next two drafts, along with a 2021 third-round pick and starting safety Bradley McDougald. Seattle GM John Schneider has shown the team is all-in this year.
GM John Schneider has been adding new pieces
While the addition of Jamal Adams will certainly help the Seattle Seahawks defense, the team has added some solid pieces to an already potent offense. Seattle's ground game, anchored by Chris Carson and Rashaad Penny, got a boost when general manager John Schneider brought in veteran Carlos Hyde.
The addition of Hyde strengthens an already strong part of the Seattle offense. Hyde's signing is more of an insurance policy as both Carson and Penny both finished the season on injured reserve. Penny had a knee injury and may not be ready to open the season. Carson was sidelined with a hip injury and should be available when the season begins.
Another veteran move Schneider made was bringing in wide receiver Phillip Dorsett. Dorsett will nicely complement receivers DK Metcalf and Tyler Lockett. The veteran receiver has played for the Indianapolis Colts and the New England Patriots.
Phillip Dorsett gives Russell Wilson a speedster he hasn't had
Phillip Dorsett has impressed everyone in the Seattle camp, especially head coach Pete Carroll. Dorsett gives Russell Wilson that speed threat, something Carroll said they've severely lacked. "He's the fastest guy we've ever had here," Carroll told The News Tribune on Thursday. "He runs in the time realms we don't even think really exist. You know, 4.2s and stuff."
Dorsett reunites with offensive coordinator Brian Schottenheimer, who was with the wide receiver in Indianapolis as the quarterbacks coach. "In our system with Russ and the way Russ likes to bomb the football, he's a big factor for us," Carroll said. "Matter of fact, we're just installing stuff the next couple days that really accentuate some of those kinds of plays, and I'm really anxious to see him fit in. …That's what you've seen. He's gotten behind us a couple times."
Dorsett feels like he's found a new home in Seattle. "I just felt like it was the right fit," Dorsett said in May. "Seattle, with obviously Schotty being there and bringing in (former Colts receivers coach) Sanjay (Lal), I was familiar with a lot of guys on the staff. And I felt like this is the right offense for me. Obviously, Russell, he is a great quarterback. I think the way he plays quarterback, the way this offense is, fits my skill set."