Seahawks QB Russell Wilson's Father's Day Gift From Wife Ciara Was Perfect
Once you get past Tom Brady and Gisele Bundchen, the list of celebrity couples consisting of two genuine stars in their respective careers starts to thin out unless you're Russell Wilson. The Seattle Seahawks quarterback began Father's Day with a touching gift from wife and entertainment-world icon Ciara, then capped it off by working with another power duo.
Russell Wilson co-hosts the annual ESPY Awards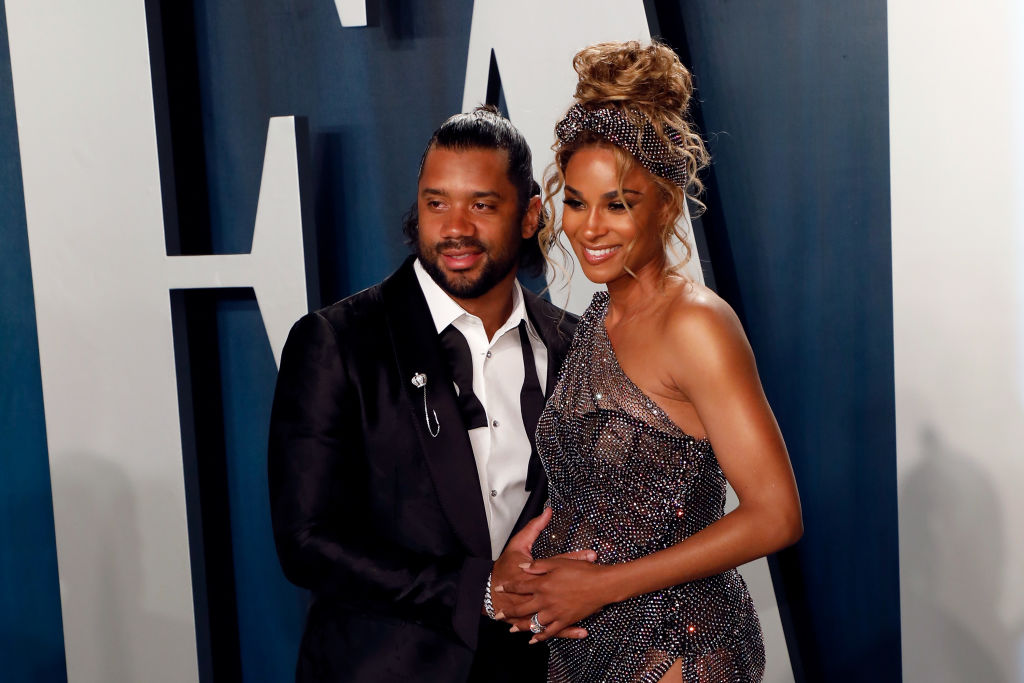 The COVID-19 pandemic forced the producers of the ESPY Awards to dial back the usual glitzy format of the show. Rather than live award presentations in a packed theater, the annual show was done from remote locations.
Seattle Seahawks quarterback Russell Wilson served as one of the co-hosts from the Seattle-area home he shares with Ciara, a major star in the music world since her 2004 debut album spawned a string of hit songs and went triple-platinum.
His co-hosts, working from their own Seattle-area home, were Megan Rapinoe and Sue Bird, themselves a top-tier power couple since meeting at the 2016 Rio de Janeiro Olympics. Rapinoe is the captain of the defending World Cup soccer championship team; Bird is a veteran WNBA guard likely headed for the Naismith Basketball Hall of Fame in a few years.
Wilson, Rapinoe, and Bird tackled the killing of George Floyd at the hands of a Minneapolis police officer, the social issue that has gripped the country for three weeks, and their hopes for a better future for the country.
"Our country's work is not anywhere close to done," Wilson said. "We need justice. We need true leadership. We need a change. And we need it now. I look at my children, and I pray for a better future. A world where the color of their brown skin doesn't stop them from their calling, from their purpose, from their destiny."
Russell Wilson is a family man
Russell Wilson was married to Aston Meem, whom he met in high school, for a little over two years at the start of his career as one of the NFL's most exciting quarterbacks. Shortly after his April 2014 divorce, he began dating Ciara. The couple announced their engagement in March 2016 and married four months later.
Ciara had a son by a previous relationship, and she gave birth to daughter Sienna in April 2017. Another child is due early this summer, which will make future Father's Days a touch more special for Wilson. Going forward, however, household matriarch Ciara is going to have to dig deep to top the gift that she gave her football-star husband on Father's Day 2020.
Anyone with her wealth could crack open the Neiman Marcus catalog and randomly pick something expensive and exquisite. But what Ciara did for Russell Wilson this weekend was indeed special. She commissioned a massive painting of Harrison Wilson, the father of the ninth-year veteran of the Seattle Seahawks.
Wilson called the gift "the dopest painting ever" while thanking his wife on Twitter.
Nearly an NFL father-and-son tandem
Russell Wilson's football credentials are well-known, beginning with a 2012 rookie season in which he threw for 3,118 yards to earn the first of his six trips to the Pro Bowl. Wilson has started all 128 games of his NFL career and thrown for 29,734 yards and 227 touchdowns.
His ratio of more than three TDs for every interception and a career passer rating of 101.2 put him in the conversation for the best active quarterback in the NFL. He has the Super Bowl ring from the 2013 season that means the Pro Football Hall of Fame can start working on his bust for an induction ceremony around 2035.
But Russell Wilson isn't the first football player in his family. His father, Harrison Wilson III, made it to the final cut of the 1980 preseason with the San Diego Chargers as a receiver out of Dartmouth. Once he realized his football days were over, Harrison Wilson went on to a career as a lawyer. He died in 2010.
Harrison Wilson's father, by the way, was a college basketball coach and a distinguished educator who served as president of Norfolk State University from 1975-97.
All statistics are from Pro-Football-Reference.com.