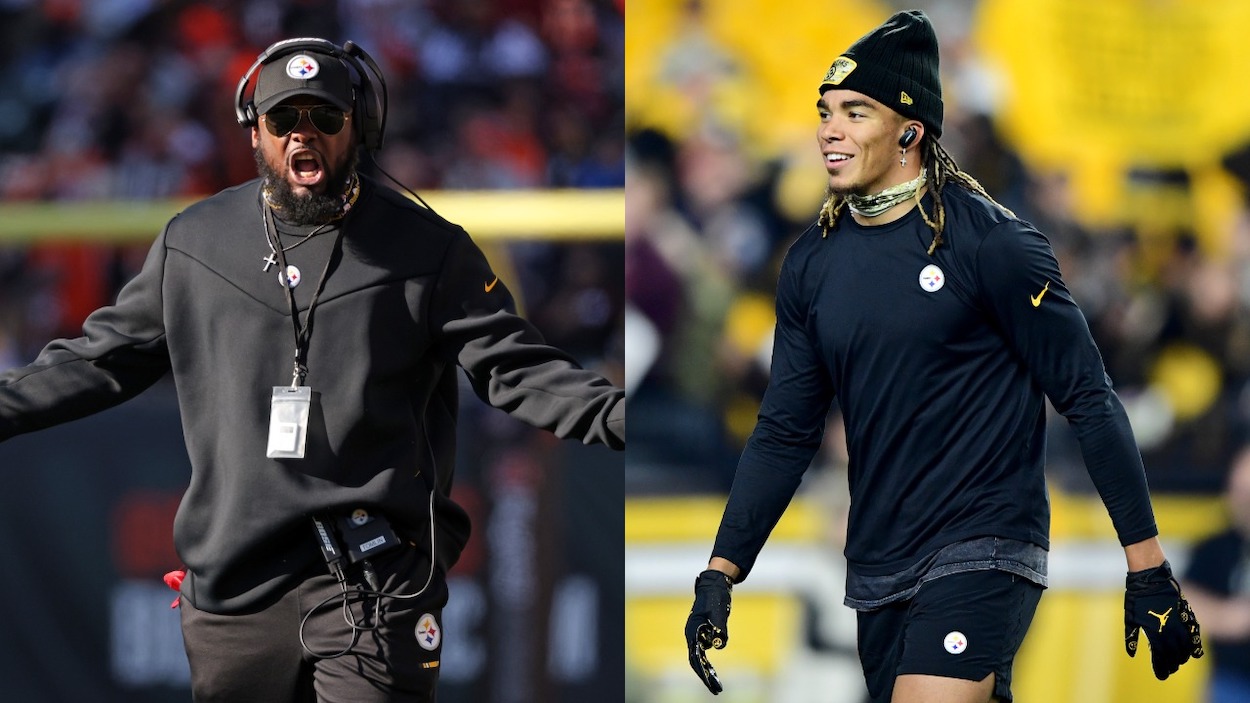 Mike Tomlin Crushed Chase Claypool After the WR Complained About Practice Not Being 'Fun': 'Claypool Plays Wideout, and I'll Let Him Do That'
Pittsburgh Steelers WR Chase Claypool had a simple suggestion for how head coach Mike Tomlin could improve practice but the coach was't buying it and told his young player to mind his own business.
Pittsburgh Steelers longtime head coach Mike Tomlin certainly has a way with words. Tomlin's verbal dexterity was on full display this week after one of his players, second-year wideout Chase Claypool, complained that Steelers practice could be more fun. Tomlin quickly shot down the young pass-catcher and put him in his place in the process.
The Pittsburgh Steelers are struggling in 2021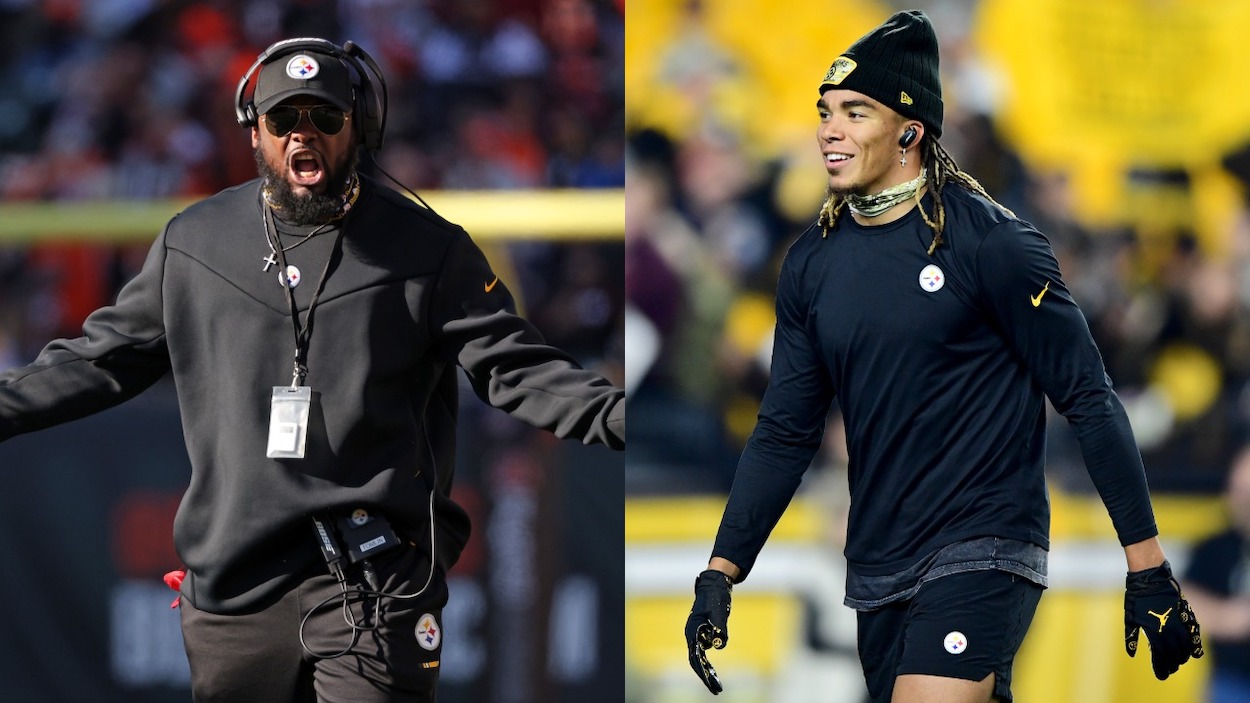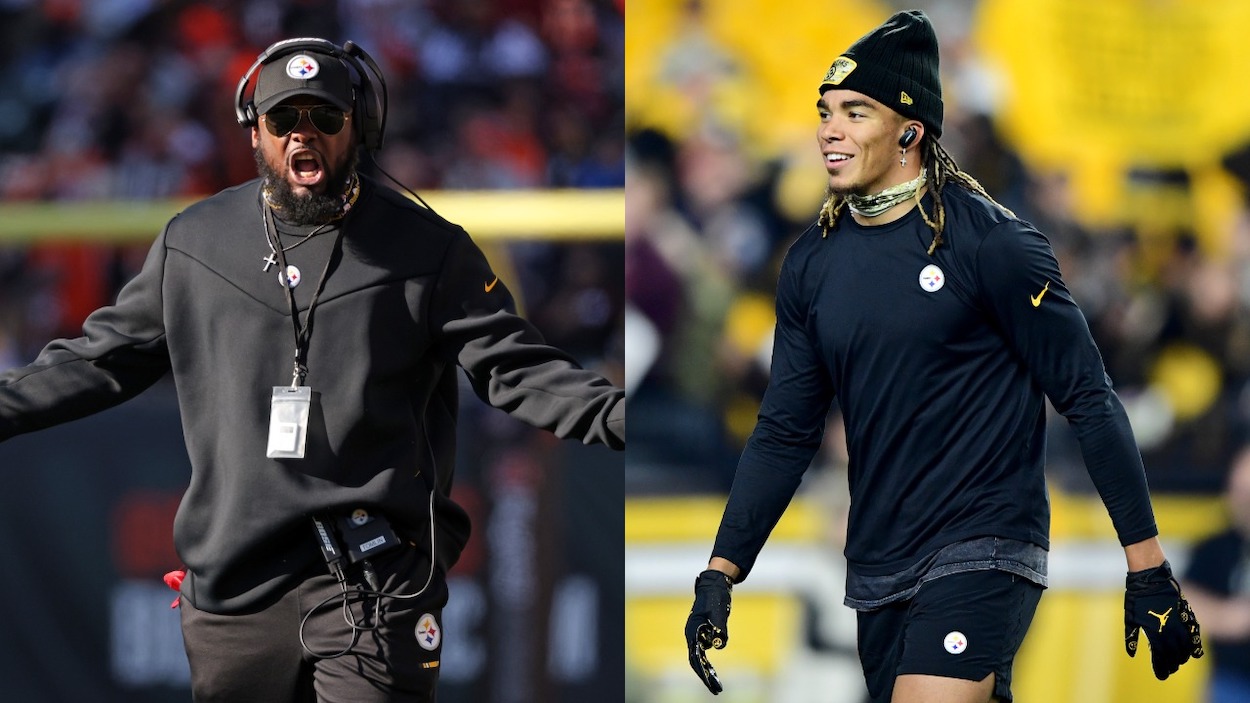 The 2021 NFL season got off to an excellent start for the Pittsburgh Steelers. The team traveled up to Buffalo and upset the Bills, one of the preseason Super Bowl favorites, in Week 1.
That surprising win could have set the tone for the season, but Ben Roethlisberger and company quickly made a U-turn in the wrong direction. The team lost the next three games in a row to the Las Vegas Raiders, Cincinnati Bengals, and Green Bay Packers.
A four-game win streak followed but took its toll as well. Pro Bowl wide receiver JuJu Smith-Schuster went out for the season with a shoulder injury.
The following week turned bad again. With Ben Roethlisberger and safety Minkah Fitzpatrick on the reserve/COVID-19 list and All-Pro pass rusher T.J. Watt picking up an injury mid-game, the Steelers handed the lowly Detroit Lions their only non-loss of the season so far, tying the team 16-16.
The next two games were duds for the Steel City squad as well. The Steelers lost 41-37 to the (also struggling) Los Angeles Chargers and 41-10 to the division rival Bengals.
Going into Week 13, the Steelers sit at 5-5-1 and in last place in the NFC North. Another few losses, and the season will be over for the team. Before that happens, one Steelers player had an idea of how the team could possibly get better results, but coach Mike Tomlin wasn't having it.
Second-year WR Chase Claypool told the media practice should be more fun, and Mike Tomlin fired back
As a new Pittsburgh Steelers losing streak is unfolding, everyone in the building is looking for ways to stop the slide and turn things around.
One player who put an idea forward — albeit to the media, as opposed to the team or the coach — is former Notre Dame star, WR Chase Claypool. After Pittsburgh's crushing loss to the Bengals, Claypool shared his ideas on how to improve practice:
I think some music would help. We had music in the warm-ups, and that stuff is fun. People are dancing, having fun, so I think maybe music would make practice a little more fun and a little more up-tempo. That's my one suggestion, but Coach T has been doing this a lot longer than I have.

Chase Claypool on Pittsburgh practice
While Claypool did throw in at the end that he would defer to Mike Tomlin when it comes to practice ambiance, the head coach wasn't too happy about his 23-year-old star making suggestions via reporters.
When told of Claypool's comments, Tomlin fired back:  
Claypool plays wideout, and I'll let him do that. I'll formulate the practice approach. And I think that division of labor is probably appropriate.

Mike Tomlin on Chase Claypool
It was a savage shot by the 49-year-old head coach. And, while he's taken savage shots at his own players before, it does make you wonder if he would have been as aggressive toward Claypool if the pass-catcher was having as good a season this year as he did in 2020.
Claypool is having a frustrating sophomore campaign
The 2020 NFL Draft was an incredible one for wide receivers. In addition to Chase Claypool (No. 49), other wideouts in last year's draft included Justin Jefferson (No. 21), CeeDee Lamb (No. 17), Jerry Jeudy (No. 15), Brandon Aiyuk (No. 25), Tee Higgins (No. 33), Michael Pittman Jr. (No. 34), and Van Jefferson (No. 57), among others.
Claypool produced one of the best seasons in the class, even among these 2020 standouts. The Pittsburgh Steelers WR caught 62 balls for 873 yards and led all rookies at the position with nine touchdowns.
This season is not going as well.
The 6-foot-4, 238-pound WR has already missed two games due to injury. He missed Week 4 with a hamstring injury and Week 10 with turf toe.
Statistically, he's not performing up to his rookie standards either. The one area he is still excelling in is total yards. He already has 608 yards in nine games, but he's only caught 37 balls. An even bigger problem for the prominent red zone threat is that he has just one TD in 2021.
It's hard to say how much of this dip in production is on Claypool himself, the fact that defenses are now scheming for him, or his QB Ben Roethlisberger's age-based regression.
It's likely a little bit of all three of these factors, but no matter to what degree each is contributing, the result is the same. Claypool is not the same game-breaking, touchdown-waiting-to-happen pass-catcher he was last year.
Maybe if Mike Tomlin would just play music during practice, it would start to turn around.
All stats courtesy of Pro Football Reference