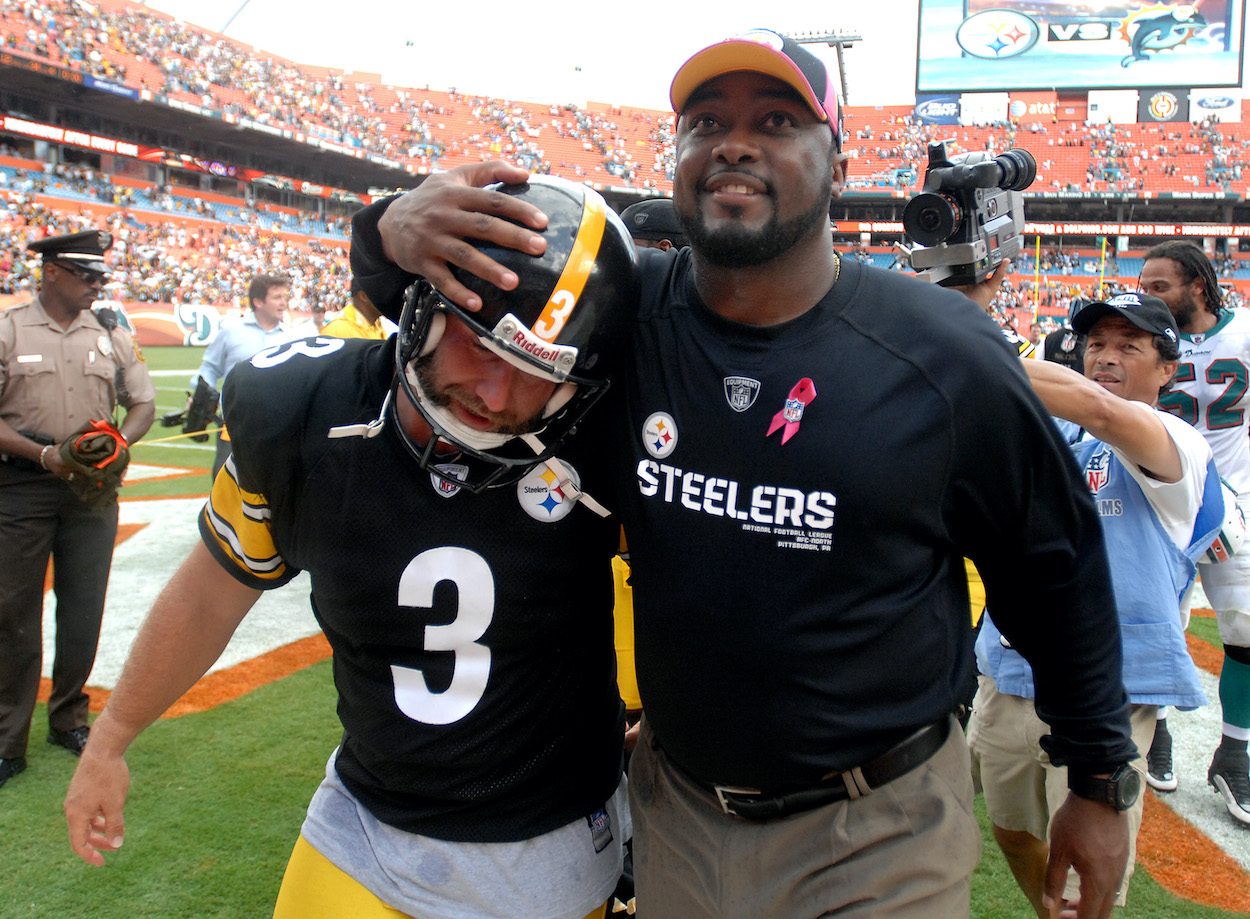 Mike Tomlin Once Savagely Talked Trash to His Own Slumping Kicker
Mike Tomlin knows how to get the best out of his players, and sometimes that even means talking smack to his kicker in the middle of a slump. That's exactly what Tomlin did with Chris Boswell. Pat McAfee told this story during a larger conversation about the NFL penalizing taunting in 2021.
Pittsburgh Steelers head coach Mike Tomlin is a player's coach. He is a motivational and outspoken guy. The long-time head coach seems to know exactly how to reach each player on his team, from the youngest rookie to his oldest vet. Sometimes this motivation takes strange and humorous forms. This includes the time he talked trash to his own Pro Bowl kicker during a terrible kicking slump.
Mike Tomlin is one best and most successful coaches currently in the NFL 
Mike Tomlin grew up playing football in Virginia. He then started at wide receiver for William & Mary for three years in the early '90s. After his playing career ended at the college level, Tomlin started coaching at the college ranks. He spent time at VMI, Memphis, Arkansas State, Tennessee-Martin, and Cincinnati, per Steelers.com.
He then made the jump to the NFL. Tomlin coached the defensive backs in Tampa Bay for five seasons before getting the job as defensive coordinator in Minnesota. In 2007, after one year as DC, the Pittsburgh Steelers made him the 16th coach in franchise history. He was just 34-years-old at the time.
Tomlin quickly found success. In just his second season, he became the youngest coach to coach in a Super Bowl and the youngest to win one when his Steelers beat the Arizona Cardinals in Super Bowl 43. He was 36 years, 323 days old.
Going into 2021, Tomlin has a career 153-86-1 record. He is also now the third-longest tenured NFL head coach, behind only Bill Belichick and Sean Payton.
Tomlin once trash-talked his own kicker when he was struggling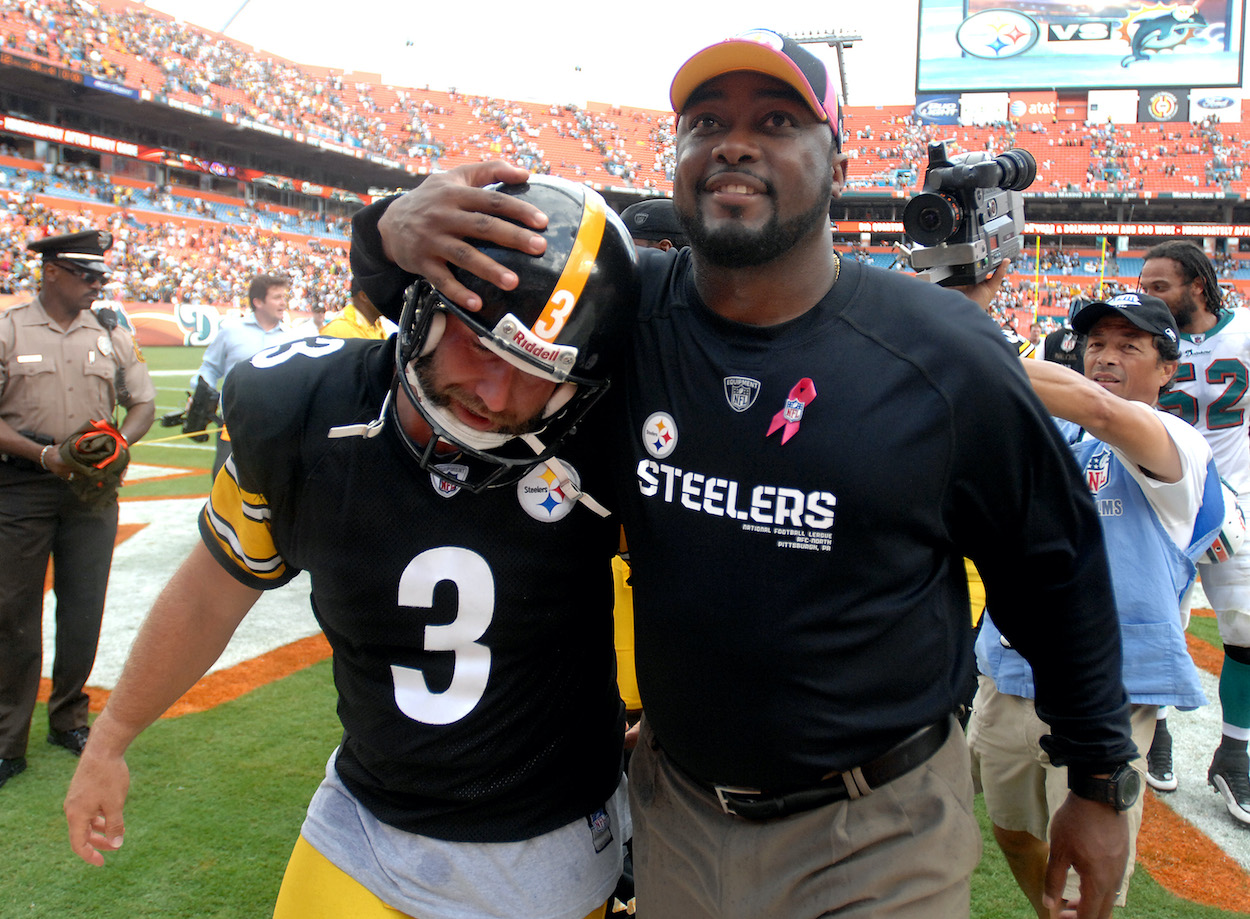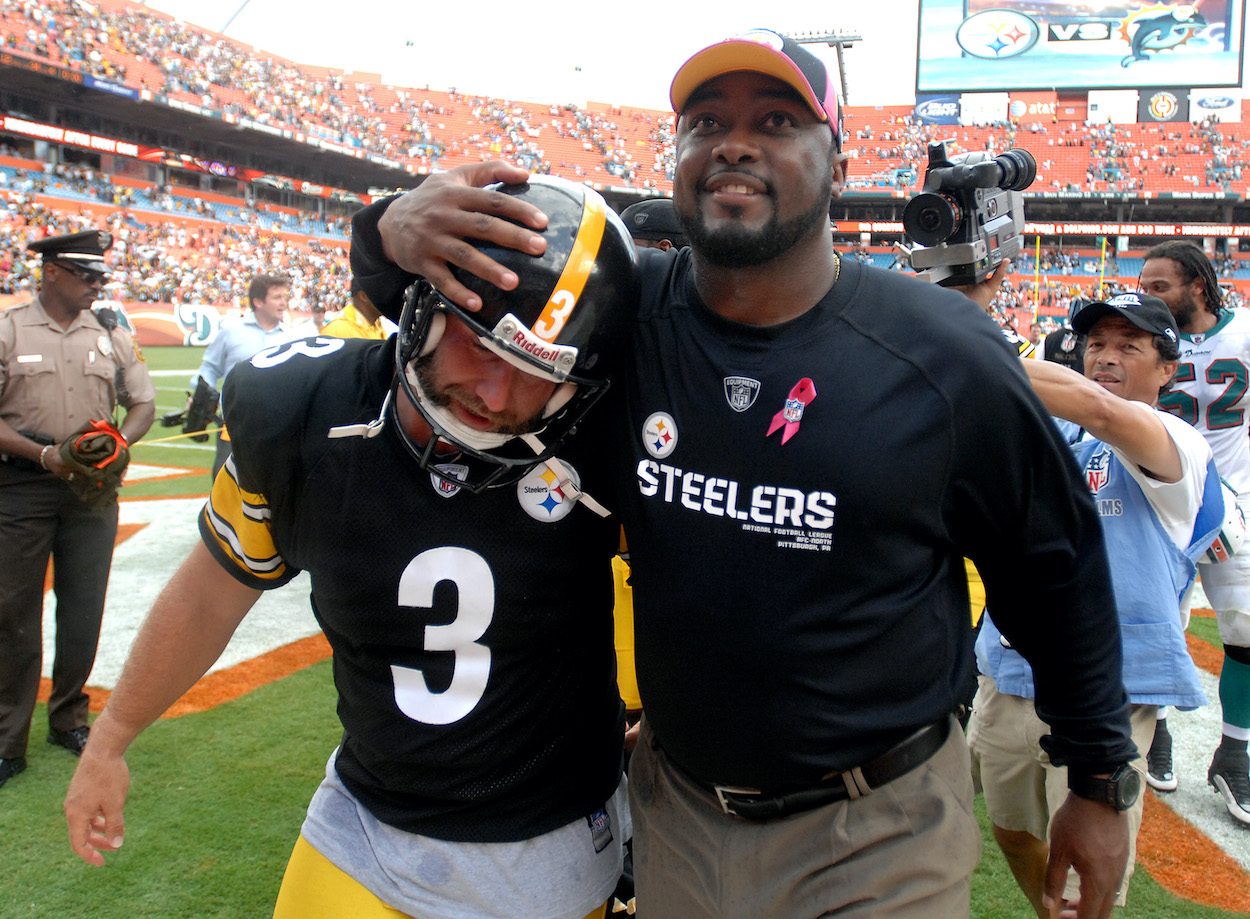 Former NFL punter-turned-radio-host Pat McAfee shared a story on his The Pat McAfee Show 2.0 podcast that emphasized Tomlin's motivational skills.
He started the tale by noting that Tomlin has "so much swag" and that he "talks s—." The former Indianapolis Colt then recounted a story he heard over beers with Pittsburgh Steeler placekicker Chris Boswell:
Chris Boswell was kicking. Maybe he was going through a little bit of a slump. … I asked what happened, he goes, he just didn't know. I was like, 'How did Tomlin – I like hearing how, like how did Coach Tomlin handle it?' He said, at first he was like motivating, ya know, and then, at one point, he came over and he just like kinda started talkin' s— to Bos.

Pat McAfee on ike Tomlin
McAfee didn't share exactly what Tomlin said, but he went on to explain that the trash talk didn't come from a place of disrespect. It was just Tomlin's way of trying to motivate his kicker in a different way. The former NFL player described how personalities on a team differ. For some guys, praise is what motivates them. Others need a "poke." There are some who need a coach to challenge them and, apparently, some just need to hear some good trash talk.
Tomlin is a master at finding out the right buttons to push with each player and pushing them.  
The NFL is trying to get taunting out of the game in 2021
The story about Tomlin taking trash to Boswell came up around a conversation about the NFL competition committee's emphasis on penalizing "taunting" in 2021. New York Giants owner John Mara recently explained this decision:  
We get kinda sick and tired of the taunting that does go on from time to time on the field. We've tried to balance the sportsmanship with allowing the players to have fun, and there's always a fine line. But none of us like to see that. And it's just a question of whether you can have rules that can be enforced without taking the fun out of the game, but nobody wants to see a player taunting another player. I know I certainly don't, and I think the rest of the members of the competition committee feel the same way too.

John Mara on taunting in the NFL
It's worth noting that Mike Tomlin is a member of this competition committee, as are former NFL players like Mike Vrabel, Ron Rivera, Frank Reich, and Ozzie Newsome, per NFL.com.
While Mara and his cohorts might think they're not taking the fun out of the game, they are definitely trying to regulate out some of the emotion. In a sport that's already (correctly) toned down the brutal hits, the no taunting emphasis seems a step too far.
Trash talk is a vital part of all team sports, or at least should be. While (almost) no one condones vulgarity or violence, letting a player tell another player about it in an up-close and personal manner when they beat them on a play is a time-honored tradition that likely pre-dates Wing T.
The only rule the NFL should have regarding taunting is, if you don't like it, stop him next time.
All stats courtesy of Pro Football Reference