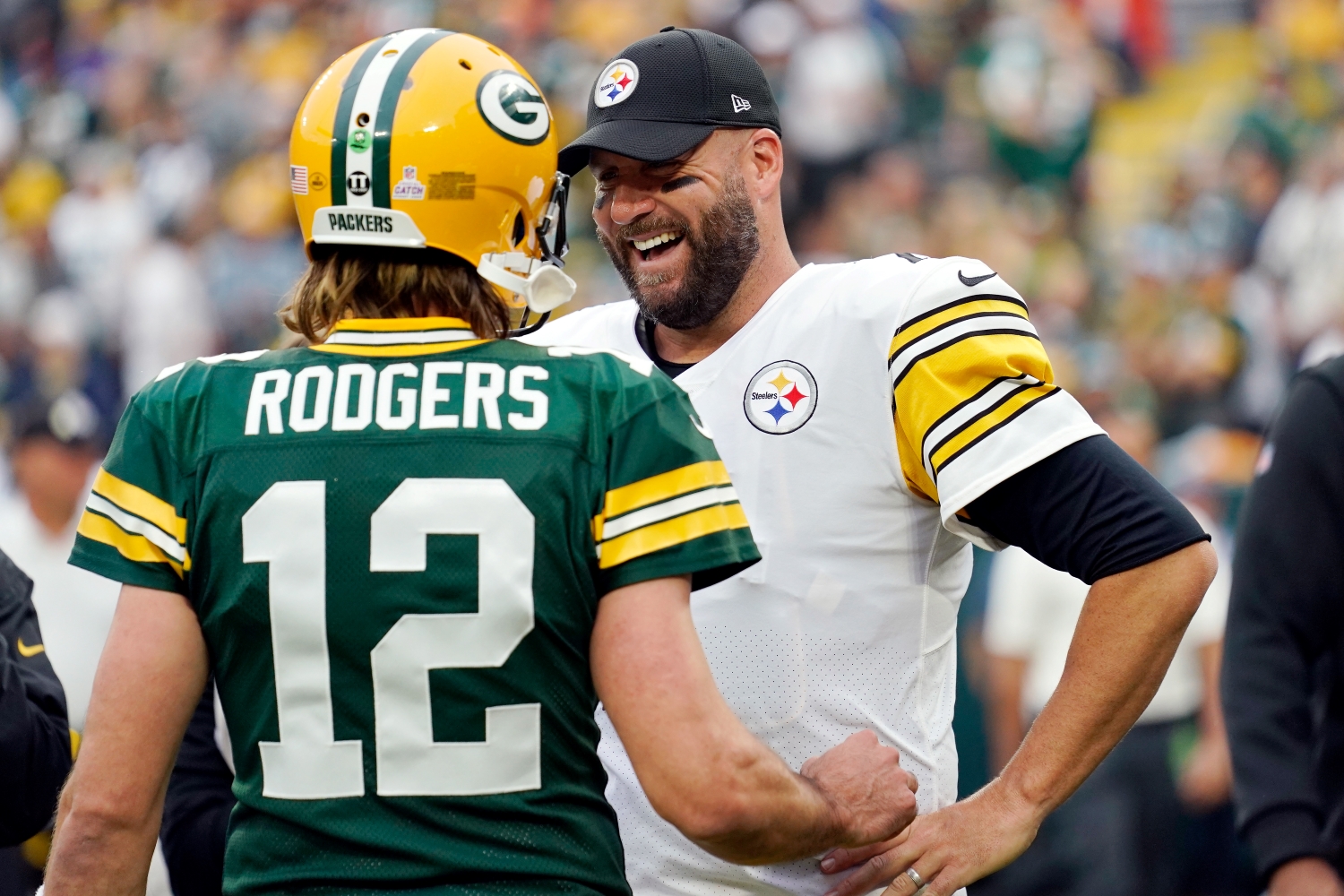 Mike Tomlin is Subtly Opening the Door for Aaron Rodgers to Become Ben Roethlisberger's Permanent Replacement in Pittsburgh
Could Aaron Rodgers go from wearing green and gold to black and gold? Steelers head coach Mike Tomlin subtly opened the door for the longtime Packers star to replace Ben Roethlisberger in Pittsburgh.
Could Mike Tomlin go from coaching one all-time great quarterback to another?
Stranger things have happened in the NFL. After all, who could have predicted that both Antonio Brown and Le'Veon Bell would sign contracts with three different teams since 2019?
Although Tomlin still lists Ben Roethlisberger atop the chart, there's no doubt he has to find a better solution after the season. And if you follow the trail of breadcrumbs closely, it's clear the longtime Pittsburgh Steelers coach is subtly opening the door for Aaron Rodgers to replace one of the most iconic players in franchise history.
Both Aaron Rodgers and Ben Roethlisberger face uncertain futures with their respective franchises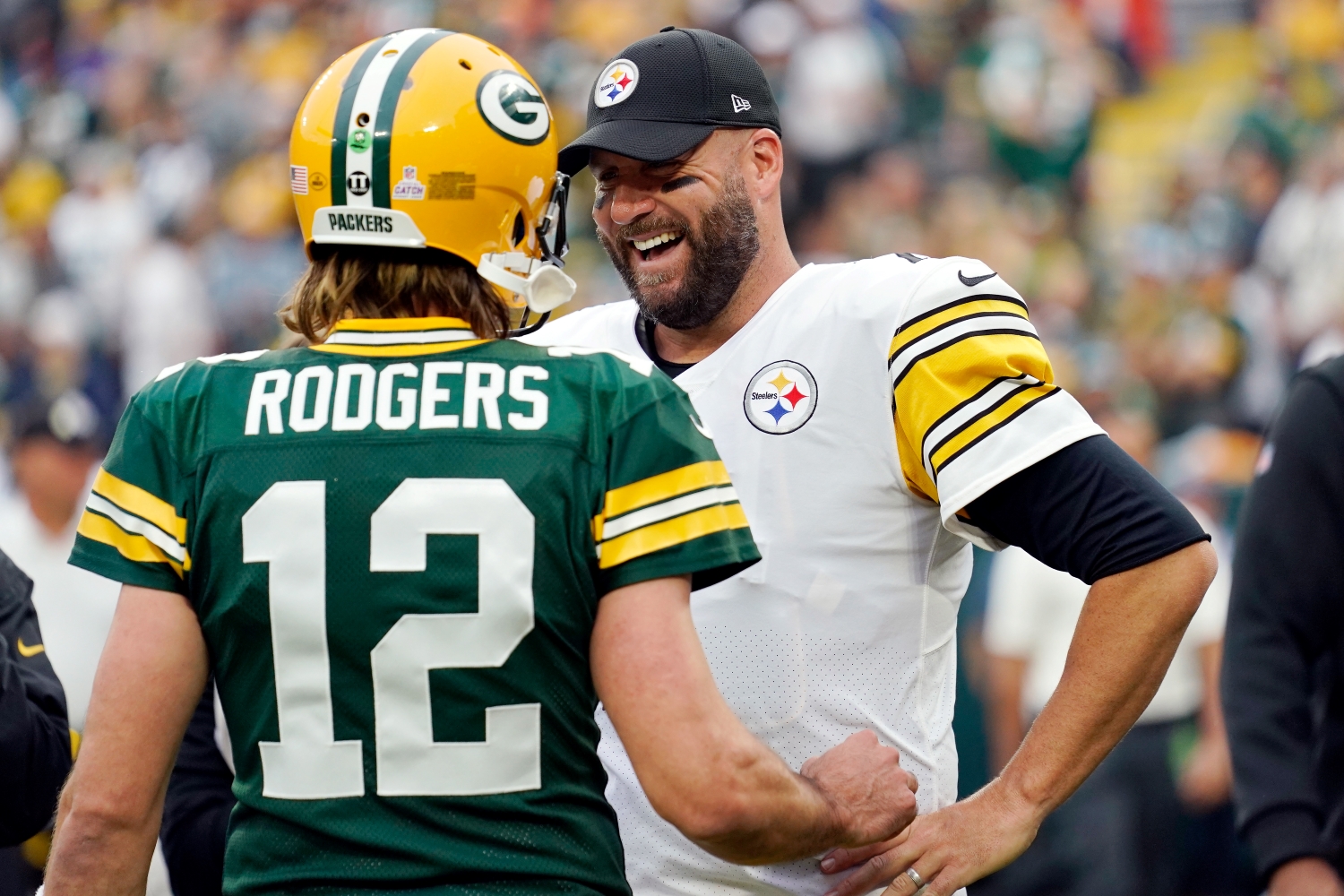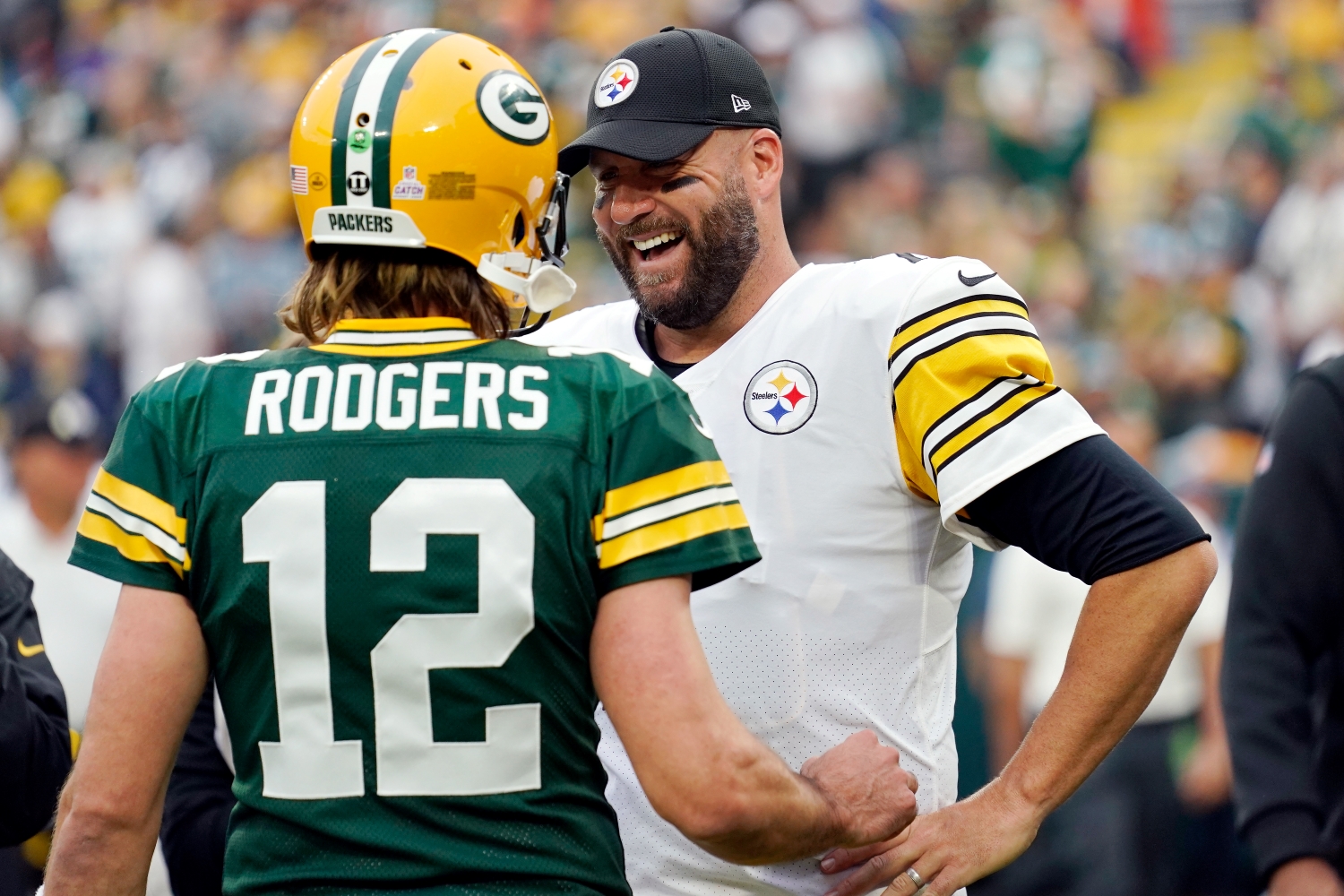 Two of the NFL's most historic franchises could undergo massive changes in the coming months. The Packers may have worked things out with their star quarterback over the summer to get him to come back to work, but Rodgers certainly doesn't look like someone who's bound to play for Green Bay much longer. With an agreement in place to trade or release him if he stills wants out after the season, the team seems destined to move forward with Jordan Love in 2022.
Unlike his peer who plays in Pittsburgh, though, Rodgers hasn't shown signs of slowing down. The reigning MVP is still one of the best players at his position — an impressive feat for someone who turns 38 on Dec. 2. Still, with only one Super Bowl ring sitting at home, the future Hall of Famer remains one behind Roethlisberger and six behind Tom Brady.
Ironically, just like the team they lost to in Super Bowl 45, the Steelers also have to make a major decision with franchise-altering implications. At this point, it's obvious a 39-year-old version of Big Ben doesn't have the same physical skills that helped him earn seven Pro Bowl selections. With a rapidly declining arm, almost zero mobility, and legitimate durability concerns, Roethlisberger offers little upside, and it wouldn't be a surprise if he finally brings his Canton-worthy career to an end after the season.
Unfortunately for Pittsburgh fans, the absence of a clear succession plan at the most important position in sports makes it tough to gauge how the team will perform in 2022 and beyond.
Mike Tomlin is subtly opening the door for Rodgers to become the Steelers' next starting quarterback
Tomlin doesn't have a long-term replacement for Roethlisberger on the roster. At least, not based on the way Mason Rudolph and Dwayne Haskins have performed at the pro level.
However, don't assume the Steelers will build around a young signal-caller teeming with potential. In fact, Tomlin is subtly opening the door for someone with a wealth of experience and a championship resume to take over in Pittsburgh: Aaron Rodgers.
"Ben Roethlisberger — [when] it's time for him to move on — Mike Tomlin has told me he doesn't want to start over with a rookie," NFL reporter Jay Glazer said on Monday's #AskGlazer segment. "The Steelers are going to want to go with somebody who is a veteran … The Pittsburgh Steelers, they are going to need a veteran quarterback, obviously, [considering acquiring Rodgers] makes sense."
With Tomlin reportedly not interested in the draft-and-develop approach, Pittsburgh will have to acquire its next starter via trade or free agency. And given the way Rodgers openly praised him, the idea of the two working together in the near future certainly seems possible.
"I have a ton of respect for Mike [Tomlin]. He's a fantastic coach. I love the way that he leads," the Packers star told Pat McAfee days before facing Pittsburgh. "The way he talks after the games. He always seems to keep things really even-keeled. It looks like he's somebody that the players love playing for him."
Tomlin hasn't shown any hesitation about speaking highly of Rodgers, which has only increased speculation that he wants to replace a washed-up version of Roethlisberger with a still-dangerous version of the three-time MVP. Actions speak louder than words, but at this stage, it's tough to ignore all the signs that point toward a potential union between the 49-year-old coach and the 37-year-old quarterback, both of whom could use another Super Bowl title to cement their legacies.
Could Pittsburgh realistically pull off a trade for the reigning NFL MVP?
It's easy to envision the Steelers competing for championships with Rodgers under center. Even at his age, he still has the arm strength and mobility to torch defenses on a weekly basis. And while it would certainly hurt to say goodbye to Davante Adams (who might be leaving anyways) and Aaron Jones, he could do serious damage in an offense that features Chase Claypool, Diontae Johnson, and Najee Harris.
However, whether Pittsburgh can put together a trade package that would entice Green Bay to do a deal remains a mystery.
Unlike the Philadelphia Eagles or Miami Dolphins, the Steelers don't have a young quarterback with theoretical upside to use as trade bait. Would general manager Kevin Colbert be willing to part ways with a top-end player plus draft capital? As much as it might help to have Rodgers in the fold for a few years, he still has to find a true successor to Roethlisberger at some point. But if it costs multiple high draft picks to bring the gifted passer to Pittsburgh, that could cause issues down the line when it comes time to get younger at the position.
No matter what, though, the odds of Aaron Rodgers and Ben Roethlisberger spending another season with their respective teams look about as good as the latter's chances of beating Lamar Jackson in a foot race.
Only time will tell whether Mike Tomlin succeeds in replacing one future Hall of Famer for another.
Like Sportscasting on Facebook. Follow us on Twitter @sportscasting19.