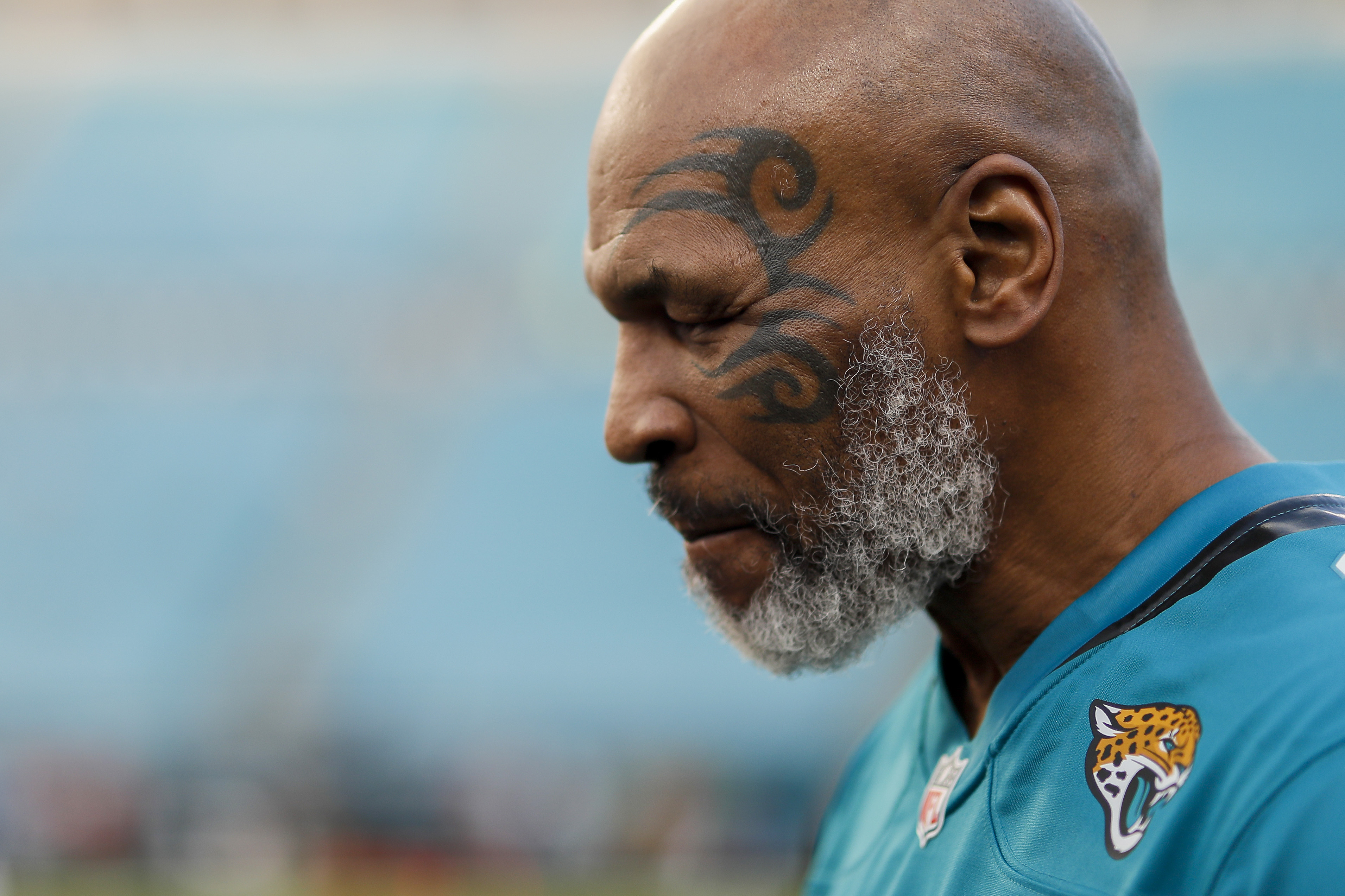 Mike Tyson's Next Opponent Better Not Take a Bite Out of His Ear
Things could get very ugly if Mike Tyson's next opponent takes a bite out of his ear as Tyson did to Evander Holyfield.
Mike Tyson has finally found his next opponent and it's not quite what was expected. The former heavyweight boxing champion has been mulling a comeback at 53 years old and rumors have been swirling all over the place. Tyson's next opponent carries the nickname 'Jaws' and the fight will take place Aug. 9.
Mike Tyson's boxing career
Mike Tyson made history by becoming the youngest heavyweight boxing champion at 20 years old. Tyson was a feared boxer with a powerful punch. He made his professional boxing debut in March of 1985 at 18 years old and he won his first 19 fights via knockout.
Of Tyson's first 19 fights won by knockout, 12 of them came in the first round. Tyson went on to win the first 37 fights of his career before he was stunned by James 'Buster' Douglas in 1990 when Douglas shocked the world by knocking out Tyson in the 10th round.
Tyson bounced back to win eight straight bouts, but that stretch was interrupted by a three-year prison sentence. He won his first fight after his release, quickly defeating Peter McNeeley, and then won three more fights before dropping back-to-back decisions to Evander Holyfield, one being the infamous ear-biting fight. Tyson finished his career with 50 victories (44 by knockout) in 58 fights.
Tyson's been planning a comeback
Back in May, Mike Tyson put together a workout video with the caption that read, "I'm back." The video showed the former heavyweight champion in very good shape and going through an intense workout. The video generated a lot of interest and had many speculating when he would get back in the ring and with whom.
In late May UFC Hall of Famer Tito Ortiz said he got a call about fighting Tyson, according to The Sporting News. "I was watching Mike Tyson hit pads with one of my old trainers and Tyson was like the old Tyson, fast and speed and powerful and I was like, 'Wow, Tyson's going to make a comeback?' And all of a sudden, two days later, I get a phone call, and someone starts asking me, 'What do you think about fighting Mike Tyson?' I was like, 'Really? This is the opportunity of my life, I'm in.'"
The Ortiz fight never happened. There were other rumors that Tyson may get back in the ring again with Evander Holyfield. Tyson Fury was another opponent that made the rounds. None of the fights materialized.
Tyson has his next fight lined up
It may not be the sexiest opponent boxing fans were looking for, but it's clearly the most entertaining. Mike Tyson, now 54, will be fighting once again, but his opponent will be one of the most feared predators out there. Tyson will be fighting a Great White Shark on Discovery Channel's Shark Week on Aug. 9 in a matchup billed as Tyson Vs. Jaws: Rumble on the Reef.
Discovery Channel is going all out with this one by including legendary ring announcer Michael Buffer in the show. According to complex.com, Tyson is fighting the shark "in the name of research." Tyson said he is ready for his latest challenge.
"I equate this with overcoming my fear of getting back into the ring at 54 years old," he said. "I learned from this experience doing Shark Week that whatever intimidates me, I am still able to step up to the challenge of overcoming anything that would prevent me from accomplishing my life's mission of reaching my highest potential in life and bringing me closer to God."