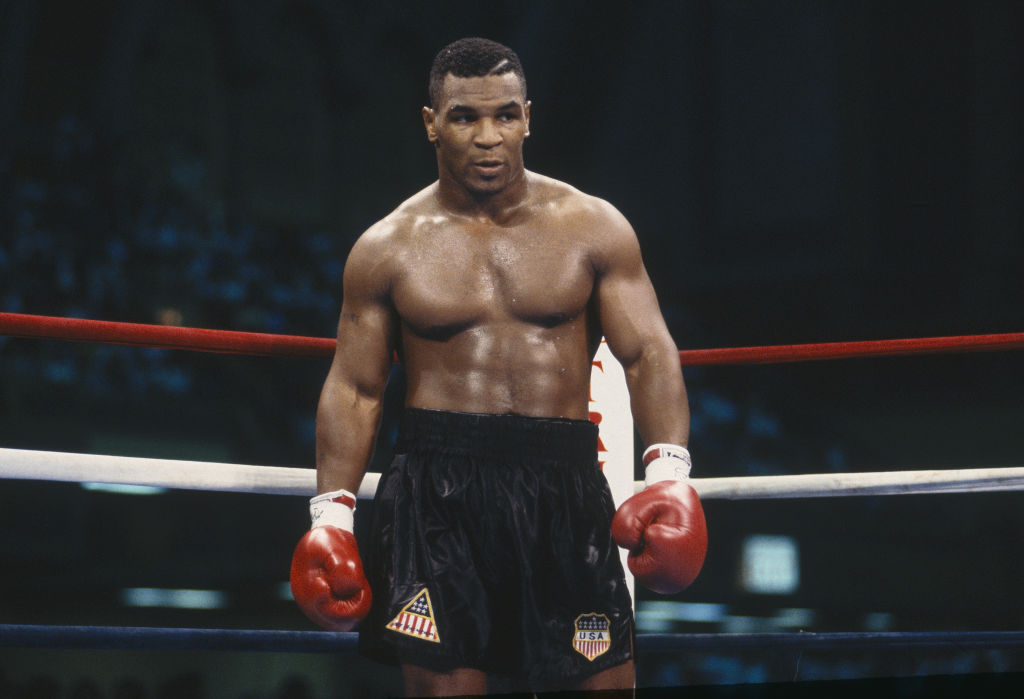 Mike Tyson vs. Tito Ortiz in the Works According to UFC Hall of Famer
In the latest episode of "Who wants to fight Mike Tyson?" UFC Hall of Famer Tito Ortiz said he was contacted by Tyson's camp about a fight and he accepted the offer.
For weeks rumors have swirled that Mike Tyson is returning to the ring. During that same time, there have been numerous rumors about potential opponents. UFC legend Tito Ortiz said Tyson's camp has contacted him, and he's ready to take on the former heavyweight champ.
Mike Tyson videos confirm legendary boxer in shape for return
More than a month ago the first Mike Tyson video appeared online showing the 53-year-old in a brief training session and it revealed the former champ has the same quickness and the devastating power. That was soon followed up by an Instagram video with the rapper T.I., where Tyson made a surprise announcement that he was training for a return to the ring and described his workout regimen.
"I do two hours on cardio. I do the bike and the treadmill for an hour, then I do some light weights, 300, 250 reps," Tyson said. "Then I start my day with the boxing thing, I go in there and hit the mitts, 30 minutes, 25 minutes, start getting in better condition."
The former heavyweight champ said he has even impressed himself with his sharpness, but also acknowledged his older body feels it more. 
"I've been hitting the mitts for the last week. That's been tough, my body is really jacked up and really sore from hitting the mitts. I'm starting to put those combinations together. I'm in pain. I feel like three guys kicked the s*** out of me." 
Tyson has received a mixed reaction about his potential return
While boxing fans expressed their excitement and encouraged his return, the reaction from those in the fighting community has been mixed. Former world heavyweight champ George Foreman, who knows a thing or two about coming out of retirement, said he didn't think it was a good idea. 
"Tyson has done enough great things for boxing. No more is needed. He is in the Hall of fame. And was a mighty puncher," Foreman posted on Twitter.
However, other fighters, including Evander Holyfield and Shannon Briggs welcomed the idea of the "baddest man on the planet" returning to the ring. Briggs went so far as to say he had a deal in place with Tyson. 
"I just talked to Mike Tyson. It's going down," Briggs said. "Me and Mike, we're going to make it happen, it's official – you're going to see it happen, Brownsville versus Brownsville. Me and Tyson are going to lace up the gloves, we're going to rumble, rumble in the jungle. We're going to let our fist do the talking." 
Tyson's camp never confirmed there was a fight with Briggs.
Tito Ortiz said he's going to fight Mike Tyson
Much like Briggs, Tito Ortiz said someone from Tyson's camp contacted him expressing an interest in fighting the legendary UFC Hall of Famer. Ortiz told TMZ he had a simple two-word response, "I'm in."
Ortiz said there weren't specific details on whether the fight would be boxing or MMA, but at this point, the main focus is receiving clearance to compete from an athletic commission.
"I'm not sure if it's going to be MMA or boxing yet," Ortiz told MMA Junkie. "I haven't even gotten that far. We both have got to be cleared by the athletic commissions. That's the biggest thing."
Ortiz said he believes it could be a huge draw for fans, even bigger than the blockbuster event in 2017 that featured UFC's Conor McGregor boxing against Floyd Mayweather. For those who wonder about Ortiz's fitness, he's on a three-fight win streak with victories over Chuck Liddell and Chael Sonnen, and his last win against Alberto Del Rio in December 2019.
"You know what Conor McGregor and Floyd Mayweather did? I think we could double that. It'd be amazing. It'd be fun. It'd be a great opportunity for both of our brands. The hard work that pays off, the person's hand will get raised. Everyone knows me as being a hard worker."
Whether Tyson-Ortiz ever happens remains to be seen. One thing is certain—there's been no shortage of challengers for Tyson thus far. Now it's just a matter of whether or not Tyson chooses to accept any of those challenges.