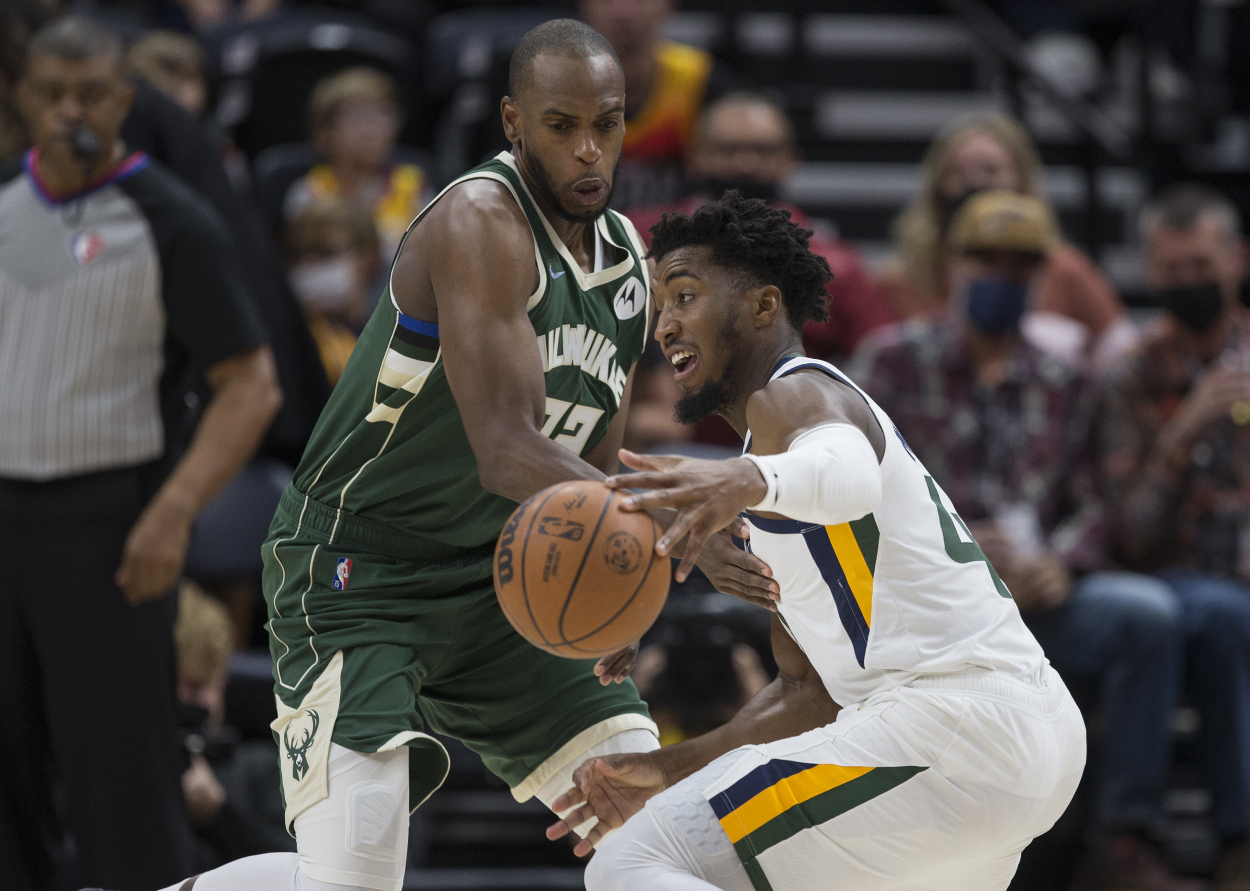 The Milwaukee Bucks Taught Donovan Mitchell and the Utah Jazz a Critical Lesson During the Preseason
The Milwaukee Bucks taught Donovan Mitchell and the Utah Jazz a valuable lesson during their preseason game this year.
The Milwaukee Bucks and Brooklyn Nets square off at Fiserv Forum on Tuesday as the NBA opens its 2021-22 season. Giannis Antetokounmpo and the Bucks are looking to repeat as NBA champs, while Kevin Durant and the Nets look for redemption against the team that bounced them from the postseason a year ago.
It will be an event-filled evening in Milwaukee as the Bucks will receive their championship rings before Tuesday's matchup. The Bucks are the envy of most NBA teams, including Utah Jazz all-star Donovan Mitchell, who learned a valuable lesson from the Bucks this preseason.
The Milwaukee Bucks begin their quest for a second straight championship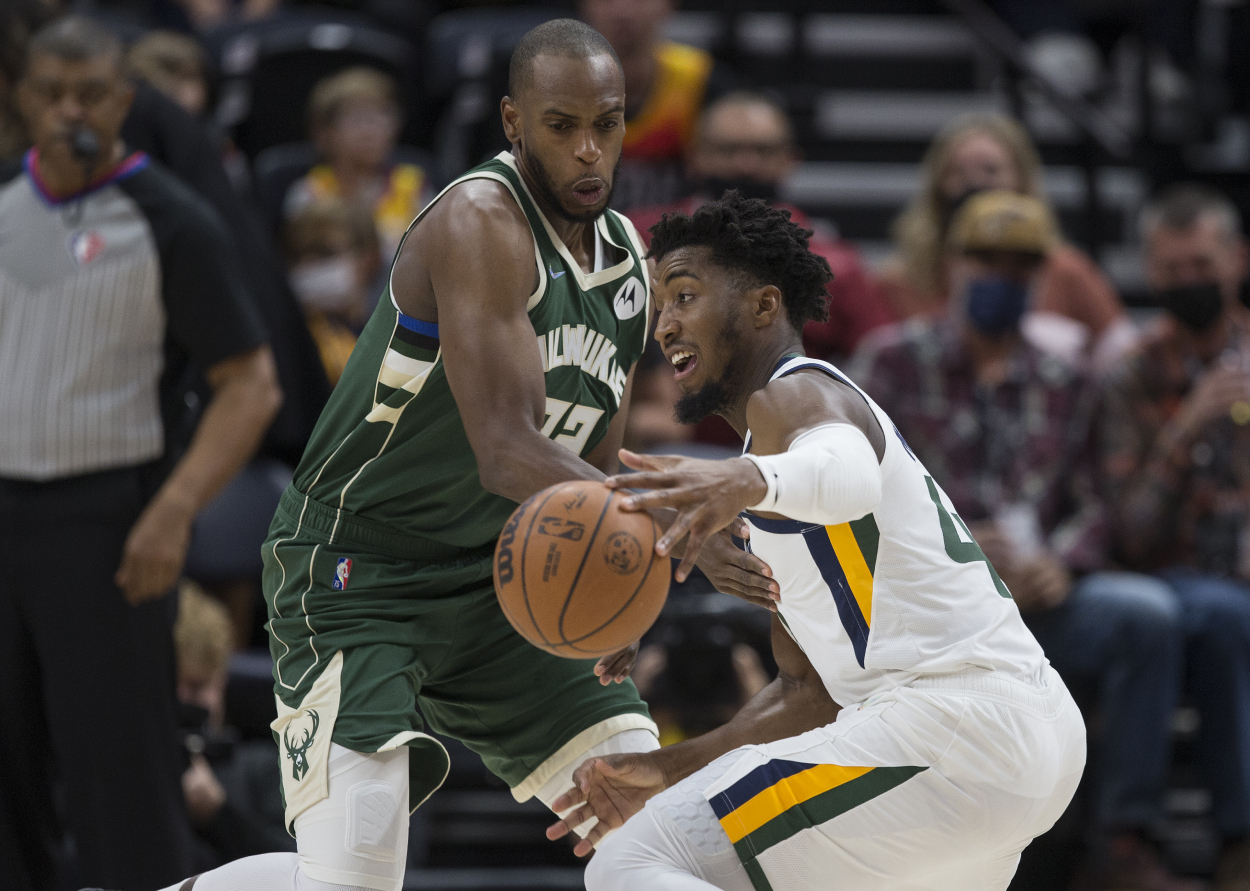 It took 40 years for the Bucks to taste championship glory again after they knocked off the Phoenix Suns in six games in the 2021 NBA Finals. Now they're focused on a repeat.
The Bucks went 1-4 during the preseason. In their final tune-up before the regular-season opener, they lost at home to the Dallas Mavericks but appeared to be getting closer to where they need to be. Antetokounmpo scored 26 points in 25 minutes, making nine of his 11 shots. He also pulled down 10 rebounds in three quarters of work.
Although Khris Middleton (personal reasons) didn't play, Jrue Holiday had 13 points, eight assists, and six rebounds in 28 minutes. Brook Lopez added 10 points and four blocks in 24 minutes.
"I think we've had a lot of good days in practice and some games," Bucks head coach Mike Budenholzer said after the game, per the Green Bay Press Gazette. "Tonight, I think credit to Dallas first. They were very aggressive. They're doing a great job of instilling an aggressive mindset on both ends of the court so I think they were a part of it and I think our execution tonight was not where it needs to be.
"Hopefully, we can learn from it and be better. There's been times when it's been good. Again, I think the practices have been good, the mindset's been good, so we're excited. Three or four more days to where it can get better, and then we'll be tipping it off."
Donovan Mitchell learned a lot from the Milwaukee Bucks in the preseason
Don't tell Mitchell preseason games are meaningless. Utah's two-time NBA All-Star saw his team's 124-120 victory over Milwaukee last week as more than just the preseason finale. He studied the champs during the game and took in the little things that may have helped vault the Bucks into champions.
Mitchell's Jazz are close but couldn't find a way to take their No. 1 seeding into an NBA Finals berth last year. Utah was bounced from the postseason by the Los Angeles Clippers in the Western Conference Semifinals.
Mitchell used this year's preseason game against the champions as a study session. He came away with one take that he hopes his team puts into action this year.
"You watch how guys were stars in their exact role," Mitchell said, according to Deseret News. "You watch how guys were able to do things for the sake of winning the game. That's something that I really noticed. And even tonight, the way they speak to each other, the way they go out there on the court, the way they are talking about things and it's a preseason game."
Mitchell and the Jazz hope to become the Bucks
The Jazz and the Bucks are two small-market teams that made big impressions a year ago. Utah was the top seed in the Western Conference but blew a 2-0 series lead to the fourth-seeded Clippers, who advanced to the Western Conference Finals after winning in six games.
The Jazz and Bucks are also led by young superstars. Antetonkounmpo is a two-time MVP who led the Bucks to their title a year ago, while Mitchell had made all-star appearances the last two seasons after averaging 24.0 and 26.4 points per game.
The Jazz are close. The Bucks are already there.
"You feel like they've been on that journey and that's where ultimately, that's our goal," Mitchell told Deseret News. "I think that's what this year is about — communicating with each other, understanding each other, understanding what we do exactly, and being great at it."
Utah's quest to become Milwaukee-like begins Wednesday when it hosts the Oklahoma City Thunder.