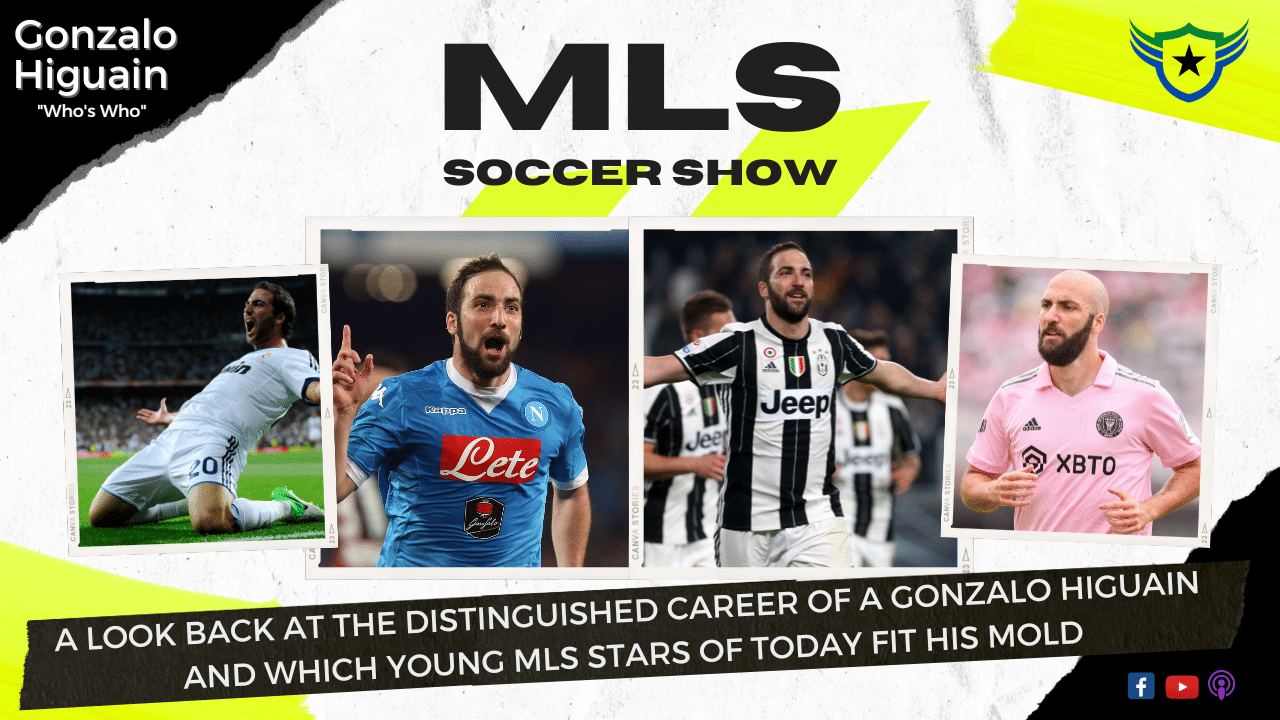 'MLS Soccer Show' Who's Who: Inter Miami's Gonzalo Higuaín
Which current MLS player most resembles Inter Miami striker Gonzalo Higuaín, who lit up Spain and Italy with goals in his prime?
On this week's MLS Soccer Show, we debuted a new segment called "Who's Who." In the video above, we look at an MLS designated player, talk about what made them great before they got to the U.S., and which young MLS prospect most resembles the DP in their prime. In the inaugural "Who's Who," let's dive deep on Inter Miami striker Gonzalo Higuaín.
Who is Inter Miami striker Gonzalo Higuaín?
The 34-year-old Argentine Gonzalo Higuaín was actually born in Brest, France. That's because his father, Jorge, was an Argentine soccer player plying his trade with the local Ligue 1 side. 
The Higuaín family returned to Argentina shortly after Gonzalo was born, and although he has both French and Argentine citizenship, he's only played for the Argentina National Team. With The White and Sky Blue, he's earned 75 caps and scored 31 goals. 
Professionally, Gonzalo started his career with one of his father's former clubs, River Plate, in Buenos Aires. At 22, Spanish giant Real Madrid bought the 6-foot-1, 196-pound striker from his home country club for $13.2 million. 
Higuaín spent seven seasons as a Galácticos, making 238 appearances and scoring 115 goals. A move to Napoli in Italy followed for $42.9 million, and the striker again impressed, scoring 119 goals in 138 matches. 
Fellow Serie A club Juventus came calling after three seasons at Napoli, and the Italian super-club paid $99 million for Higuaín's services. The poacher scored 66 goals in 129 caps during his time in Turin. 
As his career was winding down in Europe, Juve loaned the forward to AC Milan, then the English Premier League's Chelsea. Higuaín disappointed in both these stops, scoring just 13 goals in 40 appearances. 
This led to a free transfer to MLS's Inter Miami during the club's inaugural 2020 season. In the U.S., Higuaín has notched 15 goals in 45 games. 
Which young MLS star most resembles Higuaín?
Gonzalo Higuaín is a big, physical striker with a nose for the goal. In his prime, he rained in goals with his head, in-tight with his slick feet, and from way downtown with his powerful boot. The knock on Higuaín throughout his career is that, despite his gaudy goal numbers, he sometimes came up small in the biggest spots for club and country. 
While he's won a host of league titles and lesser cups, the big Argentine has never been on a UEFA Champions League winner, nor does he have any international hardware. 
Of the young MLS strikers today, four have the potential to develop into Higuaín-type attackers. Here's the tale of the tape on the candidates:
| | | | | | | | |
| --- | --- | --- | --- | --- | --- | --- | --- |
| Player | Country | MLS Team | Age | Height | Weight | Games | Goals |
| Leonardo Campana | Ecuador | Inter Miami | 21 | 6-foot-2 | 174 lbs. | 10 | 6 |
| "Taty" Castellanos | Argentina | NYCFC | 23 | 5-foot-10 | 158 lbs. | 122 | 51 |
| Jesús Ferreira | USA | FC Dallas | 21 | 5-foot-9 | 150 lbs. | 96 | 24 |
| Brandon Vazquez | USA | FC Cincinnati | 23 | 6-foot-2 | 196 lbs. | 58 | 11 |
Which of these young MLS talents is closest to Gonzalo Higuaín in his prime? Check out the video above to find out who we decide. 
Like Sportscasting on Facebook. Follow us on Twitter @sportscasting19 and subscribe to our YouTube channel.
Stats and transfer fees courtesy of FBRef.com and Transfermrkt