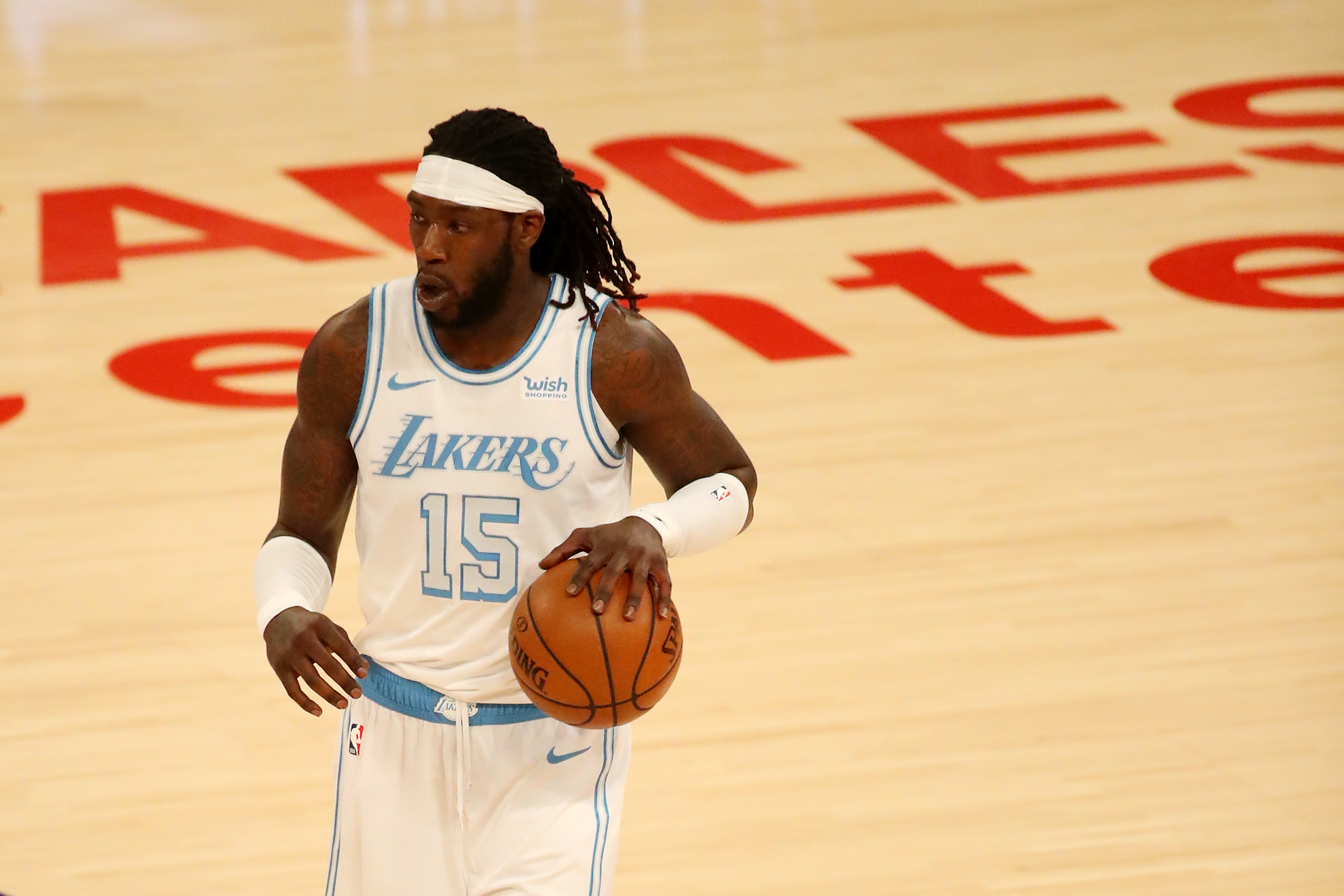 Montrezl Harrell's Eerie Tweet Catches Eye of Lakers Owner Jeanie Buss
Montrezl Harrell's tweet on Tuesday drew quite a bit of attention.
The NBA and many of its players had a much-needed break during All-Star Weekend this week. Most players got to head home and spend some quality time with their families after playing through another tough stretch dominated by a pandemic. As players get ready to return to work, Los Angeles Lakers forward Montrezl Harrell sent out an ominous tweet that caught the attention of many, including Lakers owner Jeanie Buss.
Montrezl Harrell is in his first year with the Lakers
Montrezl Harrell is in his sixth season in the NBA and his first with the LA Lakers after signing a free-agent deal with the team in the offseason. Harrell had spent the last three seasons with the Los Angeles Clippers, where he put up 15.2 points and 5.8 rebounds per game.
Harrell, a 6-foot-7, 240-pound power forward, played his college ball at Louisville and was a second-round pick of the Houston Rockets in the 2015 NBA draft. With the Rockets, Harrell played in 39 games as a rookie, averaging 3.9 points per game. After averaging 9.1 points in his second season, he was traded along with six others to the LA Clippers in a deal for Chris Paul.
Harrell has gotten off to a pretty good start with the Lakers. In his Lakers debut, Harrell put up 17 points and 10 rebounds against the Clippers. He's averaging 13.8 points and 6.4 rebounds through 37 games this year.
Harrell's grandmother passed away last year
In July, Montrezl Harrell was playing for the LA Clippers and left the NBA bubble in Orlando Florida to tend to a personal matter. According to ESPN, Harrell posted on his Instagram story, saying: "Don't worry Ma Ma your grandson on the way."
"Things happen in our lives, so we've just got to leave it there," Clippers coach Doc Rivers said then. "It's obviously a personal matter at home that he did need to go to. So we're just going to wait for him. Like when he needs to get back, he'll be back."
In August, an emotional Harrell spoke after the death of his grandmother. He said she meant everything to him. "My grandmother was the one who introduced me to the game of basketball, was my dad's mother," he said, according to ESPN. "One of my biggest supporters, biggest fans, one of my best friends. Only way to put it. There's no other way to explain the things she done for me. She was my entire world."
Harrell's ominous tweet causes a stir
On Tuesday, Montrezl Harrell took to Twitter with a very ominous message. Harrell wrote, "Think it's time I call it quits to everything and everyone!" He followed it up with another tweet. "This the times I need you the most Ma!," he wrote. "Hurts you not here for me to just call and laugh!"
It's unclear exactly what he was referring to, but Harrell's tweets drew lots of attention. People offered prayers and comfort, including Lakers owner Jeanie Buss.
Buss responded to Harrell's post on Twitter. She wrote, "We love you Montrezl. Here's a hug until I can see you."