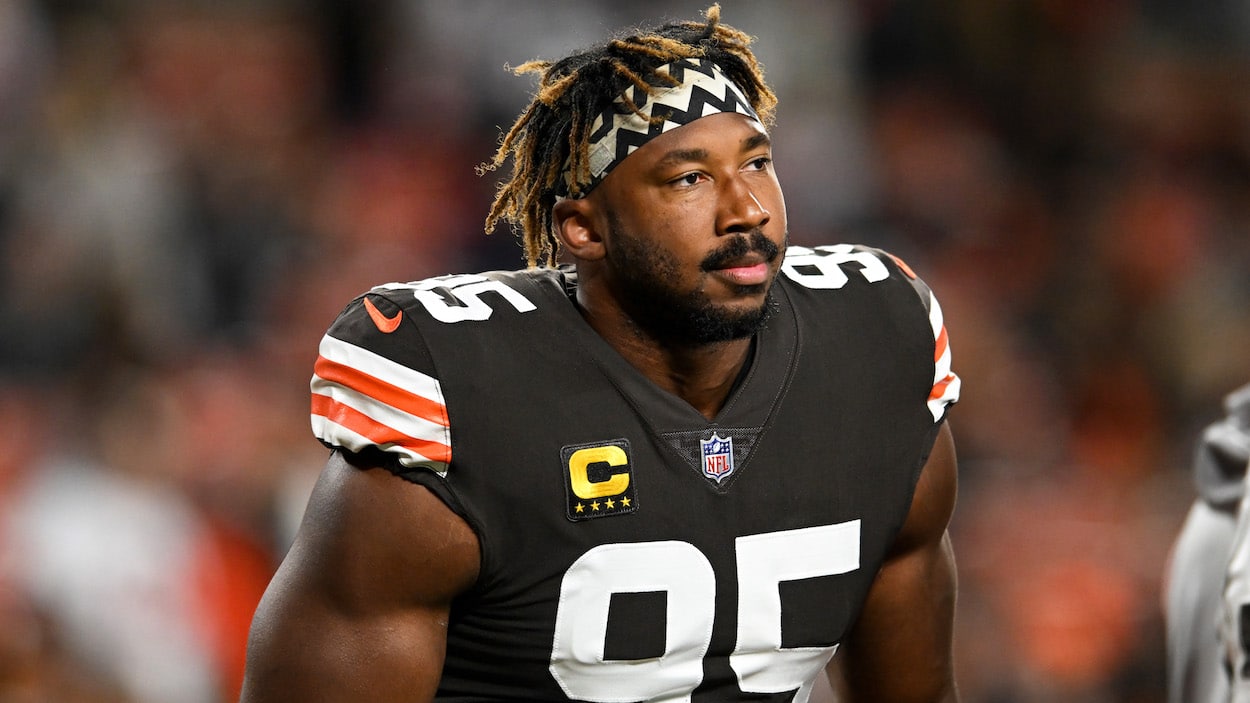 NFL Adds Insult to Injury After Myles Garrett's Horrific Car Crash
After surviving a scary car crash, Cleveland Browns DE Myles Garret got fined by the NFL for a play on the field that didn't even draw a flag.
Cleveland Browns All-Pro defensive end Myles Garrett was in a serious car crash this week. The player had a one-car accident where his car rolled several times. Garrett is OK, all things considered, but he did find out Sunday that the NFL decided to fine him for a play Thursday night's game vs. the Pittsburgh Steelers.
NFL fined Myles Garrett after hit with no flag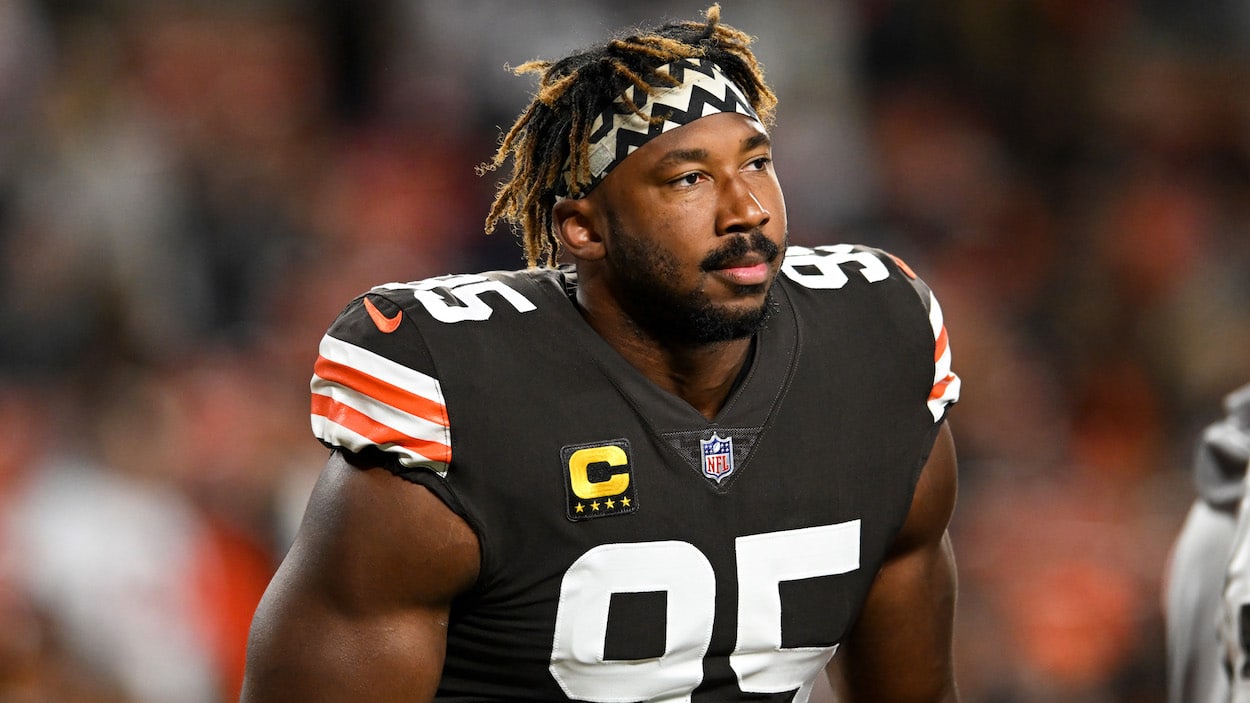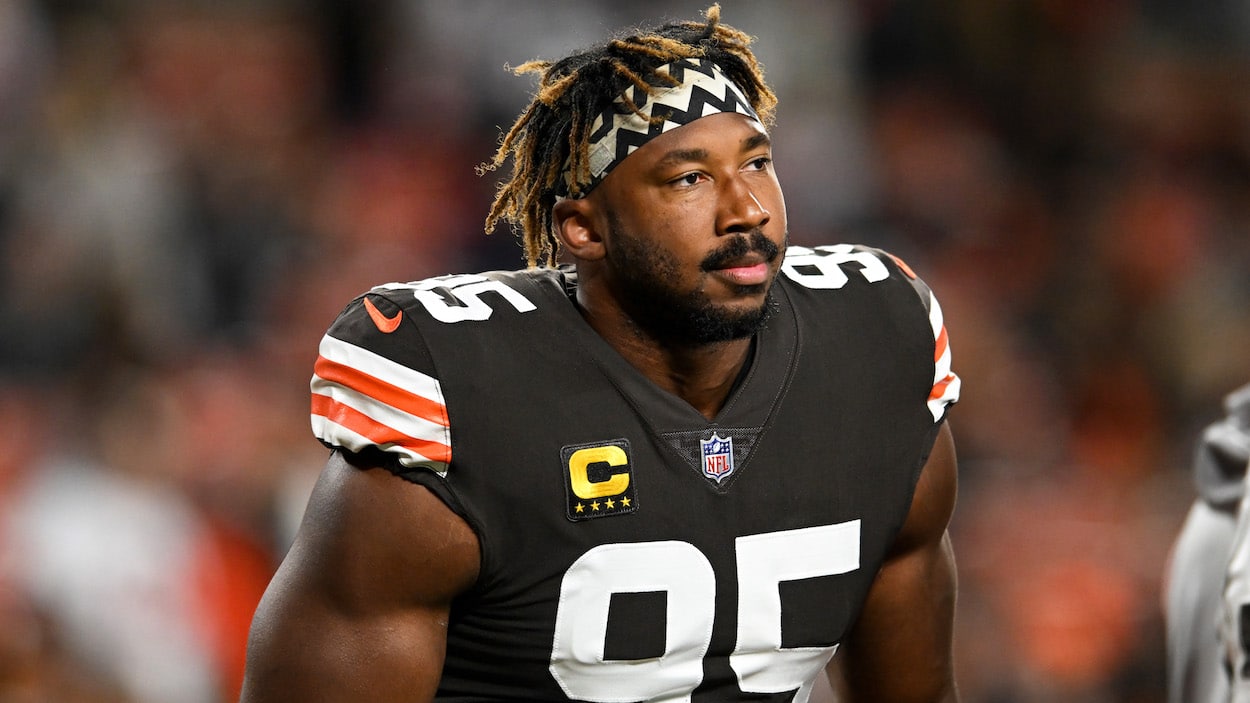 In addition to crashing his car, ending up in the hospital, and suffering (relatively) minor injuries, Myles Garrett got some more bad news on Saturday.
While the 2017 No. 1 overall pick recovers from his accident, the NFL sent him a rough Get Well card. The league fined the pass-rusher $15,914 for a hard hit on Steelers quarterback Mitchell Trubisky in the Browns' 29-17 Week 3 Thursday Night Football win over the Pittsburgh Steelers.
The play happened at the end of the third quarter. Trubisky dropped back and threw an incomplete pass to receiver Dionte Johnson. Garrett was rushing the QB and hit the Steelers signal-caller after he let the pass go. You can (briefly) see the hit in question at the 1:11 mark of Emmanuel Acho's Twitter video.
Fining Garrett for this hit seems ticky-tacky from the league. However, that's the least of Garrett's worries right now. For one thing, Myles Garrett is the fourth-highest-paid defensive player in the league at $25 million a season, so $15k is equal to about $30 to someone making $50k a year.
Also, the former Texas A&M Aggie is lucky to be alive right now.
Browns DE is out for Week 4 after major car crash
Myles Garrett and a female companion were involved in a single-car crash on Monday, following the Browns' AFC North win over the Steelers. The DE was driving on a road near Wadsworth, Ohio, ESPN reports, when he hit a ditch and rolled his Porsche several times.
Garrett suffered a left shoulder sprain and a right biceps strain as well as cuts and bruises from the crash. He said that he also popped a blood vessel in his left eye, which was still visibly red along with bruising along the left side of his face," ESPN's Jake Trotter reported in the aftermath of the crash. "A female passenger who was in the vehicle was taken to the hospital with what was described as a 'minor head injury.' The highway patrol determined that impairment by drugs or alcohol was not suspected and that Garrett and the woman both were wearing seat belts."
Local highway patrol issued Garrett a ticket for "failure to control his motor vehicle" for driving at an "unsafe speed for the type of roadway" after the crash.
On Saturday, ESPN's Adam Schefter and others reported that the Browns officially ruled Garrett out for the team's Week 4 matchup vs. the Atlanta Falcons.
There is no timeline for Garrett's return to the field, although he did tell Cleveland media that he is "recovering pretty quickly" from his injuries.
Garrett is a three-time Pro Bowler and a two-time All-Pro. Through three games in 2022, he has 3.0 sacks, four tackles for a loss, and five QB hits.
Like Sportscasting on Facebook. Follow us on Twitter @sportscasting19 and subscribe to our YouTube channel.