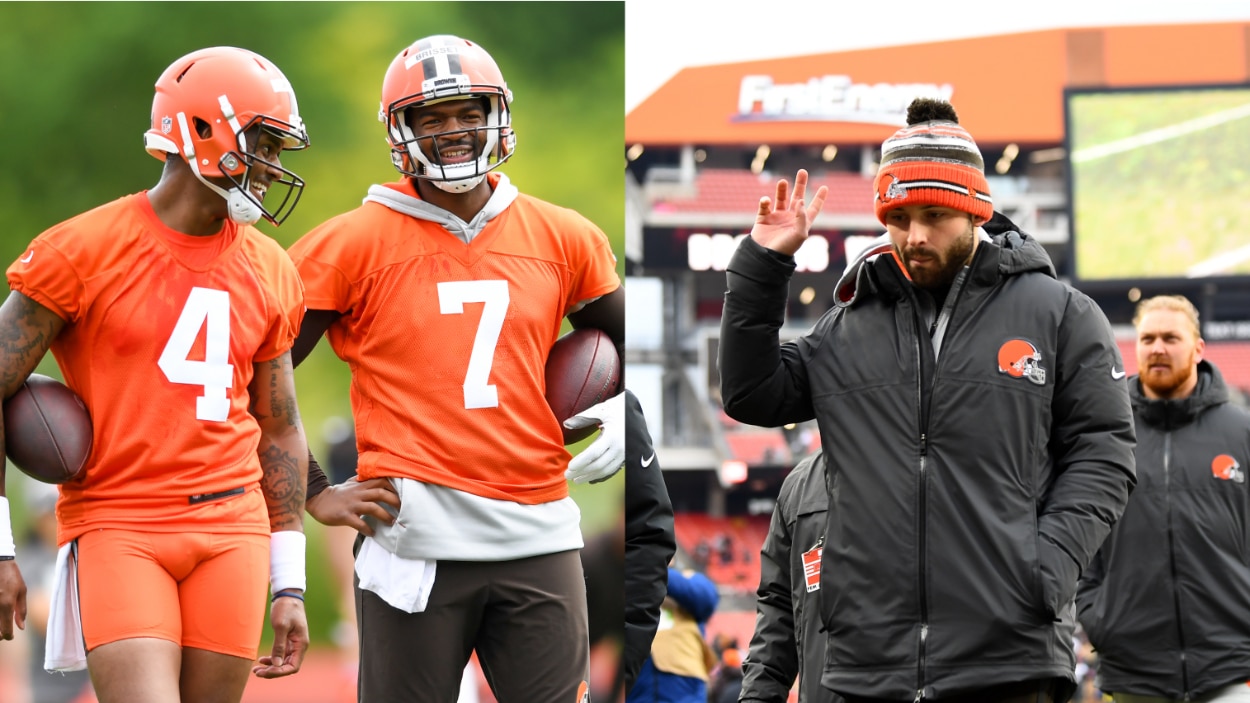 Only 1 NFL Team Is Paying QBs More Money Than the Cleveland Browns in 2022
The Cleveland Browns are paying quarterbacks over $62 million in 2022, the second-most in the NFL, and they won't even all play for the team.
NFL quarterbacks are expensive. The best of the best cost upward of $40 million per season. That said, even below-average QBs can get pricey, and if a franchise is paying several of them, it can add up. That's the case for the Cleveland Browns, who will pay signal-callers $62.1 million during the 2022 season, and one of them isn't even on the team anymore. Only the Los Angeles Rams' $63 million QB wage bill is higher.
The Cleveland Browns quarterbacks are getting a ton of money.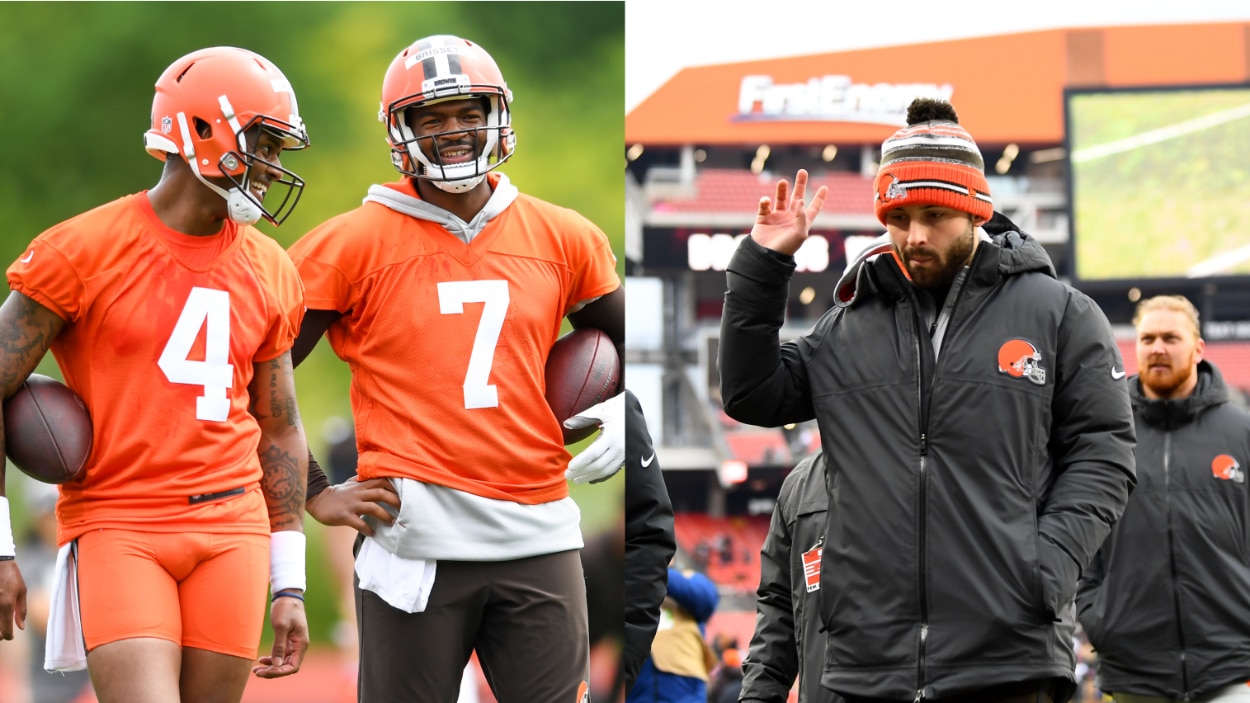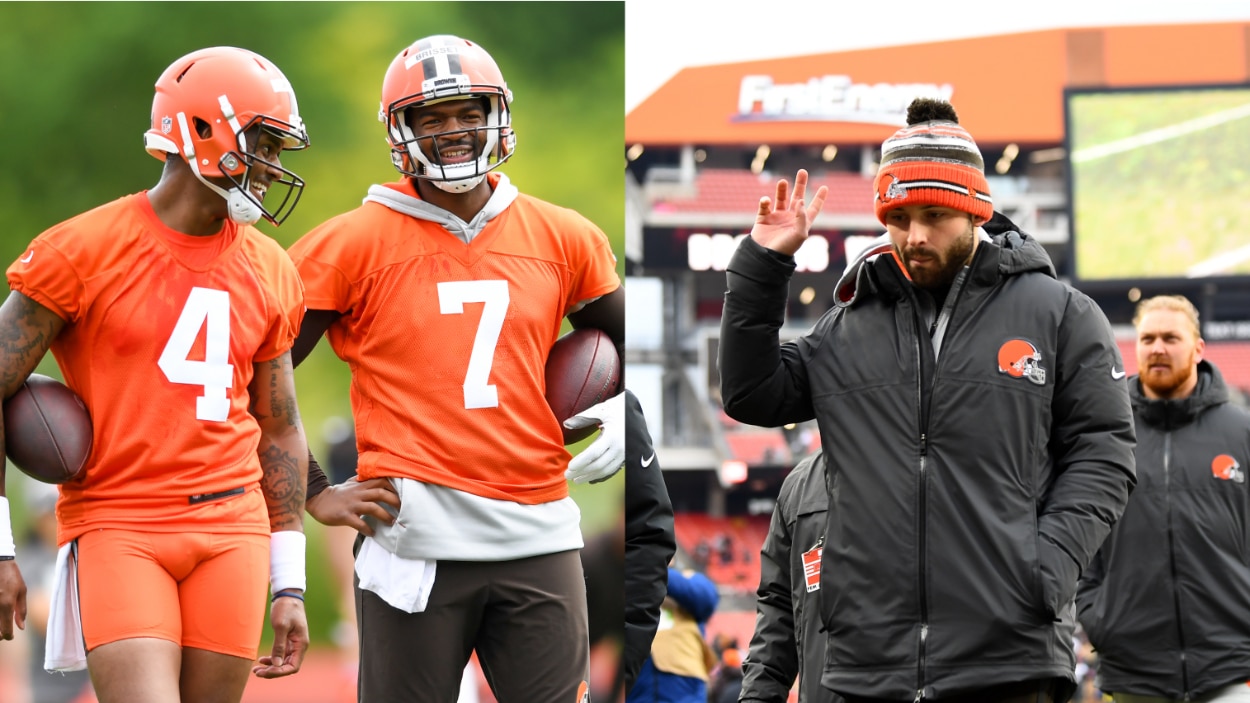 The Cleveland Browns will pay NFL quarterbacks a ton of money this coming season. After losing faith in Baker Mayfield, the team traded a boatload of picks (three first-rounders plus) to the Houston Texans for embattled signal-caller Deshaun Watson.
The franchise then rewarded Watson with a five-year, $230 million contract and made it the biggest fully-guaranteed deal in league history. Cleveland even suspension-proofed the contract, giving Watson a $1 million base salary with $45 million in guaranteed bonuses this season.
Browns general manager Andrew Berry didn't stop there, though. He then signed Jacoby Brissett to a high-end backup deal $(4.65M) in case Watson is suspended. Then, the Browns traded Mayfield to the Carolina Panthers for a conditional 2024 fifth-round pick. Berry also agreed to pick up $10.5 million of Mayfield's 2022 salary.
Combining Watson, Brissett, and Mayfield with third-string signal-caller Joshua Dobbs' $895K, and the Browns are paying quarterbacks $61.5 million this season. That's under a million dollars less than the defending Super Bowl champs.
The LA Rams quarterbacks are getting the most money in the NFL
The only franchise dedicating more money to the QB slot in 2022 is the LA Rams. The 2021 Super Bowl winners are paying its passers $63 million, almost all of which is going to Matthew Stafford.
Stafford signed a four-year extension with a $60 million signing bonus that the Rams will pay in 2022. Add in his $1.5 million base salary and his backups' contracts (John Wolford, $895K and Bryce Perkins, $825K), and the Rams are on the hook for $63 million in QB cash.
The other teams in the top five of quarterback cash commitments are:
Buffalo Bills: Josh Allen ($46.9M), Case Keenum ($3.5M), Matt Barkley ($1,1M) = $51.6M
Green Bay Packers: Aaron Rodgers ($42M), Jordan Love ($1.7M), Danny Etling ($705K) = $44.4M
Minnesota Vikings: Kirk Cousins ($40), Kellen Mind (897K), Sean Mannion ($1.2M), Nate Stanley ($705K) = $42.8M
While all these franchises have committed a large chunk of their salary cap to quarterbacks, at least they are paying QBs that are on their rosters. The Cleveland Browns can't say the same.
All contract figures courtesy of Spotrac