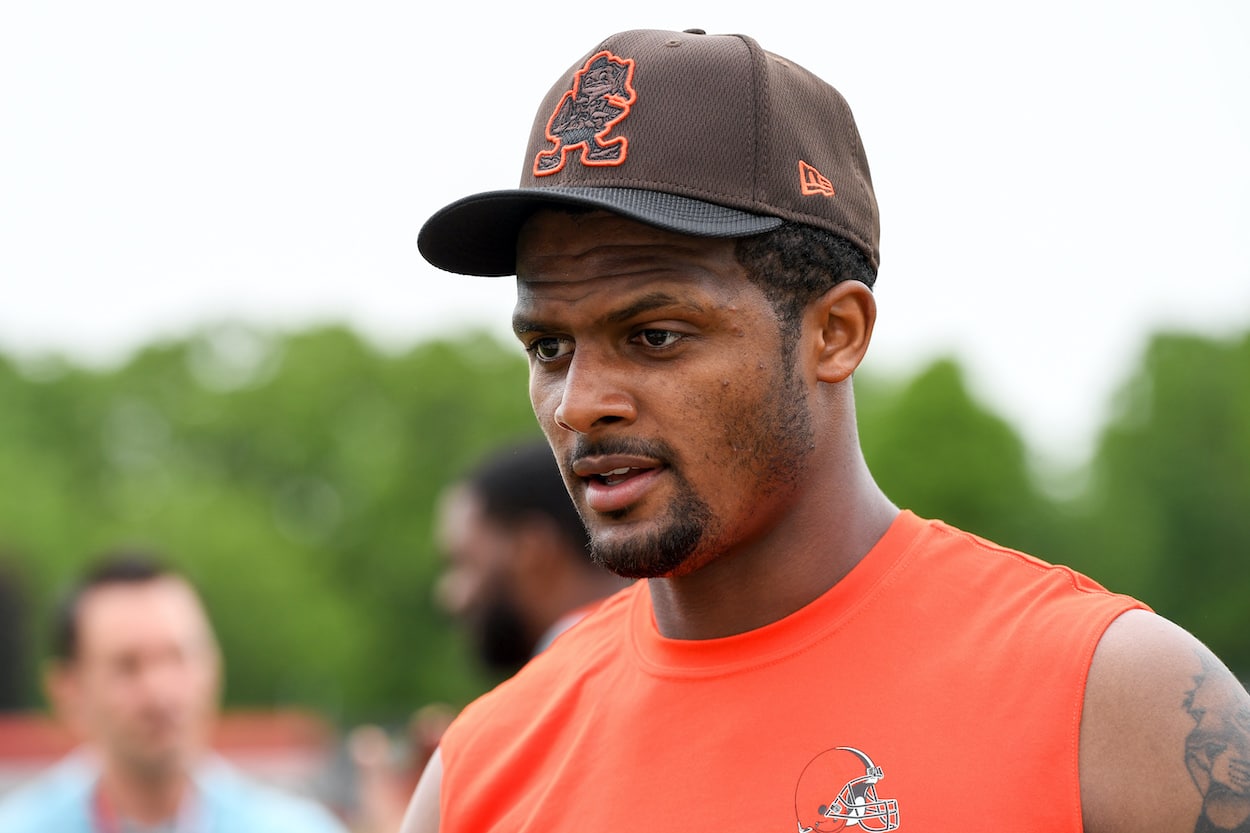 'Real Sports' Exposé Encouraged a 23rd Accuser to Sue Deshaun Watson: 'His Behavior Grew Worse'
A 23rd accuser claims she got the confidence to come forward and file a lawsuit against Cleveland Browns QB Deshaun Watson from an HBO show.
On the May 2022 edition of HBO's Real Sports with Bryant Gumbel, two women accusing Cleveland Browns quarterback Deshaun Watson of sexual misconduct — Ashley Solis and Kyla Hayes — told their story to reporter Soledad O'Brien. The women's stories sounded similar and believable. Watson's legal team did bring up some seemingly valid points in his defense, though. No matter what you took away from the interview personally, it was enough to encourage a 23rd woman to come forward with her own lawsuit against the embattled QB.
Deshaun Watson's accusers were damning on 'Real Sports with Bryant Gumbel'
'It's just like a big screw you. He can run and throw, and that's all we care about."
Those were the first words of Ashley Solis, a massage therapist accusing Cleveland Browns quarterback Deshaun Watson of sexual misconduct, on HBO's Real Sports with Bryant Gumbel.
Along with fellow Watson accuser Kyla Hayes, Solis told similar stories to HBO's Soledad O'Brien. They explained, in detail, Watson's actions after he hired them to give him a massage while with the Houston Texans.
Later in the segment, Browns owners Dee and Jimmy Haslam were seen saying, "We put more time, more thought, more efforts, talked to more people, did more research on this decision [to trade for Watson], by far, than any other decision we've made with the Cleveland Browns.
However, Hayes said the organization never contacted her. And O'Brien reported none of the 22 accusers nor their attorney, Tony Busby, spoke with the team.
In the end, this is a classic he-said, she-said situation, and the show did point out some credibility flaws in a few of the 22 accusers.
Viewers will draw their own conclusions. Solis and Hayes' stories did strike a chord with at least one person, though. A new woman has now come forward and becomes Watson's 23rd accuser.
A 23rd accuser came forward after the exposé 
After the Real Sports with Bryant Gumbel report, a 23rd woman filed a lawsuit against Deshaun Watson, per ESPN. Jake Trotter reported that:
In the 23rd civil case filed Tuesday in Texas against Watson, the lawsuit states that the plaintiff had her first massage session with Watson during the summer of 2020 and that his 'behavior grew worse.' During the third and final massage, she alleges in the lawsuit that Watson exposed himself to her, touched the woman between the legs and 'repeatedly requested' her to have sex with him.

Lawsuit filed against Deshaun Watson
The lawsuit also states that while the 23rd accuser didn't initially come forward with the rest of the women in 2021, Kyla Hayes and Ashley Solis' appearance on HBO helped encourage her to file her suit.
"In that piece, plaintiff was struck by the courage of the victims willing to step forward and speak and was extremely displeased by Watson and his legal team's mistreatment and revictimization of the plaintiffs," the 23rd lawsuit notes. "But it was Watson himself claiming that even now he has 'no regrets' and has done nothing wrong that solidified her resolve. She brings this case seeking minimum compensation, but to obtain a court finding that Watson's conduct was wrong."
The Real Sports segment points out, it is likely that these cases won't be decided before the 2022 NFL season. Despite that fact, it seems as though the NFL is in the final stages of its own investigation, and a hefty suspension could be forthcoming. 
How to get help: In the U.S., call the RAINN National Sexual Assault Telephone Hotline at 1-800-656-4673 to connect with a trained staff member from a sexual assault service provider in your area. 
Like Sportscasting on Facebook. Follow us on Twitter @sportscasting19 and subscribe to our YouTube channel.