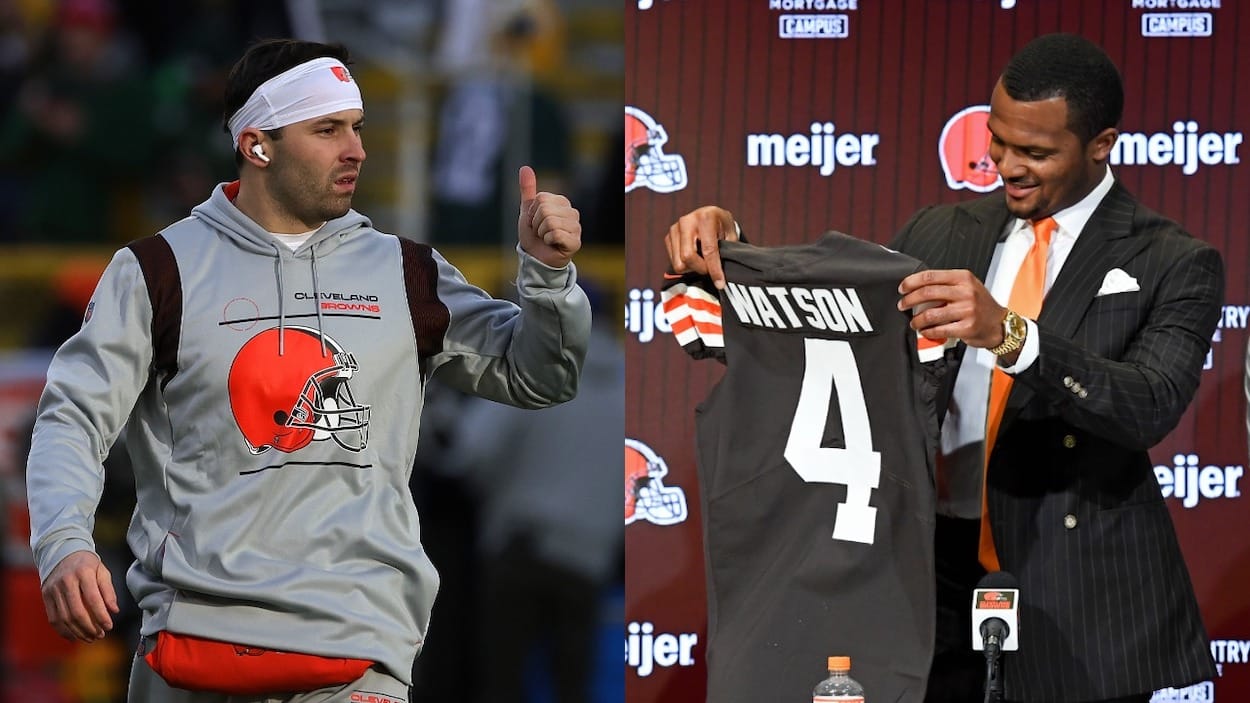 NFL Insider Albert Breer Wants Baker Mayfield to Make It 'Awkward' in the Bahamas for Deshaun Watson
Deshuan Watson is taking his Cleveland Browns teammates on a trip to the Bahamas and Baker Mayfield going along might help him force a trade.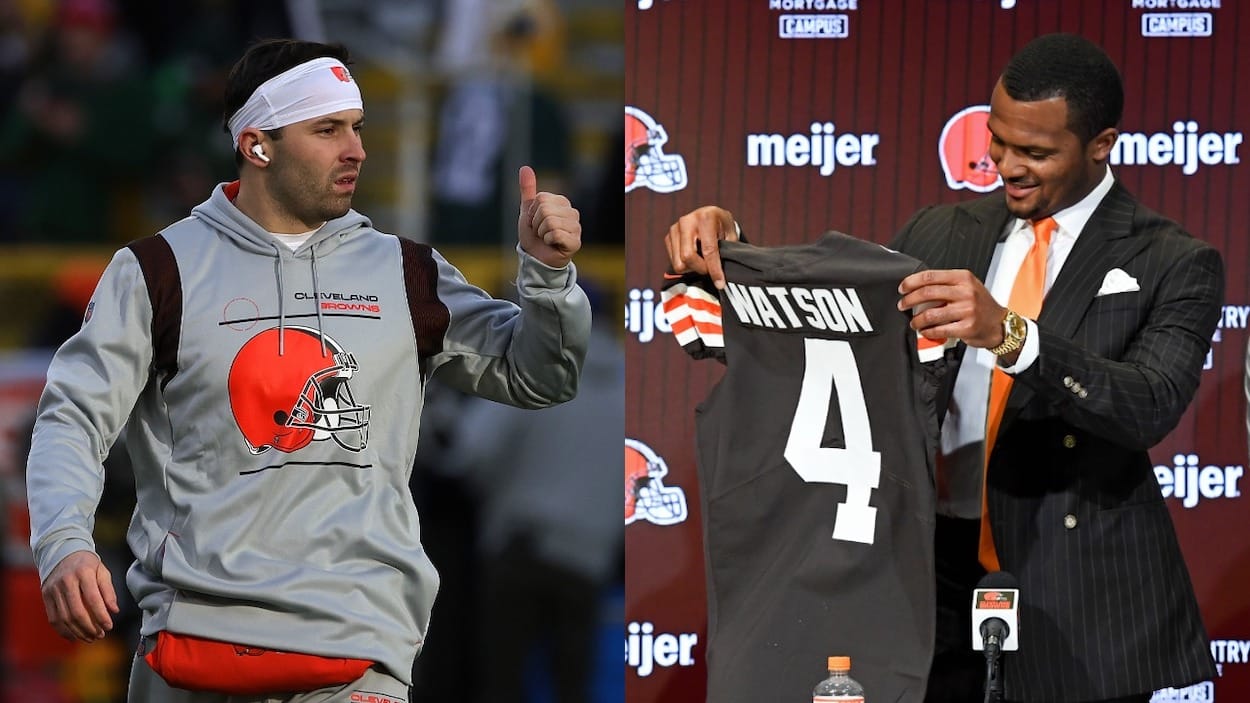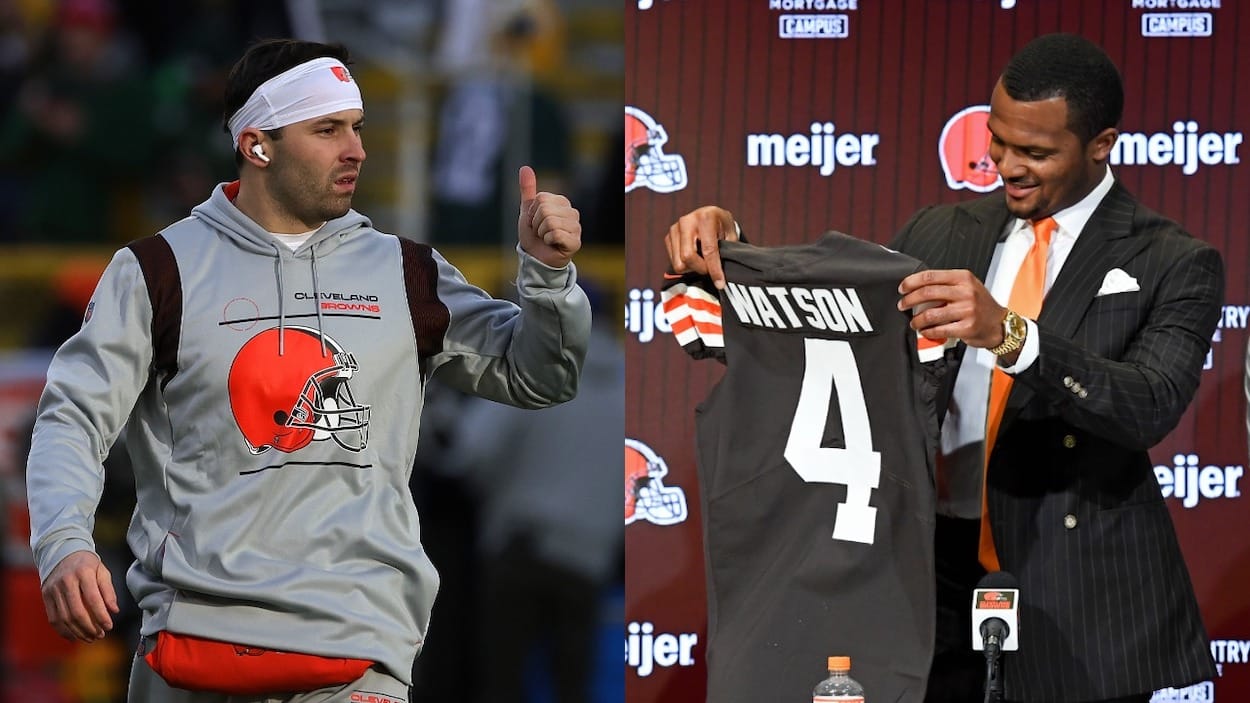 New Cleveland Browns quarterback Deshaun Watson is trying his best to ingratiate himself with his new franchise and offensive teammates. One way he is doing this is by taking the offense on an all-expenses-paid trip to the Bahamas. However, one current Browns offensive player reportedly won't be there, former starting QB Baker Mayfield.
There are several legitimate reasons Mayfield won't take this vacation with his team. However, NFL insider Albert Breer says that if the QB wants out of Cleveland, he should be on that Caribbean island with Watson and his teammates.
Deshaun Watson is taking his Cleveland Browns teammates to the Bahamas
The Cleveland Browns are obviously all in on their new quarterback, Deshaun Watson. Despite 22 civil cases still pending against him, the Browns handed the three-time Pro Bowl QB a fully guaranteed $230 million deal. The franchise even structured it to minimize the financial impact on Watson if he's suspended in 2022.
In turn, Watson is all in on being the new quarterback for the Browns.
The former Clemson QB is showing his dedication to his new team by taking his new offensive teammates on a trip to the Bahamas for a "team-building and football chemistry" trip, according to Josina Anderson of CBS Sports.
The Browns O will not only be enjoying the sun and some fun but also practicing with their new signal-caller.
Mary Kay Cabot of the Cleveland.com reports that Watson is chartering a private jet for the trip and is picking up the tab for the entire three-day weekend, paying for accommodations at a "luxury resort in Nassau."
There will be nearly 30 Browns players participating, although some "are still scrambling to get their passports in time."
One player that won't be there is former starting QB Baker Mayfield, although NFL insider Albert Breer thinks going on the trip would be the best way for the out-of-favor passer to get his trade wish as soon as possible.
NFL insider Albert Breer thinks Baker Mayfield should go on the trip
Baker Mayfield used to host trips like this for his Cleveland Browns teammates. The Texas native has invited offensive players down to his home in Austin, Texas, the last few offseason for "Camp Mayfield."
Now, the QB is rehabbing from offseason shoulder surgery and desperately wants out of Cleveland since he is no longer in the organization's long-term plans.
While not going on the Bahamas trip makes sense, MMQB's Albert Breer thinks that going on the trip and making things "awkward" for the franchise and its new QB would help get Mayfield out of town sooner. Breer tweeted:
I'll say it again—if I'm Baker Mayfield, I'm showing up for everything. If you're not there, out of sight, out of mind, no urgency to move you. If you show up … things are kind of awkward, and it could motivate a trade.

Albert Breer on Baker Mayfield and Deshaun Watson
Even if Mayfield took this tact, though, it might not be enough to force his way out.
There are two issues standing in the way of a Baker Mayfield trade right now. One is that, after the NFL draft, there aren't many teams with unsettled No. 1 or even No. 2 quarterback spots.
The Seattle Seahawks, Miami Dolphins, Philadelphia Eagles, Detroit Lions, and Houston Texans are among the few teams left where Mayfield could challenge for a starting spot. Although, these teams have either explicitly or implicitly said they're not interested in the QB.
Issue No. 2 is that the team that might need Mayfield most early in the 2022 NFL season is the Cleveland Browns.
A Deshaun Watson suspension could be coming soon
The dark cloud hanging over Deshaun Watson's team-building trip to the Bahamas is that there is a good chance that Watson won't be the Cleveland Browns quarterback for a major chunk of the 2022 NFL season.
While Watson has escaped criminal prosecution following multiple accusations of sexual assault, the multitude of civil cases against him are still pending.
The QB sat out the entire 2021 season because of this but now plans to play in 2022. With that in mind, the NFL is conducting its own investigation into Watson's actions. According to Josina Anderson, the league is meeting with Watson this week to discuss the situation. Albert Breer shared that talking to the player at the center of an inquiry like this is generally the NFL's final step of their investigation.
While the league hasn't made any pronouncements yet, most observers believe the NFL will hand down discipline for Watson whether he resolves the civil cases prior to the season or not.
Looking at past suspensions, it seems like Watson could get between four and eight games from Roger Goodell and company. However, based on the sheer magnitude of the allegations, it wouldn't be a complete shock if the league handed down an unprecedented suspension to the embattled QB.
From a football perspective, this is where things get tricky for the Cleveland Browns and Baker Mayfield. If Watson is indeed out for an extended period, the team will need a QB to keep its postseason aspirations alive.
The Browns did sign Jacoby Brissett this offseason. But behind him are a five-year veteran with 17 career pass attempts Joshua Dobbs, and undrafted rookie Felix Harper from Alcorn State.
All this adds up to the idea that, awkward or not, there's a possibility Mayfield could be the Browns starting QB in Week 1 of the 2022 season.
Like Sportscasting on Facebook. Follow us on Twitter @sportscasting19 and subscribe to our YouTube channel.