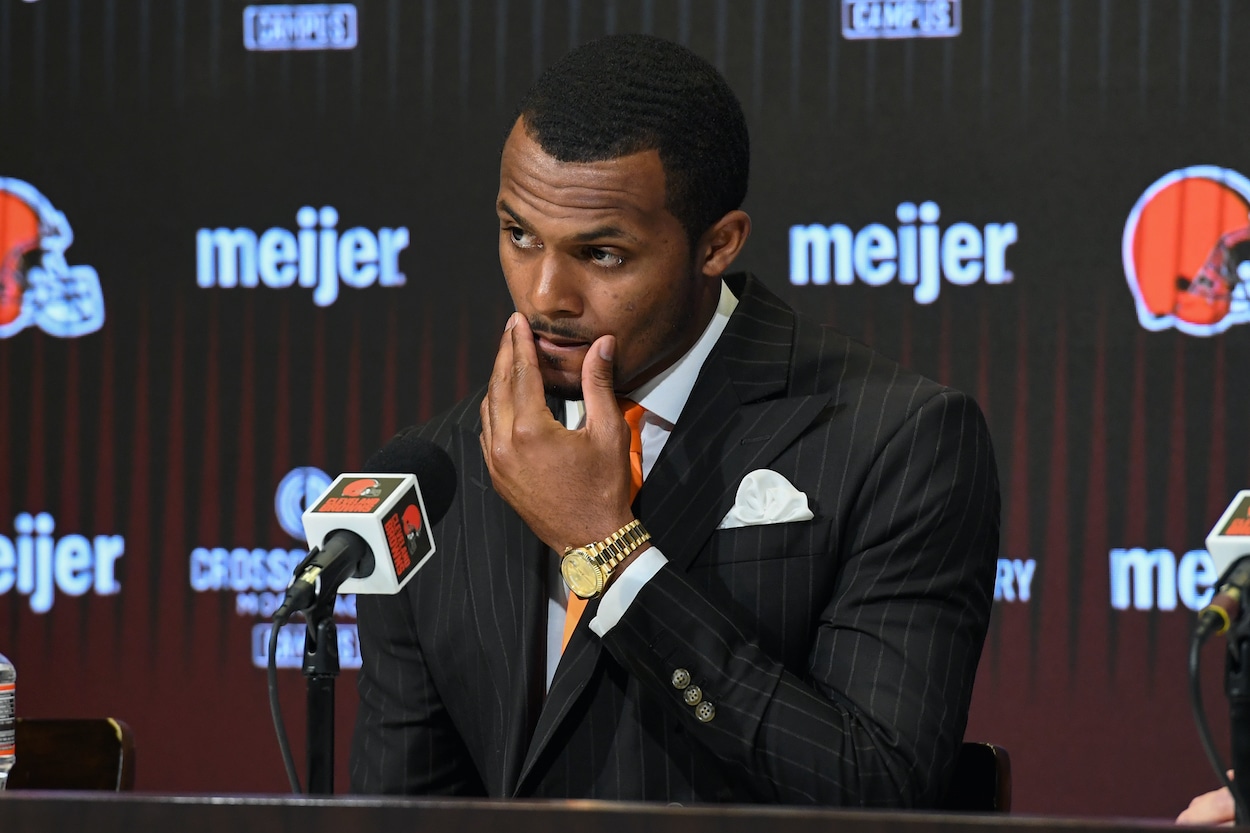 Deshaun Watson Accusers Set to Tell Their Stories to the World on HBO's 'Real Sports' as 'The Walls Are Closing In' on the QB
On Tuesday, two Deshaun Watson accusers will go on HBO's 'Real Sports with Bryant Gumbel' and the QB will not appear to defend himself.
Cleveland Browns quarterback Deshaun Watson is getting ready for the 2022 NFL season. However, the embattled QB still faces 22 civil cases involving female masseuses accusing him of sexual misconduct. Meanwhile, the NFL is investigating and reportedly considering a lengthy suspension. As the whole saga comes to a head, things may be about to get worse for Watson. Two accusers will appear on HBO's Real Sports with Bryant Gumbel on Tuesday to tell their stories.
Two Deshaun Watson accusers will be on HBO on Tuesday, May 24
During the 2021 offseason, several female masseuses made accusations of sexual misconduct against then-Houston Texans quarterback Deshaun Watson. Since then, women have filed 22 civil lawsuits against the QB. Also, several criminal complaints went to a grand jury.
The grand jury declined to continue criminal prosecution against the star signal-caller. However, the civil complaints are still unsettled a year later.
The Texans have since traded Watson to the Cleveland Browns for a massive draft pick haul, and the QB's new team has awarded Watson with a gigantic, fully guaranteed, suspension-proof (in 2022) $230 million contract.
Now, two women will speak with reporter Soledad O'Brien on HBO's Real Sports with Bryant Gumbel to tell their side of the story.
The lawyer representing these women, attorney Tony Buzbee, recently said in a statement, per Mary Kay Cabot of Cleveland.com, that this interview means that "the walls are closing in" on Watson.
The accusers telling their story could be extremely detrimental to Watson. And this could lead to an unprecedented suspension from the NFL.
Watson will not participate in the HBO show
For anyone hoping to hear Deshaun Watson's side of the story during this Real Sports interview, you're out of luck. The quarterback has declined to participate in the show, according to his lawyer, Rusty Hardin.
Hardin told Cleveland.com, "Watson declined HBO's request to be interviewed for the piece because of the pending NFL investigation. One of Watson's lawyers, Leah Graham, spent about 8 minutes talking to HBO on Monday morning, and his team 'sent mountains of material to review.'"
According to Pro Football Talk, another reason that Watson passed on the invitation to talk to HBO is that he may believe the segment will be biased against him. PFT's Mike Florio notes that HBO has already been disingenuous — in his opinion — with the way it is promoting the segment.  
HBO's press release notes that Soledad O'Brien will talk to "several" of Watson's accusers, while the women's lawyer confirms it will only be two. Florio writes, "'Several' implies more than two. The use of 'several' when the truth is two justifies concerns about a possible bias."
Tony Buzbee did tell Mary Kay Cabot, "I can tell you, hard questions were in fact asked — not only to our clients but to me as well." But that doesn't seem to be enough to convince Watson and Hardin that he needed to join the show.
These interviews mark a possible inflection point in the case. Depending on what happens in the court of public opinion, the show could have a significant influence on what the NFL does, suspension-wise.
Real Sports with Bryant Gumbel airs Tuesday, May 23, at 10 P.M. EST on HBO.
How to get help: In the U.S., call the RAINN National Sexual Assault Telephone Hotline at 1-800-656-4673 to connect with a trained staff member from a sexual assault service provider in your area. 
Like Sportscasting on Facebook. Follow us on Twitter @sportscasting19 and subscribe to our YouTube channel.