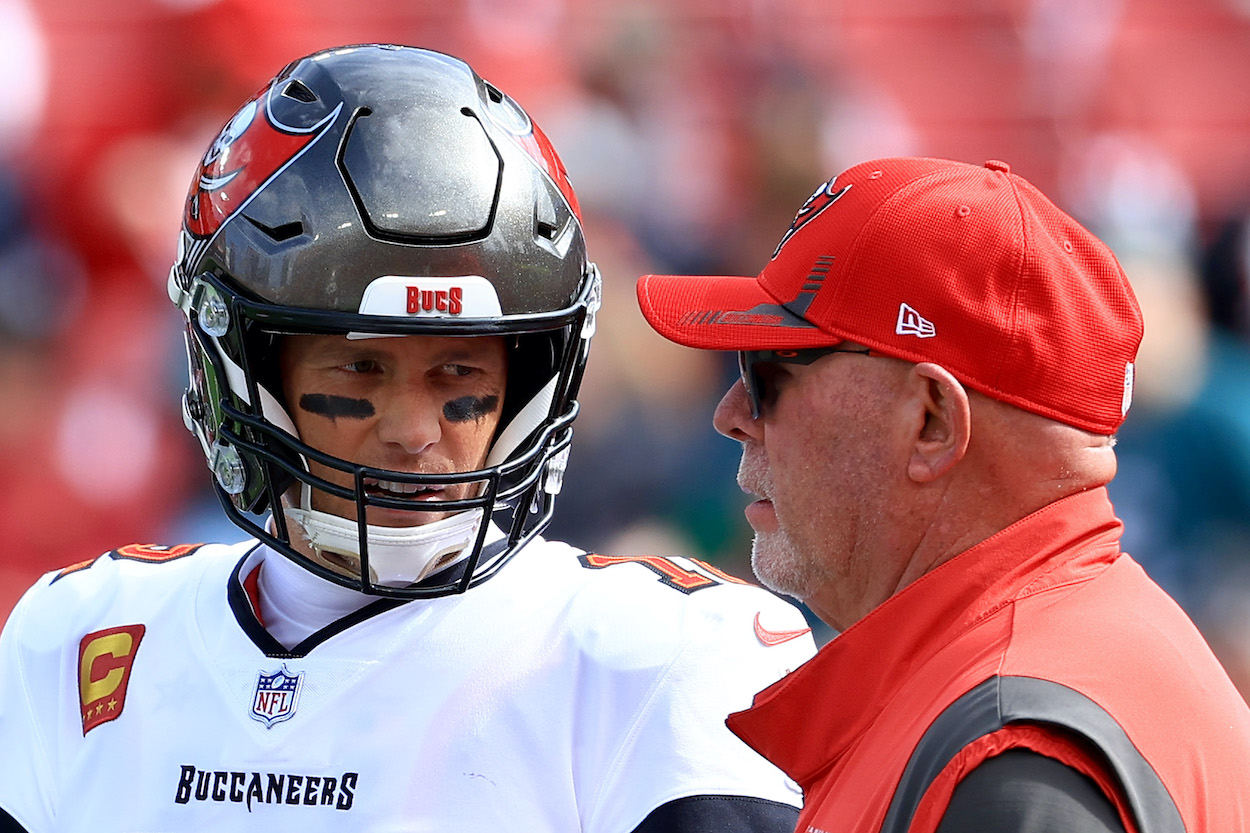 NFL Insider Mike Florio Explains Tom Brady Conspiracy Theory About the QB Forcing Bruce Arians Out: 'None of It Adds Up'
Was Tom Brady's 40-day retirement a ploy to force Bruce Arians out as Tampa Bay Buccaneers head coach? Mike Florio thinks so.
Here's the timeline. Tom Brady retired on February 1, 2022. On March 12, the quarterback was in England to take in a Premier League match where he presumably met with the Glazer family, who own both Manchester United and the Tampa Bay Buccaneers. A day later, he unretired, and on March 30, Bruce Arians stepped down as head coach.
If you think this timeline sounds a little strange or a little too convenient, you're not alone. It's a little fishy to NFL insider Mike Florio, too, and he explained why.
Bruce Arians called out Mike Florio in his final press conference 
Pro Football Talk's Mike Florio has written and discussed the fact that Tom Brady's un-retiring at the age of 44 was tied to Bruce Arians stepping down as head coach of the Tampa Bay Buccaneers. He followed the lead of Brady's former teammate, Rich Orhnberger, who "posted multiple tweets regarding the dysfunction that had developed between Brady and Arians.
Florio also pursued the theory that Brady's retirement was a ploy to see if he could force a trade to the San Francisco or Miami Dolphins.
Whether he was right or not, the noise didn't go unnoticed by Arians. In his farewell presser, the Super Bowl-winning coach's last act was a shot across the bow of the NBC Sports personality.
"One more thing. It's been great working with you guys in the press. You've been fantastic, all over the country, alright?" Arians said, before finishing by saying, "Florio, you can write what you want. It's OK."
When asked about the shout-out on the Dan Patrick Show, Florio said he would have spit out his water or coffee (if he was drinking at the time) when he heard it. After expressing his shock, though, Florio dove into the entire situation with the former Sportscenter anchor.
Florio responded by laying out the weirdness of Arians' "retirement" from coaching
Jumping headfirst into the Arians/Brady/Buccaneers, Florio told Dan Patrick, "I'm sure [Arian] 's not thrilled with my speculation/somewhat informed discussion of how this all came to be."
The host then asked Florio if there was "any chance that the way he announced his retirement is actually real?" That's when the PFT founder explained why he's not buying it: 
None of it adds up. He was all in. He was at the scouting combine, he was involved, he was involved in free agency. And the idea that Tom Brady coming back caused him to say, "now is the time to leave," if anything, it'd cause him to say, "now's the time to stay!"

Mike Florio on the Arians timeline
Florio then laid out the timeline and why it is key to confirming his conspiracy theories regarding Arians and Brady's relationship: 
Seventeen days after Tom Brady ends a 40-day retirement, Bruce Arians is out. And there's never even the most remote suggestion that Tom Brady is troubled by that. Doesn't that tell us kind of everything we need to know?

Mike Florio and Tom Brady's reaction to Arians stepping down
Florio makes a compelling case about the inherent strangeness of the situation that does make you think. After he explained the circumstantial evidence surrounding the retirement fiasco, like any good detective, he found the motive behind the alleged crime. 
Was the Tampa Bay Buccaneers head coach's work ethic the reason Brady forced him out?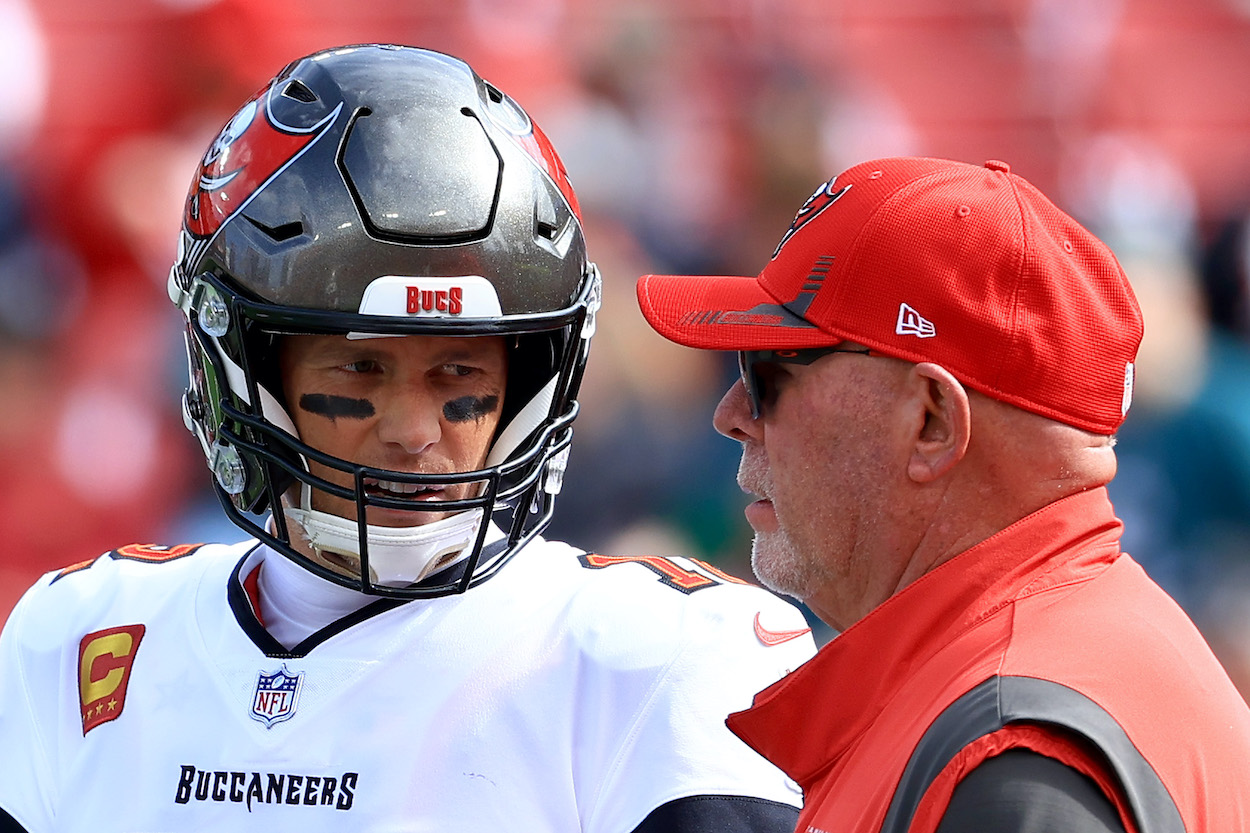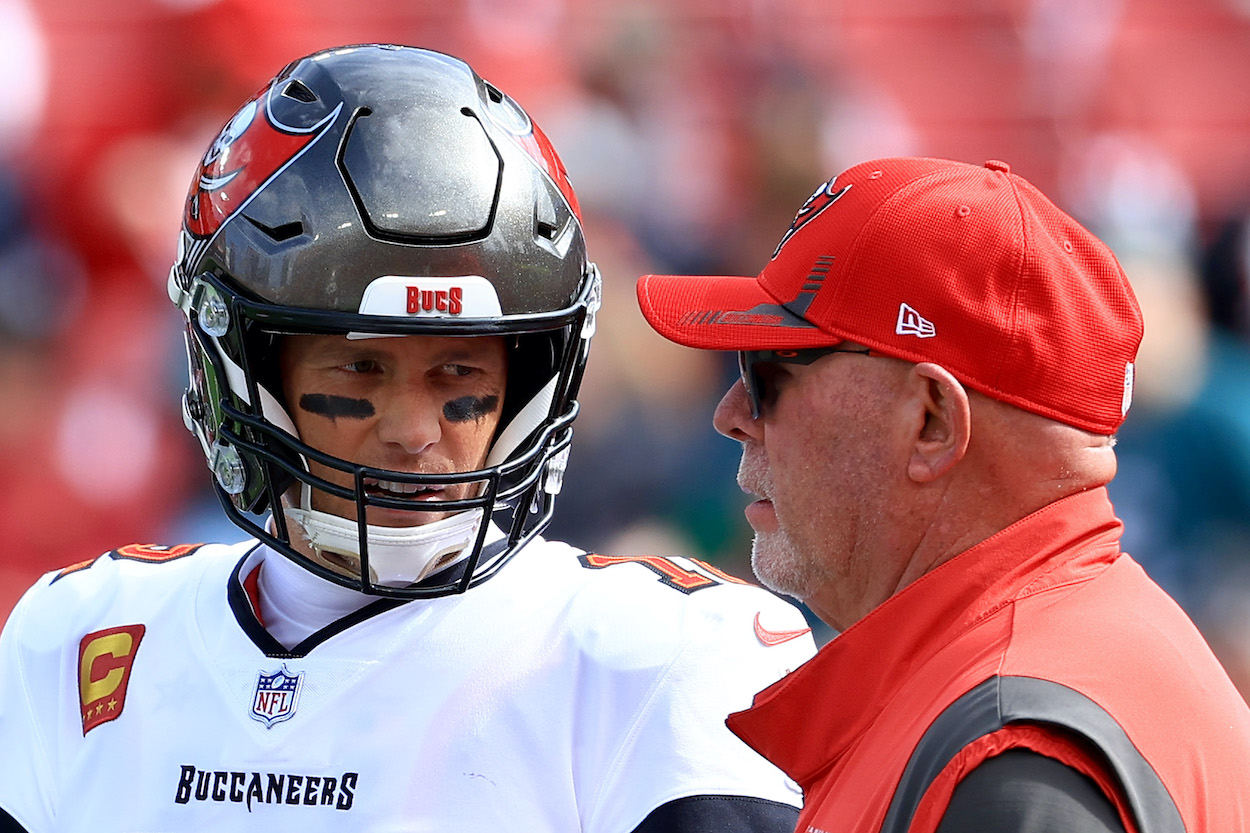 Mike Florio made a compelling case that there is smoke coming out of Tampa Bay regarding a rift between Bruce Arians and Tom Brady. After that, Florio explained why he believes there is fire as well: 
I think we're underrating what Bruce Arians means to the football team on game day. But the fundamental problem here, I think, arose from the fact that Arians wasn't involved with the team most of the time. And that he would show up and become involved. And at a certain point, the folks who are finding every day, busting their a**** every day, are going to resent that.

Mike Florio expalining Brady's problem with Arians
Florio even had an answer for the fact that Arians' response to all these allegations is that he and Brady get along fine. The reporter explained that the "friction" between the two was purely professional, not personal. 
He even pointed to a relatable example in his own life, saying, "There's plenty of people I've worked with over the years — I love them personally. Professionally, I just can't work with ya anymore. It's possible those two things can exist."
The whole scenario is incredibly plausible and, as Florio lays it out, quite convincing. It's hard to imagine a situation where Arians' retirement and Brady's comeback aren't related. 
Whether the seven-time Super Bowl winner forced Arians out or not, the die is cast. Todd Bowles — and his 26-42 career head coaching record — is now in charge. We'll just have to see how that goes.  
Like Sportscasting on Facebook. Follow us on Twitter @sportscasting19.