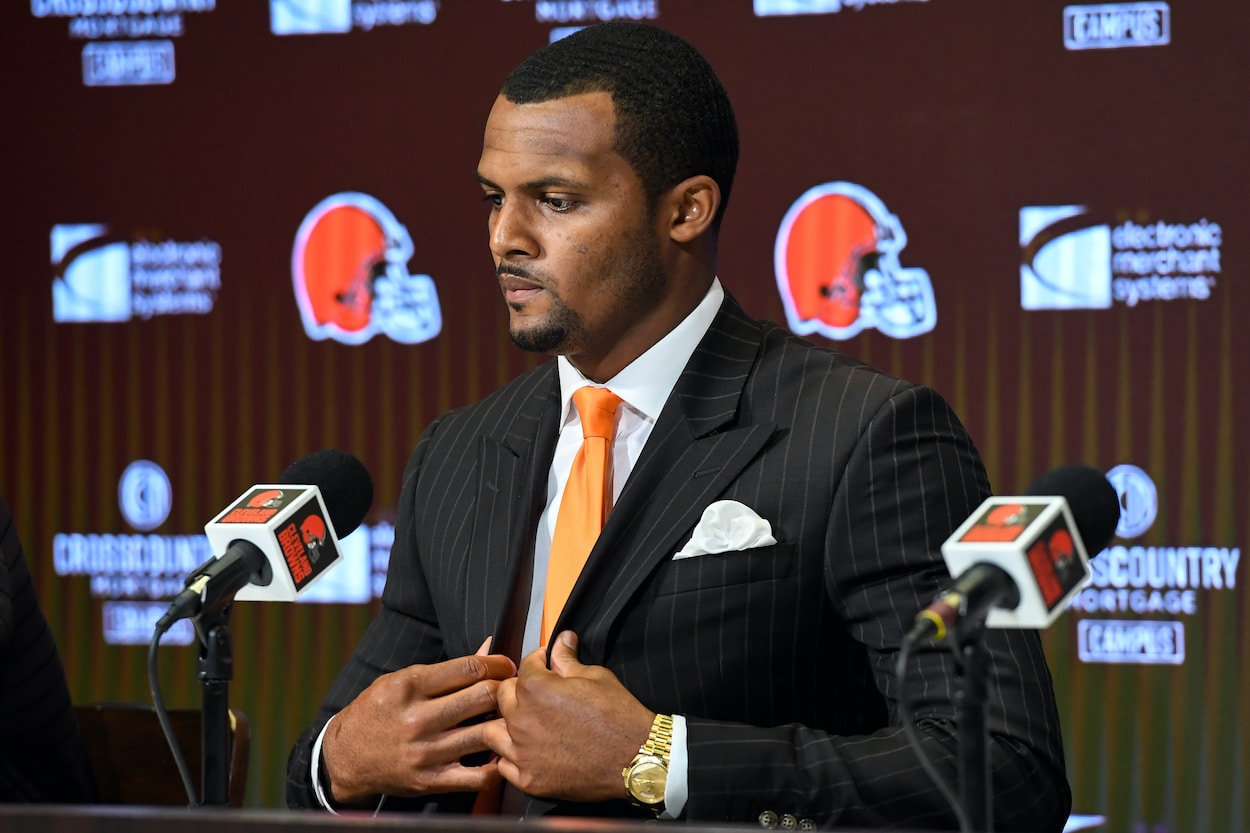 'NFL Source' Says Deshaun Watson Could Face Unprecedented Suspension Because of Trevor Bauer, According to NFL Insider Josina Anderson
After MLB suspended Trevor Bauer for two seasons, new Cleveland Browns QB Deshaun Watson could face a lengthy suspension of his own.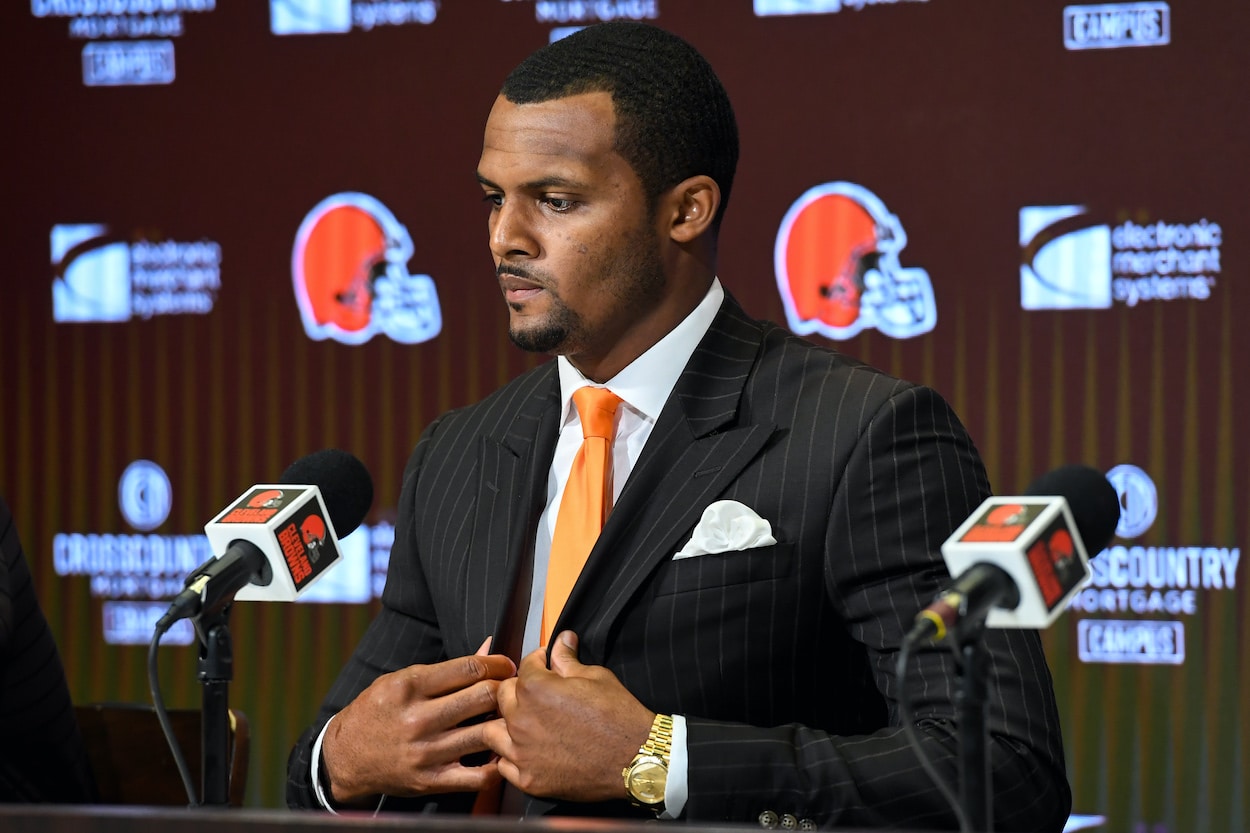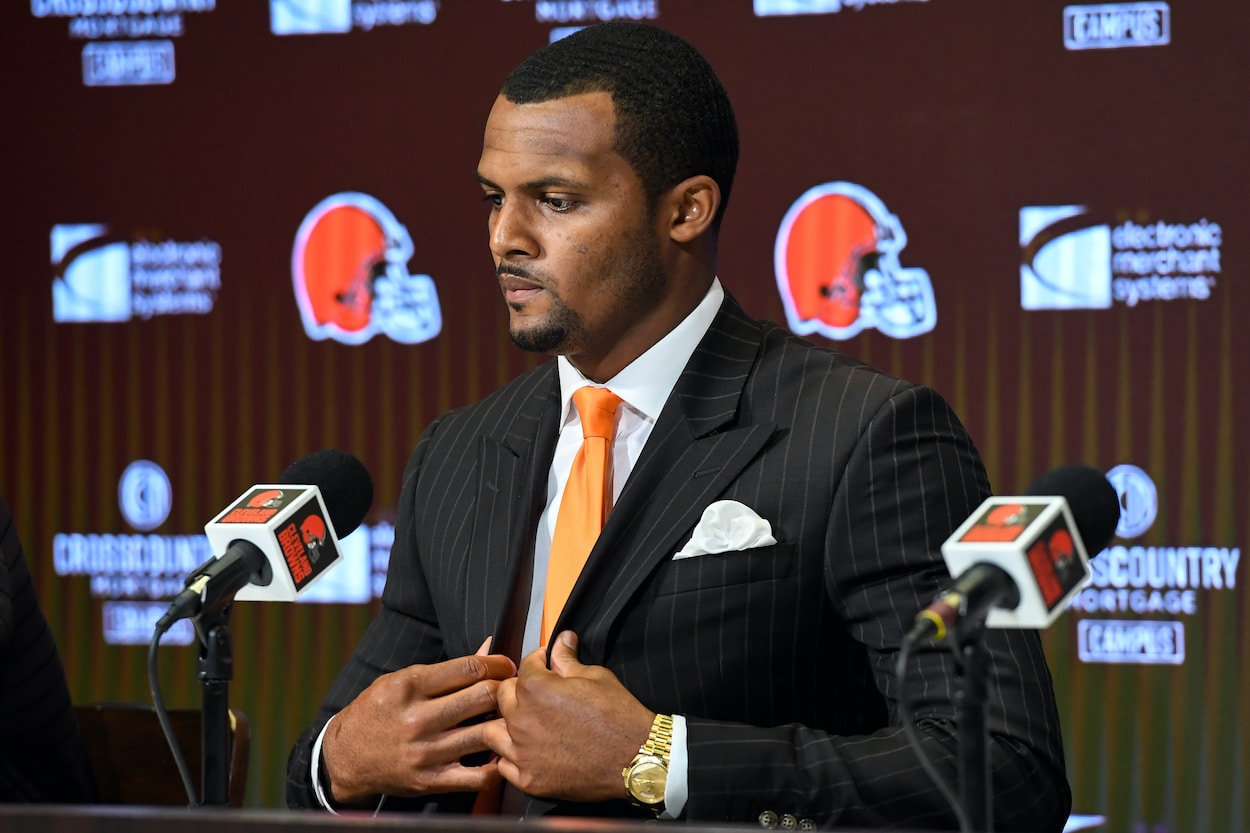 As we enter the doldrums of the NFL offseason, there are a few more league issues that need settling. One of those is the fate of new Cleveland Browns quarterback Deshaun Watson. The former Houston Texans QB still faces nearly two dozen civil lawsuits from women — namely female masseuses — alleging sexual misconduct, and a suspension from the league seems immanent.
As the NFL decides how much discipline it doles out to Watson, a recent ruling from Major League Baseball looms large. MLB suspended pitcher Trevor Bauer for a historic number of games as a result of sexual assault allegations. Now, the NFL may do the same to Watson.
Deshaun Watson faces a multi-game suspension
Deshaun Watson sat out the entire 2021 NFL season due to the ongoing legal process involving him. In the 2022 offseason, though, the Cleveland Browns traded three first-round picks (2022, 2023, 2024), a third-round pick (2023), and two fourth-round picks (2022, 2024) for Watson and a 2024 sixth-round pick.
The Browns then turned around and gave Watson the largest guaranteed contract in NFL history as well (more on that below).
In a football vacuum, this trade makes tons of sense. Watson is a three-time Pro Bowler. He's thrown for 14,539 yards with 104 touchdowns and 36 interceptions in his four NFL seasons. When he's on the field and playing well, Watson is easily a top-five signal-caller in the league.
However, this is a risky trade in real life, at least for the 2022 season.
While a grand jury has ruled that criminal cases against Watson will not proceed, he still faces multiple civil suits regarding his interactions with female masseuses during his time with the Texans.
No matter the outcome of these cases, most NFL observers believe that the multitude of suits is enough for the league to hand Watson a suspension for violating its personal conduct policy.
The league is currently investigating the situation, although it has given no indication of how long a suspension (if one comes) would be.
Now, though, after MLB doled out a historic punishment to Los Angeles Dodgers pitcher Trevor Bauer, a similar fate may await Watson, according to NFL insider Josina Anderson.  
NFL insider Josina Anderson says the Trevor Bauer suspension could affect Watson
LA Dodgers pitcher Trevor Bauer has faced his own sexual assault allegations in the past few years, which you can read about here on ESPN.
And although Bauer has not been convicted of any charges, MLB handed down an unprecedented 324-game suspension for violations of the league's domestic violence policy. The pitcher is currently appealing the suspension.
While Bauer and Deshaun Watson's cases are unique, they both involve alleged sexual assault, which no organization wants to be associated with.  
This may mean that the NFL now feels pressure to measure up to MLB's decisive action regarding Watson's suspension. That sentiment is backed up by what NFL insider Josina Anderson hears from a league source. The reporter recently tweeted:
NFL source on Trevor Bauer: 'Look at what baseball did. If people don't think that's on people's radar, then. Public opinion matters. You think the NFL wants to be the organization that says sexual misconduct against women means more to one league than the other? Think about it.'

Josina Anderson on Deshaun Watson suspension
This could lead to the NFL handing down its own record suspension to Watson.
The league, per NFL.com, has suspended players for life for gambling (Art Schlichter) and substance abuse (multiple players), multiple seasons for firearms (Plaxico Burress) and killing dogs (Michael Vick), and one season for DUI manslaughter (Donte Stallworth) and personal conduct (Adam "Packman" Jones).
For domestic violence-related violations, Adrian Peterson served six games in 2014, and the league gave Greg Hardy 10 games in 2015, but an arbitrator reduced that to four games.
The Cleveland Browns have done everything they can to minimize the impact of the QB missing games
No matter what the NFL decides regarding a Deshaun Watson suspension, the Cleveland Browns have done everything they can to minimize the impact of the punishment both on the player and the team.
For Watson, the team fully guaranteed all $230 million of the QB's deal. The Browns also reduced his 2022 base salary to just over $1 million.
These contractual maneuvers mean that Watson will get the full value of his contract. Also, if he's suspended this coming season, he'll only lose a prorated piece of that $1 million base. That is in sharp contrast to his current 2023-26 base salary numbers, which are $46 million.
From a team perspective, the Browns signed high-end backup Jacoby Brissett to a one-year, $4.65 million deal.
Also, the Browns still haven't traded 2021 starter Baker Mayfield. One of the reasons for this could be that the franchise will try to mend fences with its 2018 No. 1 overall pick and keep him as the starter for some portion of 2022 if Watson does get a lengthy ban.
The NFL is reportedly scheduled to meet with Watson soon, so a resolution could be forthcoming
How to get help: In the U.S., call the RAINN National Sexual Assault Telephone Hotline at 1-800-656-4673 to connect with a trained staff member from a sexual assault service provider in your area. 
All stats courtesy of Pro Football Reference