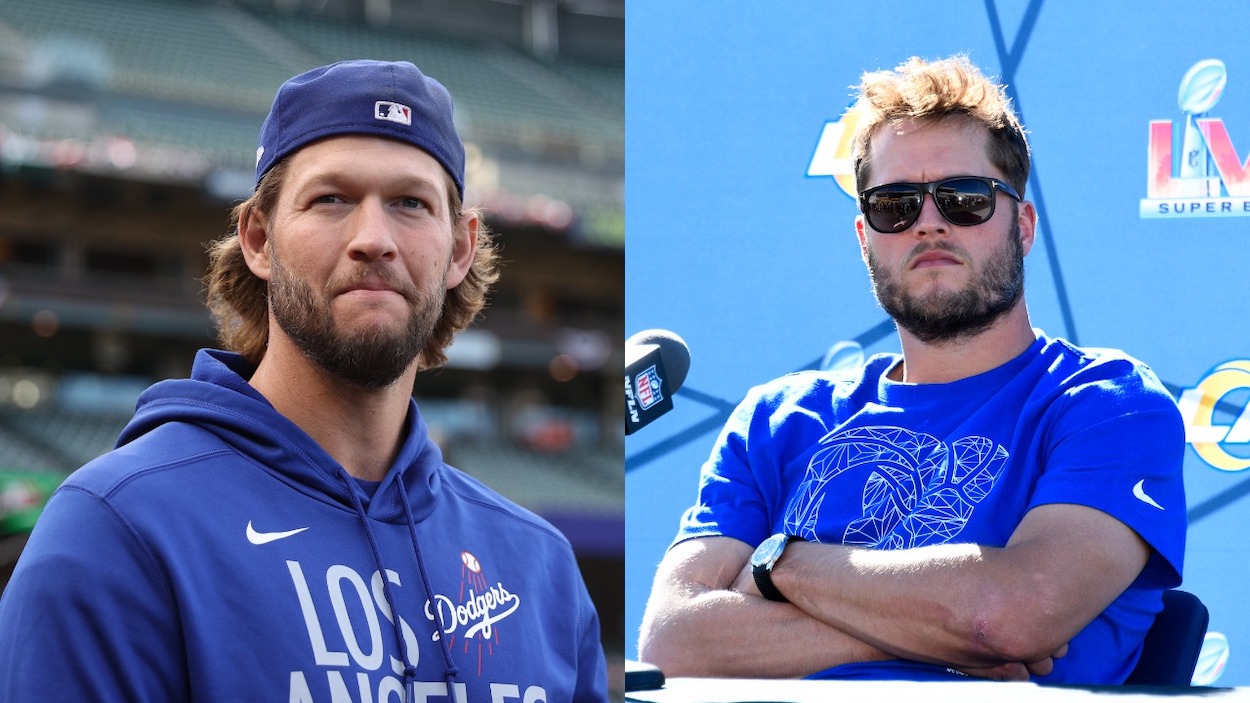 Matthew Stafford Taught His Famous High School Baseball Teammate Clayton Kershaw How to be Cool on Game Day: 'I Was Kind of Envious'
LA Dodgers pitcher Clayton Kershaw shared a lesson from his former high school teammate, Rams QB Matthew Stafford, about staying cool under pressure.
Los Angeles Rams quarterback Matthew Stafford and Los Angeles Dodger pitcher Clayton Kershaw famously went to high school together in Dallas, Texas. Ahead of the 2022 Super Bowl against the Cincinnati Bengals, Kershaw says he actually learned a thing or two from his old teammate about being cool under pressure.
This laid-back attitude that Stafford showed Kershaw could make a huge difference in the Super Bowl if it comes down to the final few minutes.
Matthew Stafford and Clayton Kershaw played baseball and football together in high school
Highland Park High School in Dallas, Texas, had some pretty impressive athletes in the early 2000s. The Highland Park Flying Scots baseball team, in particular, had a pretty special battery.
Pitching for the school two decades ago was Clayton Kershaw, a three-time NL Cy Young Award winner and 2020 World Series winner with the LA Dodgers. Catching for the future baseball Hall of Famer was a catcher named Matthew Stafford, now quarterbacking the cross-town LA Rams to the Super Bowl.
Stafford and Kershaw played football together, briefly, too. For the few games that Stafford played on the Highland Park freshman football team, Kershaw was his center.
Kershaw quit football after just one year in high school, but it sure seems like focusing on baseball was the right idea. As the nation's best high school pitcher in 2006, the Dodgers picked him No. 7 overall in that year's draft.
After two seasons in the minors, Kershaw made his MLB debut in 2008 and never looked back. Like his high school teammate who went to Georgia before going No. 1 overall to the Detroit Lions, the pitcher was known as a great player for a long time, but one who couldn't win the big one.
In 2020, Kershaw shed that moniker when he helped his Dodgers win the 2020 World Series.  
Now, in the 2022 Super Bowl, Kershaw is looking for his old buddy Stafford to do the same with the LA Rams.
Kershaw learned a lesson about keeping calm from Stafford
Clayton Kershaw joined the NFL Network pregame crew ahead of Super Bowl 56 to talk about his high school teammate.
Former Rams QB Kurt Warner asked the pitcher what his keys are to playing under pressure in big games. Kershaw shared that his demeanor under pressure is a lot different than Matthew Stafford's.
Kershaw then shared a story of being on the sidelines for a Detroit Lions game vs. the Dallas Cowboys and how impressed he was with how cool Stafford was:
We got to go on the sidelines — and if I was pitching that day, I wouldn't see anybody. I really wouldn't want to talk to anybody. Kind of focus. [Stafford] was so laid back. He was so calm. I was kind of envious of that because he just felt like he just had a job to do, he's just going to do it. And for me, it's like laser focus. I don't really want to talk to anybody, see anybody. I took some cues from Matthew on that. It was pretty cool to see.

Clayton Kershaw on Matthew Stafford
Kershaw also told the NFL Network game that he doesn't have any advice for his former high school catcher. The Cy Young winner said that the Super Bowl, with its 100-plus million viewers and one game, do or die format is a "different animal" than the World Series.  
Now that the 2022 Super Bowl is upon us, we'll get to see if that trademark Stafford coolness comes through in the biggest game of his career.
The QB matchup will determine the 2022 Super Bowl winner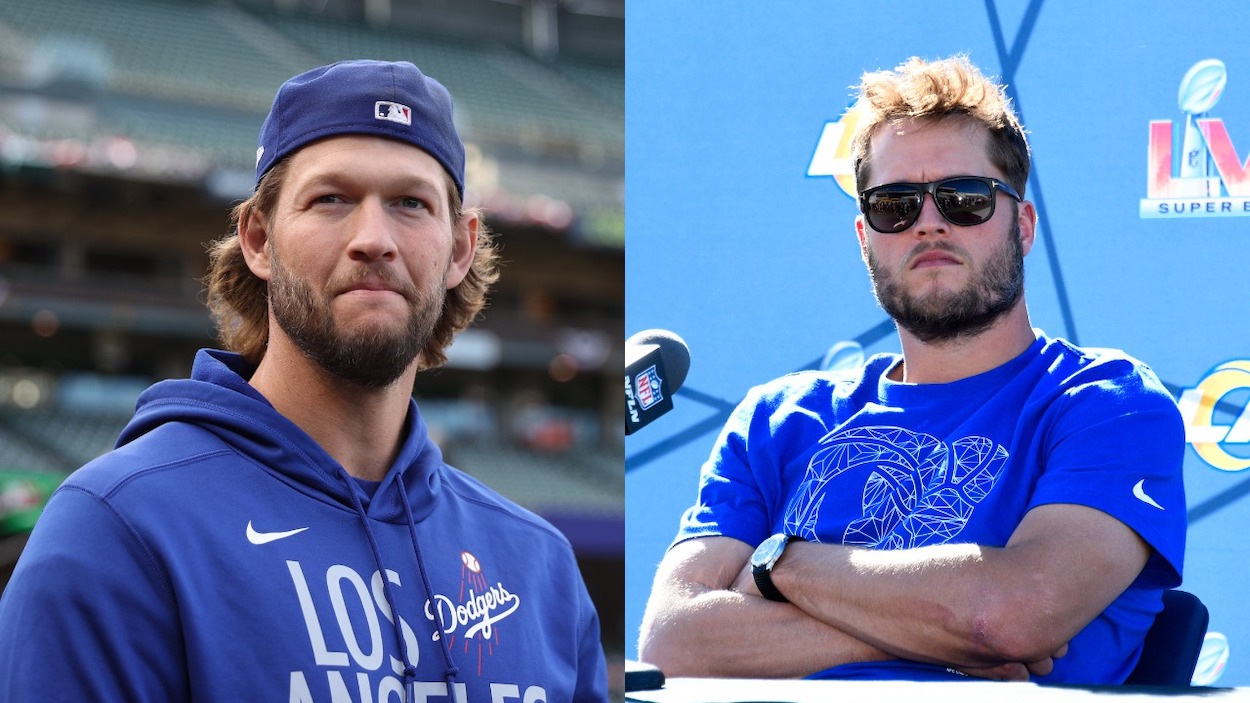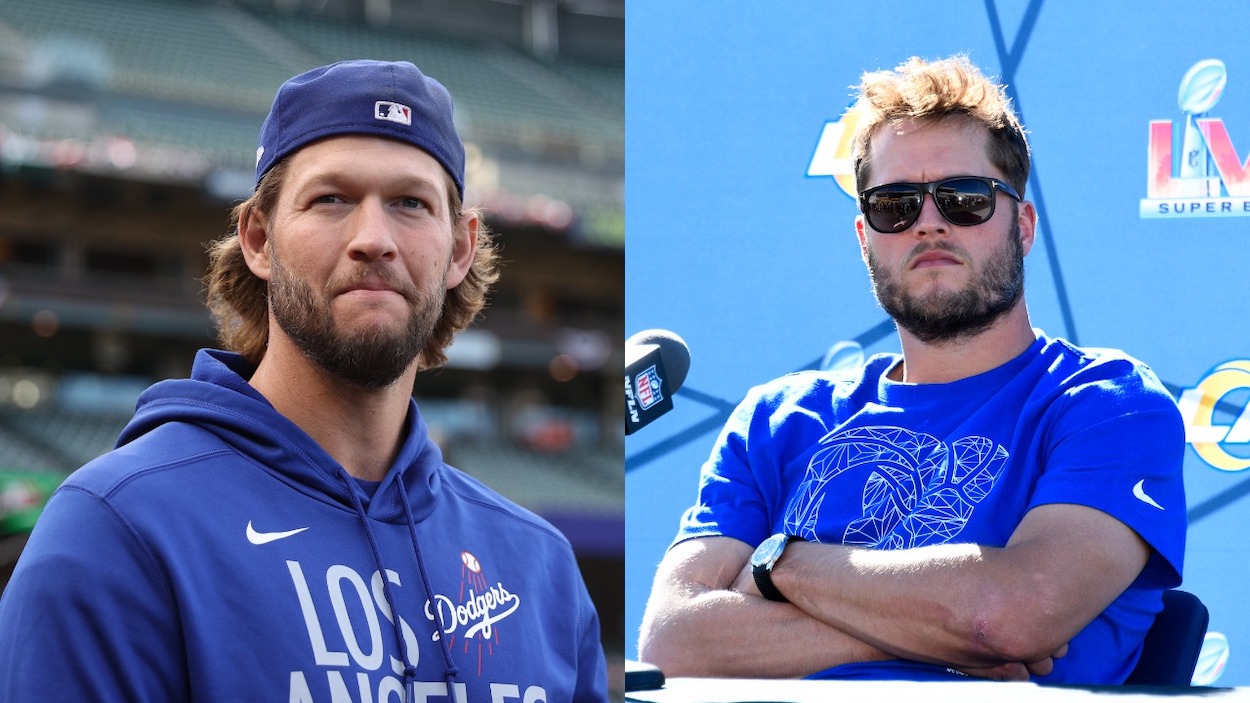 Super Bowl 56 is about the LA Rams vs. the Cincinnati Bengals, coach Sean McVay vs. Zac Taylor, and many of the individual offense vs. defense matchups. That said, the winner of the Lombardi Trophy will likely be the winner of the Matthew Stafford vs. Joe Burrow battle.
Both signal-callers had great seasons in 2021. Stafford threw for 4,886 yards with a 67.2% completion percentage. He also threw 41 touchdowns and added a league-leading 17 interceptions.
Burrow threw for 4,611 yards and led the league in completion percentage with a 70.4% rate. He threw 34 touchdown passes to 14 interceptions.  
The Bengals' second-year QB is having a magical year and is building quite the reputation for being cool under pressure. On the other hand, Stafford has long been thought of as someone who cracked under pressure, but with his success in LA, it seems like his problems were more Lions-related than based on his demeanor.
After a few first-round blowouts, the 2021 NFL playoffs have produced incredibly close games. If that trend holds, Burrow and Stafford's calm under fire could determine this game if it comes right down to the end.
If Clayton Kershaw's story rings true, a close game might be better for Stafford and the LA Rams than most think.
All stats courtesy of Pro Football Reference