Matthew Stafford to Joe Burrow: Ranking the QBs Drafted No. 1 Between 2009 and 2020
Matthew Stafford and Joe Burrow are the two best QBs drafted No. 1 since 2009. Here's how the others drafted that high in-between measure-up.
There were 10 NFL drafts between the Detroit Lions picking Georgia's Matthew Stafford No. 1 overall in 2009 and the Cincinnati Bengals selecting LSU's Joe Burrow first in 2020. In between, NFL teams took seven signal-callers with the No. 1 overall pick. In honor of Burrow's Bengals and Stafford's Los Angeles Rams squaring off in the Super Bowl, here is the definitive ranking of the quarterbacks Drafted No. 1 Between 2009 and 2020.
Stats for QBs drafted No. 1 between Matthew Stafford and Joe Burrow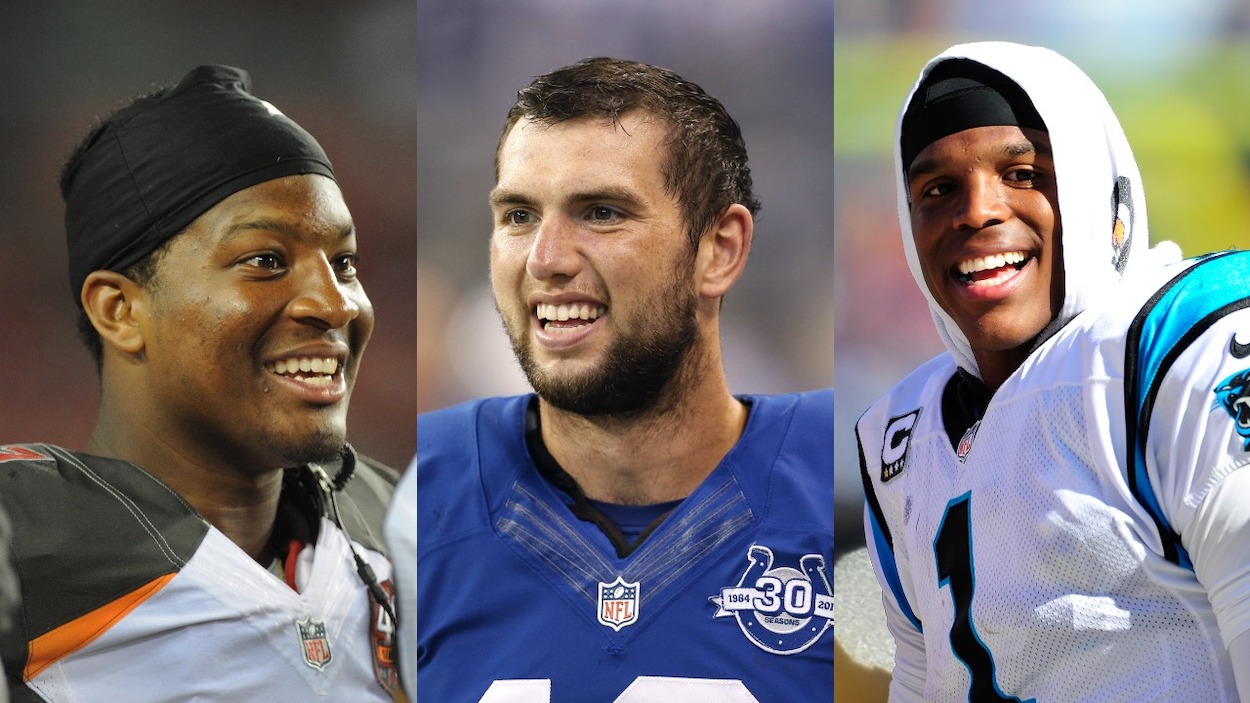 Drafting a quarterback in the first round of the NFL draft is a risky proposition in general. Around half of them won't work out.
Drafting a QB No. 1 is incredibly exciting, with a potential Peyton Manning, John Elway, or Terry Bradshaw available. However, for every one of these Hall of Famers drafted at the top of the draft, there is the chance of getting a Tim Couch, David Carr, or JaMarcus Russell.
Between Matthew Stafford and Joe Burrow, seven QBs went No. 1 overall. Here are their career stats thus far:
| | | | | | | | | | | |
| --- | --- | --- | --- | --- | --- | --- | --- | --- | --- | --- |
|   Year |   Player | Gms/ Gms Started |   Record | Cmp/ Att |   Cmp % |   Yards |   TDs |   INT |   Rush Yards |   Rush TDs |
| 2010 | Sam Bradford | 83/83 | 34-48-1 | 1,855/2,967 | 62.5% | 19,449 | 103 | 61 | 340 | 2 |
| 2011 | Cam Newton | 148/144 | 75-68-1 | 2,682/4,474 | 59.9% | 32,382 | 194 | 123 | 5,628 | 75 |
| 2012 | Andrew Luck | 86/86 | 53-33 | 2,000/3,290 | 60.8% | 23,671 | 171 | 83 | 1,590 | 14 |
| 2015 | Jameis Winston | 83/77 | 33-44 | 1,665/2,720 | 61.2% | 20,982 | 135 | 91 | 1,204 | 11 |
| 2016 | Jared Goff | 83/83 | 45-37-1 | 1,868/2,915 | 64.1% | 21,416 | 126 | 63 | 401 | 10 |
| 2018 | Baker Mayfield | 60/59 | 29-30 | 1,185/1,924 | 61.6% | 14,125 | 92 | 56 | 571 | 5 |
| 2019 | Kyler Murray | 46/46 | 22-23-1 | 1,057/1,581 | 66.9% | 11,480 | 70 | 34 | 1,786 | 20 |
It's worth noting that while Sam Bradford and Andrew Luck are retired (and Cam Newton is on the verge), the rest of the QBs are still active and have a chance to change their legacies. That said, here is how these passers drafted between Matthew Stafford and Joe Burrow rank as far as whose career was/is/will be best among the group.
2010: Sam Bradford, St. Louis Rams
Oklahoma's Sam Bradford came into the NFL with great expectations but never lived up to them. He led his team to a 7-9 record in his rookie season (and won Rookie of the Year) but never broke the seven-win throttlehold for the rest of his career.
Bradford's program height and weight were 6-foot-4, 224-pounds, but he always seemed smaller and frailer than that. His injury history shows just how his body let him down, which was the Sooners' biggest problem. He only played 16 games twice in his career and had seasons of seven, two, and three games.
Even after several chances, with the Rams, Minnesota Vikings, Philadelphia Eagles, and Arizona Cardinals, Bradford just couldn't figure out how to become a winning QB. That's why he is last on the list of QBs drafted between Matthew Stafford and Joe Burrow.
2015: Jameis Winston, Tampa Bay Buccaneers
If Sam Bradford was frail and conservative and timid in the pocket, the next QB on this list is the exact opposite of all these things. At 6-foot-4, 231-pounds with powerful legs, a rocket arm, and absolutely no conscience when it comes to throwing it around the yard, Jameis Winston is the anti-Bradford.
As a Tampa Bay Buccaneer, Winston led the club to a 28-42 record in five seasons. His last season in Florida summed up the Jameis Winston experience perfectly. He led the league in passing attempts (626) and yards (5,109). He also led the league in INTs and established the first football 30/30 club tossing 33 TDs and 30 INTs.
In 2021 with the New Orleans Saints, Winston showed promise before he got hurt, and at 28, he's still got time. As of now, though, Winston's carved out a decent career for himself despite coming into the league with plenty of baggage. However, it's just not one a franchise can be happy with after using a No. 1 overall pick on him.
2018: Baker Mayfield, Cleveland Browns
When it comes to Baker Mayfield, do you throw out his first years when he had Hue Jackson and Freddie Kitchens as head coach and this season when he was injured for the entire year? Or, do you say that these are the baseline and 2020, when Mayfield was excellent and led his team to the playoffs was the outlier?
While it's OK if your gut says the former, when looking at the stats and results, you have to say that, right now, it seems more likely Mayfield is a below-average QB who had a great season as opposed to an above-average QB who's had three bad seasons. This is why his team is struggling over whether or not to give him a massive extension.
The Cleveland Browns QB has the most potential to move his way up this list in the future, but for now, he has to be ranked closer to the bottom than the top of the QBs who went No. 1 between Matthew Stafford and Joe Burrow.
2016: Jared Goff, Los Angeles Rams
Jared Goff, the QB the LA Rams traded for Matthew Stafford, is the anti-Baker Mayfield. While your mind's eye would tell you he should be ranked relatively low on this list, when you look at what he's actually accomplished, it shouldn't be a shock Goff ended up higher than you probably thought he would.
Goff is one of three passers on this list with a winning record. He has the second-highest completion percentage of the group, and he's the only No. 1 pick to play in a Super Bowl (before Matthew Stafford and Joe Burrow) since 2004's top pick Eli Manning.
Even this season, mired in a 3-10-1 record with the Detroit Lions, Goff threw for over 3,000 yards with 19 touchdowns and just eight picks, despite working with a massive lack of talent. If Goff weren't a No. 1 overall pick, he'd likely be considered a pretty significant success. Alas, that's not how it happened, so this is where Goff ranks.
2019: Kyler Murray, Arizona Cardinals
Kyler Murray is the last in line of the quarterbacks drafted between Matthew Stafford and Joe Burrow and, as such, is the hardest to rank with just three seasons under his belt. However, he's already been to two Pro Bowls and played at an MVP level for the first half of 2021.
The problem is that he missed several games in the middle of his dynamic season, which could be a problem going forward. At 5-foot-10, 207-pounds, injury could be a significant factor that may derail Murray's promising career with the style he plays.
For now, though, we can only look at what has happened and not what could. What's happened is three seasons of 3,700-plus passing yards, 20-plus touchdown passes, and completion percentages in the high 60s. That's an excellent formula to win an MVP and reach a Super Bowl someday, like the next player on this list.
2011: Cam Newton, Carolina Panthers
Love him for his exciting style of play and physical gifts or hate him for his Superman pantomiming antics, you can't deny how good Cam Newton was in the prime of his career. After going No. 1 in 2011, Newton took home the Rookie of the Year Award, made three Pro Bowls ('11, 13, '15), and won the NFL MVP while making the All-Pro team in 2015. He also guided his Carolina Panthers to a 15-1 record that season and a Super Bowl appearance.
While Newton's high is as high, if not higher than anyone on this list, including Matthew Stafford and Joe Burrow, it is his inconsistency and precipitous drop-off that puts him second on this list.
Newton put together three massive double-digit win seasons but didn't crack .500 in his other eight campaigns. Also, when his athleticism started to decline in his late 20s as the wear and tear of 332 career sacks began to catch up to him, his traditional QB skills weren't enough to prop him up. Newton was an incredibly good No. 1 overall pick but was just short of great.
2012: Andrew Luck, Indianapolis Colts
Andrew Luck was a great No. 1 overall pick, but it's hard to say he had a great career. That's because his career was just six seasons long. Luck was the most hyped QB prospect to come out of college since Peyton Manning, and he actually lived up to the hype.
Luck made four Pro Bowls, and his Indianapolis Colts made the playoffs in each of those four seasons. He had four 4,000-plus passing yard seasons and 39 and 40 touchdown years. He was well on his way to a Hall of Fame career when he walked away due to injuries at 29.
As we approach the Super Bowl where they will face-off, Mathew Stafford and Joe Burrow are obviously the two best signal-callers drafted since 2009. However, that may not be true today if Luck stayed around.
All stats courtesy of Pro Football Reference