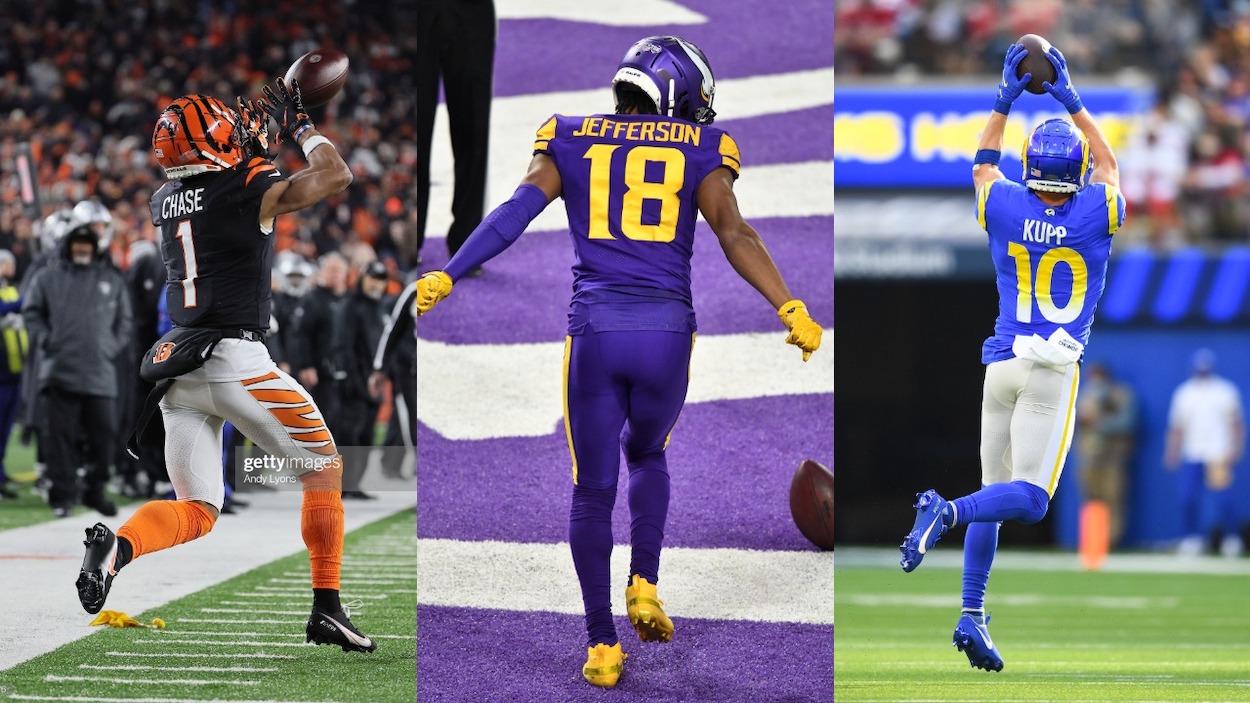 Ranking Cooper Kupp, Ja'Marr Chase, and the 10 Other 2022 Pro Bowl WRs
The group of 2022 Pro Bowl WRs are deep, talented, and incredibly exciting, but which of the 12 pass-catchers had the best 2021 season?
Wide receivers are the sports cars of the NFL. They're fast, they're fun, they're colorful, and the good ones are expensive. This year's group of Pro Bowl WRs are the top of the line in 2022. These players dominated the 2021 season, reset the record books, and destroyed defenses.
Here we'll rank the 12 Pro Bowl receivers initially voted to the Pro Bowl or selected as alternates. The rankings are based on the players' stats and performance in the 2021 regular season.
12. Diontae Johnson, Pittsburgh Steelers (replaces Chase)
2021 stats: 169 targets, 107 receptions, 1,161 yards, eight touchdowns
As arguably the "worst" WR to make the Pro Bowl this year, you can say that Diontae Johnson doesn't even belong on this list. Pass-catchers like Jaylen Waddle, Amon-Ra St. Brown, and Tyler Lockett all have an argument to be here instead of Johnson. However, the Pittsburgh Steelers wideout was 10th in yards, sixth in receptions, and among the top 20 in receiving touchdowns. He also cut his drops down from 13 in 2020 to just five in 2021, making him one of the Most Improved Pro Bowl WRs this season.
11. Mike Evans, Tampa Bay Buccaneers (replaces Adams)
2021 stats: 114 targets, 74 receptions, 1,035 yards, 14 touchdowns
Tom Brady's big target has the fewest receptions and yards on this list, but that's not where Mike Evans makes his money. At 6-foot-5, 231-pounds, Evans is arguably the best Red Zone WR target in the league. As a wideout, he's matched up with corners and safeties down near the goal line, and that's just flat-out unfair. He might not be the Pro Bowl WR you'd want at any point of the field, but from the 20 and in, there are few better. His NFC teammates just makes sure he doesn't give the ball away to a fan in a big spot during this Sunday's game.
10. Keenan Allen, Los Angeles Chargers
2021 stats: 157 targets, 106 receptions, 1,138 yards, six touchdowns
In his ninth season and coming up on his 30th birthday, Allen is the oldest and longest-tenured WR in the Pro Bowl this season. Being a Pro Bowl WR is a young man's game these days, but Allen is still getting it done and helping develop an incredible young talent in Justin Herbert in the process. On this list, he comes in behind his replacement, but the Pro Bowl is nothing if not a popularity contest. And, it's completely understandable that Los Angeles Chargers fans love him and got him in this game. He is his team's best pass-catcher and incredibly clutch moving the sticks.
9. CeeDee Lamb, Dallas Cowboys (replaces Kupp)
2021 stats: 120 targets, 79 receptions, 1,102 yards, five touchdowns
CeeDee Lamb has the second-fewest receptions and receiving yards on this Pro Bowl list and the lowest TD total. However, with Amari Cooper, Michael Gallup, and Dalton Schultz in his team, he has more competition for balls than anyone here. Lamb showed this season he is more skilled and explosive than the guys above him on this list, though, and if he were on another team, his numbers would reflect that.
8. Hunter Renfrow (replaces Allen) 
2021 stats: 169 targets, 107 receptions, 1,161 yards, 8 touchdowns
Hunter Renfrow would easily be the best crafty slot receiver in 2021 if there wasn't an NFL player named Cooper Kupp. Despite being outplayed by the best WR in the game, 2021 was a massive breakout year for the former Clemson Tiger. He nearly doubled his career-high in catches and yards and scored three more TDs this season than his first two years in the NFL combined.  He's also creating new routes with his short-area quickness and tying defenders in knots in the process.
7. Stefon Diggs, Buffalo Bills
2021 stats: 164 targets, 103 receptions, 1,225 yards, 10 touchdowns
Stefon Diggs didn't quite live up to his incredible 2020 season, but he had a Pro Bowl-caliber 2021 nonetheless. While his stats didn't measure up to his All-Pro season last year — his first in Buffalo — it was still his second-best statistical season ever and his best-ever touchdown total. Most importantly, he found the end zone more than his defensive star younger brother, even though Trevon took the lead early in the 2021 season (and also made the Pro Bowl).
6. Tyreek Hill, Kansas City Chiefs
2021 stats: 159 targets, 111 receptions, 1,239 yards, nine touchdowns
There is no WR in the NFL, Pro Bowl or otherwise, who is more explosive with the ball in their hands than the Cheetah, Tyreek Hill. In 2021, he broke the 100-reception mark for the first time in his NFL career. The only black mark on Hill in 2021 is that he had a career-high in drops with seven. This is why he doesn't crack the top five Pro Bowl pass-catchers this year despite the incredible talent.
5. Justin Jefferson, Minnesota Vikings
2021 stats: 167 targets, 108 receptions, 1,616 yards, 10 touchdowns
The Minnesota Vikings replaced Stefon Diggs with Justin Jefferson, and they got the better Pro Bowl WR, at least for 2021. Even after an incredible rookie season, Jefferson improved in year two. He ended his sophomore campaign with 20 more catches, 216 more yards, and three more TDs than his rookie year. Plus, you know, The Griddy.
4. Ja'Marr Chase, Cincinnati Bengals
2021 stats: 128 targets, 81 receptions, 1,455 yards, 13 touchdowns
Ja'Marr Chase had the greatest rookie season of any rookie WR ever, besting his college teammate Justin Jefferson's gaudy rookie numbers from last year. The biggest difference between Chase and Jefferson, though, is that Chase seems to affect winning more than his Minnesota Vikings buddy. That "It" Factor bared itself out in the regular season when Chase helped the Cincinnati Bengals make the playoffs, and then again in the postseason, putting Cincy in the Super Bowl. Pretty good for a guy who couldn't catch in the preseason.
3. Davante Adams, Green Bay Packers
2021 stats: 169 targets, 123 receptions, 1,553 yards, 11 touchdowns
All the other Pro Bowl WRs on this list (except maybe Keenan Allen) have another feared pass-catcher on their team to take some focus off of them. In Green Bay, Aaron Rodgers is going to Davante Adams all day, every day, and we all know that. And still, no one can seem to stop it. For Packers fans, this could be an emotional Pro Bowl as it might be the last one with Adams in a yellow helmet.
2. Deebo Samuel , San Francisco 49ers
2021 stats: 121 targets, 77 receptions, 1,405 yards, 6 touchdowns
Deebo Samuel led the league in yards per reception with 18.2. He also played what he calls "wide back" — a RB/WR hybrid position — that San Francisco 49ers head coach Kyle Shanahan basically invented for him. To truly get an idea of Samuel's value, you also have to add 59 carries for 365 yards and eight more TDs to his 2021 resume. Together, these stat lines make him the No. 2 Pro Bowl WR.
1. Cooper Kupp , Los Angeles Rams
2021 stats: 191 targets, 145 receptions, 1,947 yards, 16 touchdowns
In case you didn't notice, the stat line above shows that Cooper Kupp led the NFL in receptions, yards, and touchdowns in 2021, making him the 12th WR in history to win the receiving triple crown. Kupp's 2021 season was quite simply one of — if not the — best in NFL history for a wideout. So, he's definitely the No. 1 wideout voted to the 2022 Pro Bowl and has a real chance at a Super Bowl MVP Award a week later as well.
All stats courtesy of Pro Football Reference