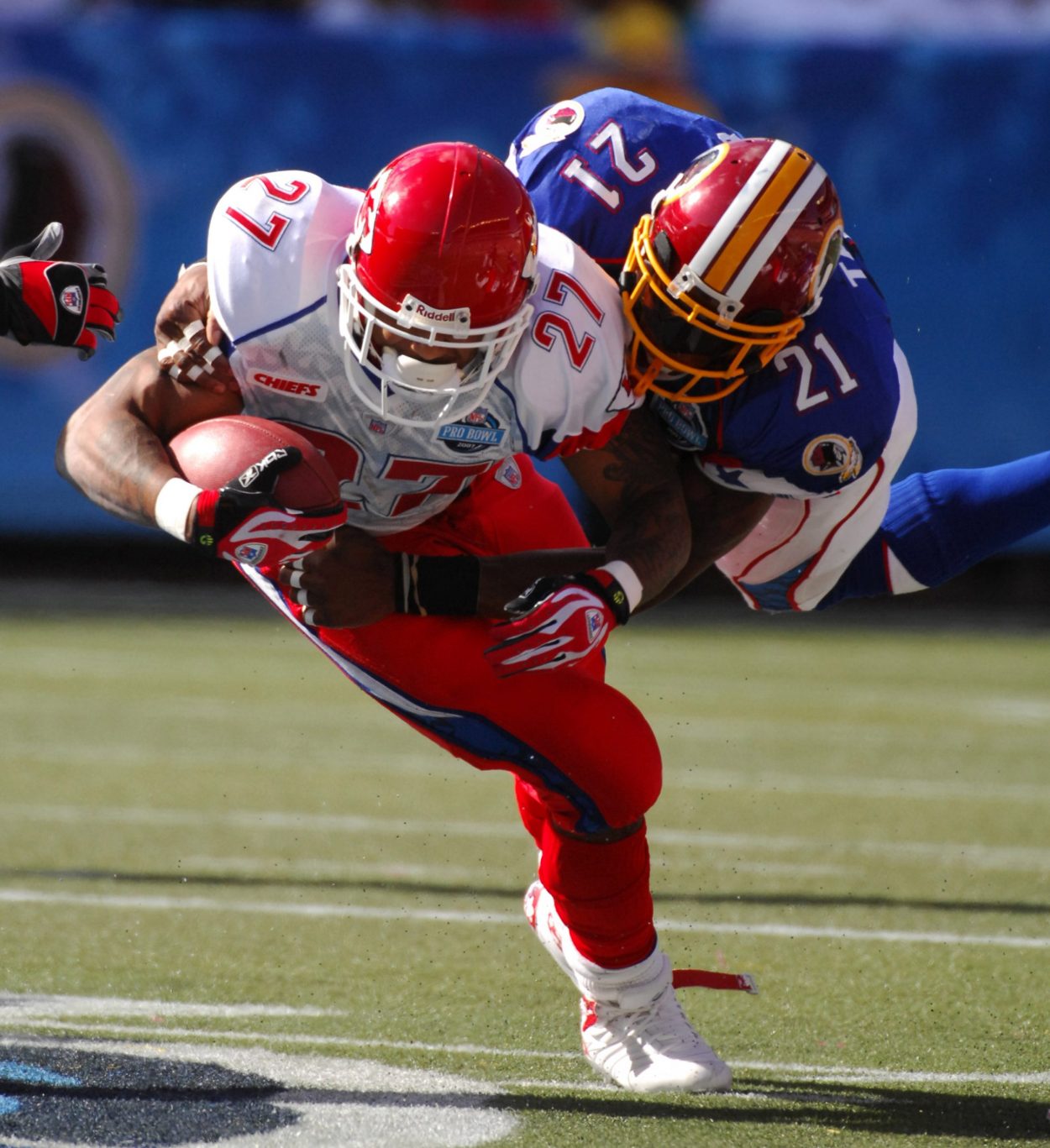 5 Best Pro Bowl Moments of All Time
Sean Taylor's massive hit on Brian Moorman in 2007 is the most famous play in Pro Bowl history.
The AFC and NFC will take part in the Pro Bowl on Sunday for the first time in two years, and you can just feel the anticipation … if you squint really hard and cup your ears tight.
The Pro Bowl, even in whatever was considered its heyday, is just not the spine-tingler that sometimes happens with the NBA All-Star Game or the MLB version. With no real hitting and limited play-calling ability, the game is truly an exhibition in the least-exciting way possible.
That said, there have been some memorable games, moments, and players over the past 60 years. Here are the top 5 Pro Bowl memories of all time:
5. 2003: Manning rips teammate Mike Vanderjagt as Colts' 'Idiot Kicker'
Usually we try to find an actual game highlight for our lists, but Peyton Manning putting his team's kicker on full blast on live television is just too good to leave off the list.
The Colts had just lost 41-0 loss to the New York Jets in the AFC Divisional Playoffs, which is bad enough. But just to get under Manning's skin nice and deep, Colts kicker Mike Vanderjagt criticized his quarterback for a perceived lack of leadership during an interview on Canadian television.
ABC sideline reporter Lynn Swann caught up with Manning during the Pro Bowl and asked Manning about Vanderjagt's comments.
"I'm out at my third Pro Bowl, I'm about to go in and throw a touchdown to Jerry Rice, we're honoring the Hall of Fame, and we're talking about our idiot kicker who got liquored up and ran his mouth off," Manning said. "The sad thing is, he's a good kicker. He's a good kicker. But he's an idiot."
In 2005, Vanderjagt missed a potential game-winner against the Steelers in the playoffs, was cut, and was replaced by Adam Vinatieri. The next season, Manning won his first Super Bowl.
4. 2013: Manning and Saturday, on opposite teams, take a final snap for the memory book
One teammate Manning would never call an idiot was his longtime center with the Colts, Jeff Saturday. But by the 2012 season, Manning was in Denver and Saturday was finishing up his career with the Green Bay Packers.
But just because they were no longer teammates, and weren't even playing in the same conference, that didn't mean the two couldn't team up for one more snap exchange before Saturday would retire.
The two coaching staffs, realizing they were playing in a game that meant nothing, but could mean everything to two old teammates, allowed Saturday to switch sides for one play, allowing Manning to take the snap from Saturday one final time.
They called a running play, and then Saturday called it a career. It was a sportsmanlike gesture perfect for an event like the Pro Bowl.
3. 1980: Rams' Jack Youngblood plays with broken bone in his leg
It would be easy to assume that a player in 1979, years away from free agency and big salaries and signing bonuses, probably had a solid financial reason to play in the Pro Bowl on a broken leg.
The Super Bowl? That makes a lot more sense, and after Los Angeles Rams defensive lineman Jack Youngblood broke his fibula earlier in the 1979 NFC Playoffs, you could understand sucking it up and gutting out the biggest game of the season.
But the Pro Bowl? Was there an incentive in Youngblood's contract that promised a big payday if he flew out to Hawaii for the first-ever Pro Bowl outside the continuous 48 states?
Not exactly.
"Well, you don't want to miss that party," Youngblood told ESPN in 2011. "It was a great opportunity. We had I think seven or eight guys going from the Rams that year, and when you're going to Honolulu, that's not a bad destination. I knew they were going to take it easy on me and I wasn't going to have to do a whole lot, but I wanted to play in that game. You wanted to be a part of that party, trust me."
2. 2004: Bulger and Manning combine for the highest-scoring Pro Bowl ever
It's probably not a coincidence that the Pro Bowl that produced the most points in history was also the game where virtually every conceivable single-game passing record was set.
There were 14 touchdowns scored in this game, coming in all phases of the game: rushing, passing, defensive touchdown, and special teams. The AFC scored on its first play with the ball, a 90-yard touchdown pass from Steve McNair to Chad Johnson, and the tone was set for a wild afternoon.
The AFC led 45-27 at the start of the fourth quarter and trailed 55-45 before the end of it.
St. Louis Rams quarterback Marc Bulger threw four second-half touchdowns for the NFC to set a record for touchdown passes in a Pro Bowl game and was named game MVP. But Manning was no slouch for the AFC, setting Pro Bowl records for attempts (41), completions (22), and yards (342).
1. 2007: Brian Moorman, meet Sean Taylor
Ask Jack Youngblood, when these guys get to the Pro Bowl, they come to play.
No player, and no play, best exemplified the serious nature of this thoroughly meaningless game than Sean Taylor's brutal hit on Buffalo Bills punter Brian Moorman in the 2007 season.
Taylor, who would tragically lose his life later in the same year, was not about to let the Pro Bowl devolve into an exhibition of trick plays, even if the game itself was an exhibition. With just under five minutes left in the third quarter, AFC punter Moorman faked a kick from his own 35 and run up the right sideline needing to get about 20 yards for the first down.
He got 18 of them. Taylor said no to 19.
In a hit that probably reminded baseball fans of Pete Rose destroying Ray Fosse in the 1970 MLB All-Star Game, Taylor took a running start, planted himself into Moorman's shoulder, and blasted him backward with a hit that drew an enormous gasp from the crowd at the Aloha Bowl.
Remarkably, Moorman popped right up, uninjured, and even ran back onto the field to give Taylor props for such a perfect tackle. Literally no harm and no foul.
Stats courtesy of Pro Football Reference