What Happened to the Colts' 'Idiot Kicker' Mike Vanderjagt?
NFL players are often outspoken, but one position not known for producing outspoken players is the kicker. However, the Indianapolis Colts once employed a kicker, Mike Vanderjagt, who had no shortage of opinions. A solid performer, Vanderjagt also liked to run his mouth. One time he even got called an "idiot kicker" by an MVP quarterback. How did he get himself into this jam and what's happened to Vanderjagt since? 
Mike Vanderjagt's NFL career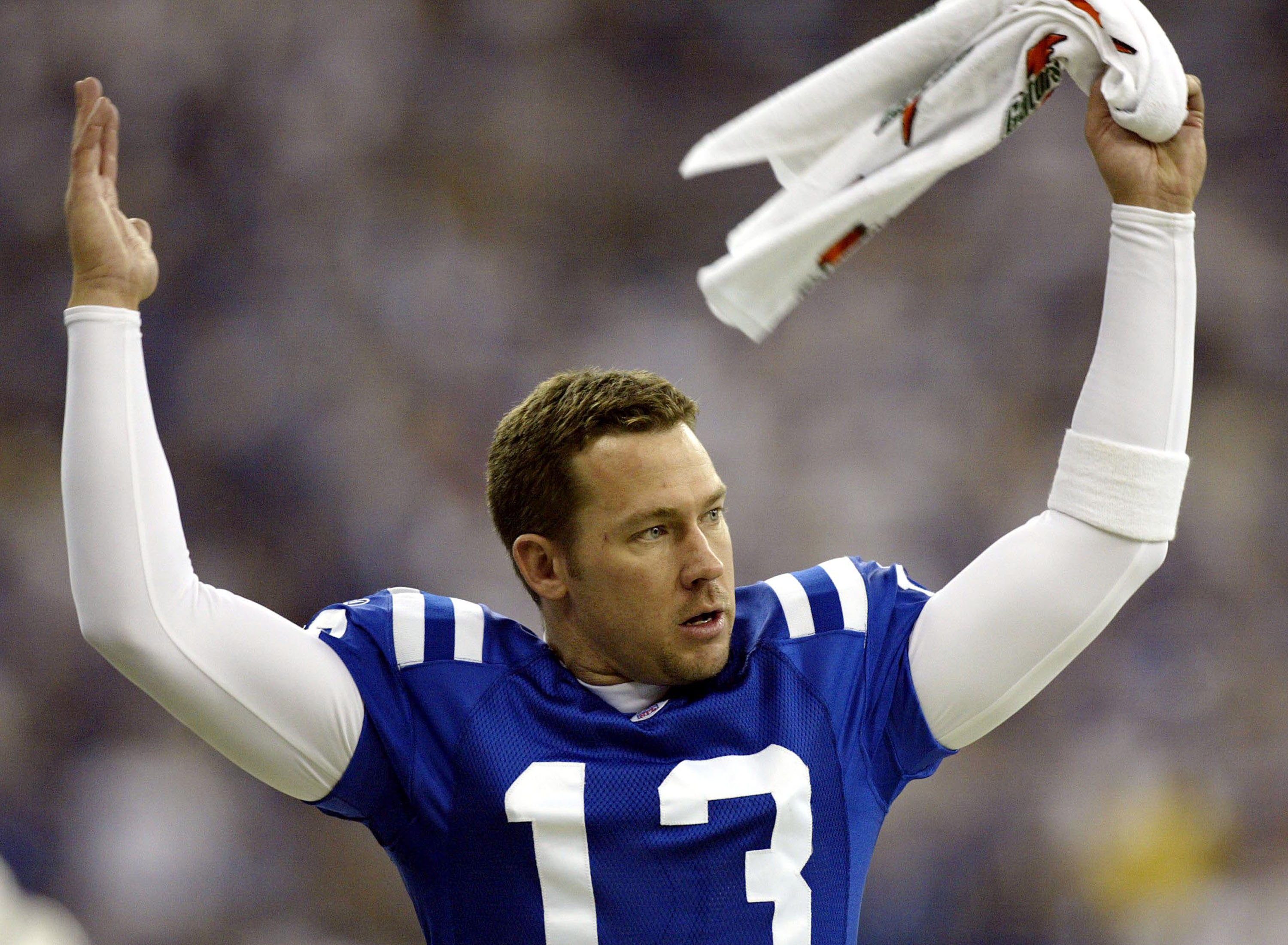 According to Pro-Football-Reference, Vanderjagt made 86.5% of his career field goals. He made one Pro Bowl and one All-Pro team. The kicker spent eight seasons with the Colts and one with the Dallas Cowboys. Vanderjagt also had the following accomplishments: 
Finished in the top 10 in points scored in six seasons
Had five seasons in the top 10 of most field goals made 
Led the league in points scored in 1999
Pro-Football-Reference compiles similarity scores to put players' NFL careers in context. According to the numbers, he compares to Justin Tucker, Rob Bironas, and Neil Rackers. The Colts had a great offense, giving Vanderjagt plenty of chances to score. He took advantage of this and often cashed in. However, he ran afoul of his team when he besmirched the quarterback and head coach. 
Why Peyton Manning called Vanderjagt an 'idiot kicker'
Kicker can be a lonely position for any player. It's even worse when the player says something to aggravate his teammates. Vanderjagt made the mistake of offending two legends of the sport who just so happened to be his coach and quarterback. 
Peyton Manning and Tony Dungy were (and still are) Colts' royalty. Before they won a Super Bowl though, many in the media questioned their NFL abilities. In 2003, after the team lost in the playoffs yet again, Vanderjagt joined the chorus. According to Bleacher Report, he said Dungy was too mellow and questioned Manning's leadership.
Manning was still a young player at the time, and he didn't take this insult lying down. Interviewed at the Pro Bowl, he ripped into Vanderjagt, calling him an "idiot kicker" and saying that Vanderjagt had gotten "liquored up."  
What happened to Mike Vanderjagt? 
Believe it or not, the Colts didn't immediately cut Vanderjagt. After all, he still had a sterling record of productivity. The Colts' 2005 season ended when Vanderjagt missed a field goal in the playoffs against the Steelers.
Soon, he soon appeared on Late Night with David Letterman to discuss the botched kick and attempt another field goal of the same distance. The team didn't care for the kicker's flippant attitude and jettisoned him in favor of former Patriots kicker Adam Vinatieri. 
Stampede Blue reported that Manning recently had to testify about the remarks in an otherwise unrelated defamation case not involving Vanderjagt, reminding him of the off-the-cuff comments. As for Vanderjagt, he wasn't able to stay in the league much longer after leaving Indy. He logged one season in Dallas before finding was out of the NFL for good. 
Vanderjagt's story is a cautionary tale for NFL kickers. It certainly doesn't pay to rock the boat and criticize your teammates, no matter how justified you are. This is doubly true if the teammate you criticize is a future Hall of Famer. It's hard to imagine any kicker making the same mistake ever again.