Peyton Manning Publicly Emasculated His Own All-Pro Teammate: 'We're Talking About Our Idiot Kicker Who Got Liquored Up and Ran His Mouth'
Former Indianapolis Colts kicker Mike Vanderjagt learned the hard way not to call out Hall of Fame quarterback Peyton Manning. In fact, Manning practically ended his career.
Vanderjagt was one of the best kickers in the NFL in the early 2000s, when Manning was rapidly becoming one of the best signal-callers in the league. However, Vanderjagt decided he was tired of losing in the playoffs and decided to throw Manning under the bus. That strategy didn't play out well for him.
Mike Vanderjagt criticized Peyton Manning and former Colts head coach Tony Dungy
Mike Vanderjagt had the gall to blast both his head coach and star quarterback in a public setting.
The Colts were coming off an embarrassing 41-0 loss to the New York Jets in the AFC Wild Card when Vanderjagt went on a Toronto-based program and proceeded to word vomit all over the place. He hinted then-Colts head coach Tony Dungy and Manning were not the right guys to lead Indy to a Super Bowl.
"Coach Dungy, he's just a mild-mannered guy," Vanderjagt said at the time, per ESPN. "He doesn't get too excited, he doesn't get too down and I don't think that works, either. . . . I think you need a motivator, I think you need a guy that is going to get in somebody's face when they're not performing well enough."
Vanderjagt later apologized for the remarks, but he'd already crossed the line. Manning would make his own glorious retort at the 2003 Pro Bowl in Honolulu.
Manning undressed Vanderjagt on live television
Peyton Manning pushed down hard on the gas pedal when asked about Vanderjagt during the 2003 Pro Bowl.
The Colts star lamented that he was being asked about internal turmoil rather than being able to enjoy his experience in the Pro Bowl. He totally humiliated Vanderjagt while shouting out other kickers like David Akers and Adam Vinatieri.
"Here we are, I'm out at my third Pro Bowl, I'm about to go in and throw a touchdown to Jerry Rice, we're honoring the Hall of Fame, and we're talking about our idiot kicker who got liquored up and ran his mouth off," Manning said, via ESPN.
Manning did acknowledge Vanderjagt, who at the time was the most accurate placekicker in NFL history, as an elite kicker. Still, he essentially deemed Vanderjagt classless and questioned whether he would remain with the Colts much longer.
Vanderjagt would remain a Colt, but his career would soon take a sharp turn for the worse. He was named All-Pro in 2003. However, two years later, he missed a game-winning field goal against the Pittsburgh Steelers that made him a laughingstock. Vanderjagt played just one more season in the NFL, and the Colts won the Super Bowl immediately after he departed, with Vinatieri as their placekicker no less.
Meanwhile, Manning's leadership qualities, once questioned by his "idiot kicker," became the stuff of legend en route to his enshrinement in the Pro Football Hall of Fame.
Manning proved more fiery than Vanderjagt ever envisioned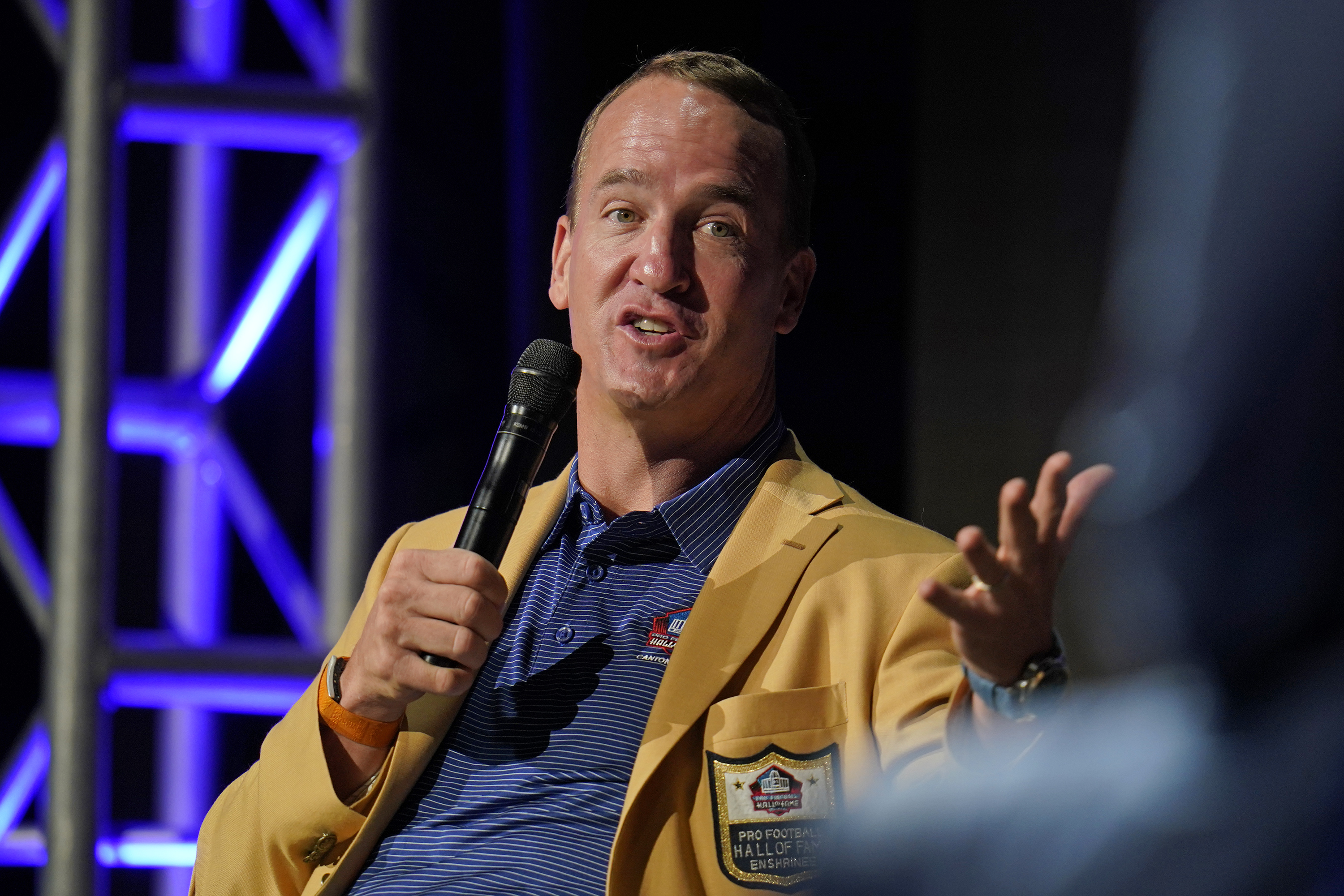 Mike Vanderjagt's suggestion that Peyton Manning lacked the internal fire to lead his team to the top of the NFL proved totally worthless.
Manning mixed it up with wide receiver Reggie Wayne in the middle of a game during the 2004 season. He routinely got into it with former Colts center Jeff Saturday and other members of the offensive line.
As a member of the Denver Broncos, Manning lit a fire under tight end Julius Thomas and let opposing defensive backs know he was The Sheriff.
Manning also earned some bling. He led the Colts to a Super Bowl in 2006 and broke records with the Broncos before Denver's defense helped him get a second Lombardi Trophy in 2015.
Peyton Manning's Hall of Fame resume is littered with all sorts of historic passing numbers. However, a closer look will also reveal some Hall of Fame trash talk. That includes Manning's "idiot kicker" remarks, which will forever be entwined with Vanderjagt's career.