Peyton Manning Said the Colts Didn't Have a 'Good Environment' Right Before His Indy Departure: 'Everybody's Walking Around on Eggshells'
Peyton Manning will soon enter the Pro Football Hall of Fame after having a legendary NFL career with the Indianapolis Colts and Denver Broncos. However, although Manning had most of his success as the Colts' quarterback, his divorce with the team wasn't necessarily pretty.
In fact, not long before his departure from Indianapolis in 2012, he even said that the environment around the team wasn't a good one.
Peyton Manning and the Colts parted ways after 14 seasons
Manning led the Colts to a ton of success during his 14-year tenure as the team's quarterback. He won four of his five career MVPs there. He also played in two Super Bowls and won one, as Indy was one of the NFL's best teams every year, and he was arguably the league's best quarterback.
In 2011, though, the former Tennessee star missed the entire season due to a neck injury, and the Colts went 2-14 that year, which gave owner Jim Irsay a difficult decision to make. He had to choose between gambling on Manning's health or drafting Andrew Luck — the best quarterback prospect since John Elway — with the No. 1 pick in the 2012 NFL Draft.
Indy chose the latter, and with that decision came a ton of other changes. The franchise released Manning, and he later played with the Denver Broncos. It also parted ways with general manager Bill Polian, who drafted Manning, coach Jim Caldwell, who led them to a Super Bowl appearance, and several other players who won a ton of games in Indianapolis.
However, before Manning left Indy and went to Denver, he wasn't too happy with the environment around the only NFL team he knew.
Things weren't what they used to be.
Peyton Manning said the Colts didn't have 'a real good environment'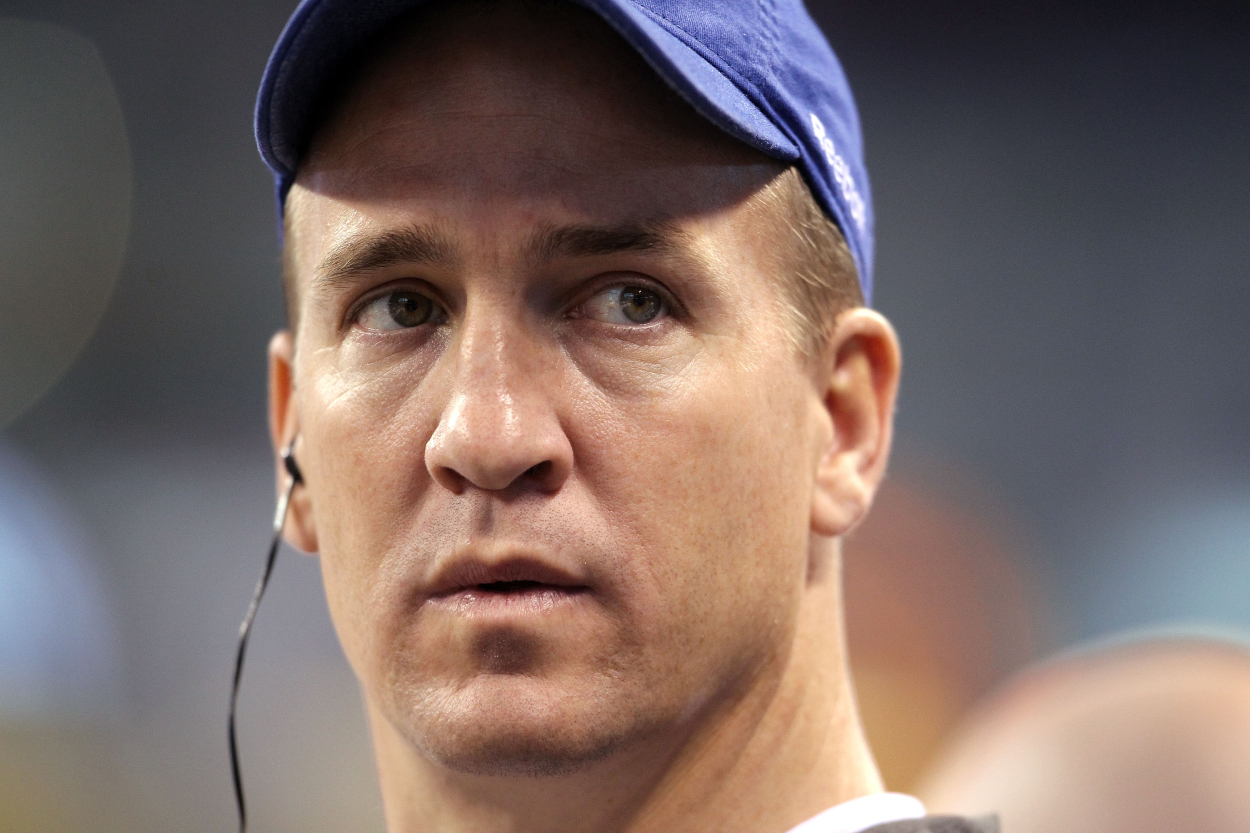 Bob Kravitz formerly wrote for the Indianapolis Star and covered Manning for 11-plus years. With Manning entering the Pro Football Hall of Fame next month, Kravitz recently recalled the ugly divorce between the Colts and the legendary quarterback in a piece for The Athletic.
During a conversation with Kravitz before the New York Giants-New England Patriots Super Bowl at the end of the 2011 season, Manning had some strong comments about his team.
"I'm not in a very good place for healing, let's say that," he said about the team facility, per The Athletic. "It's not a real good environment down there right now, to say the least. Everybody's walking around on eggshells. I don't recognize our building right now. There's such complete and total change."
Manning also revealed how much it hurt to see the Colts part ways with so many players and coaches.
"It's unfortunate because so many of them have been such a big part of so many big wins here, and this is so sudden," he said, per The Athletic. "Their keys didn't work the next day. There's no other way to do it? I don't know. That's hard to see, all these people leaving."
Despite the changes, Manning still wanted to spend his entire career in Indy.
"I don't want to get into some kind of fan campaign with the owner, but I think it's well-documented that I want to play in the same place my whole career," Manning said, per The Athletic. "It's been a privilege to play here. I love the fans, the city, the transformation of the fans, how our place has become the toughest stadium to play in, the fact our fans wear more jerseys to games than anybody else."
As mentioned above, Manning didn't get what he wanted. He and Indy said goodbye after 14 magical seasons together.
But it all worked out.
The legendary quarterback has moved past his sad divorce with the Colts
Everything proved to be OK for Manning in the end; he played in two more Super Bowls and won one more with the Broncos, but seeing Irsay make so many changes and ultimately release him had to be a tough pill to swallow.
The two Indiana legends seem to be well past that now, though.
Irsay lent his plane to Manning and his son for Super Bowl 55 after the quarterback had recently learned he was going into the Hall of Fame. Around that same time, Manning also addressed Irsay's decision to go with Luck instead of him.
"I had a wonderful 14 years there; it's obviously the team that I wanted to play for always," Manning said on the Feb. 7 episode of The Pat McAfee Show. "Things happen; I got injured. Colts get the first [overall] pick. To be bitter and to be frustrated; it's like it ruined everything you worked for in those 14 years. So, Jim Irsay drafted me, he always had my back, and so I understood the decision he had to make and no hard feelings."
Manning and the Colts may have had somewhat of a messy divorce. But fans remember their relationship more for all their magical years together, as Manning became an NFL legend and the Colts were a football powerhouse.
Those incredible seasons in Indy will certainly be at the forefront of everyone's minds when he enters the Hall of Fame next month.
Stats courtesy of Pro Football Reference