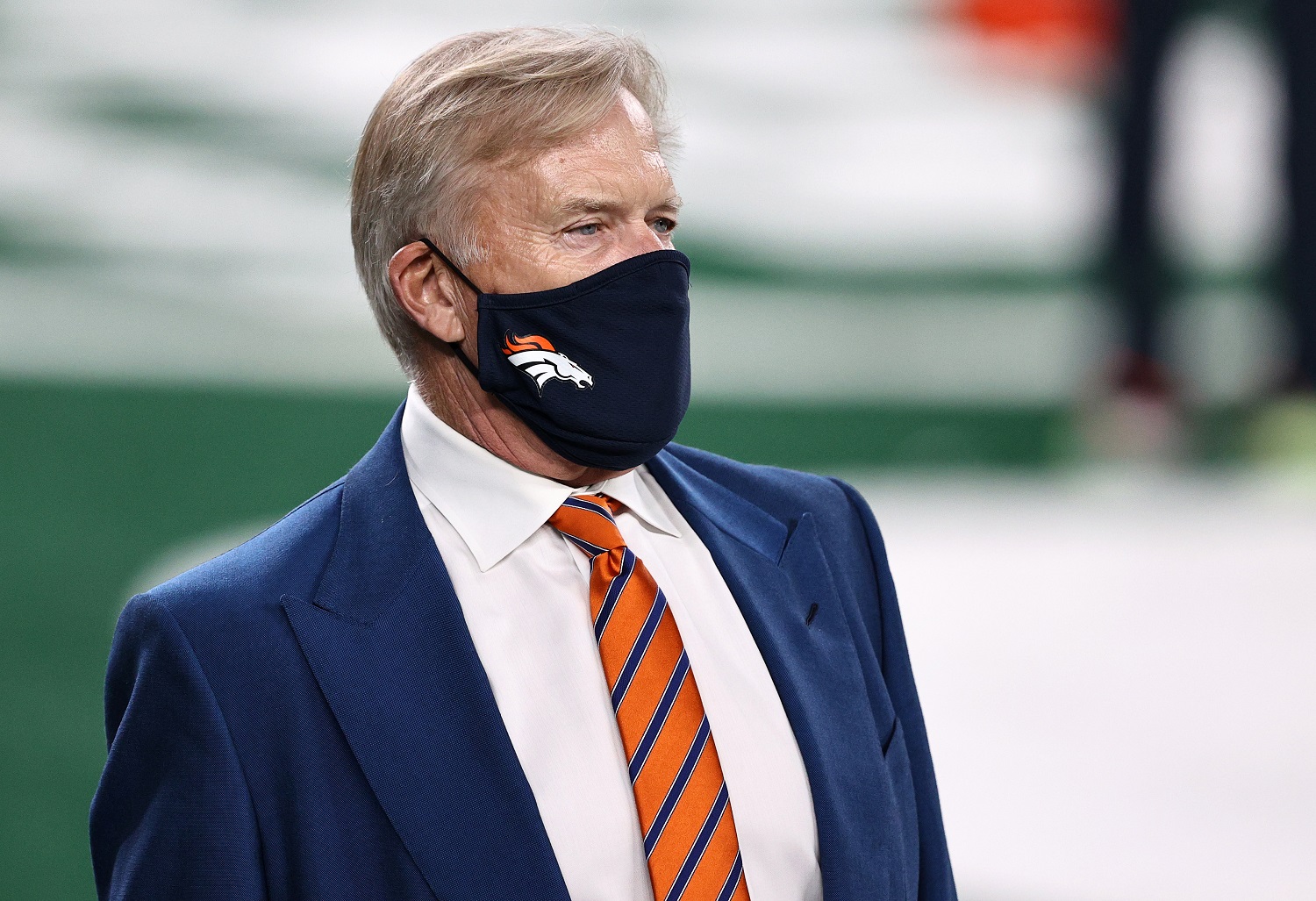 John Elway Revealed 1 of His Biggest Hang-Ups in Life, and It's a Doozy
John Elway admits to hanging up on an NFL league executive after being told the Denver Broncos would have to play a game without their quarterbacks.
John Elway retired from quarterbacking the Denver Broncos on his own terms. Elway was 38 years old and coming off back-to-back Super Bowl championships when he decided he'd had enough after the 1998 NFL season.
Defenders sacked Elway 516 times in 234 regular-season games. It's doubtful any threw him for a loss the way the NFL league office did in November 2020 with a ruling that almost certainly contributed to Elway quitting his second career.
John Elway enjoyed two successful careers with the Denver Broncos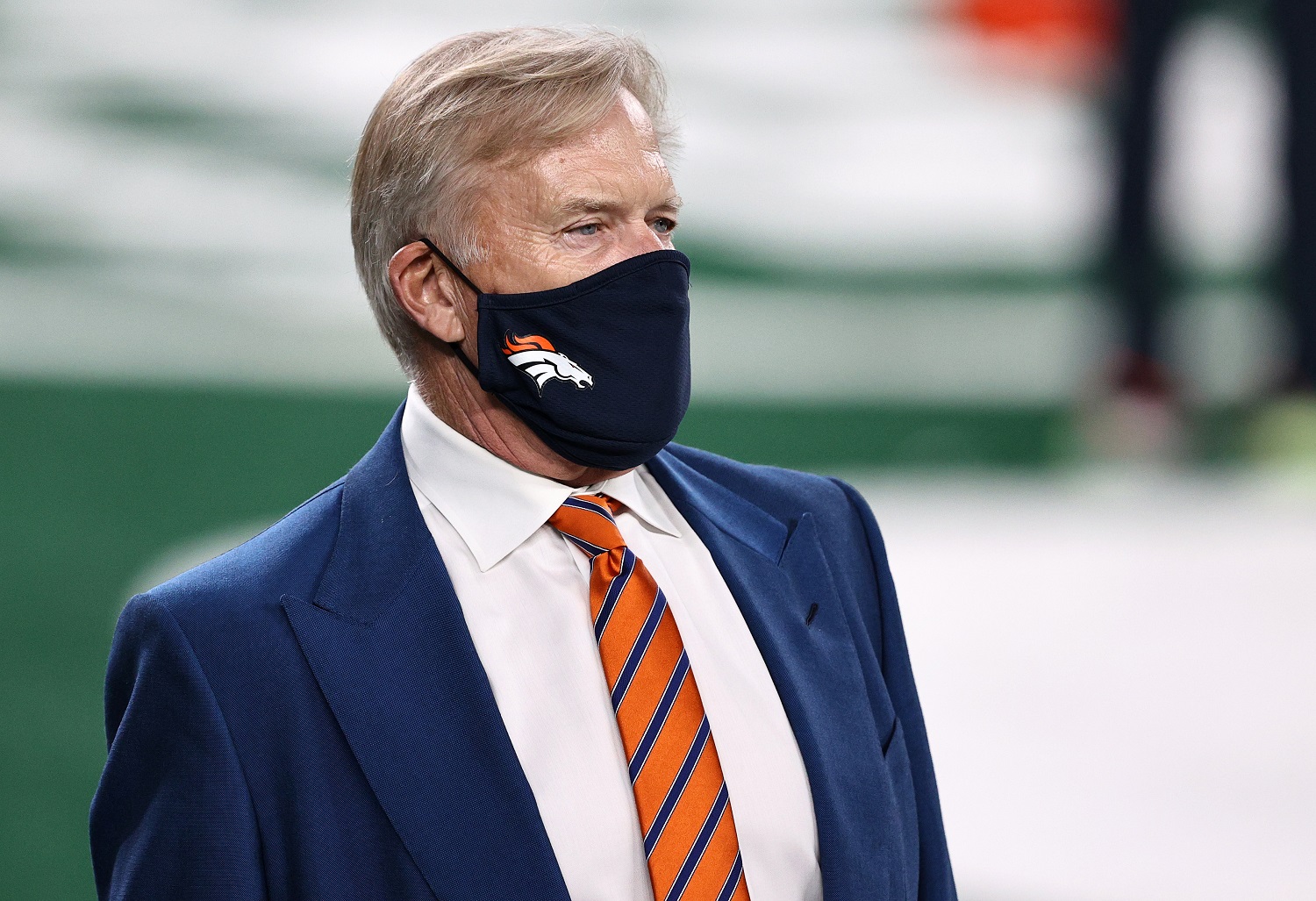 Elway played in five Super Bowls, winning two in his 16-year career with the Broncos. He only led the league in yardage once, and his ratio of 300 touchdown passes to 226 interceptions wasn't great. However, a 14-7 record in the playoffs with 27 TD passes sealed his induction into the Pro Football Hall of Fame.
Twelve years after his retirement, Elway moved into the Broncos' front office and took over football operations. After five years with no postseason appearances, the Broncos made the playoffs in each of Elway's first five seasons. They won one Super Bowl and played in another.
Beating the Carolina Panthers in Super Bowl 50 marked the high point; the Broncos have missed the playoffs five straight seasons since. After the 2020 season, Elway announced that he would remain as team president but turn the general manager role over to George Paton.
COVID-19 made it a challenging November for Elway
The NFL navigated the COVID-19 pandemic better than most leagues in 2020. Numerous players used the opt-out to not participate and still more missed time after contracting the virus, but the NFL squeezed in all 256 regular-season games and conducted its playoffs in the original timeframe.
That's not to say it was easy, though. An outbreak in Tennessee led to 23 players and staff members in the Titans organization testing positive in Week 4, setting off a postponement and a string of schedule changes. Soon afterward, New England Patriots quarterback Cam Newton tested positive, and the team flew into Kansas City on the day of its game against the Chiefs.
From that point on, the NFL was open to second-guessing as to why some games would be moved but others wouldn't. The distinction by the league office: Games would go on if contact tracing ruled out ongoing transmission of the virus. Commissioner Roger Goodell ruled out postponements over competitive reasons and said an entire position group wiped out by contact tracing was not grounds for rescheduling.
The Cleveland Browns played in Week 16 without their key receivers, and the Detroit Lions juggled much of their ' coaching staff that same weekend. One week later, the Saints played the Carolina Panthers without running backs.
None of those instances, however, matched what Elway and the Broncos faced in Week 12. Elway had tested positive for COVID-19 in November, and an answer from the NFL office soon made him feel even worse.
Elway to the NFL: I'm hanging up
The Broncos' Week 12 quarterback problem boiled down to back-to-back mistakes that resulted in practice-squad receiver Kendall Hinton having to take the snaps against New Orleans. Backup QB Jeff Driskel, who shouldn't have even been in the room at the practice facility, tested positive. The NFL ruled Drew Lock, Brett Rypien, and Blake Bortles out over close contact with Driskel after video showed they hadn't worn masks consistently.
Rather than push the game back to Monday or Tuesday (the Saints were agreeable to that), by which time the QBs could have cleared the protocol, NFL chief administrator of football operations Dawn Aponte told Elway the league wanted the game played as scheduled.
Elway was in disbelief. After seeing schedules juggled repeatedly throughout October and November, he couldn't believe the Broncos would have to play without quarterbacks.
"I got a little mad about that," Elway told NFL.com's Mike Silver. "Well, I hung up on the league office. I said, 'Dawn, I'm sorry. I've had enough of this, and I'm hanging up.' At least I did it respectfully."
All stats courtesy of Pro Football Reference.