Former NFL GM Says There's No Way He'd Give Baker Mayfield a Massive Extension: 'Do We Want to Go to War Every Day With the 6th- or 7th-Best Quarterback in Our Conference?'
Now that the Odell Beckham Jr. situation is settled, the Cleveland Browns can go back to focusing on this season and beyond. Outside of winning games in the immediate future, the organization's next pressing concern is what to do with quarterback Baker Mayfield. The 2018 No. 1 overall pick is due a contract extension, and at least one former NFL general manager, Mike Tannenbaum, doesn't think he deserves top-flight money.
The Cleveland Browns have a decision to make on Baker Mayfield's contract
The Cleveland Browns selected Heisman Trophy-winning QB Baker Mayfield out of Oklahoma with the first overall pick in the 2018 NFL Draft.
The Browns earned that first pick by finishing a stunning 0-16 the season before. Prior to picking Mayfield, the franchise was a combined 67-157 since its last playoff appearance in 2002.
In his first two seasons under head coaches Hue Jackson, interim Gregg Williams, and Freddie Kitchens, Mayfield was 12-17 as a starter. Then, in 2020, with first-time head coach Kevin Stefanski, the Browns turned things around and made the playoffs with an 11-5 record. They even won a postseason game, drubbing the division-rival Pittsburgh Steelers 48-37.
The team picked up Mayfield's $18.8 million fifth-year option for 2022 but has yet to work out a long-term extension with the signal-caller.
What's the problem? The 2018 draft.
The Browns picked Mayfield six slots ahead of Buffalo Bills Pro Bowl QB Josh Allen and 31 spots in front of Baltimore Ravens NFL MVP signal-caller Lamar Jackson. In that same draft, Cleveland also took Pro Bowl DB Denzel Ward (No. 4) and two-time Pro Bowl RB Nick Chubb (No. 35).
The team has made its intentions clear that signing Ward and Chubb are the first priorities. It's already given Chubb a three-year, $36 million extension, and Ward will soon follow.
On the quarterback front, Josh Allen signed a six-year, $258 million extension this offseason that will pay him an annual average salary (AAV) of $43 million. That puts him on par with Patrick Mahomes ($45M AAV) and Dak Prescott ($40M AAV).
Jackson should be next up to sign a deal in that $40 million range, but will Mayfield follow?
At least one former NFL GM says he wouldn't do it.
Former GM Mike Tannenbaum says he wouldn't pay $40 million for the Browns QB
Former New York Jets and Miami Dolphins GM Mike Tannenbaum joined the Dan Patrick Show on Wednesday to discuss the OBJ situation and the Browns in general.
Dan Patrick asked Tannenbaum, who worked for Cleveland for a season early in his career, what he would do about Baker Mayfield long-term. Tannenbaum candidly replied:
I have massive concerns. He's height and speed deficient, and, Dan, if you and I were running a team, he's maybe — maybe — the sixth-best quarterback in the AFC when you think about Josh Allen, Patrick Mahomes, Justin Herbert, Derek Carr. This is the golden age of quarterbacks in the AFC. Arguably, he's the third-best quarterback in the AFC North behind Lamar and Joe Burrow. So, I'm paying him, maybe, in that mid-tier market, but we can't win a championship with Baker Mayfield. Do we want to go to war every day with the sixth- or seventh-best quarterback in our conference?

Mike Tannenbaum on Baker Mayfield
Patrick pushed back, saying "there is no mid-tier" for quarterbacks anymore. He posits that in the modern NFL, you either have to pay the "next guy up" with an extension for $40-$45 million, "or you cut him."
Tannenbaum agreed with Patrick's assessment and said that if he were the Browns GM, he'd like to be in the $28-$30 million per year range like Minnesota Vikings QB Kirk Cousins. He also said he'd give Mayfield and his agents a choice: either sign at that mid-tier number and play for titles with a stacked roster or go play for a bad team at that top-tier number and hope you get lucky with a great defense.
It was a harsh assessment from Tannenbaum, but was it fair?
Should Mayfield get a top-tier QB contract extension?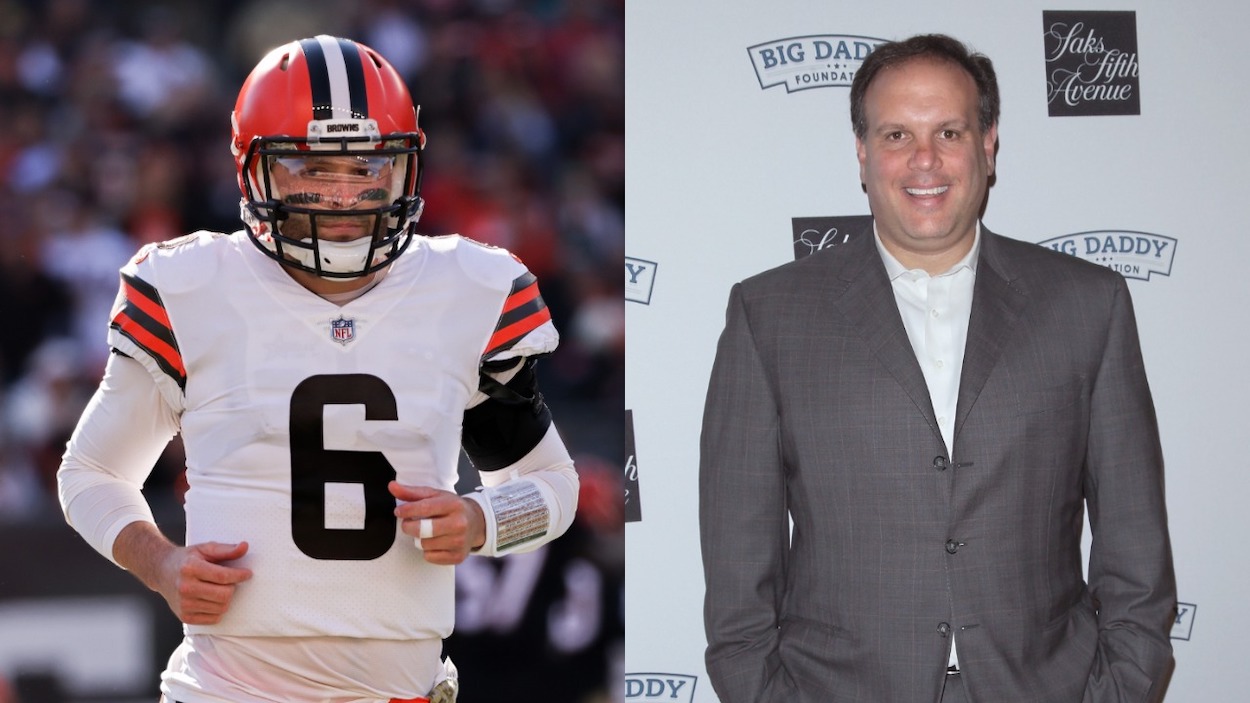 Fair or not, Baker Mayfield will forever be compared to Josh Allen and Lamar Jackson.
In addition to not measuring up from an individual accolades perspective, Mayfield also hasn't had the team success yet that the other two Class of 2018 star passers have.
Allen has two playoff appearances to Mayfield's one, and last season guided the Bills to the AFC Championship Game. Jackson only has one playoff win under his belt, like Mayfield, but has made the postseason in each of his first three campaigns.
Taking the comparisons out of it, you'll see that the Browns win when Mayfield does less, not more. In his playoff season of 2020, he had career lows in completions (305), pass attempts per game (30.4), and yards (3,563).
It's unfair to say that the Browns win in spite of Mayfield, but it's also clear they don't win solely because of him. The former Sooner can't carry a team on his back like Allen, Jackson, Mahomes, or Prescott can.
The problem is, the Browns will likely have to make a choice in the next year. They will either have to pay Mayfield like a top-flight QB or lose him and face the NFL purgatory of not having a franchise QB locked up to a long-term deal.
That means while Tannenbaum is right about Mayfield, his scenario probably isn't realistic.
All stats courtesy of Pro Football Reference and contract figures courtesy of Spotrac