Napoleon McCallum's Grotesque Injury Cost Him His Career and Almost Cost His Leg
Napoleon McCallum was a star running back for Navy during the 1980s. After graduating, he pulled off double-duty playing for the LA Raiders while serving his country during the 1986 season. In 1987, McCallum focused solely on his service commitment. 
He returned three years later to the NFL and played until the 1994 season when he suffered a grotesque injury that instantly ended his career. What most don't realize is losing football was the least of McCallum's worries. At the time, there was concern the injury was so severe he might actually lose his leg. Here's a look back on Napoleon McCallum's career and the devastating play that ended it. 
Napoleon McCallum becomes star at Navy
Coming out of high school, Napoleon McCallum had offers to play at several top-tier college football programs, including the University of Tennessee and Syracuse. Those schools all planned on him playing defensive back. 
McCallum opted to join the Midshipmen because he would be allowed to play his preferred position of running back. McCallum became a star at Navy playing running back, punt returner, and kick returner. During his time in Annapolis, he was a two-time consensus All-American and set an NCAA record with 7,172 career all-purpose yards. He was also the career rushing leader at Navy with 4,179 yards.
In four games against rival Army, Napoleon McCallum rushed for 489 yards, scored two touchdowns, and never lost. For his efforts with the Midshipmen, he was inducted into the College Football Hall of Fame in 2003.
McCallum serves country and plays in NFL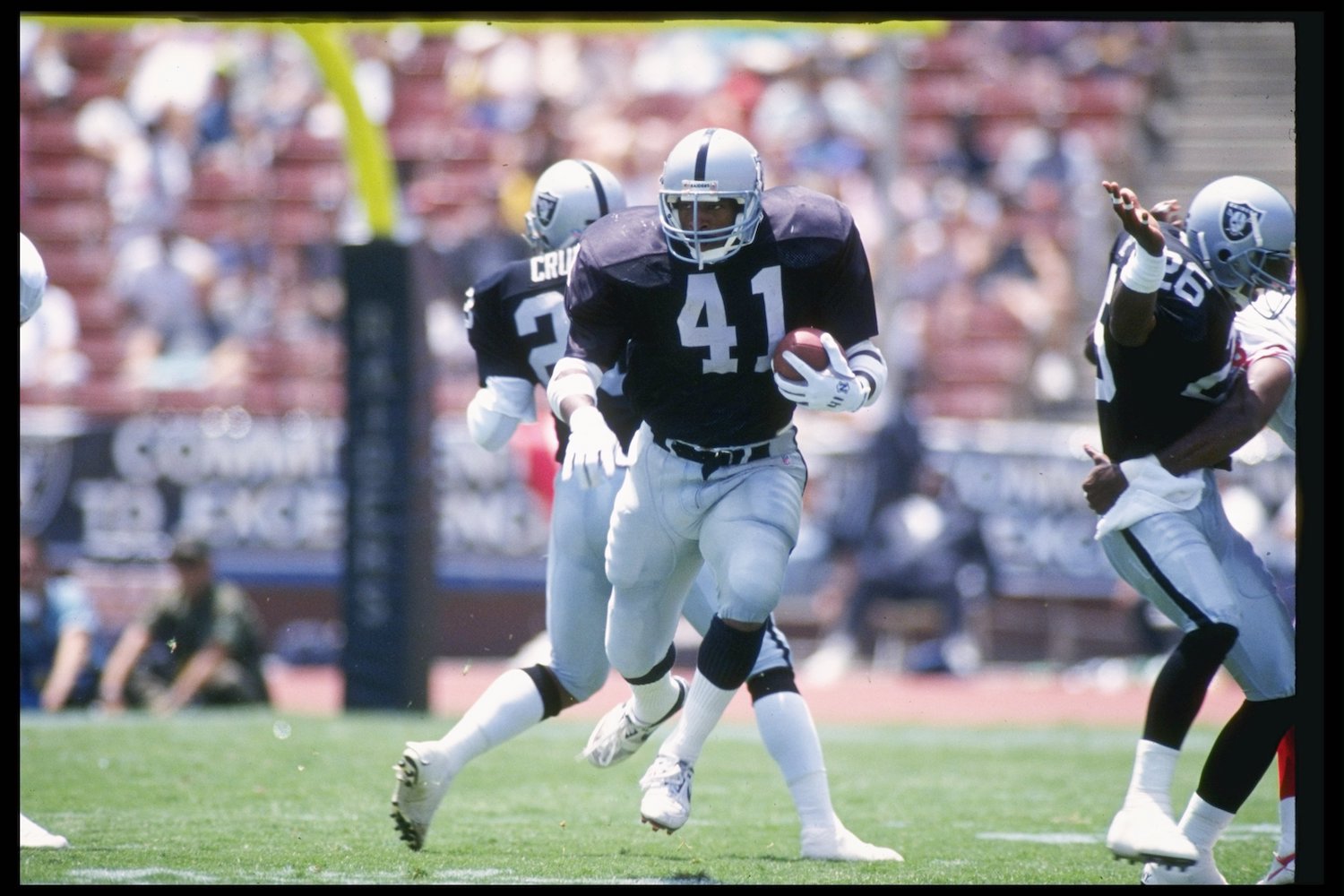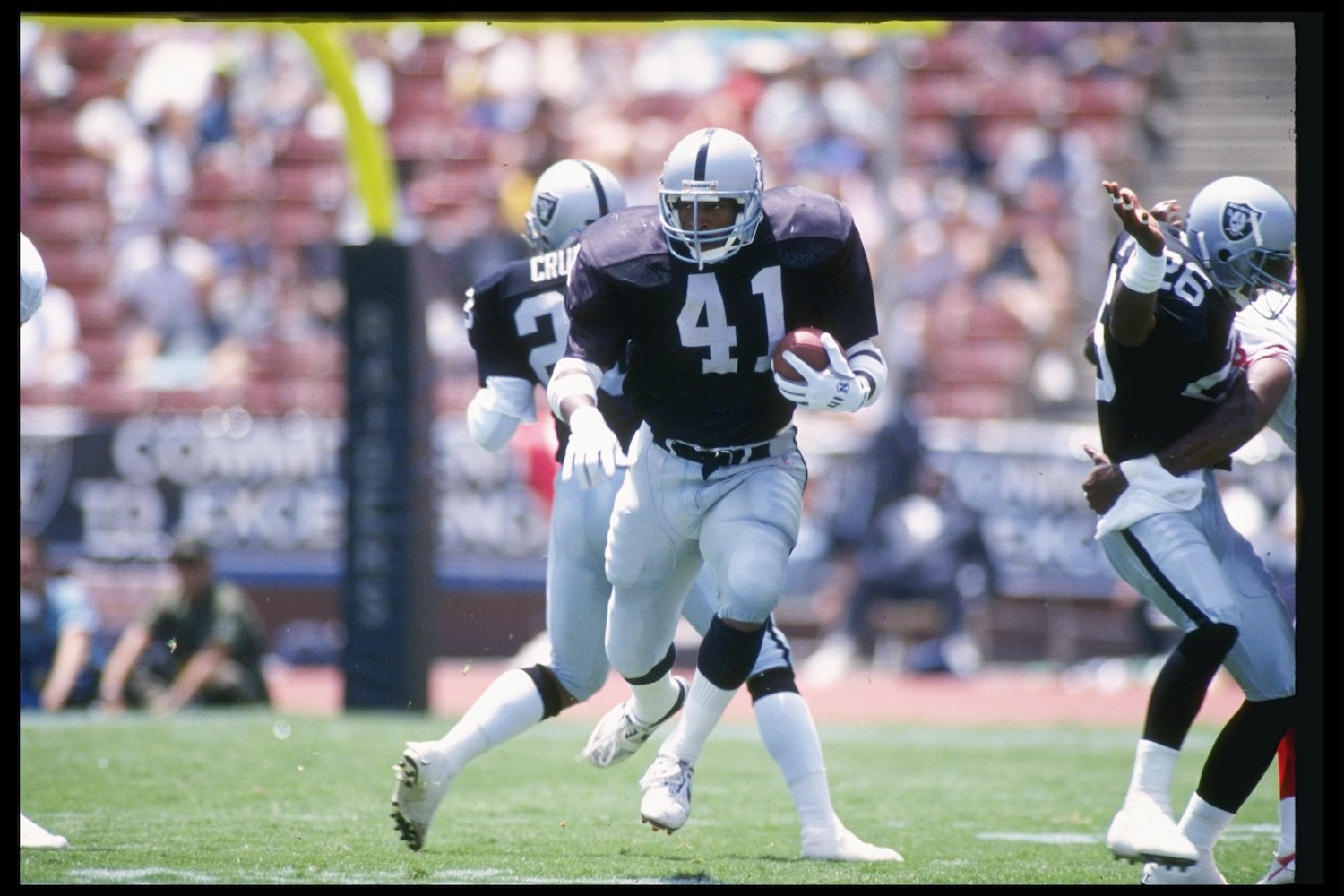 The LA Raiders selected Napoleon McCallum in the fourth round of the 1986 NFL Draft. In an unprecedented move by the military, the Navy granted McCallum permission to play on weekends. In his rookie season, he started five games and rushed for 536 yards and a touchdown. 
Following his rookie year, McCallum was transferred to a ship in the Indian Ocean. His playing days with the Raiders were over, at least temporarily. He served out the rest of his commitment and returned to the Raiders in 1990.
Upon his return to the NFL, Napoleon McCallum's action was limited because he served as a backup to future Hall of Famer Marcus Allen. During the 1993 playoffs, McCallum had the highlight of his NFL career when he scored three touchdowns against the Denver Broncos in a Wild Card win.  
Napoleon McCallum suffers devastating career-ending injury
In 1994, Napoleon McCallum's sixth season in the NFL, the Raiders opened the season on the road against the San Francisco 49ers on Monday Night Football. In the second half, the national television audience watched in horror when Ken Norton Jr. tackled McCallum, with Norton's full body weight landing awkwardly on McCallum's plant leg, which then bent grotesquely in the wrong direction.
McCallum suffered a complete hyperextension of his left knee, a ruptured artery, and he tore three ligaments, which ripped the calf and hamstring muscles from the bone. He also suffered nerve damage in the knee. 
At the hospital, an optimistic McCallum asked the surgeon how long before he could return to play. The doctor informed him with this type of injury, football was out of the question. And that wasn't even the worst of it. If surgery didn't go well, McCallum would probably have his left leg amputated. 
Fortunately for Napoleon McCallum, the surgery went according to plan. However, it was just the first of six operations and extensive physical therapy. While disappointed his playing days were over, McCallum was grateful to have his leg and the many memories he made at Navy and with the Raiders.
Stats courtesy of Pro Football Reference.