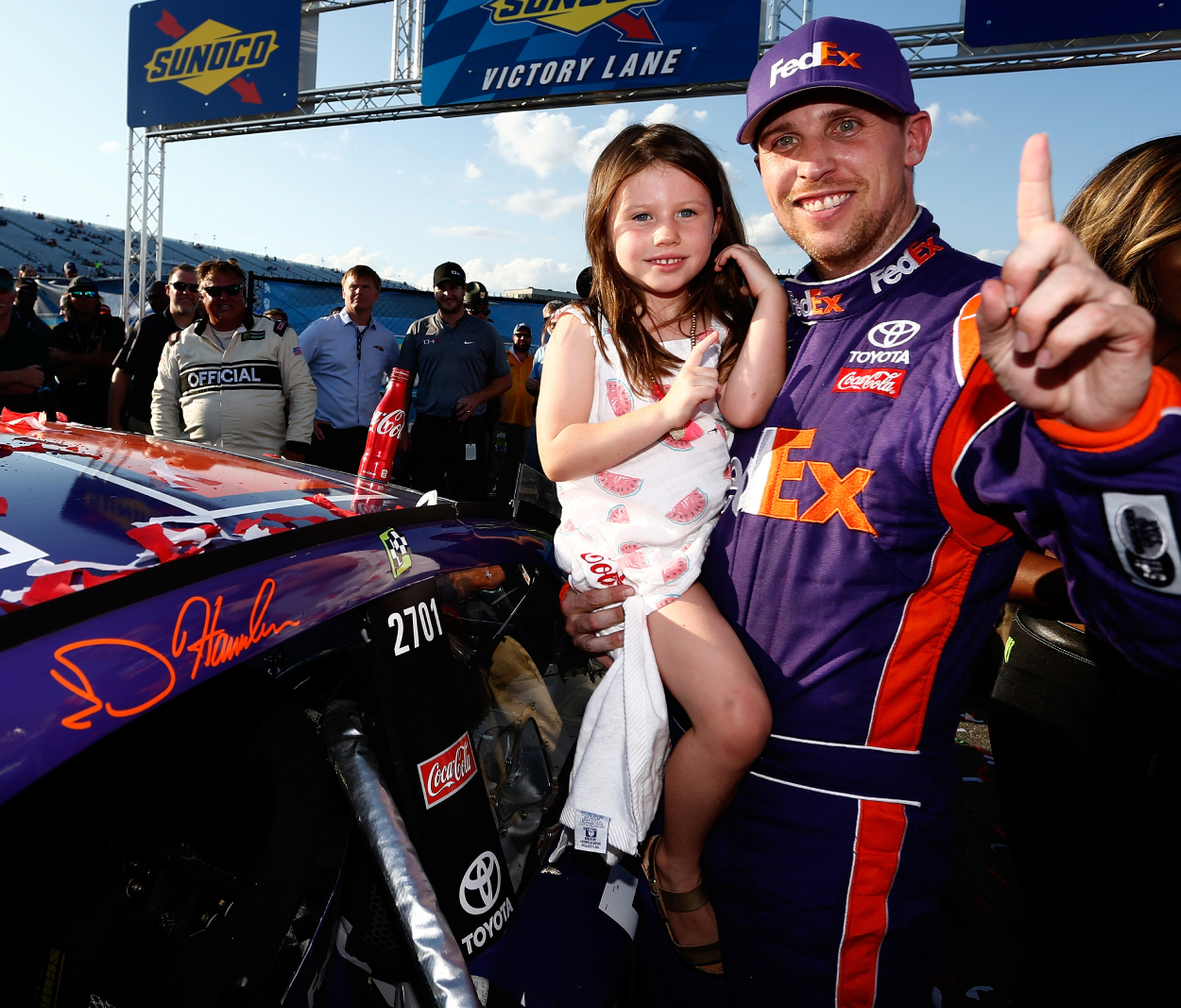 Is NASCAR Star Denny Hamlin's March Madness Bracket an April Fools' Joke? He Should Just Say It Was
Denny Hamlin should just say his March Madness bracket was an April Fools' joke.
Denny Hamlin is one heck of a NASCAR driver. Hamlin's personality makes him the type of guy you'd want to hang out with. He appears down to earth and seems to have a sense of humor. Judging by his March Madness bracket, one would think there was some joking involved. Nope, Hamlin was serious with his picks.
Denny Hamlin is one of NASCAR's best
In February, Denny Hamlin aimed for history. He had a shot to become the first NASCAR driver to win three straight Daytona 500 races. Hamlin ran a good race, finishing fifth, but he was unable to get into the record books on the opening day of the 2021 season.
It hasn't appeared to affect him in any way. Hamlin is ranked No. 1 in the NBC Sports NASCAR power rankings yet again. Hamlin is the lone driver in the Cup Series with six top-five finishes in the first seven races of the 2021 season.
For his career, Hamlin has racked up 44 victories in 549 career races. He's collected 286 top-10 victories. He was the 2006 Nextel Cup Series Rookie of the Year, and he won the Daytona 500 in 2016, 2019, and 2020.
Denny Hamlin's 2021 March Madness bracket
Like most of us, Denny Hamlin filled out a March Madness bracket for the NCAA Tournament. In a video posted by Joe Gibbs Racing, Hamlin was kind enough to show the world who he believed would win the NCAA tourney. Hamlin went round by round, giving little explanations for some of his picks.
Hamlin made the selections on March 17 and he went to town. He picked Kansas in the opening round and made one of his few strong predictions when he said he didn't feel good about the Jayhawks' chances. "They'll get by here, for a little bit." He admitted he didn't have any real shocking picks with his first 16 selections from the East and West regions.
When he got to the South, "Winthrop, they beat Villanova" in the first round," Hamlin said. Wrong. Hamlin convincingly then picked Purdue to knock off North Texas. "My crew chief Chris Gabehart is going to appreciate this," Hamlin said. "Congratulations, you win a game." Nope. "(Virginia) Tech, they're fired up. I've watched a few of their games this year. I'll go with Virginia Tech." Wrong. Granted, many of these were upsets, but this was just the beginning for Hamlin.
What team did Hamlin have winning it all?
Many people taking part in the March Madness had their brackets busted early, especially when Ohio State, a second seed, was stunned by Oral Roberts in the opener. Denny Hamlin had the Buckeyes, too. If you were like most and had Ohio State winning the first round, but didn't have them winning it all, you were still in the running. Hamlin didn't have Ohio State winning it all but his pick wasn't much better.
Hamlin continued in the second round. "West Virginia is going to smack around Syracuse," he said. Not quite. Of Hamlin's eight total winners he picked to advance to the Sweet 16 from the South and Midwest regions, he got two right, Baylor and Houston. "You know, a lot of people are down on Virginia, but I'm from Virginia." He picked them and they were bounced early. Hamlin picked just six teams correctly to reach the Sweet 16.
As bad as it was, he could still be in as a longshot if he had Houston, Gonzaga, Baylor or UCLA to win it all. Nope. When he was picking his Final Four, he said, "This is going to be a really good matchup" as he picked Baylor to face West Virginia, which was eliminated two rounds before. On the other side, he had Gonzaga playing Alabama, which was ousted by UCLA in the Sweet 16. Hamlin had Alabama winning the whole thing, defeating Baylor. "They'll be down early, but in the end, they just have too much shooting," he said of Alabama. Give Hamlin credit, though. Alabama was down early. Very early.