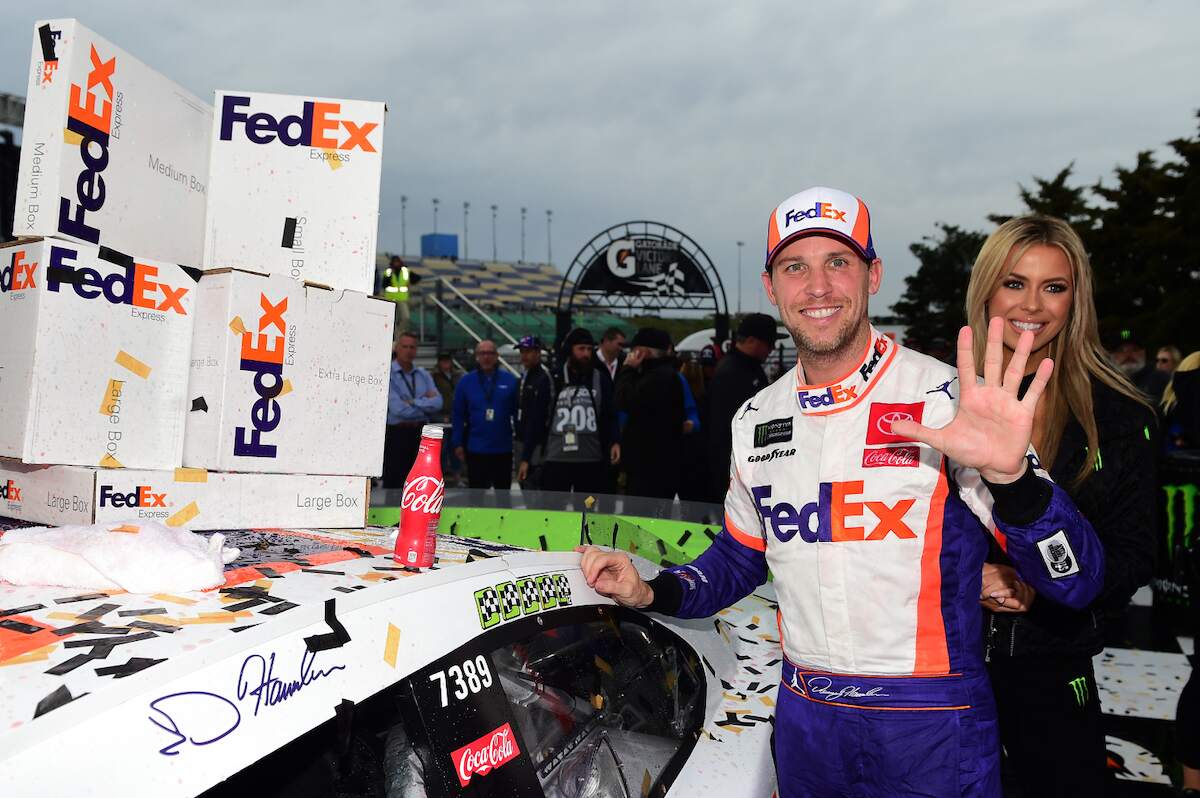 Denny Hamlin Has 2 Theories Why He Believes He's Unpopular With NASCAR Fans
NASCAR's Denny Hamlin has two reasons why be believes he isn't considered one of the more popular drivers in the sport.
Denny Hamlin is a funny guy with an outgoing personality. The NASCAR driver who strung together three straight Daytona 500 victories is also pretty good at the motorsports thing, too. Hamlin, however, says he's not a very popular driver, and he revealed two reasons why he believes that's the case.
Denny Hamlin's first theory about why he's not popular with NASCAR fans
When Denny Hamlin was a guest on The Dan Patrick Show back in 2019, Patrick brought up a time when Hamlin was on Dale Earnhardt Jr.'s podcast. Patrick mentioned that Hamlin told Earnhardt Jr., the most popular driver of his day, gave a reason why he felt he wasn't popular like Earnhardt Jr.
"I have a bad resting B face," Hamlin told Patrick. "I just think my resting b—- face is really bad. That's all I can think of. I look at pictures of me, and I'm just like… [staring straight ahead]."
Patrick later asked if Hamlin could fake smile. He then asked why doesn't he think of a funny movie or something when a picture is being taken. "These cameras are hidden, and you don't know where they are coming from," Hamlin said. "This isn't my posed pictures. I look normal in posed pictures. It's the pictures you don't expect."
Denny Hamlin adds a second theory
Besides not looking like he's having any kind of fun in pictures taken of him, Denny Hamlin added another reason why he might not be considered a popular NASCAR driver.
"I've had altercations with popular drivers during the course of my career," Hamlin said on The Dan Patrick Show in 2019. "Ultimately, fans, they don't forget. So, I think some altercations I had earlier in my career has affected my (popularity). I hate to say I don't care, but it's like I really care about performing on the race track, and that's really my main focus."
Hamlin said it's too late to change how people feel about him, and he's OK with it. "I'm in Year 14 of my career, and I'm not out to get the most popular or the most clicks on my Instagram or anything like that. At this point, I'm just trying to do the best I can to represent my sponsor well. That way, I keep them, and that way I keep a ride."