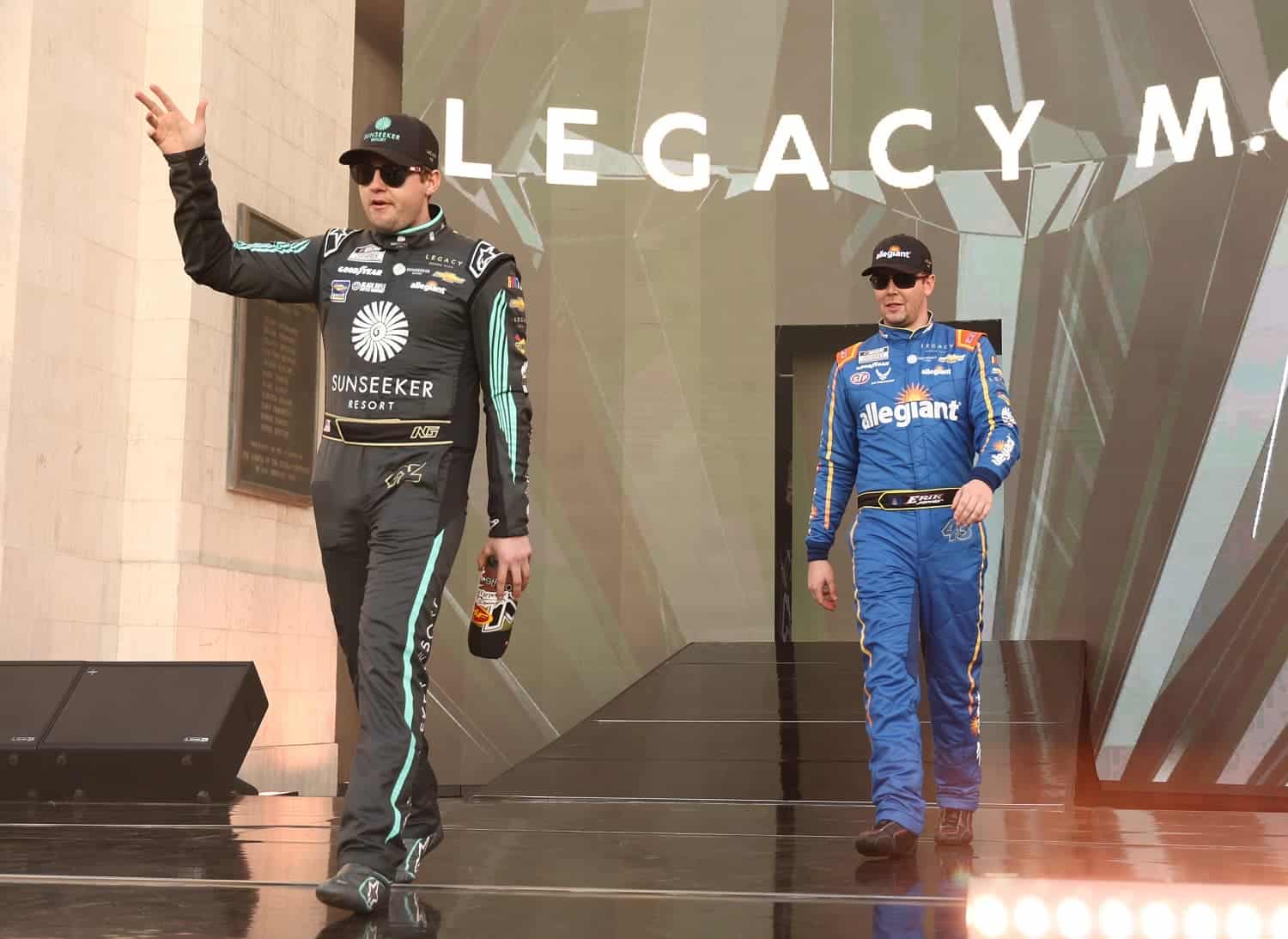 Denny Hamlin Delivers Another Blow for Legacy Motor Club
Denny Hamlin knows a little something about starting over and says Legacy Motor Club's rebuilding will not happen quickly.
The Chicago Bears flipped the worst NFL record into a boatload of draft picks. If only the folks at Legacy Motor Club were so lucky. LMC is headed for the worst record in NASCAR among teams with full-time drivers, and there's no draft that will bring the team engineers, mechanics, or executives to fix what's wrong.
While not meaning to pile on, Denny Hamlin warns the climb back to respectability will be a long time in the making.
Denny Hamlin had it easy by comparison
The 23XI Racing team is in its third season, built from scratch largely with Michael Jordan's money and the know-how of co-owner Denny Hamlin and president Steve Lauletta. Pulling an organization together is complicated, but 23XI possessed advantages, including eager support from a manufacturer excited to bring a second Toyota team to the NASCAR Cup Series.
Hiring Richard Petty Motorsports driver Bubba Wallace more or less guaranteed the sponsorship money to fund the team for the first season, and they're a two-car outfit now.
Well, Legacy Motor Club will be a Toyota team in 2024, but that's where the similarities end. LMC has been shuffling management and floor personnel since Maury Gallagher took operational control in December 2021 but will likely have more moves to make, all while trying to make people forget just how horrible the season has been for Erik Jones and Noah Gragson.
"Noah and Erik are certainly better than their performance and what they're showing right now," Hamlin said on his Actions Detrimental podcast. "It's not on them. I don't think anyone at the team would say, 'We got a driver problem.' That team has probably got the most upside when it comes to driver talent for results it's getting right now. And I know it's frustrating for them, but obviously there's light at the end of the tunnel."
Legacy Motor Club is going through a brutal season
Denny Hamlin is right that Erik Jones and Noah Gragson aren't the problem at Legacy Motor Club, even as they rank 30th and 33rd, respectively, in NASCAR Cup Series points.
LMC lost Jones' primary sponsor during the offseason, and the No. 43 Chevy team just took a 60-point penalty from NASCAR. For his part, Gragson was struggling even before concussion-like symptoms forced him to miss last weekend's race at Sonoma. Most significantly, LMC made the announcement this spring that it will leave Chevrolet and field a pair of Toyotas in 2024.
"Who knows what information they're getting and whether that information is even reliable anymore from whoever they have an alliance with," Denny Hamlin said.
Neither Jones nor Gragson can make the playoffs without a victory. Jones won the playoff race at Darlington last season. He has only two finishes better than 14th this year.
"They had the win at the Southern 500 last year with Erik Jones and that was like their peak," Hamlin said, "and then it just went kind of downhill from there."
Denny Hamlin says Legacy Motor Club faces a long climb
The future isn't hopeless for Legacy Motor Club, and the people there need only look at RFK Racing. The former Roush Fenway Racing spent years in mediocrity, much like the latter seasons for Richard Petty Motorsports. Brad Keselowski arrived last year as an owner/driver, and he and Chris Buescher both struggled. This season, both RFK Racing drivers look poised to make the playoffs.
The LMC guys will be trying to climb out of a deeper hole, but they don't need to do it all at once.
"They are in a rebuilding year for sure," Denny Hamlin said, "and I think the rebuild will take years for that team to be where they want to be for sure because it just takes time.
"I could tell you as a guy building a team from the ground up. Yeah, we're 2 1/2 years into 23XI, (and) we're still not where we want to be. But we're seeing results coming from hires we've made, decisions we've made with competition and management. Those are starting to show fruit and results."
Got a question or observation about racing? Sportscasting's John Moriello does a mailbag column each Friday. Write to him at [email protected].