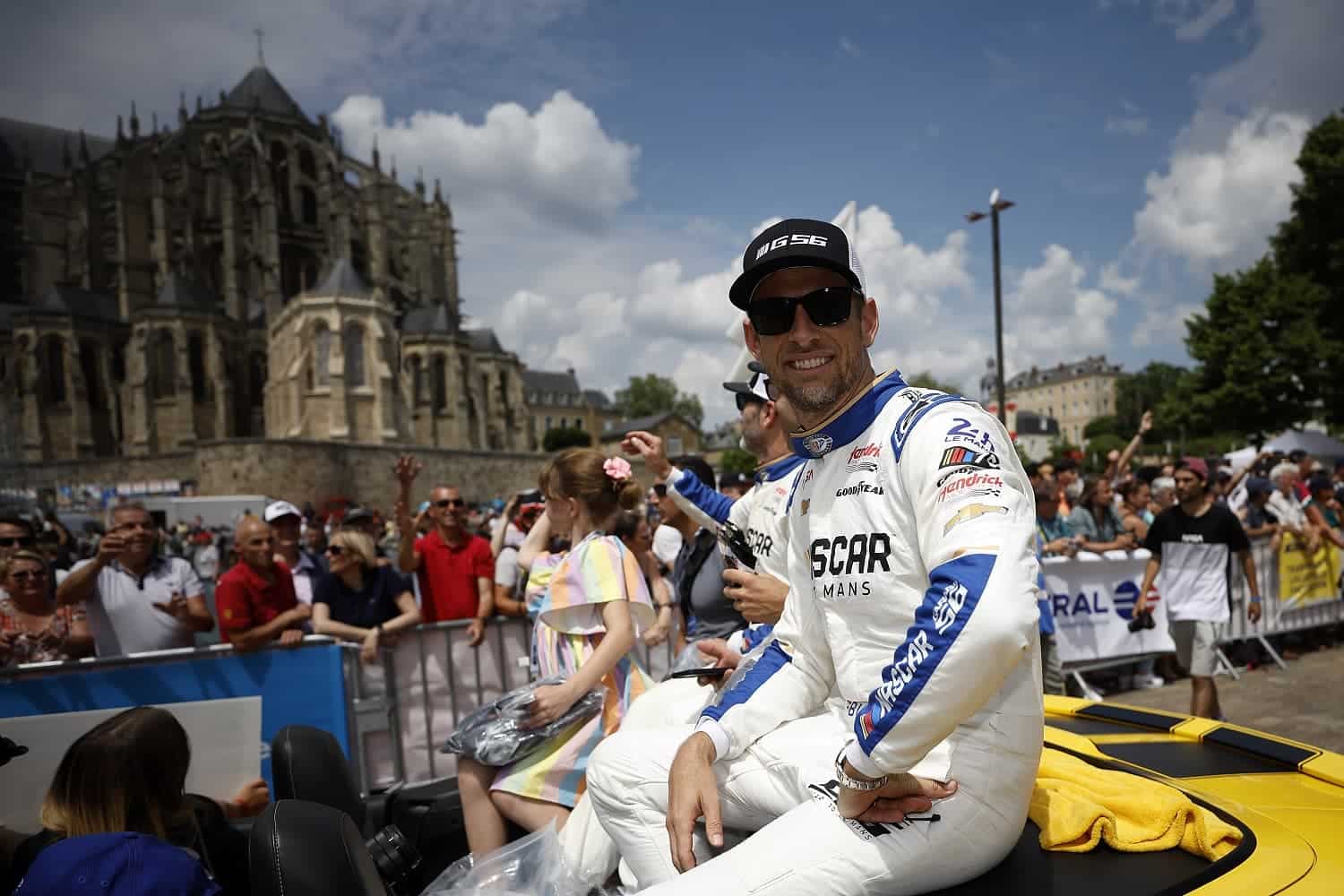 Jimmie Johnson Isn't the Answer for Legacy Motor Club, at Least Not Yet
Jimmie Johnson is half a world away this weekend while his Legacy Motor Club team is going through a rough time.
Noah Gragson is in sickbay, Erik Jones is in 30th place, and Jimmie Johnson is in France. That's hardly a winning formula for this weekend at Sonoma Raceway in California.
But that largely sums up the first season for Legacy Motor Club, the rebranded Petty GMS, which evolved in late 2021 from Richard Petty Motorsports.
Johnson joined LMC at the end of last season as an investor and occasional driver. Unlike several contemporaries who've taken ownership roles, the seven-time Cup Series champion's odds of success in the new role appear bleak.
Jimmie Johnson hopes to follow the Brad Keselowski model
If there's any reason for owners Maury Gallagher and new partner Jimmie Johnson to feel optimistic about the future, it's that Brad Keselowski appears to be executing a turnaround at RFK Racing almost as massive as the one Legacy Motor Club requires.
Keselowski left Team Penske after 12 full-time seasons in order to take an ownership stake at the former Roush Fenway Racing while also continuing his driving career. He walked into a garage that owned just two wins, both by Ricky Stenhouse Jr. in 2017, since Carl Edwards' departure after the 2014 season.
Most of last year was ugly for RFK, beginning with Keselowski taking a major points penalty a month into the season. Chris Buescher salvaged something for the organization by winning the Bristol playoff race.
This season, the RFK Fords have fared considerably better. Though they're winless, Keselowski and Buescher are 11th and 13th, respectively, in points in what's been a generally disappointing year for the manufacturer.
The team has a long way to go, but the progress from a year ago is commendable.
Jimmie Johnson didn't emulate Jeff Gordon
The reason Brad Keselowski is relevant to a discussion of Jimmie Johnson Is that he came to Roush Fenway with more than just driving experience. From 2008-17, Keselowski operated a team in the Craftsman Truck Series, and it was a good one. Ryan Blaney (2014) and Tyler Reddick (2015) finished second in points, and Austin Cindric (2017) finished third. Ross Chastain and Chase Briscoe are among the other competitors who drove for him.
Jeff Gordon also embraced the business side of NASCAR while he was still driving. Only a third of the way through his Cup Series career but with three championships to his credit, Gordon signed a landmark deal with Hendrick Motorsports in 1999 to become a partner with Rick Hendrick. It gave Gordon a stake in his No. 24 Chevy, and he was already operating an Xfinity Series team with former HMS crew chief Ray Evernham.
Tony Stewart and Denny Hamlin are other examples of contemporaries who dove into ownership while still competing, setting themselves up for careers after retirement. There's nothing like being responsible for making payroll each week to teach a guy the intricacies of running a business, and that's part of JJ's learning curve in the midst of trying to turn around a team that's a mess.
JJ is at Le Mans this weekend
This week proved to be unfortunate timing, but it speaks to exactly what kind of season it's been for Legacy Motor Club. The Nos. 43 and 42 Chevys come to Sonoma in 30th and 32nd place, respectively, in the Cup Series standings.
Noah Gragson, the driver of the No. 42, began experiencing concussion-like symptoms earlier following a crash on Lap 197 of the race at World Wide Technology Raceway. With the struggling rookie sidelined, Grant Enfinger will take his place at Sonoma.
Erik Jones began his week learning his No. 43 team was penalized 60 championship points after an inspection of the car at the NASCAR R&D center. That comes 11 months after Jones' team incurred a 35-point penalty for an unrelated equipment violation.
It's a time during which a team might be expected to marshal its forces to seek any kind of positive development that might generate momentum in the second half of the season. Instead, Jimmie Johnson is half a world away and competing in the 24 Hours of Le Mans.
Obviously, Johnson is honoring a longstanding commitment that's important to NASCAR, but the timing could not be worse. It further delays any positive impact the seven-time Cup Series champion might have on Legacy Motor Club, making the climb out of a deep hole even more tedious.
JJ has offered the team nothing in his limited role as a driver. It would be nice if he could show progress on the ownership side as LMC winds down with Chevy and prepares to work with Toyota in 2024, but that's likely asking too much.
Got a question or observation about racing? Sportscasting's John Moriello does a mailbag column each Friday. Write to him at [email protected].