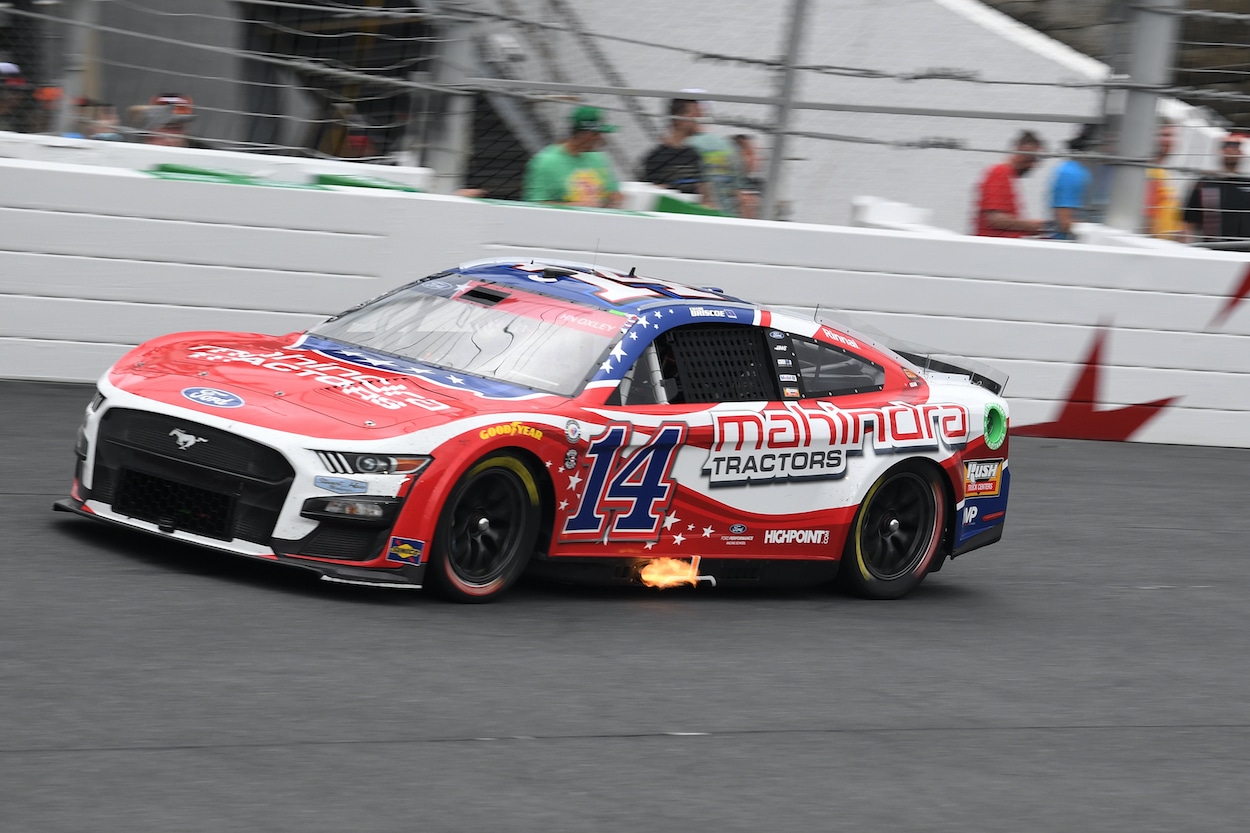 NASCAR Displays Confiscated Counterfeit Part From No. 14 Car and Surprisingly Reveals a Unique Way It's Using to Catch Teams Trying to Cheat 
This past weekend at Sonoma, NASCAR showed the illegal counterfeit part discovered in Chase Briscoe's car, and an official also surprisingly revealed a method the sanctioning body is using to identify illegal parts.
Fans, drivers, and teams have called for more transparency from NASCAR for years. With penalties being consistently handed out since the introduction of the Next Gen car in 2022, Denny Hamlin suggested on his podcast in April that the sanctioning body return to yesteryear and display the confiscated illegal parts at the track for others to see.
That's just what happened this weekend at Sonoma, displaying the counterfeit piece discovered from the No. 14 car, including a show-and-tell session where a NASCAR official walked reporters through the details of the illegal part, comparing it to the approved single-source supplier part, highlighting the differences between the two, and even showing how the part doesn't fit. 
The official also surprisingly revealed one of the ways the organization is using to help catch those teams trying to cheat. 
Denny Hamlin mentions displaying confiscated illegal parts
Earlier this year, on his Actions Detrimental podcast, Denny Hamlin addressed the Hendrick Motorsports penalty appeal and expressed confusion and frustration at the three-person panel's decision to rescind the points portion of the punishment. He called for more transparency with a specific way to achieve it.
"We're missing facts, and it's causing so much speculation in the media world and in the public that, you know, you really need to be transparent to show these people what all is going on, and certainly, if you want to deter it from happening and I said last week, then call these people out," Hamlin said. "Show the people what rule was broken. 
"We used to have parts all around the back around the NASCAR hauler that they would confiscate that they deemed illegal before tech. It'd be like a yard sale back there, back in the days when we used to build everything on our own. But yeah, these are factory parts that you should be able to buy off the shelf so why not just set it out there and show us what it is because the speculation for two and a half weeks or whatever it is was just crazy."
NASCAR confirms new policy
Two days after Hamlin's podcast remarks, NASCAR chief operating officer Steve O'Donnell appeared on NASCAR RaceHub and acknowledged that the sanctioning body had heard everyone's comments and was taking a new approach going forward. 
"We didn't want to embarrass teams in terms of displaying parts, but we've heard it loud and clear from the fans, too," O'Donnell said. "What are these parts? What do they look like? They'll be on display at the track starting in Richmond. Media and fans will be able to see what we saw and make their own determination." 
Chase Briscoe part on display and official reveals one of NASCAR's tricks to identifying illegal parts
This past weekend at Sonoma, NASCAR displayed the confiscated illegal part discovered in the No. 14 car, which resulted in an L3 penalty. But it wasn't just on display for someone to inspect and guess what they were looking at. Instead, a NASCAR official provided detailed information on the counterfeit part, including comparing it to the original part and interestingly revealing how the sanctioning body has specific ways to identify the differences. 
"So we take it seriously. And we got to change the culture in the Cup Series and that's what we intend on doing," he said. "What we have here is the engine panel. We cut this out. It was obviously a much bigger piece. 
"This duct is the problem. They are three 3D-printed at the R&D Center. And Fibreworks sells them and they install them. So this is a proper piece here that is built from the R&D Center and there's a few markings in there that we know that kind of keep it identifiable that we know what the part is. But we can clearly see even the textures are different."
Interesting information that NASCAR is using specific markings on original parts to help them distinguish differences from illegal parts. Obviously, it worked in this case.
And the game of cat-and-mouse between NASCAR and the teams continues.
To stay up to date on the latest happenings in NASCAR, including breaking stories you can't find anywhere else, follow Kyle on YouTube and Twitter.