NASCAR Driver Boldly Claims NASCAR Better Than F1 After Controversy in Saudi Arabian Grand Prix and Surprising Moment When Race Control Appeared to Negotiate with Max Verstappen About Track Position
NASCAR fans are a vocal lot. And they complain about many things, including stages, commercial breaks, and in-race decisions by the governing body. On Sunday, F1 fans said, "hold my beer." 
There were no stages in the Saudi Arabian Grand Prix — although numerous stoppages due to various incidents felt like stage breaks — and there were no commercial breaks. However, there was one bizarre moment that happened early in the race after an on-track incident when race control officials negotiated with Max Verstappen about his position during a conversation that even surprised the veteran announcers.    
Lewis Hamilton takes control early of Saudi Arabian Grand Prix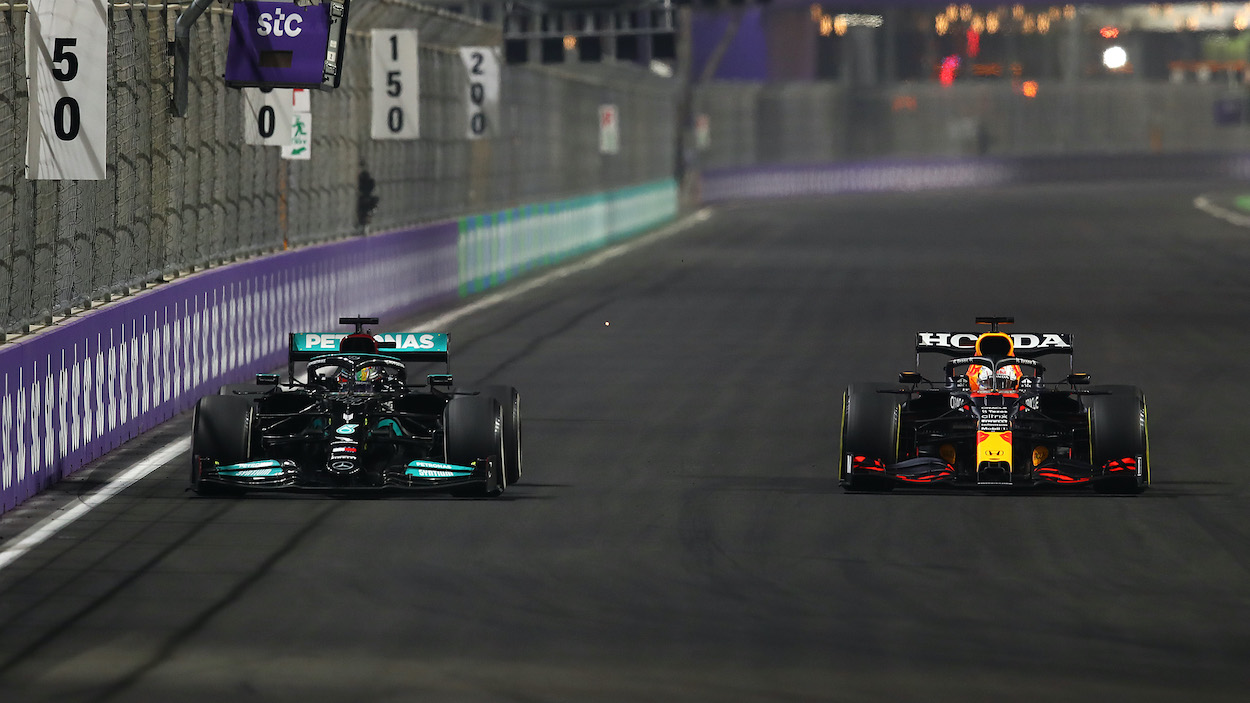 After a clean start to the race, Lewis Hamilton and Mercedes teammate Valtteri Bottas controlled the opening laps of the Saudi Arabian Grand Prix. But just 10 laps into the race, everything changed when Haas driver Mick Schumacher crashed, which resulted in a yellow flag.   
Mercedes made a tire strategy call with Hamilton and Bottas deciding to pit. Verstappen stayed out. In a bit of fortune for the Red Bull driver, race officials changed it to a red flag, forcing the entire field to pit and allowing Verstappen to change his tires and maintain his lead.
Not surprisingly, Hamilton was unhappy with the decision and expressed his frustration over the radio. 
"It was a red flag. The wall is fine. (Expletive). Find out what their reason for a red flag is," he ordered. 
Max Verstappen goes off track on restart
As upset as Hamilton was during the red flag stop, he was about to get even hotter when the cars returned to the racetrack. The No. 44 car rocketed off on the restart and surged ahead clear of his rival, going into the hard left turn. Max Verstappen tried to gain ground but Hamilton went deep into the corner, and the Red Bull driver veered off the track over the green and white curb.
Moments later, the two reconvened on the second right turn and Verstappen had taken the lead. Esteban Ocon had moved into second in front of Hamilton. 
Just a couple of turns later, another crash occurred behind the leaders that involved the other Haas Racing car driven by Nikita Mazepin. It brought out a second yellow that quickly transitioned into a red flag.  
FIA officials negotiate with Red Bull team 
With a second break in the racing action, the commentators began speculating what might happen after the Verstappen-Hamilton incident on the restart. 
"Will the stewards decide that Max Verstappen has to give the place back to Lewis Hamilton and that would put them behind Esteban Ocon? Ocon would lead it away again," one commentator suggested. 
Several minutes later, the stewards weren't yet involved but race director Michael Masi was and the broadcast carried the surprising communication he had with the Red Bull team about the incident.
"I'm going to give you the opportunity to start from grid position two for this based on what occurred at turn 1-2," Masi said. 
"Ok, thank you," Red Bull sporting director Jonathan Wheatley responded. "We'll have an internal discussion on that. We felt we were pushed off there. So thank you for that. If we can have a minute to think about it."
"Yep, if you can come back to me within a minute or two, that would be great," Masi replied.
The commentators tried to understand how Verstappen would be in second and not third after the incident. A minute later, the Red Bull camp had its answer. 
"We would accept P2 on the basis that Ocon is on pole, correct?" Wheatley inquired.
"Sorry. We would drop you back behind Hamilton," Masi apologized, suggesting he hadn't looked to see who Verstappen would be placed behind. "Back behind Lewis. That is my offer."
"I need another minute," Wheatley replied. 
NASCAR driver takes massive shot at F1
The commentators continued talking about the exchange and how it was essentially F1 advising Verstappen's team to give back that position before the stewards got involved in the decision and made them do it. 
"It's quite unusual to have a bid of we'll offer you this, do you want to take it or not," one announcer bluntly admitted. "It's quite unusual." 
What wasn't unusual is Hamilton, despite another incident later with Verstappen, claimed victory and moved into a tie in points with the Red Bull driver heading into the final race of the season next week at Abu Dhabi.
Not surprisingly, the race and that particular incident produced a buzz on social media. Part-time NASCAR Xfinity Series driver Andy Lally didn't hold back what he thought and said it only confirms the better racing series.
"I just tuned in since everyone seems to be going crazy," he said of the race. "I'm tuning back out just as fast. DRS, giving back positions, track limits. So many people complain about NASCAR being manufactured racing. This stuff is weak. #NASCAR > #F1"
After watching Sunday's F1 race in Saudi Arabia, it's hard to argue that NASCAR could be any more dysfunctional in its rule enforcement and punishment. Now the stage breaks and commercials are a completely different story.
Like Sportscasting on Facebook. Follow us on Twitter @sportscasting19.