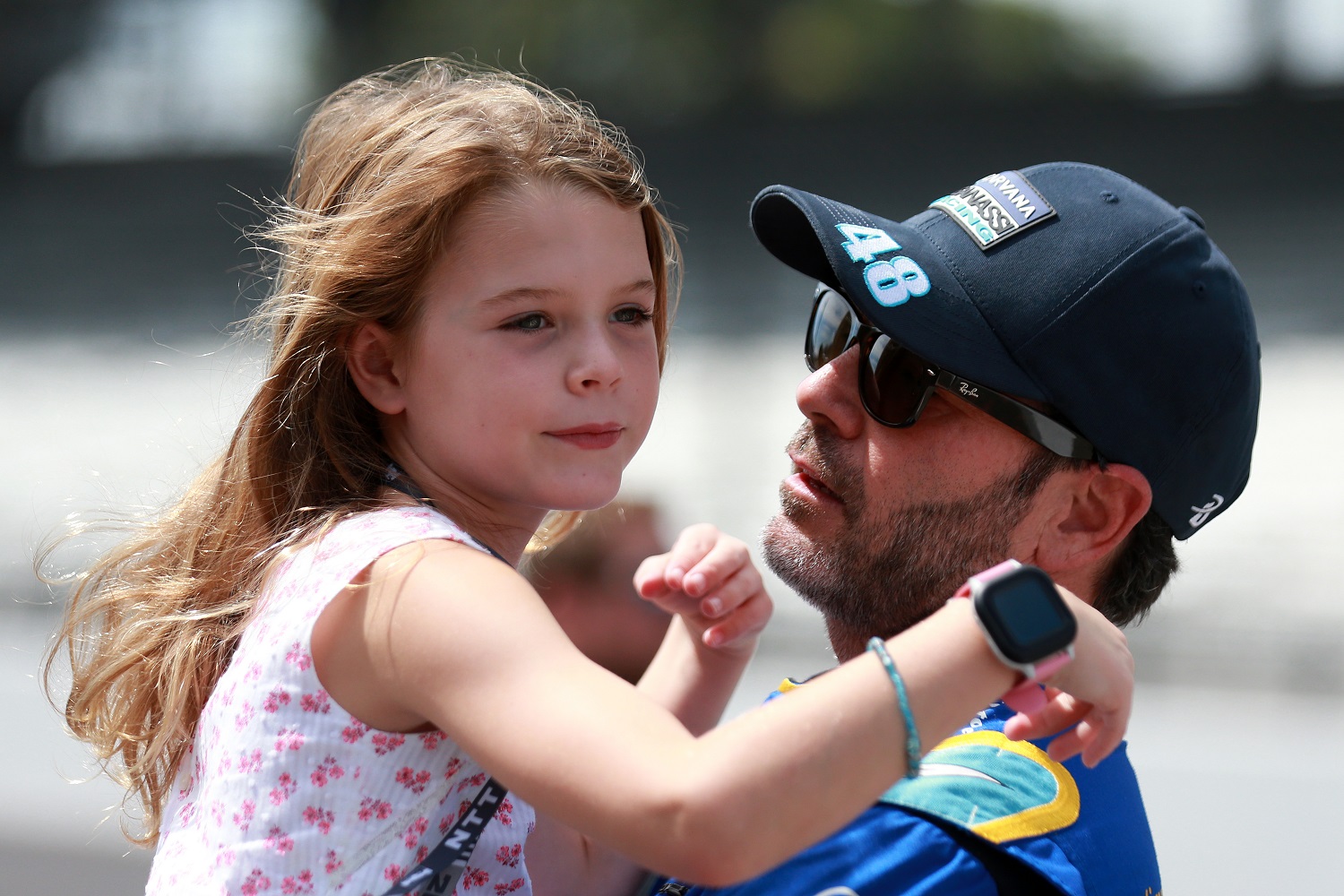 NASCAR Great Jimmie Johnson Has Forgotten How Dan Wheldon's Horrific IndyCar Death Affected Him
Jimmie Johnson saw Dan Wheldon die a decade ago and swore that he would never drive an indyCar on a high-speed oval. Now, he's prepping for the Indianapolis 500.
Jimmie Johnson never endured the sorrow of competing in a NASCAR Cup Series race in which someone died. He was a year away from his first full-time gig the day of Dale Earnhardt's fatal crash at the end of the 2001 Daytona 500.
Open-wheel competitors haven't been as fortunate. Open cockpits and speeds on ovals that allow cars to cover the distance of a football field in a single second remain a dangerous combination.
Seeing the video of Dan Wheldon's fatal crash at Las Vegas changed Jimmie Johnson's mind once about IndyCar racing. Now that he has traded jobs, Johnson has changed his mind again.
Dan Wheldon died in one of the worst IndyCar wrecks ever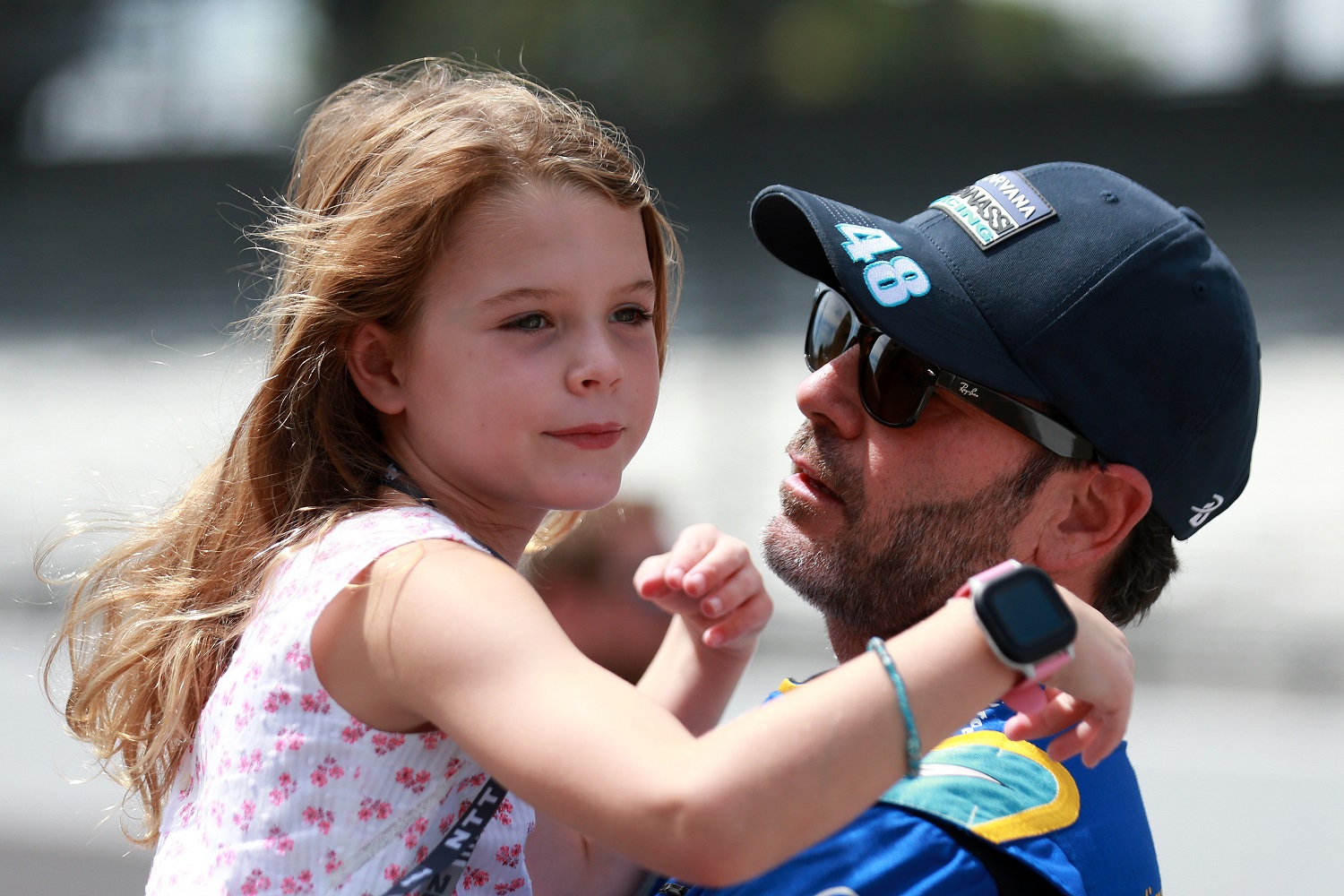 British driver Dan Wheldon was one of the most accomplished figures in IndyCar racing. His credentials included two victories in the Indianapolis 500 and the 2005 IndyCar series championship. He missed out on the 2006 series title via a tiebreaker.
Weldon posted the second Indy 500 victory in 2011 despite starting the season without a ride. Most forgot the feat less than five months later when the 33-year-old driver died in a horrific multi-car wreck in IndyCar's season-ending race at Las Vegas Motor Speedway.
Just minutes into the race, Wade Cunningham's car swerved, clipping J.R. Hildebrand and sending him airborne. Virtually no one behind them had time to react, and all the pavement from the middle third of the track to the outside wall became littered with debris.
In a fraction of a second, Vitor Meira, Paul Tracy, and Pippa Mann added to what ultimately became a 15-car wreck. Weldon slowed slightly, but he couldn't avoid contact. His Sam Schmidt Motorsports No. 77 climbed up the back of Charlie Kimball's car and went airborne, rolled, and hit the catch-fence cockpit-first.
Though pronounced dead two hours later, Wheldon was almost certainly lifeless by the time his car fell back to the track. He became the first driver to die in American open-wheel racing since rookie Paul Dana of the Indy Racing League during practice at Miami-Homestead Speedway in 2006.
Jimmie Johnson shifted his beliefs after Dan Wheldon's death
Jimmie Johnson experienced first-hand the changes NASCAR instituted following Dale Earnhardt's death in 2001. Most notably, the sport's governing body made Head and Neck Support (HANS) devices mandatory, and that change alone is largely responsible for there being no fatalities since in the sport's three major series.
At the time of Dan Wheldon's death a decade later, Johnson had already won five of his seven NASCAR season championships. At the time, NASCAR conducted all but two of its weekly races on ovals, but Daytona and Talladega were the two high-speed tracks, and both followed restrictor-plate rules that lowered speeds.
Johnson looked at the Las Vegas qualifying results, where 32 cars hit 218 mph or better, and went on the record to say IndyCar should abandon oval tracks because open-wheel cars can't withstand the bumping at high speeds.
"I wouldn't run them on ovals. There's just no need to. Those cars are fantastic for street circuits, for road courses. I hate, hate, hate that this tragedy took place. But hopefully, they can learn from it and make those cars safer on ovals somehow.

"I don't know how they can really do it. Myself, I have a lot of friends that race in that series, and I'd just rather see them on street circuits and road courses. No more ovals."

Jimmie Johnson
Johnson experienced a scary crash of his own the night before Weldon died. Racing at Charlotte Motor Speedway, he took a nearly head-on hit into the wall. According to ESPN, the impact lifted the back of Johnson's Chevy off the pavement.
Jimmie Johnson is heading toward a 180-degree reversal
After Dan Wheldon died, the birth of oldest daughter Genevieve compelled Jimmie Johnson to promise his wife that he would not drive an IndyCar because of the combination of speeds and the open cockpit.
"I've never been 225 mph in my life, and that's their average around an oval," he said at the time. "They are brave men and women that drive those things."
Johnson changed his thinking while going through his final season in NASCAR last year. He agreed to drive in the 2021 IndyCar series, but only on road and street courses. However, even that is changing; Johnson tested at Texas Motor Speedway last week.
"Your focal point is different on a road and street course in a NASCAR versus IndyCar, where on the oval I found out it's in the same place," he said afterward, "and not only is it in the same place, the adjustments you make on the race car are the same from a Cup car to an IndyCar."
That was a significant revelation for him.
"I felt much more at home, not only from a driving standpoint and where to create speed," Johnson admitted, "but also how to help the team adjust the car and work on the race car."
The Texas session was a preliminary step toward possibly trying to qualify for the Indianapolis 500 next spring.
Is he ready to completely renounce his feelings of a decade ago?
"That's a great question and one that I'm not sure I have an answer for because I'm questioning that myself right now," he said.
Like Sportscasting on Facebook. Follow us on Twitter @sportscasting19.