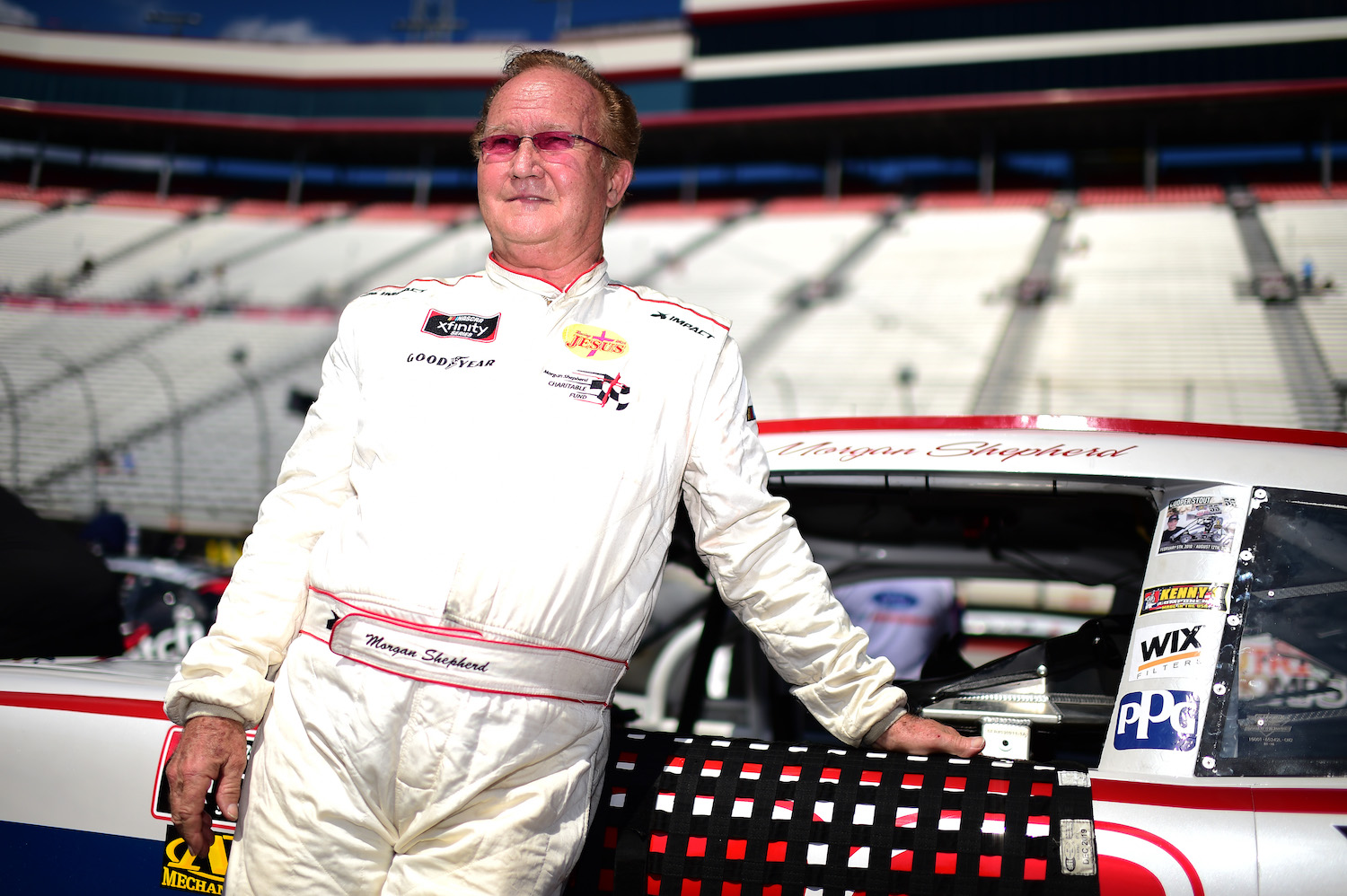 NASCAR Veteran Morgan Shepherd in Most Challenging Fight of His Life
Morgan Shepherd has set all kinds of NASCAR records competing well into his 70s. Shepherd is now facing the most challenging battle of his life.
Racing legend Morgan Shepherd has made more than 1,000 starts on the various NASCAR circuits. For the last 52 years, Shepherd has competed in at least one NASCAR race each season. That streak ended this year with the pandemic. But it's 2020, so that's not the worst news. Shepherd announced in late November on his website that he's now engaged in the most challenging battle of his life. 
Morgan Shepherd's lengthy record-setting career
A North Carolina native, Morgan Shepherd, started his racing career in 1967 at the Hickory Motor Speedway located not far from his home. He made his Cup Series debut in 1970 at the same speedway. For the next six years, Shepherd toiled in the regional series. 
In 1977, he returned to the Cup Series and earned his first top-ten finish at Dover International Speedway. The following year, he qualified for his first Daytona 500. He finished 40th when his engine failed after just eight laps. 
During the 1981 season, Morgan Shepherd raced full-time on the Cup Series. He raced for multiple teams that year, including Cliff Stewart Racing, where he won his first race at Martinsville after dominating the race, leading 203 total laps. He won again in 1986 at Atlanta while racing a limited schedule. 
Shepherd bounced around for years. During the stretch from 1989-1996 was the only time in his career where he had a consistent ride for most of the season. In 1990, he won his third career Cup Series race at the end of the season at a familiar place, Atlanta Motor Speedway. He won his fourth and final Cup Series race in 1993, once again at Atlanta, at age 51, becoming the second-oldest winner behind Harry Gant.   
Morgan Shepherd has raced into his 70s
After the 1997 season, Morghan Shepherd's racing schedule dramatically slowed down because he served mainly as a substitute driver for other teams. In 2007, at 66 years old, he formed his own Xfinity Series team and then proceeded to qualify for 16 of 20 races. A year later, he raced the Series full time for the first time in his career.
Shepherd has returned to the Cup Series a couple of times since, once in 2013 and 2014. He raced at the 2014 Camping World RV Sales 301 and became the oldest Cup competitor at age 72. 
Morgan Shepherd has continued racing with the Xfinity Series, up until the 2019 season, when he qualified and raced in a dozen races at age 78. Each time he straps in behind the wheel, he sets a record for the oldest-ever NASCAR driver. 
2020 went from bad to worse
In 2020, due to the pandemic and ongoing health issues, Morgan Shepherd did not race any events and snapped his streak of 52 consecutive years competing in a NASCAR series race. Unfortunately, that was only part of the bad news for Shepherd and his family this year. 
Shepherd announced on his website in late November that he was diagnosed with the early stages of Parkinson's Disease. Despite the challenging road ahead, Shepherd is determined not to let the nervous system disorder slow him down, and he's planning a return to the track in 2021.
"However, in true Shepherd fashion, he is determined to look into 2021 and make plans for another year of NASCAR racing, as a car owner," the statement on his website read. "We all have had challenges to overcome and Morgan has always wanted to be an encourager, defying his age in physical and mental ability. Morgan's charity work with the physically challenged has inspired him in the toughest times and currently continues in his diagnosis." 
Morgan Shepherd has proven in his life and career that age is just a number and you can do anything you want if you set your mind to it and put in the work. That mindset will serve him well in the days ahead. 
All stats courtesy of Racing Reference.