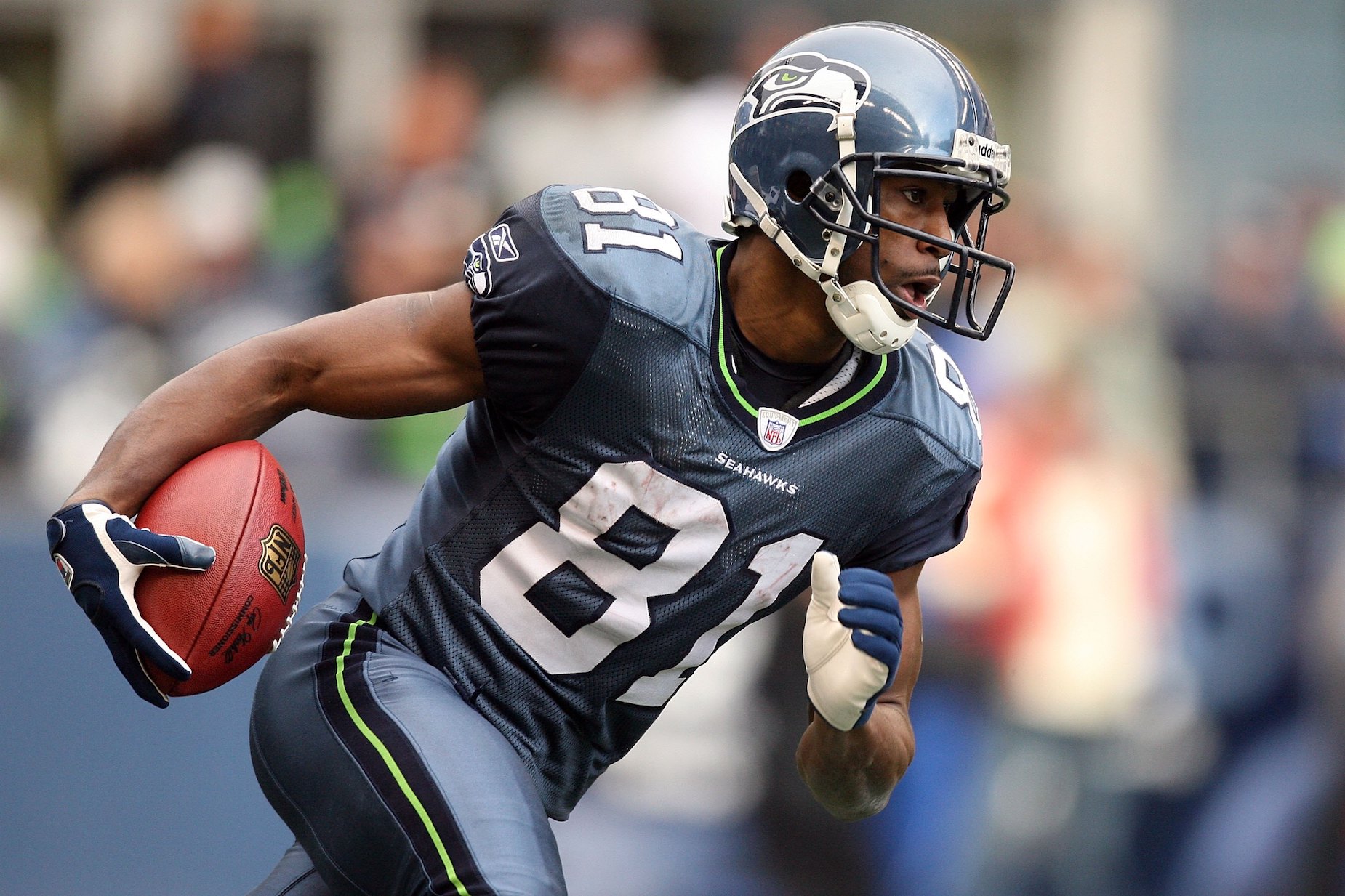 Nate Burleson Made $33 Million in the NFL But Spent His First Paycheck on Fake Jewelry
While Nate Burleson was never an NFL star, he still made a nice chunk of change in the pros. He also used some of that money to buy fake jewelry.
While every athlete doesn't take home Patrick Mahomes money, most NFL players earn sizable salaries. Take, for example, Nate Burleson. The wideout was never an elite star, but he still made more than $33 million during his time on the gridiron. When he first broke into the pros, however, he made an economical purchase.
Although we've heard horror stories of professional athletes and NFL players blowing their paychecks on impulse buys, Nate Burleson did something different. In addition to buying a new car, he also picked up some fake jewelry.
Nate Burleson's NFL career
Growing up, Nate Burleson hoped to follow in his father and brother's footsteps and head to the University of Washington. While he never got that chance, he still managed to put together a solid football career.
After high school graduation, Burleson couldn't secure a scholarship to the University of Washington; he could have tried walking onto the team but wanted something more. The receiver ended up heading to the University of Nevada and joining the Wolfpack.
After three solid, if unremarkable, NCAA seasons, Burleson entered into the 2002 NFL draft and joined the Minnesota Vikings as a third-round pick. While the wide out bounced around a bit—after leaving the Twin Cities, he suited up with the Seahawks and Lions, before failing to make the Cleveland Browns roster and retiring—he proved to be a capable professional. During his 11 seasons in the NFL, Burleson pulled in 457 receptions for 5,630 yards and 39 touchdowns.
Making more than $33 million playing professional football
During his time in the NFL, Nate Burleson was a solid receiver; while you knew he could put in a capable performance, you weren't exactly relying on him to win the game single-handedly. Despite that reality, he still earned a nice chunk of change during his time on the gridiron.
According to Over the Cap's numbers, Burleson earned just over $33 million during his professional career, averaging out to roughly $3 million per season. About $17 million of that came during his time with the Lions; the Seattle Seahawks paid out another $14.5 million.
Burleson's football career is still paying off, even in retirement. He's found a home in the media, covering the NFL and serving as an Extra correspondent.
Nate Burleson bought some fake jewelry with his first professional paycheck
When a professional athlete signs their first big contract, it's understandable that they'd want to splash the cash and make some big purchases. While Nate Burleson is no exception to that trend, he did things a little differently.
"Growing up, I was a multi-sport athlete and didn't specifically focus on an NFL career, so I had absolutely no clue what to expect," the receiver told NFL.com in 2016. I remember the Vikings gave me a check for $529,000, and it was unbelievable."
While he made some of the standard moves—Burleson bought an Escalade and gave his parents some money—he also bought himself a watch and chain. That jewelry purchase, however, came with a catch; both pieces were fake. "In my mind, I thought no one is going to question if they were real because I was an NFL player," he explained.
"I was very frugal at first, because I figured I better walk out of this career with more money than I came in with, and I didn't know how long my career was going to last," Burleson continued. "I was a hoarder of my money early on, because I didn't have the knowledge I wanted to about investments or buying property or fancy things. The easiest thing for me was to keep it in my bank account where I could see it."
Nate Burleson's purchases weren't perfect—"looking back, I wish I would have bought a more fuel-efficient vehicle and a home," he said—but he managed to keep tabs on his money and avoid financial ruin. Buying some fake jewelry, though, presumably helped him keep some extra money in the bank.
All stats courtesy of Sports-Reference and Pro-Football-Reference