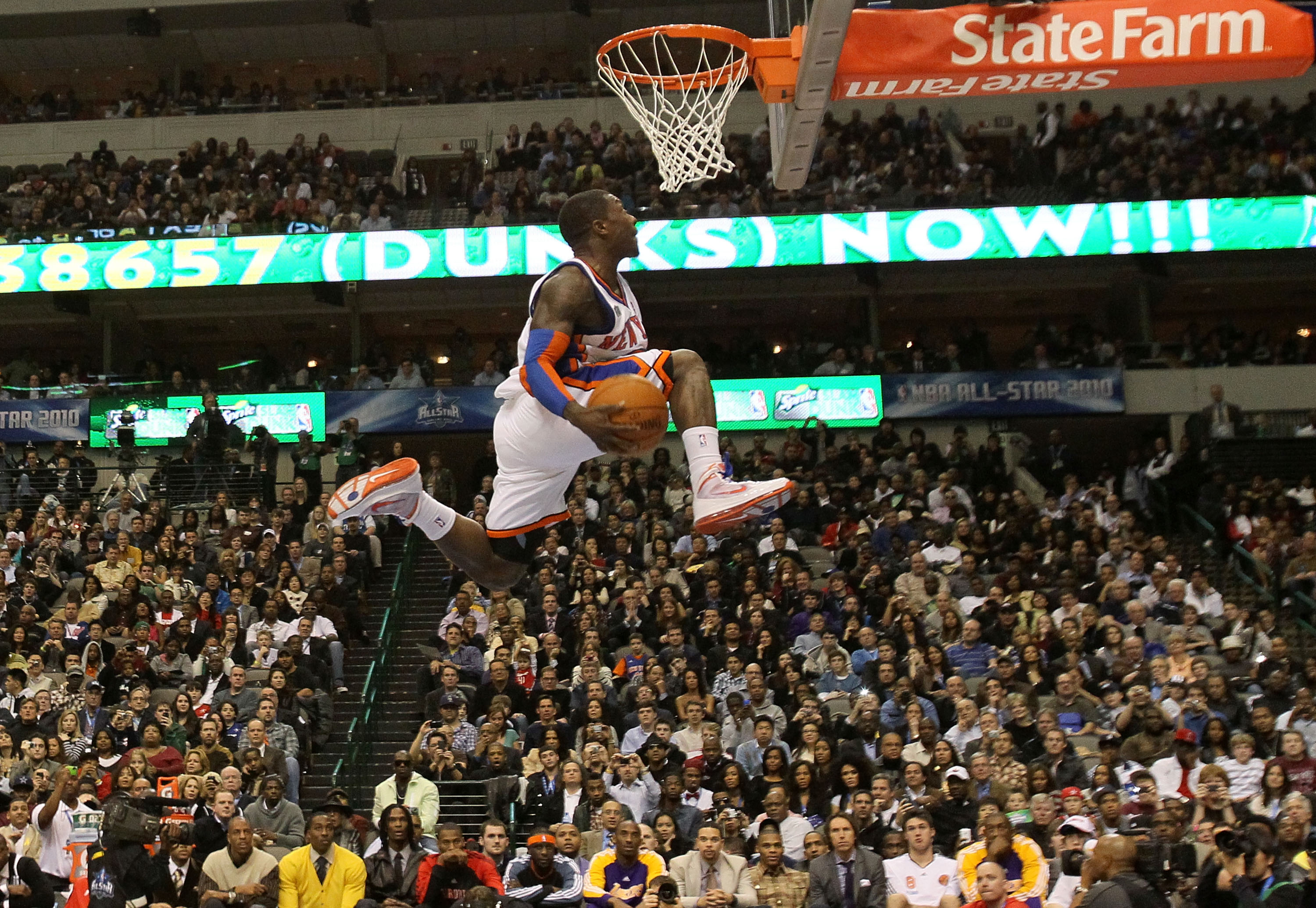 Nate Robinson Is More Than Just a Former NBA Player
Former NBA slam-dunk champ Nate Robinson is much more than a basketball player. He wants to show that Saturday night.
Nate Robinson is definitely known for being the little guy who thrived in a big-man's league. At 5-foot-9, Robinson lasted 11 seasons in the NBA, playing for eight different teams, including the New York Knicks – the team that immediately traded for him on draft day. Robinson is now known for being on the undercard of the Mike Tyson vs. Roy Jones Jr. fight. Robinson should be known for a lot more than that.
Nate Robinson's NBA career
Nate Robinson played his college basketball at Washington. A 5-foot-9, 180-pound point guard, Robinson was a first-round pick of the Phoenix Suns in the 2005 NBA draft. He was the 21st overall pick selected. The Suns immediately sent him to the New York Knicks, where he spent the first five years of his career.
Robinson has his best year with the Knicks during the 2008-09 season. It was actually the best season of his career when he averaged 17.2 points and 4.1 assists per game. In his four-plus seasons with the Knicks, Robinson averaged 12.5 points per game. From the Knicks, he was traded to the Boston Celtics, where he played parts of two seasons with the team.
Robinson never played more than two seasons with any team other than the Knicks. He retired after the 2015-16 season when he played two games with the New Orleans Pelicans. He finished his career, averaging 11 points and three assists per game. In the NBA, Robinson was widely known for winning the Slam Dunk Competition three times.
Robinson stepping into the boxing ring
Now that his NBA playing days are over, Nate Robinson is using his athletic skills as a boxer. He is scheduled to show off his talents Saturday night. Robinson will be fighting YouTuber Jake Paul in the undercard of the Mike Tyson vs. Roy Jones Jr. fight.
Jake Paul, like Robinson, has very little boxing experience. Paul has had two fights, both against YouTubers. Paul was getting some attention from his boxing that Robinson chimed in. In May, Robinson had an interview with TMZ Sports, saying he wanted "all the smoke" and would love to get in the ring with Paul.
"I want all the smoke," Robinson told TMZ Sports. "I'm a top-tier athlete. You beating me would probably be the biggest accomplishment for your boxing career, or social media influencer – whatever. That's your biggest claim to fame right now is knocking out Nate Robinson, so come do it. I'm putting my everything on the line for you. Let's get it done. It's that simple."
Robinson is more than a basketball player
In high school, Nate Robinson was a three-sport star, excelling in basketball, football, and track. Robinson actually went to Washington on a football scholarship. He played his freshman season as a cornerback for the Huskies and played in 13 games. Robinson actually tried out for the Seattle Seahawks in 2016.
He wasn't a slouch, either. According to The Sporting News, Robinson finished with 34 tackles and had two interceptions. After that freshman season, however, Robinson turned his full focus to basketball. Robinson is hoping to show that his athleticism and hard work will pay off against Jake Paul on Saturday. He wants kids to understand that training hard in believing in yourself can pay off.
"But I just want people to respect me as a person, as an athlete and as a boxer because I'm going through it," Robinson said to ESPN. "I'm not taking it easy and going through the motions. What they'll see Nov. 28 is a Nate Robinson that really put in work to really get to this point, and I hope I surprise a lot of people because a lot of people think I'm gonna lose."