How Much Mike Tyson and Roy Jones Jr. Are Being Paid for Their Fight and How You Can Watch It
We're less than a week away from the Roy Jones Jr. vs. Mike Tyson exhibition bout at Staples Center and people seem to be getting pretty excited about it. Sure, there are still some out there that think this fight is nothing more than a money grab or a circus and it pretty much is both of those things. But it's still two of the best and most popular boxers in the history of the sport getting in the ring with one another so it's only natural to be a little excited about it, even if the rules are a little ridiculous.
But despite the fact that the longest this fight can go is 16 minutes, both 54-year-old Mike Tyson and 51-year-old Roy Jones Jr. are still going to take home a nice chunk of guaranteed cash for the effort and stand to make a lot more from pay-per-view buys and sponsorships. So let's take a quick look at the Tyson vs. Jones bout, including how you can watch this Saturday.
Mike Tyson and Roy Jones Jr. will fight eight 2-minute rounds and aren't supposed to try for a knockout
The Mike Tyson vs. Roy Jones Jr. fight certainly won't look like a normal boxing match and it's really not supposed to be. This exhibition bout is scheduled for eight two-minute rounds and Tyson and Jones will wear 12 oz gloves instead of the 10 oz gloves that are usually worn in heavyweight fights.
Initially set to take place in September, Tyson vs. Jones was moved to November 28 back in August in order to maximize revenue for the event. The fight is officially sanctioned by the California State Athletic Commission and will take place at Staples Center in Los Angeles. With this officially being an exhibition bout, both Mike Tyson and Roy Jones Jr. have been instructed not to try and knock the other one out and the referee will have the authority to stop the fight if he feels it's becoming more than a competitive exhibition.
We'll see how that turns out. Both Tyson and Jones seem to be gearing up for a brawl and Jones even came out and said that he was ready to die in this fight. Sound like an exhibition to you?
Each will reportedly earn $10 million guaranteed and could make $20 million depending on PPV buys
As you can see in the tweet above from Joe Pompliano, who writes the very popular Huddle Up newsletter about money in sports, it's being reported that both Mike Tyson and Roy Jones Jr. are receiving $10 million in guaranteed money for their fight on Saturday.
Pay-per-view buys could take their earnings to $20 million but it should be noted that neither Tyson nor Jones has confirmed this.
How to watch the Mike Tyson vs. Roy Jones Jr. fight and how much it costs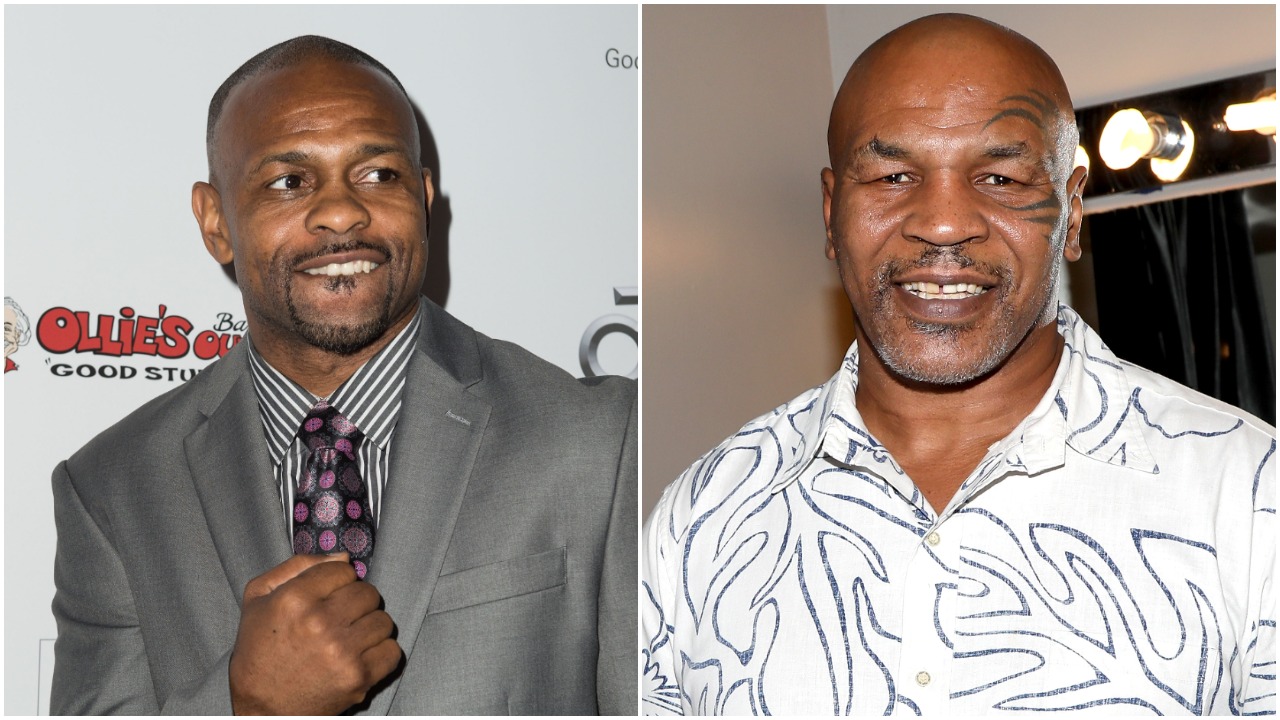 So how can you watch the Mike Tyson vs. Roy Jones Jr. bout?
The four-hour event, which will also feature a number of undercard fights, including a bout between YouTuber and former Disney Channel star Jake Paul and former NBA star Nate Robinson, begins this Saturday, November 28, at 8:00 p.m. Eastern/5:00 Pacific and can be seen on a number of platforms.
The popular social networking site, Triller, paid $50 million for the media rights to the event, and Tyson vs. Jones can be seen on TysonOnTriller.com, which will essentially be the fight's central hub. You can also order the bout through FITE.tv and its streaming apps or via a number of cable and satellite providers.
In the U.S., Mike Tyson vs. Roy Jones Jr. costs $49.99.