Former NBA Star Nate Robinson Wants Floyd Mayweather to Train Him to Box
Former NBA star Nate Robinson was extremely fun to watch during his basketball career. The five-foot-nine-inch guard used his insane athleticism to become a pretty good player. Robinson has not played since the 2015-16 season, though, and is now wanting to try out another sport. In fact, Robinson wants boxing legend Floyd Mayweather to train him so that he can jump in the ring.
Nate Robinson had a solid NBA career
RELATED: Kobe Bryant Just Potentially Helped the New York Knicks
Nate Robinson first played in the NBA during the 2005-06 season for the New York Knicks. He had a decent rookie season too as he scored 9.3 points per game. Robinson then ultimately played for the Knicks for four-and-a-half seasons. The 2008-09 season with the Knicks ended up being the best year of his career as he averaged 17.2 points per game and 4.1 assists.
In 2009-10 and 2010-11, though, Robinson bounced around on a few different teams. After playing in 30 games with the Knicks in 2009-10, he then played in 26 games for the Boston Celtics and saw some minutes in the playoffs for Boston. Robinson then played for Boston and the Oklahoma City Thunder in 2010-11. He only averaged 8.4 points per game in 2009-10 and 2010-11. 
Robinson then continued to play on different teams each of the next three seasons but put up some decent numbers. He averaged 11.2 points per game for the Golden State Warriors in 2011-12. Then he played really well for the Chicago Bulls in 2012-13. He averaged 13.1 points per game on the season and then 16.3 points per game in 12 playoff games.
In 2013-14, Robinson averaged 10.4 points per game for the Denver Nuggets. However, he averaged just 5.7 points for the Nuggets and Los Angeles Clippers in 2014-15, and then only played in two NBA games in 2015-16. He has not played in an NBA game since then.
Winning three slam dunk contests
RELATED: How Much Money does the Winner of the NBA Dunk Contest Make?
Robinson never won an NBA championship and never earned an All-Star selection. He, however, won three slam dunk contests, even at just 5'9".
He won the contest in 2006, 2009, and 2010. Robinson had a very memorable dunk contest win over Dwight Howard in 2009 and then defeated DeMar DeRozan in 2010. However, after his victory in 2010, he made it clear that he was done with the event. 
"No, no, no, no, no. I don't think I can bear that anymore. I'm just happy with this third one," Robinson said, according to ESPN. "This is the last one."
Now, Robinson wants to use his athleticism in another sport.
Robinson wants Floyd Mayweather to train him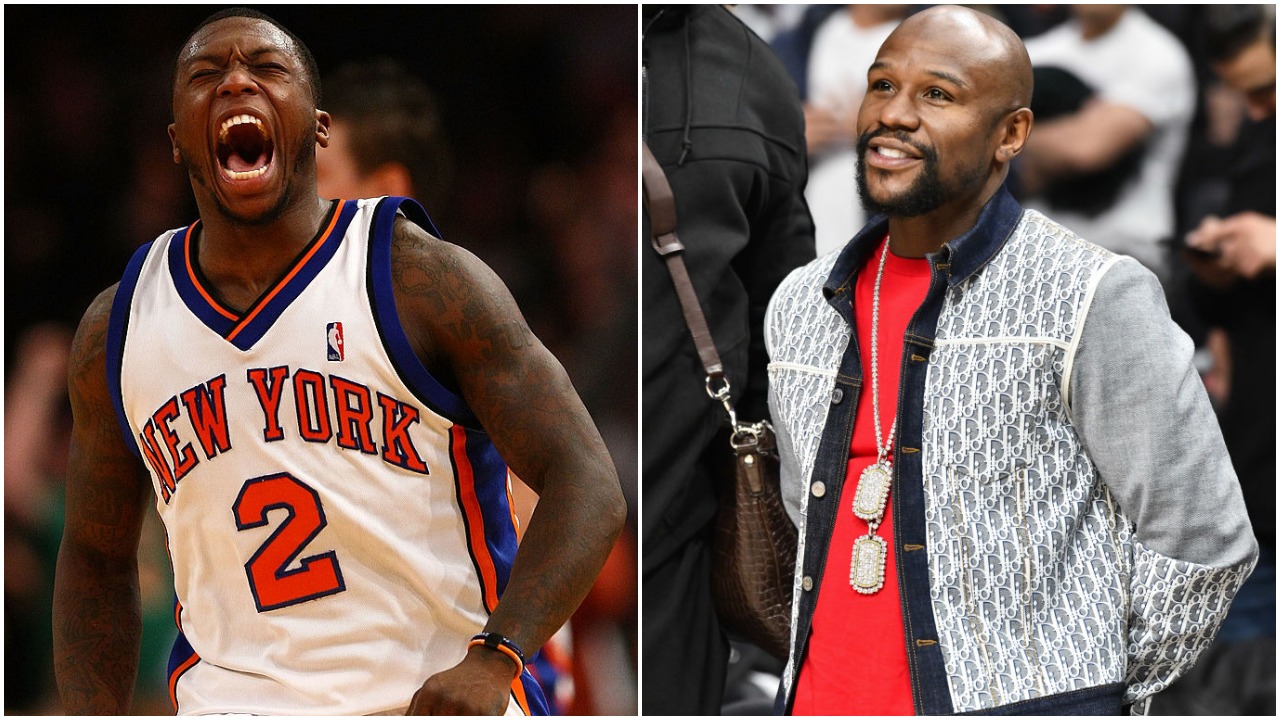 RELATED: Floyd Mayweather Had a Crazy Diet Before Defeating Conor McGregor
TMZ Sports recently reported that Robinson told them he wants to jump in the boxing ring to take on YouTuber Jake Paul. He said that he is reportedly sick of Paul calling out weak opponents like a "bully," according to TMZ.
Paul has two wins in the ring against other YouTubers, Deji and AnEsonGib, according to Bleacher Report.
"Listen, I'm not gonna be talking and yapping, bro," Robinson said, according to TMZ. "Jake, just sign the papers and let's get it poppin'. I'mma let you do all the talking and I'll do all the training and then I'mma let my hands do the talking."

Nate Robinson
He also revealed that he wants to be trained by a boxing legend.
"If I get trained with somebody like a (Mike) Tyson, (Floyd) Mayweather, (Terence) Crawford, (Vasyl) Lomachenko, if I fight and I train with some of the best of the best in the world, like please, I don't think he stands a chance," Robinson said, according to TMZ.
So, now it is on Paul. If he accepts the challenge, then we could see Robinson in the ring. Hopefully, Mayweather or Tyson agree to train him too.
All stats courtesy of Basketball Reference