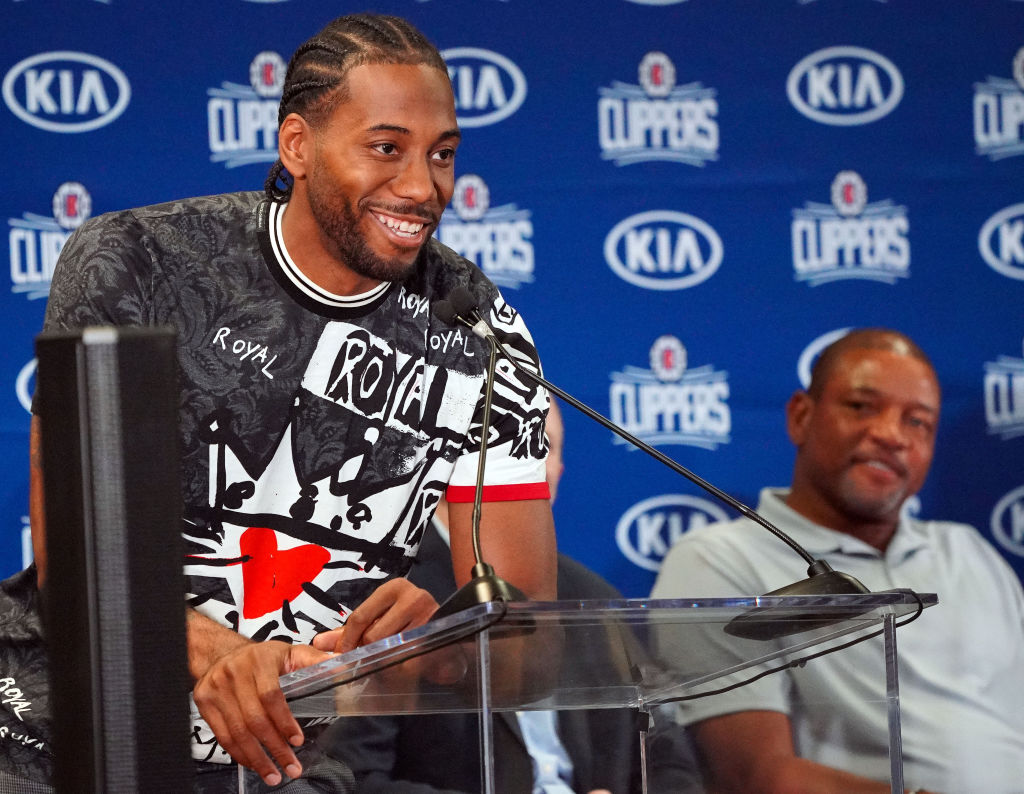 NBA Executives Aren't Happy About Kawhi Leonard and Other Max Deals in 2019
Fans are excited to see what Kawhi Leonard will bring to the Clippers next season. So what has some NBA executives so mad about his contract?
After helping the Toronto Raptors win their first NBA championship, we were very surprised to see Kawhi Leonard leave for his hometown of Los Angeles. We thought the opportunity to dominate the East for the next handful of years would be too good to pass up.
Many league executives were upset with the deal Leonard signed, so today we will go over his contract and some other notable ones from a frenzied 2019 NBA free agency period.
What's so wrong with Leonard's contract?
After Bleacher Report's Ric Bucher set up an anonymous talking forum for NBA executives, one had the audacity to say that Leonard didn't have the ability to rally his teammates. This comment came as a shock to many people, given Leonard was fresh off an NBA championship.
Leonard signed a three-year deal with the Clippers with a player option for the fourth year. This means he'll be in L.A. for the foreseeable future, much to the dismay of Laker fans.
Tobias Harris gets a max-deal
After a successful first season with the Philadelphia 76ers, Tobias Harris got paid, inking a five-year, $180 million contract to stay with the team. He brings versatility and outside shooting to a team that will need it with the departure of Jimmy Butler. Is he worth that kind of money? 
Although his numbers dipped slightly when joining Philadelphia, he will likely be the third option in the offense behind superstars Joel Embiid and Ben Simmons.
D'Angelo Russell joins a dynasty
The Brooklyn Nets made sweeping changes to their roster this offseason and executing a sign-and-trade deal with the Warriors gave Golden State a much needed second scorer in the backcourt.
Klay Thompson will be out until at least early April, so Russell signing a four-year $117 million contract provides the Warriors with a replacement until Thompson is back.
Russell can attack the basket, shoot from deep, and at just 23 years old has already made an All-Star team. Curry will still be the main focus of the offense but expect Russell to put up over 20 a game this season.
Kemba Walker paid what he's worth?
Although the Charlotte Hornets have been stuck in mediocrity for Kemba Walker's entire career, many fans strongly believed he would sign a Supermax deal with the Hornets at the start of free agency.
However, Michael Jordan and the Hornets front office didn't even offer him that, seemingly lowballing him with an offer worth less than a max deal Walker would get on the open market.
He took his talents to Boston. After many felt like Kyrie Irving failed to be the leader in the locker room, Walker will become the veteran the Celtics young core will turn to.  
Boston could be a sleeper pick to win the Eastern Conference now that Walker is leading the team.
Who do you think offered the worst contract?
Going through our list of notable free-agent contracts, which team do you think offered the worst one? Do you agree with the anonymous NBA executive?
For more news from around the league be sure to check out our NBA section.