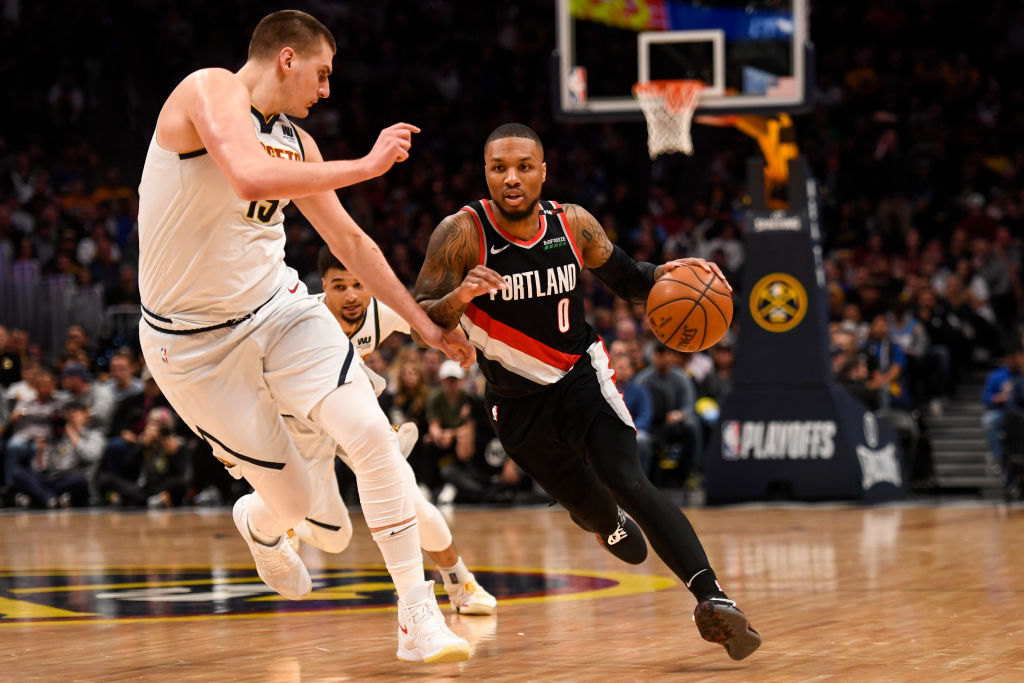 NBA Playoffs: Denver Nuggets vs. Portland Trail Blazers Second-Round Series Outlook
Let's look at the NBA playoffs second-round series between the Denver Nuggets and Portland Trail Blazers to determine a winner.
The Denver Nuggets and Portland Trail Blazers face off in our second Western Conference semifinals. Both teams have a lot to prove to casual NBA fans, as neither is viewed as a serious threat to beat Houston or Golden State and make it to the NBA Finals. Denver won a grueling seven-game series against the Spurs in the first round, while Portland made quick work of the Russell Westbrook and the Oklahoma City Thunder. Damian Lillard hit a clutch shot to send them home in five games.
Let's look at the Nuggets vs. Trail Blazers series in depth and determine a winner to face either the Warriors or Rockets in the Western Conference Finals.

TV schedule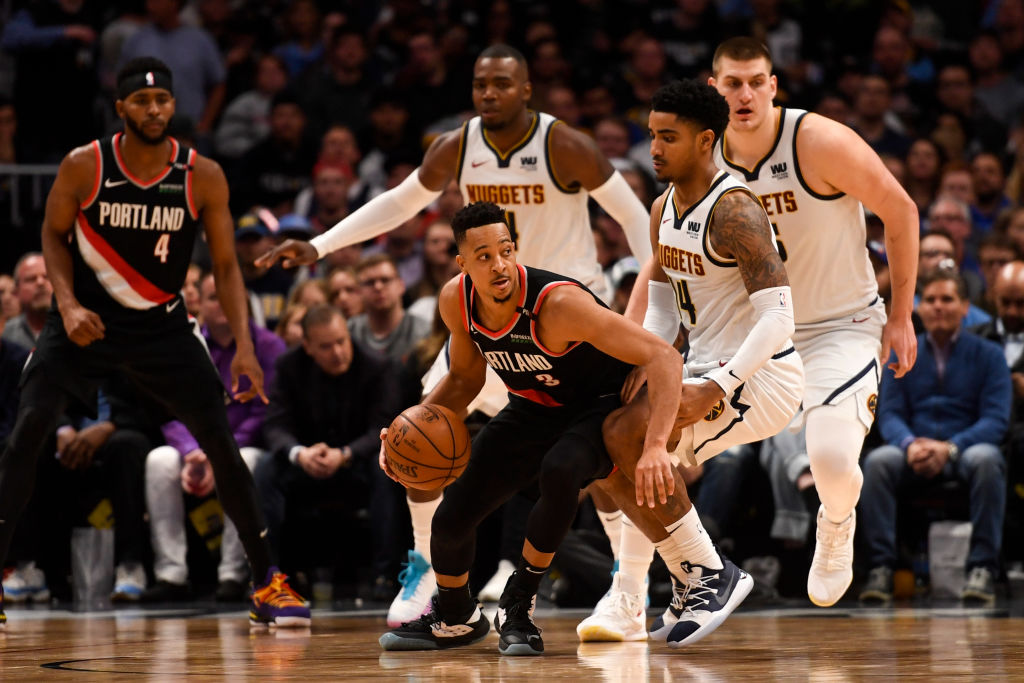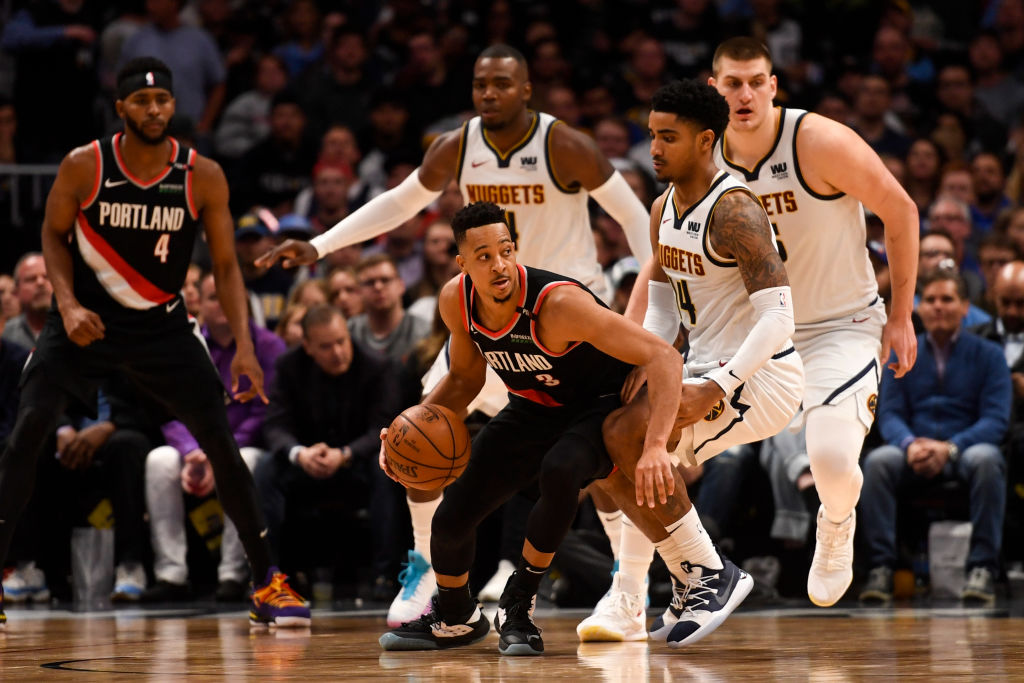 Game 1, Monday, April 29: Nuggets 121, Trail Blazers 113
Game 2: Wednesday, May 1, 9:00 p.m. ET, TNT
Game 3: Friday, May 3, 10:30 p.m. ET, ESPN
Game 4: Sunday, May 5, 7:00 p.m. ET, TNT
Game 5 (if necessary): Tuesday, May 7, TBD, TNT
Game 6 (if necessary): Thursday, May 9, TBD, ESPN
Game 7 (if necessary): Sunday, May 12, TBD
Regular season results
All season long, everyone kept waiting for Denver to come back to Earth after a 9-1 start. Fans and the media both thought the Nuggets were playing over their heads and would finish with the No. 6 or 7 seed in the NBA playoffs. They quieted the naysayers and finished with the second-best record in the West with a 54-28 record and a Northwest Division title.

Portland was the No. 3 seed and finished just one game behind the Nuggets in both the conference and division. Denver topped Portland in three of four regular-season meetings. Edge: Nuggets

Star power
The Nuggets have two superb young players In Jamal Murray and Nikola Jokic. Murray is an excellent guard out of Kentucky. Jokic is a double- or triple-double machine, as he averaged 20 points, 10 rebounds and over seven assists per game during the regular season. He can knock down buckets, but Jokic loves passing the ball, too.

Denver will need both of them to play at an A-plus level to win the series against Portland. Although Jusuf Nurkic's injury hurts the Trail Blazers, they still have Damian Lillard and C.J. McCollum.

Earlier this season, Russell Westbrook made comments to Damian Lillard that he's been whooping his butt for years. Lillard seemed to take those words to heart as every game since those comments he has destroyed the Thunder. He put up one astounding performance after another against Oklahoma City in the first round. He capped it off with a 50-point game in game five with the last bucket a 37 foot 3-pointer to win the series as time expired. It was one of the coldest moments we have seen on a basketball court in a few years and cemented his star in this league.

Denver's young duo is tough to stop, but Lillard is one of the best players in the game, and he has plenty of playoff experience on his side. Edge: Trail Blazers

Depth
Malik Beasley and Monte Morris lead Denver's bench. Beasley put up more than 11 points per game this season and will be vital to the success against the Trail Blazers.

Portland's bench turns to Seth Curry, who has stepped out of his family's shadow to become a capable reserve guard. In game five against the Thunder, he finished with seven points and three rebounds, but he's one of the only reliable options on the Blazers' bench mob. Portland will need him to provide quality points off the bench to get the upset. Edge: Nuggets

Coaching
Portland coach Terry Stotts has done a great job with this team over the last couple of years, especially given some of the injuries issues. The Trail Blazers could be a very scary team when 100% healthy, and they have removed the playoff monkey off their back after getting swept by the Pelicans last season.

Denver head coach Mike Malone has done an excellent job developing his players while leading Denver to a No. 2 seed. That's not easy to do in a competitive Western Conference. However, when it comes down to X's and O's, we give the slight edge to Stotts. Edge: Trail Blazers
Who do you think will win?
This is a very tough series to call. The Trail Blazers have the advantage on the perimeter with Lillard and McCollum, but losing Nurkic really hurts. Nikola Jokic and Jamal Murray could be too much to handle for a depleted Portland team. We believe the Nuggets will win another seven-game series and face either Houston or Golden State in the Western Conference Finals. However, Lillard's cold-blooded competitiveness might be enough to lift the Trail Blazers. Edge: Nuggets