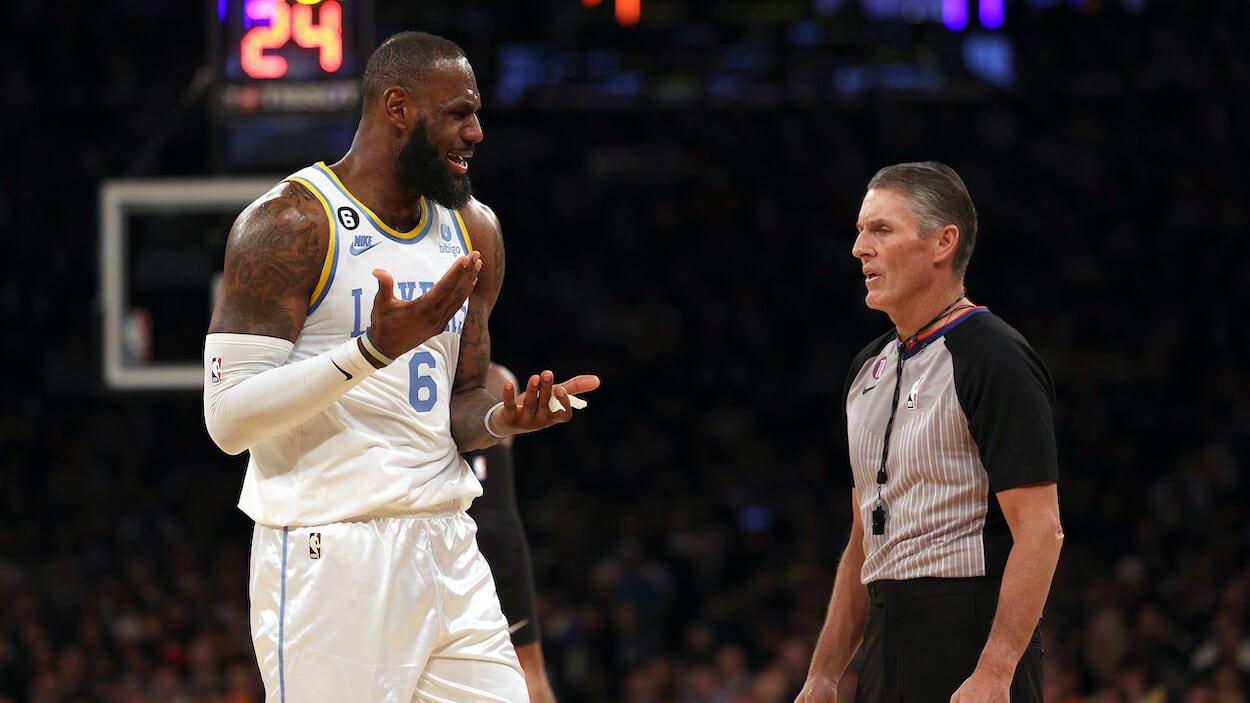 NBA Referees: Executive Calls Out 'Embarrassing' Refs After 'Officiating Armageddon'
NBA referees are making horrific mistakes this season, and NBA players are less and less scared to call them out about it in the media.
Think the NBA referees have been atrocious this season? If you answered yes, then you're not alone. Officials have made terrible call after terrible call this season, costing teams games in the process. NBA players have called them out over the course of the season, but after one particularly bad night, even NBA executives are embarrassed by the refs.
An anonymous NBA executive calls out NBA referees
Players from Luka Doncic to Fred Van Vleet to Anthony Davis have sagely ripped NBA referees this season (more on that below). In Dallas, it's gotten so bad that Mavericks governor Mark Cuban is officially protesting a loss because of the officiating.
On the Wednesday, March 22 NBA slate, the NBA referees were awful. They missed a call on the Miami Heat's Jimmy Butler, which New York Knicks guard Josh Hart called them out for. Then, the refs in the Mavericks vs. Golden State Warriors game inexplicably gave the ball to the Warriors after a timeout where it should have gone to the Mavericks, and Dallas ultimately lost 127-125.
On Thursday, longtime NBA insider Tom Haberstroh joined his Meadowlark Media boss, Dan Le Batard, to discuss the rash of blow calls.
"I just got a text from an executive who said the officiating has been embarrassing all season. That this is not an anomaly, what we saw last night," Haberstroh told Le Batard. "What happened last night feels like an officiating Armageddon, where every game it seemed like things were going awry. But if you talk to the executives and the players and coaches, this has been going on all season, and the trust [they] have with officiating, I think it's as low as it's been since I've been covering the league."
Haberstroh's statement about the trust of the people in the league for NBA referees is incredible, especially considering that the league went through a referee-betting scandal with Tim Donaghy back in 2007.
It does seem like this is where we're at in 2023, though, with players crushing bad calls all the time.
Players are blasting NBA refs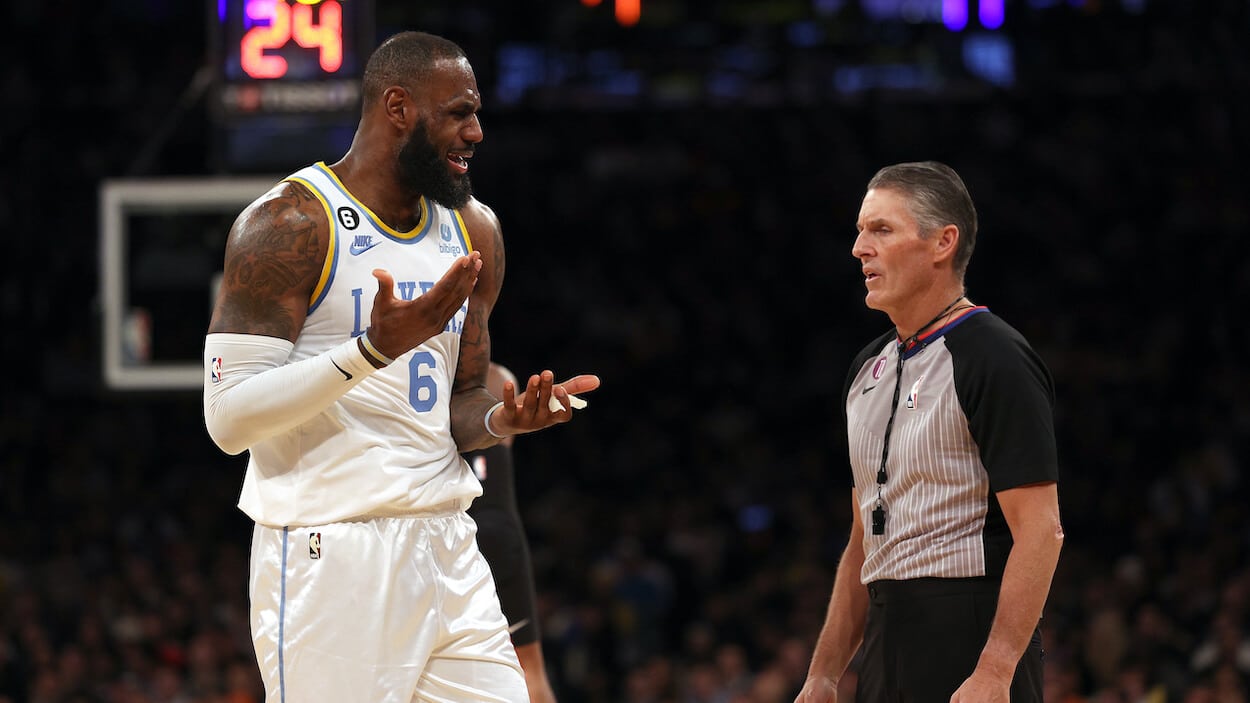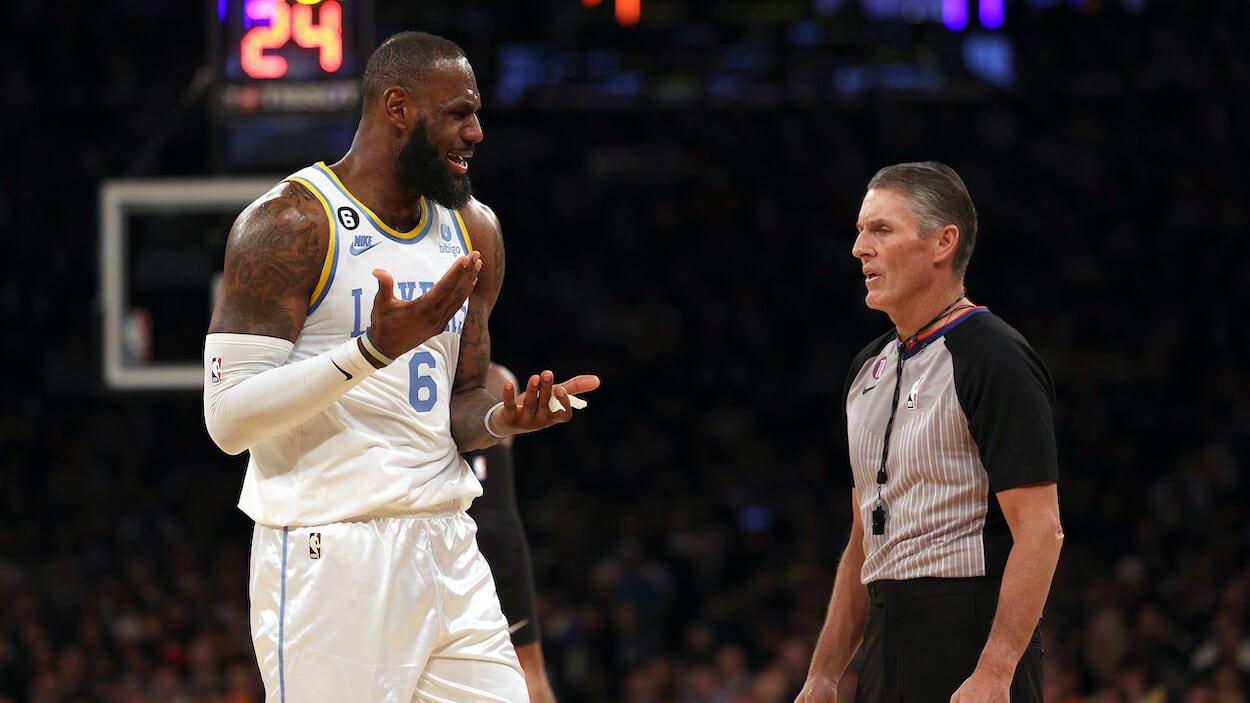 On Wednesday, Mavericks superstar Luka Doncic, one of the most famous players in the league, made a money gesture at officials after their horrible call. Following the game, his boss, Mark Cuban, blasted the NBA referees as well, tweeting that not giving the ball to his team when they should have was the "Worst officiating non call mistake possibly in the history of the NBA. All they had to do was tell us and they didn't."
That wasn't all, even on that same night.
When the Knicks' Josh Hart saw a video of Jimmy Butler clearly traveling in Wednesday's game, the guard retweeted the video, writing, "In a two possession game under a minute…"
The wildest part is these two call-outs aren't even the worst from players this season.
Fred Van Vleet went on a foul-mouthed rant where he aimed his ire directly at NBA referee Ben Taylor.
"I thought Ben Taylor was f***ing terrible tonight. I thought that on most nights, a couple out of the three [officials], there's one or two that just f*** the game up," Van Vleet ranted. "Most of the refs are trying hard. I like a lot of the refs. They're trying hard, they're pretty fair, they communicate well. And then you have the other ones who just want to be d***s, and it just kind of f***s the game up. Nobody's coming to see that s***. They want to see the players."
Since that rant, the NBA seems to have demoted Taylor, making him crew chief in just two of his last six assignments, per Tom Haberstroh (h/t Sports Illustrated).
And that comes on the heels of Los Angeles Lakers star Anthony Davis said his team "got cheated" by the NBA referees back in January, and he "guaranteed nothing's going to happen to the refs."
The officiating in the NBA is officially a crisis, and the players are having fewer and fewer issues calling it out. If this continues in the playoffs, there could be major changes coming down the road.