Ndamukong Suh is the Tom Brady of the Buccaneers Defense After Undergoing Commendable Evolution From Foot-Stomping Antagonist to Established Leader
Ndamukong Suh used to be one of the most villainous figures in the NFL. But his career arc has come full circle, and he means every bit as much as Tom Brady in the leadership role he plays for the younger guys on the Tampa Bay Buccaneers roster.
The Bucs re-signed Suh to a one-year deal as part of management's plan to keep last year's Super Bowl squad together. He has wasted little time taking to his role as a mentor and teacher for some defensive players hoping to fit in with the defending champions.
Ndamukong Suh used to be the NFL's bad boy
Ndamukong Suh was one of the most dominant defensive players in college football history at Nebraska. In his rookie season, he was the No. 2 overall pick in the 2010 NFL Draft and was named All-Pro. Yet, he quickly earned a "dirty player" label that seemed to overwhelm his excellence on the gridiron.
Suh got into a world of trouble when he stomped on former Green Bay Packers offensive lineman Evan Dietrich-Smith in November 2011. The former Cornhuskers star was at it again the following November, kicking former Houston Texans quarterback Matt Schaub in the groin area.
Those two incidents were the precursors to a string of petulant actions. Suh was fined multiple times during the 2013 season for flagrant blocks and hits. He then had another high-profile stomping episode in 2014, this time with Packers quarterback Aaron Rodgers.
Despite making five Pro Bowl teams and being named All-Pro three times, Suh's antics became overwhelming. He had carved out a bad boy persona that made him one of the foremost villains in the NFL.
However, Suh has mostly rebuilt his reputation in Tampa Bay. He is now taking up the mantle as a leader after helping steer the Buccaneers to the Lombardi Trophy.
Suh is the Tom Brady of the Bucs defense
Nowadays, Ndamukong Suh is a father to twin boys. He's also someone the young players on the Buccaneers roster seek out for advice.
Bucs head coach Bruce Arians praised Suh for the intangibles he has provided in camp and compared him to Tom Brady. It's high praise, considering Brady is regarded as one of the best leaders in professional sports.
"Tremendous leadership," Arians said, via Pro Football Talk. "I mean teaching guys how to handle themselves. He's helped Vita [Vea] a ton with his diet and things like that. Suh's a lot like [Tom] Brady, he knows how to take care of his body. He's got a regimen. He talked me into it when we signed him. The way he plays, I'm not changing his regimen, that's for sure. He knows how to get himself ready for Sunday. Suh's one of those guys, he's going to answer the bell every time. You just get him there."
Suh appears to have found a certain level of comfort in Tampa Bay. He thanked Arians, general manager Jason Licht, and the Glazer family for allowing him the chance to return to the Bucs and try to win a second ring. He even mused that ring is necessary because his twin boys are splitting the lone ring in his trophy case.
The Buccaneers certainly have a strong chance to repeat as Super Bowl champions in 2021, with Suh and the rest of the defense hoping to assert their dominance.
Tampa Bay's defense sets the tone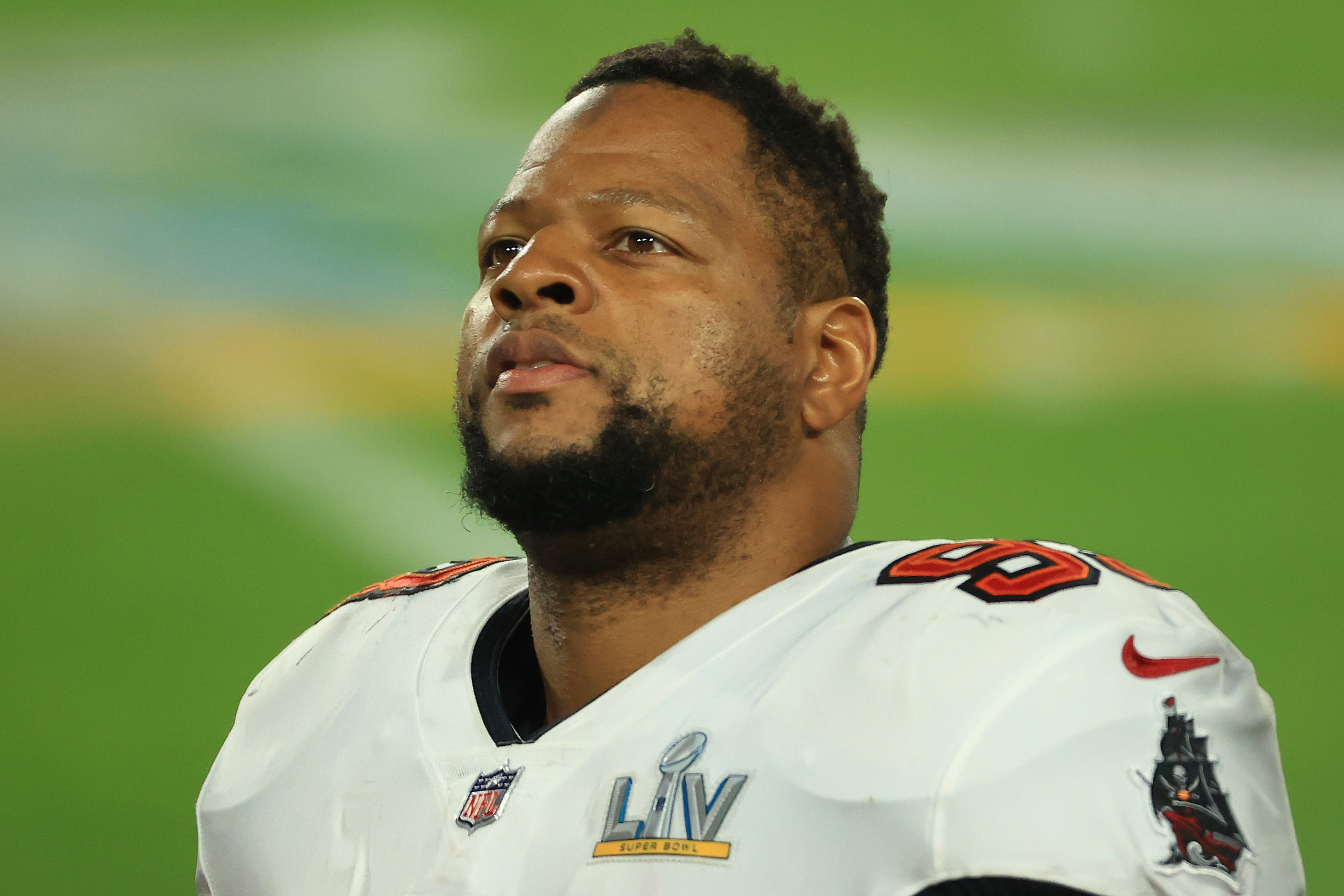 Sure, Tom Brady was named Super Bowl MVP this past February. He was magnificent on the biggest stage, as football fans come to expect every winter.
Still, it's hard to ignore the fact that the Bucs defense set the tone for that game.
Tampa Bay chased Kansas City Chiefs quarterback Patrick Mahomes all over the field. The defensive front created constant havoc in the backfield, with Suh racking up 1.5 sacks and four pressures.
The defensive pressure Tampa Bay exhibited during that game served as a reminder that while Brady might be the headliner, the Bucs defense is as good as any other in football. It did rank eighth in defensive scoring in 2020, after all.
Once again, the defensive unit will play a vital role in the team's success as Tampa Bay goes for back-to-back Super Bowls. For his part, Suh is likely to continue embracing his status as a leader on this Buccaneers roster.
Stats courtesy of Pro Football Reference.