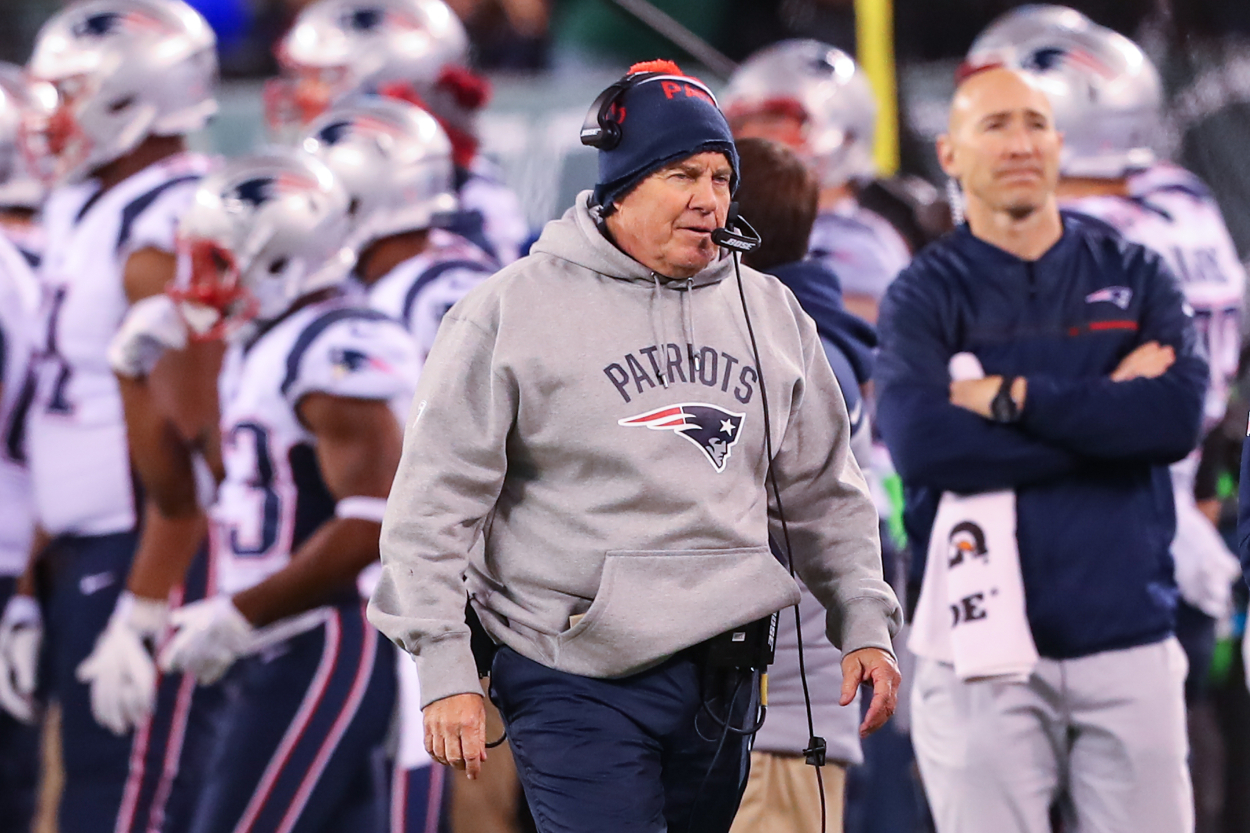 The New England Patriots Bring Back an Old Friend After Losing out on A.J. Green
The New England Patriots continue to make moves in a wild week of free agency.
The New England Patriots have uncharacteristically become a major player in free agency and have shown no signs of slowing down. They've added the top two free-agent tight ends, scooped up some wide receivers, and added to their defense. They're not done yet. New England is bringing back an old friend after reportedly missing out on wide receiver A.J. Green.
The Patriots are on an uncharacteristic spending spree
It looks like the first losing season since 2000 has ignited a fire under Bill Belichick and the New England Patriots. As Tom Brady left for the Tampa Bay Buccaneers and worked his way to his seventh Super Bowl, the Patriots struggled mightily. With Cam Newton running the show at quarterback, the Pats stumbled their way to an ugly 7-9 record.
There weren't a whole lot of weapons on offense for Newton and the Patriots in 2020. Belichick has been quickly trying to fill those holes through free agency. The Patriots quickly scooped up free agency's top two tight ends in Jonnu Smith and Hunter Henry.
The Pats added wide receivers Kendrick Bourne and Nelson Agholor to give Newton some added targets. On defense, they grabbed linebacker Matt Judon, safety Jalen Mills, nose tackle Davon Godchaux, and defensive end Henry Anderson. With Smith, Henry, and Judon, the Pats spent nearly $100 million in guaranteed money alone.
The Patriots are also bringing back an old friend
In addition to the eight free agents the Patriots had previously signed this week, they are bringing back linebacker Kyle Van Noy. Van Noy was part of two Super Bowl-winning teams during the four years he spent with the Patriots. He was originally drafted by the Detroit Lions but was traded to New England in 2016.
In four seasons with New England, Van Noy racked up 16.5 sacks and had 221 tackles. ESPN reported Van Noy is getting a two-year deal with a maximum value of $13.2 million. Van Noy left New England after the 2019 season when the Miami Dolphins signed him to a four-year deal worth $51 million. The Dolphins released him one year later after unsuccessfully trying to trade him.
On Wednesday, Van Noy made the announcement he was returning to New England. On Twitter, he posted a video of his career with the comment, "We backkkk!!"
The Patriots apparently lost out on wide receiver A.J. Green
In what seemed to be a shocking move, the New England Patriots also brought back quarterback Cam Newton after a rough 7-9 season. Newton got off to a quick start, but after testing positive for COVID-19 heading into Week 4, things seemed to fall apart. He finished with eight touchdown passes in 10 games, although he did rush for 12 scores.
Newton didn't have a whole lot of weapons. With veteran Julian Edelman missing 10 games because of injury, New England's wide receiving corps was thin. Bill Belichick clearly made receiving targets a priority during free agency.
According to John Gambadoro, Arizona Sports 98.7 FM Phoenix, the Patriots were beaten out by the Arizona Cardinals in signing former Cincinnati Bengals wideout A.J. Green. Green inked a one-year deal with the Cardinals. It's clear Bill Belichick means business by bringing in the offensive weapons. The big question now is how long will Belichick continue to ride with Newton at quarterback?