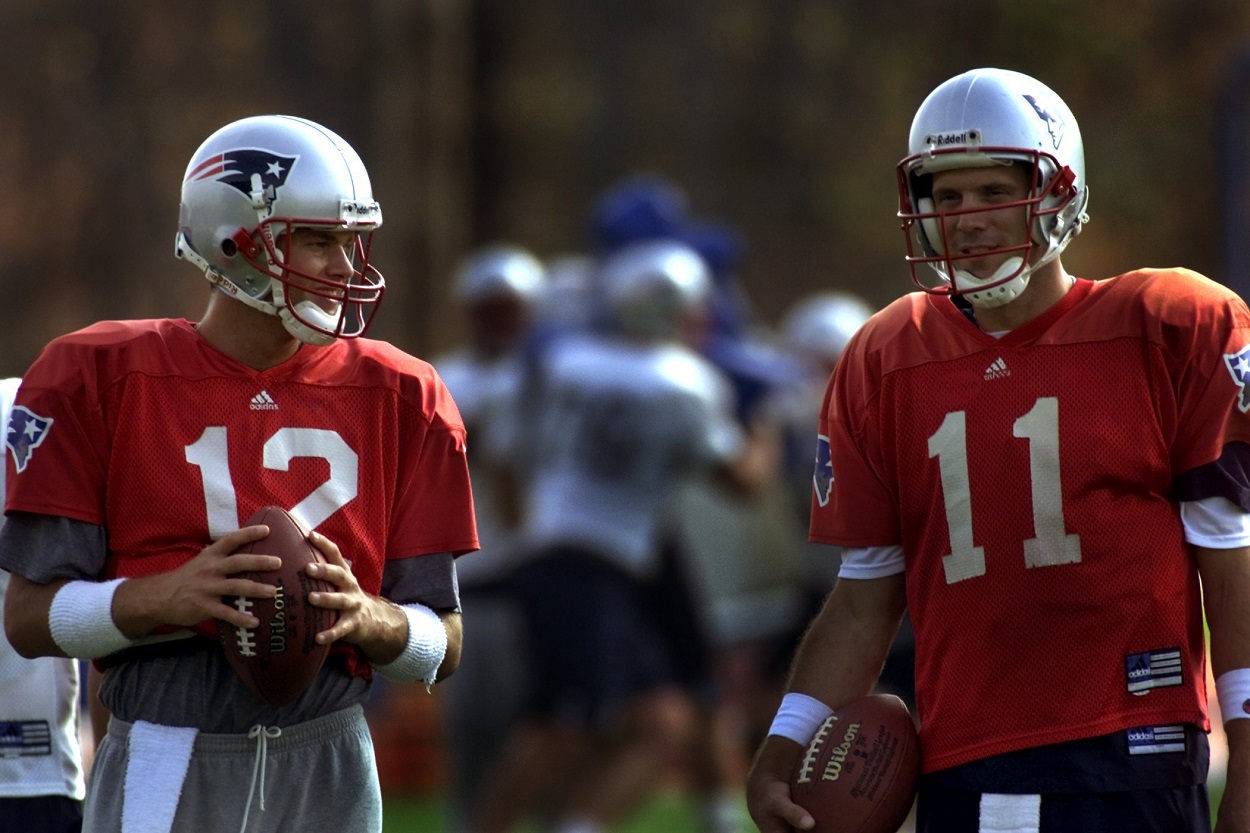 Former New England Patriots QB Drew Bledsoe Gets Brutally Honest About What Bugs Him About Tom Brady: 'I'm Kind of Just Treated Like a Footnote to Tom's Career'
Drew Bledsoe was a great NFL quarterback, and he wants us to remember that. He's more than the player replaced by Tom Brady.
Drew Bledsoe is more than just the guy Tom Brady replaced for the New England Patriots, and he wants you to remember that.
During an appearance on The Herd with Colin Cowherd, Bledsoe admitted he had a great relationship with Brady and still does. Still, one aspect of the narrative surrounding the GOAT bothers him. Bledsoe has his own legacy as a quarterback, especially in New England.
Drew Bledsoe was once 'the guy' for the New England Patriots
It's become one of the most famous stories in NFL history. Unfortunately for Bledsoe, he was on the wrong end of it.
Bledsoe was once the guy for the Patriots. He had led the team to a Super Bowl and had three Pro Bowl appearances under his belt. The Patriots even signed him to the richest contract in NFL history at the time, according to The LA Times.
Bledsoe began the 2001 season as the starter in New England. Brady, who the Patriots selected in the sixth round of the 2000 NFL Draft, was behind him as a backup.
The course of not just Bledsoe's career but NFL history was changed in Week 2 of that season, though. Bledsoe took a shot from New York Jets linebacker Mo Lewis that ultimately sent him to the hospital with life-threatening injuries. Though he played after the hit, he eventually had to leave the contest and was taken to the hospital after the game with a collapsed lung and internal bleeding.
Brady took over for Bledsoe not just in that game but for the season and ultimately for good. He led the Patriots to a Super Bowl win over the St. Louis Rams that season, and the rest is history. That was the first step in him becoming the legend he is today.
For Bledsoe, it was the end of his career in New England. He was traded to the Buffalo Bills ahead of the 2002 campaign.
It bugs Drew Bledsoe that he's treated like a footnote in Tom Brady's story
Years later, appearing in an interview with Cowherd, Bledsoe revealed he does think the narrative surrounding him and Brady is a bit unfair.
In fact, he admitted that even though he does love Tom, it does bug him that he's tied so closely to Brady's legacy.
"The only thing that does kind of bother me sometimes, though, and this is just being totally honest. I feel like my career has kind of been treated like a footnote. Like it's just a footnote to Tom's career," Bledsoe said.
He then gave a list of legendary NFL quarterbacks such as Dan Marino, John Elway, Brett Favre, and others.
"What do they all have in common?" he asked Cowherd.
Though the host was stumped, Bledsoe did reveal what he found. That list, which featured some of the greatest quarterbacks of all time, was the total list of quarterbacks who had thrown for more yards than he did, and it wasn't all that long.
"That's all of them. That's everybody," he said. "Obviously, we've all been lapped now that they're throwing the ball so much, but it's sort of one of those [things]. You look at that list. It's a pretty good list to be on, and that's all of them."
Bledsoe had a career most quarterbacks would love to have
Bledsoe is right in one sense. Whenever his name is brought up, the fact that Brady replaced him and ultimately became the GOAT because of his injury is usually brought up as well.
While that is a big part of Brady's legend, it does ultimately gloss over the fact that Bledsoe was a great NFL quarterback in his own right. He didn't deliver the Super Bowls to New England as Brady did, but he was still very productive.
Bledsoe was taken No. 1 overall by the Patriots in the 1993 NFL Draft. He threw for 29,657 yards and 166 touchdowns over nine seasons in New England, taking the Patriots to one Super Bowl (a 35-21 loss to the Green Bay Packers), and earning three Pro Bowl honors. He made his fourth trip to the Pro Bowl after his first season in Buffalo.
"It was a nice career," he said, reflecting on his playing days. "That's the only part that if I ever think about it, it's the part that bugs me. That I'm kind of just treated like a footnote to Tom's career."
Now the owner of Doubleback Winery, Bledsoe has, at the least, found a way to cope with those fleeting thoughts when they arise. "If I ever do think about it, I just have a glass of Cabernet and move on," he said.
Stats courtesy of ESPN and Pro Football Reference.