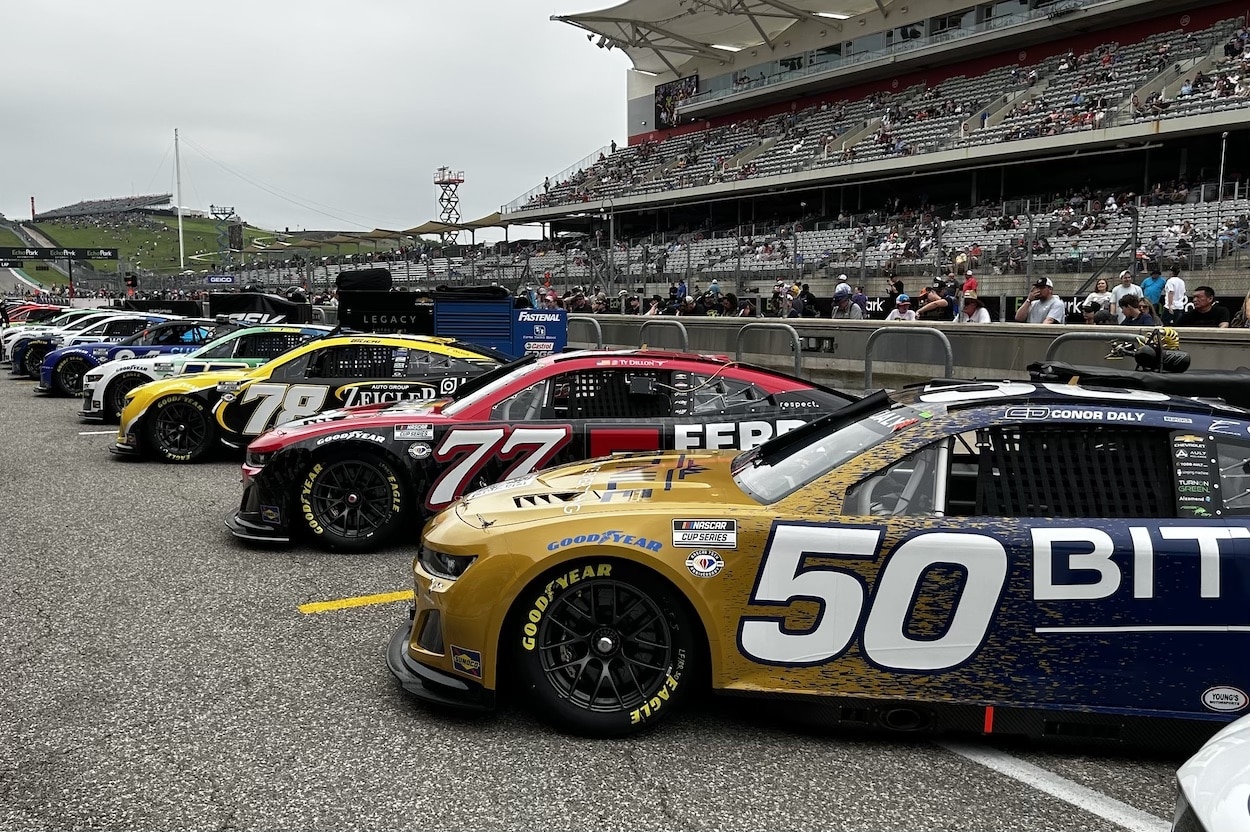 New Report Confirms NASCAR Post-Race Inspections Aren't Random Anymore and Teams Can Be Targeted
A new report recently confirmed that NASCAR isn't doing random post-race inspections anymore and teams could be targeted by the sanctioning body as some have suggested in the past.
Transparency. It's a word that's been widely bandied about in NASCAR circles lately. To NASCAR's credit, it recently announced one move that was a step in the right direction, allowing teams and fans to see confiscated illegal parts moving forward.
However, another piece of news that came out just a couple of days later revealed that the sanctioning body still has some work to do when it comes to being fully transparent. And based on what one reporter uncovered, there's an understandable reason officials don't want the public to know. 
NASCAR trying to be more transparent
The last month has been one extended lesson on the NASCAR legal process. NASCAR penalized Hendrick Motorsports. HMS appealed. The three-person panel upheld the financial portion and crew chief suspension of the penalty but restored the points to the four teams. A big win for the organization.
NASCAR wasn't happy with the decision, effectively taking away the most impactful part of the penalty. Fans weren't happy for a very different reason. They had been in the dark since the very beginning and wanted answers to three questions:
What was found to initially assess the penalties?
What did HMS and NASCAR present as their cases in the appeal?
Why did the panel rule the way it did?
Denny Hamlin and Dale Earnhardt Jr. both talked on their podcasts about the lack of transparency throughout the process and suggested one way to help improve that would be returning to the past and an old move where NASCAR would take the confiscated illegal parts from a car and allow other teams to see what was found. 
Last week, NASCAR COO Steve O'Donnell appeared on NASCAR Race Hub and said the sanctioning body was going to take a trip down memory lane and implement that same process with some minor modifications.  
"We didn't want to embarrass teams in terms of displaying parts, but we've heard it loud and clear from the fans, too," O'Donnell said. "What are these parts? What do they look like? They'll be on display at the track starting in Richmond. Media and fans will be able to see what we saw and make their own determination." 
Bob Pockrass reveals random inspection procedure over 
There's no denying that's a positive step toward transparency. That was on Thursday. Two days later, Fox's Bob Pockrass sent out a tweet that understandably got the attention of fans and teams, addressing the subject of cars being taken after the race for a teardown at the R&D Center, which happened to the Nos. 24 and 48 after Richmond.
"Been obvious talk about cars taken after a race," the veteran reporter tweeted. "NASCAR confirmed to me this week that it is totally series director discretion on what vehicles to take after the race. I'm not sure when random procedure ended."
Interestingly, random appears to mean different things to different people. It was previously reported that one way NASCAR was random in its selection of cars post-race was by selecting two finishing positions before a race, like 7th and 9th, and the two cars that finished in those positions went back for a more thorough inspection.  
Others have opined that random is in the fact that no teams know who will be selected, but it's at NASCAR's sole discretion on who it chooses, which, as Pockrass confirmed, means officials can choose whoever they want. 
Fuels fire that NASCAR targets teams   
That confirmed shift in policy only adds fuel to the fire of those, including most in the garage, who have suggested for years there's nothing random about the process, like Kevin Harvick and crew chief Rodney Childers hinted last year when the No. 4 team received a hefty penalty for "modifying a single-source supplied part," but only after the driver had repeatedly criticized the governing body for its slow response to drivers and their safety concerns with the Next Gen car. 
Childers received a $100,000 fine and a four-race suspension in October after Talladega. The team and Harvick were docked 100 points.
"Seems strange," Harvick tweeted. 
"Shocker," Rodney Childers wrote in response to NASCAR's tweet on the penalty.
Alex Bowman, who is known for a dry sense of humor, showed it this weekend at Bristol when asked about the team's second penalty in a month after an inspection.
"It's a random inspection, man," Bowman said sarcastically. "It's completely random. So chances got us there."
In the future, drivers no longer need to be sarcastic or hint that NASCAR is targeting them. They can just come out and say it because, as much as NASCAR is trying to be more transparent, there's no chance they'll ever admit to targeting a certain team or organization.  
For the latest breaking news and information about NASCAR's three national series, check out @kdsportswriter on Twitter.