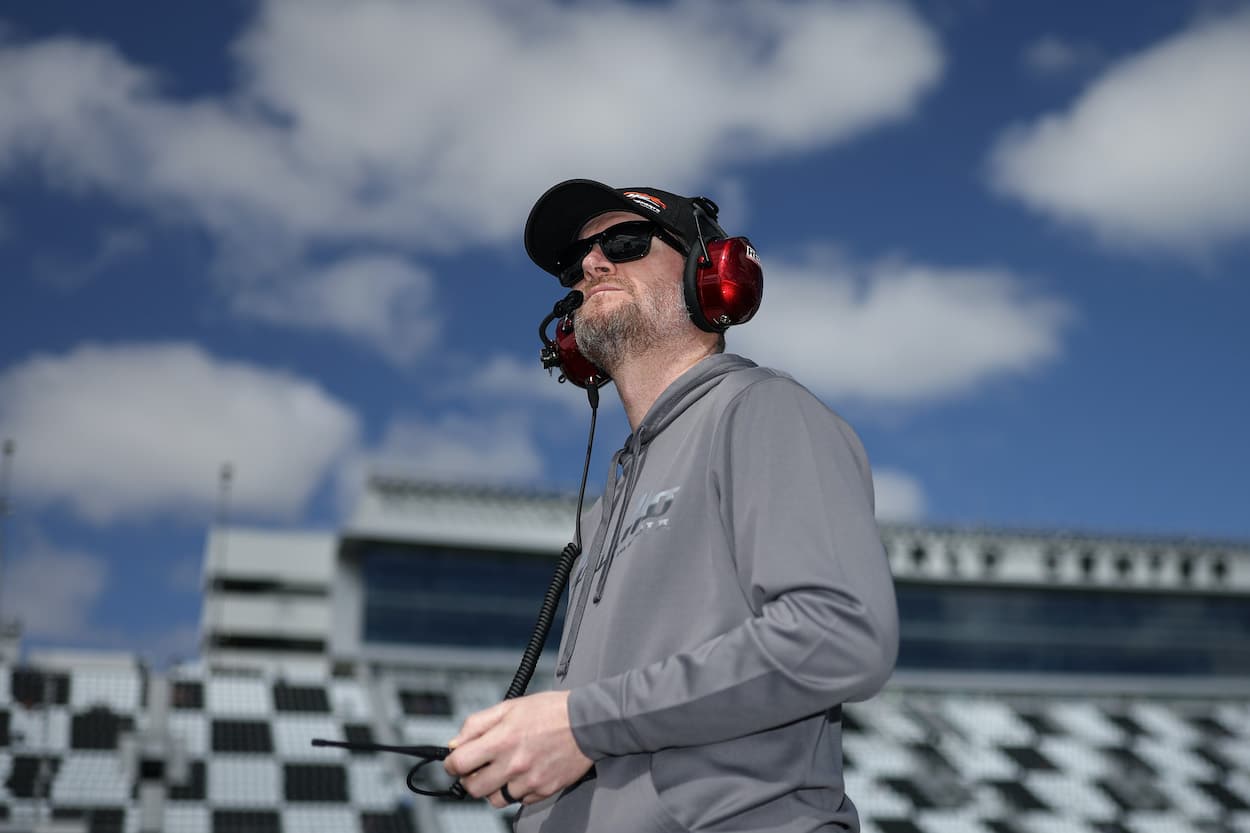 Dale Earnhardt Jr. Surprisingly Not a Fan of NASCAR's Huge Step Toward Transparency and Allowing Public to See Confiscated Illegal Parts
Dale Earnhardt Jr. and his Dirty Mo Media podcasts have influence. They clearly had some impact on NASCAR's latest decision to change its process and publicly display confiscated illegal parts going forward. Surprisingly, Junior doesn't like the move.
Dale Earnhardt Jr. is like EF Hutton — when he talks, people listen. He is the main person responsible for the restoration of North Wilkesboro Speedway and the All-Star Race being held there next month. The NASCAR Hall of Famer uses his podcast as a platform to offer up his thoughts and ideas, and, as is the case at North Wilkesboro, things happen. 
Last week after the National Motorsports Appeals Panel overturned the points portion of the penalty against Hendrick Motorsports, most in the industry, including Earnhardt, agreed there needs to be more transparency in the entire process. 
Yesterday on NASCAR Race Hub, the sanctioning body revealed it would take a big step in that direction by revealing confiscated illegal parts to the public in the future. Surprisingly, Junior doesn't like the idea. 
Dale Earnhardt Jr. and everyone else confused by appeals panel ruling
When the National Motorsports Appeals Panel partially ruled in favor of Hendrick Motorsports last week in its louvers case and upheld the monetary fine but rescinded the points portion of NASCAR's penalty, everyone was left scratching their heads as to why. 
Dale Earnhardt Jr. was no different and addressed the situation this week on the Dale Jr. Download.
"I don't know how you get your points back but still get charged financially," Earnhardt said. "I don't know why the committee chose to do that."
NASCAR commits to being more transparent
The Hendrick Motorsports ruling was confusing enough and because the rotating three-person panel isn't required to provide an explanation for its decision, everyone is left to speculate as to why it rules one way or another. That confusion dramatically increased this week when the latest panel ruled differently on the Kaulig Racing louvers case and kept the monetary fine in place while restoring only a portion of the points. 
Unsurprisingly, the cries for transparency have grown louder. This week, NASCAR admitted it had heard those pleas and responded.  
"We didn't want to embarrass teams in terms of displaying parts, but we've heard it loud and clear from the fans, too," NASCAR chief operating officer Steve O'Donnell said on NASCAR Race Hub. "What are these parts? What do they look like? They'll be on display at the track starting in Richmond. Media and fans will be able to see what we saw and make their own determination." 
Earnhardt surprisingly not a fan of move
When O'Donnell suggested the sanctioning body had "heard it loud and clear from the fans," it's easy to draw a direct connection between those remarks and a couple of discussions on the subject this week on Earnhardt's Dirty Mo Media podcasts, including Denny Hamlin's Actions Detrimental and the Dale Jr. Download.
Interestingly, on Junior's podcast, they talked about what Hamlin had said, and the former driver provided clarification on what happened in the past. 
"Denny asked why can we not get back to the days where we could be completely transparent, and NASCAR be completely transparent, where I gather that they used to take an illegal part or something they perceived to be illegal and put it out for the entire garage to see, is that correct?" show co-host Mike Davis asked.
"That was not every week," Earnhardt replied. "So basically we would go to Daytona and people would show up at Daytona with all kinds of weird cheated-up stuff on their cars and NASCAR would confiscate the piece or the part and it would be in the hauler and not on display. Not out on a table for everybody to walk around and look at but if you wanted to see it, you could walk up in the hauler and it would be laying there on the counter next to the cheese spread. 
"You could go up in there and say, 'I heard you took such and such. Where is it? I'd like to see it.' They might show it to you. It might be laying there. They might now show it to you. I think there had been times — one-offs where there was a table with parts on it. For the most part, it wasn't NASCAR grandstanding and saying, 'Haha, we got you. Here's all your stuff. Everybody come look at what they did to their cars.'"
"I think it's not a bad idea," Davis suggested.
"I don't love it," Earnhardt said of displaying the parts. "I think it's silly." 
When Davis said it would help with transparency, which everyone including Earnhardt has pushed for, Junior pushed back.
"You're going to have to hire somebody to stand there the entire day to explain and showcase this piece or part to every GM, every crew chief in the garage that wants to come by there and look at it in between tech, in between cars qualifying, all the other track activity," he said.
Earnhardt said, in the end, he doesn't need to see the part and trust that the part is illegal. 
It was a surprising position to say the least. While the 48-year-old former driver may not be a fan of the process change, a lot of people are and it should help with some trust issues between teams and NASCAR. And, ironically, everyone has Earnhardt to thank for it.
For the latest breaking news and information about NASCAR's three national series, check out @kdsportswriter on Twitter.